Prepare a puff salad "Through the Looking Glass" for a family dinner – you get a simple, very original and tasty dish. By the way, such a salad can also be served for the holiday, who can refuse such an appetizing dish? And the ingredients laid out in layers are a huge plus, thanks to this the salad comes out bright and beautiful.
For a salad, you will need an affordable set of ingredients – sausages, canned corn, carrots and fresh cucumbers. Sausages have always been a great substitute for meat, so feel free to use them for salads. Buy sausages of the highest grade – tasty and high quality. The layered salad "Through the Looking Glass" is prepared quickly and without hassle, almost all the ingredients are ready, it only remains to boil the carrots in advance. For dressing, take mayonnaise – it can be homemade or store-bought, of your choice.
Ingredients:
Milk sausages – 150 g.
Fresh cucumbers – 100 g.
Carrots – 80 g.
Canned corn – 150 g.
Mayonnaise – 140 g.
Salt, black pepper – to taste.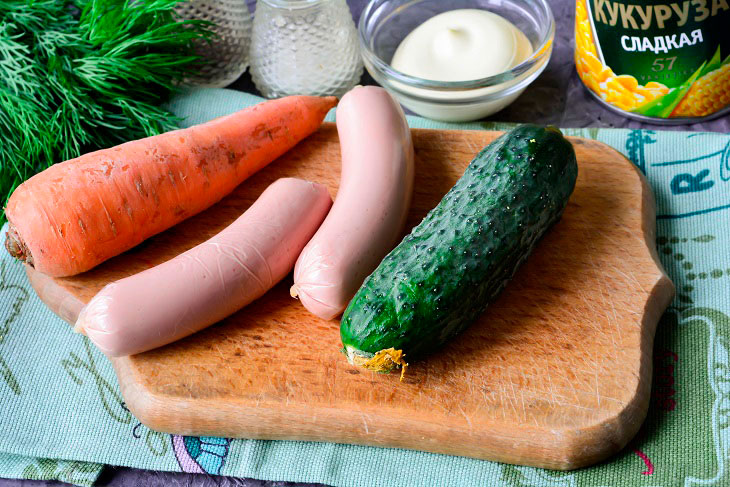 How to cook:
1. Boil the carrots in advance until soft, then cut into cubes for the salad.
It is convenient to cook root vegetables in the evening. And prepare a salad in the morning.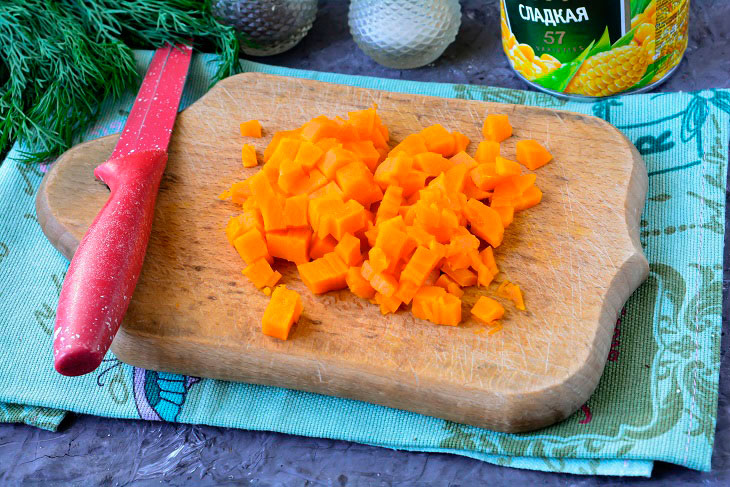 2. Rinse the cucumbers, cut off the tails and cut the vegetables into small cubes.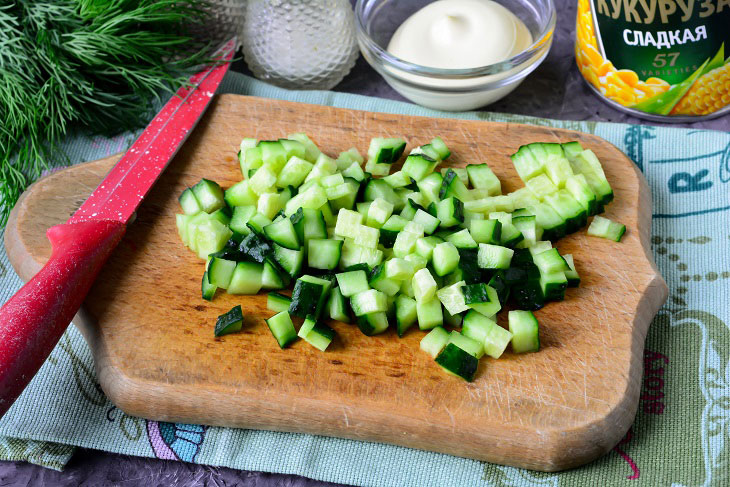 3. Clean the milk sausages from the film, cut the product into medium pieces.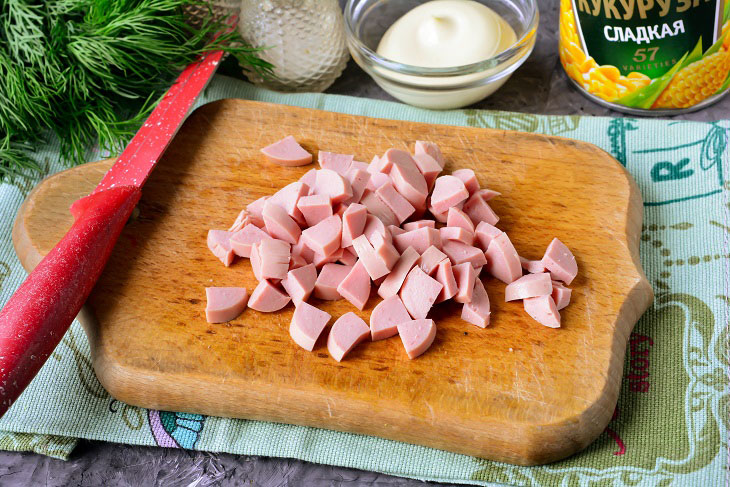 4. Now you can begin to assemble the salad, laying out the ingredients in layers. The first layer is sweet canned corn. Drain the marinade from the beans. Drizzle corn lightly with mayonnaise.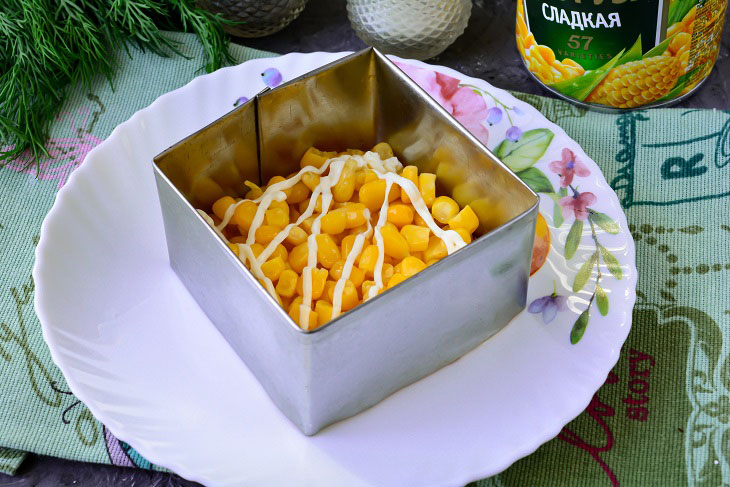 5. The second layer is sliced ​​cucumbers. Lightly salt them, sprinkle with mayonnaise.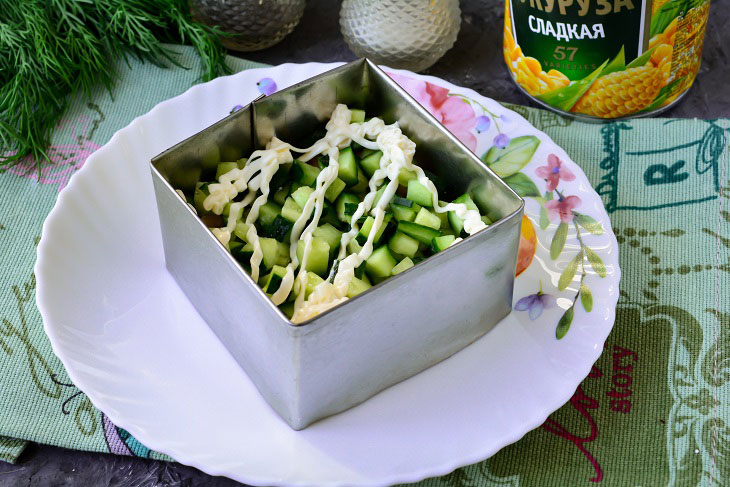 6. Put the boiled chopped carrot in the third layer. Salt and pepper the vegetables a little, pour over with mayonnaise.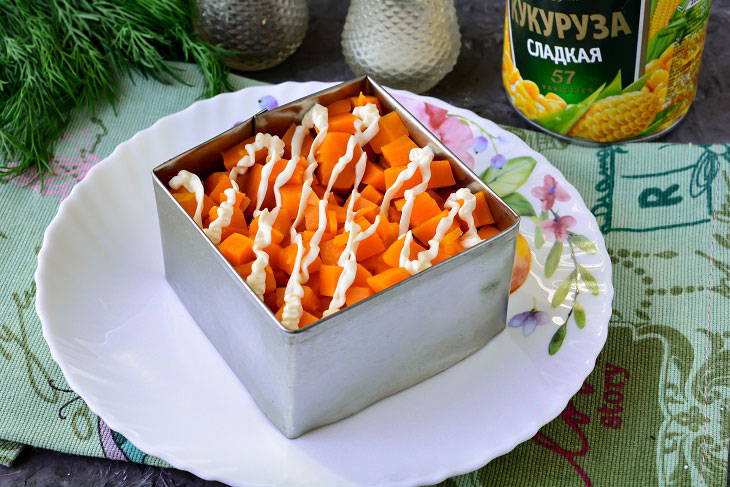 7. Finished with sausages. Drizzle them with sauce as well.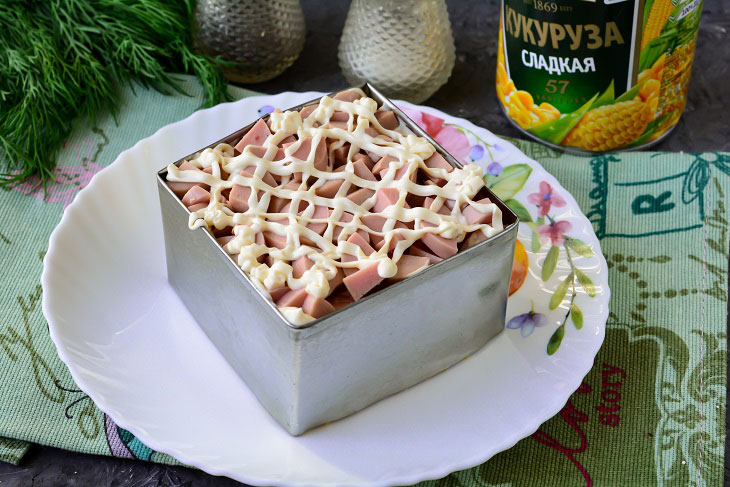 8. Serve the finished puff salad to the table, garnished with fresh herbs.
We hope that the layered salad "Through the Looking Glass" will be included in your culinary piggy bank. The recipe is very simple and delicious. Each component is perfectly combined with each other. If you have all the ingredients in your refrigerator, we advise you to cook such a dish, you will not regret it!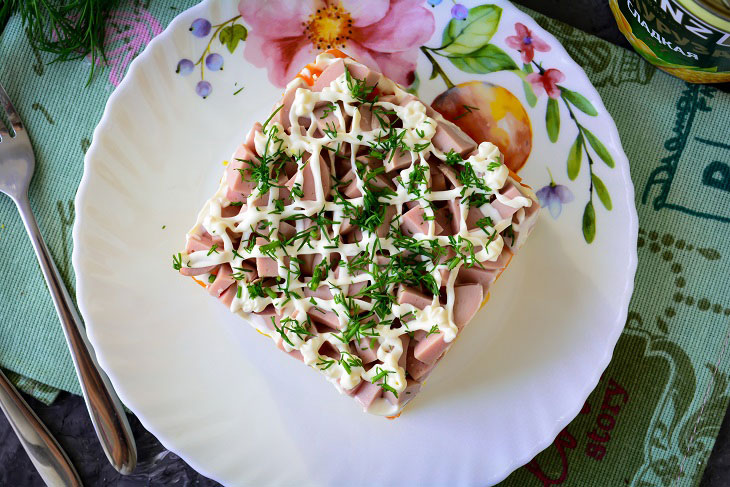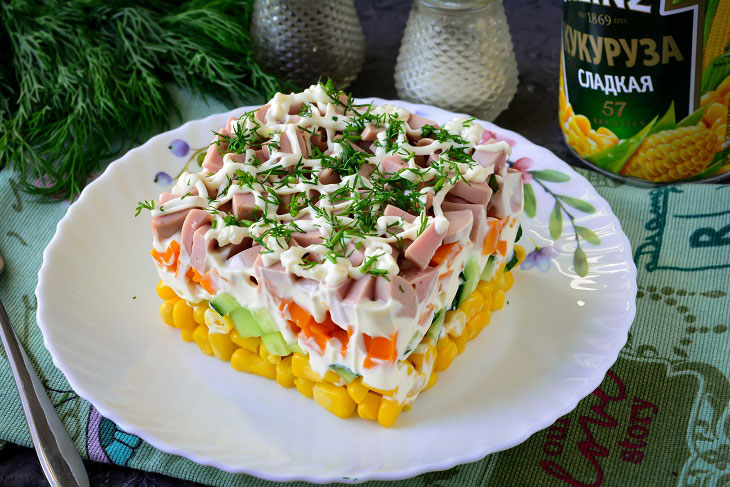 Bon appetit!