Lazy herring under a fur coat is an excellent and original snack on boiled eggs. It can be served in portioned form, which is much more convenient than a salad in a large plate. Also, this appetizer can be used for a buffet table.
As for the classic recipe, for a lazy herring under a fur coat you will need beets, carrots, a little onion and boiled eggs. Herring should be lightly salted and it is better to buy ready-made pieces of fish so as not to get your hands dirty and quickly prepare a snack. The recipe is simple and affordable for every housewife.
Ingredients:
Chicken eggs – 3-4 pcs.
Lightly salted herring – 100 g.
Carrots – 50 g.
Beets – 80 g.
Onion – 50 g.
Mayonnaise – 50 g.
Greens – to taste.
Salt, black pepper – to taste.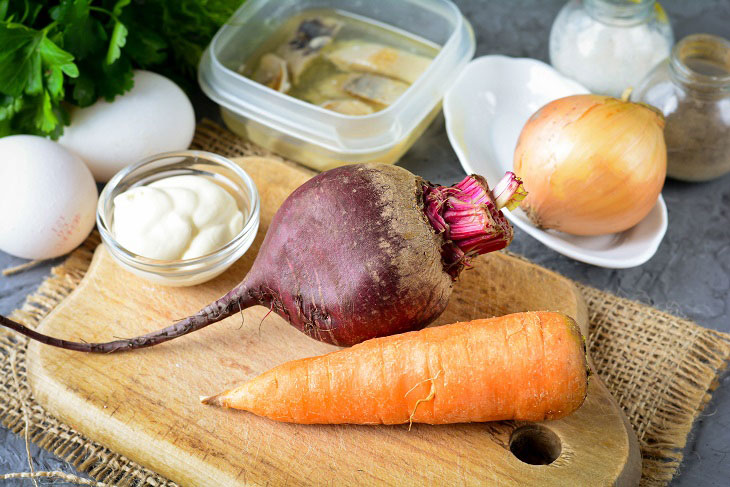 How to cook:
1. Boil root vegetables in advance – beets and carrots. Boil beets for 40 minutes, carrots for 20-25 minutes until soft. Check the readiness of vegetables with a knife or fork. Cool the prepared vegetables and peel them, then grate them separately.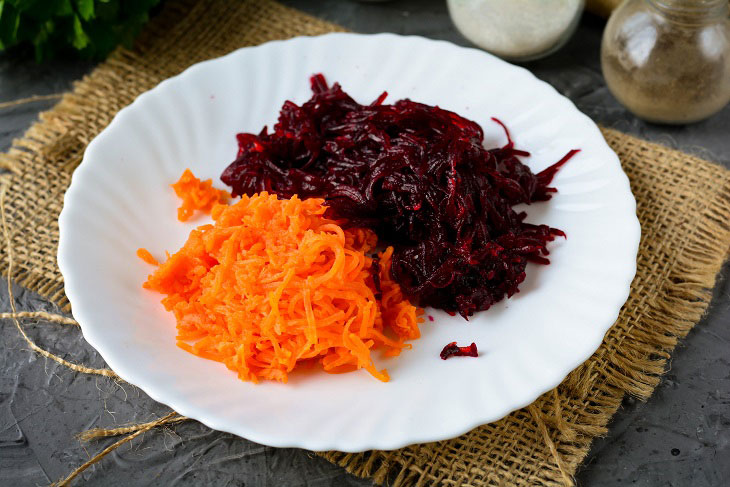 2. Peel the onion, rinse and cut into small cubes.
Onions will give the appetizer a slight sharpness and piquant taste.
3. Pour chicken eggs with water, put on fire, let them boil, then boil hard for 7-8 minutes. Cool the boiled eggs, peel them, cut the eggs in half, separate the whites from the yolks.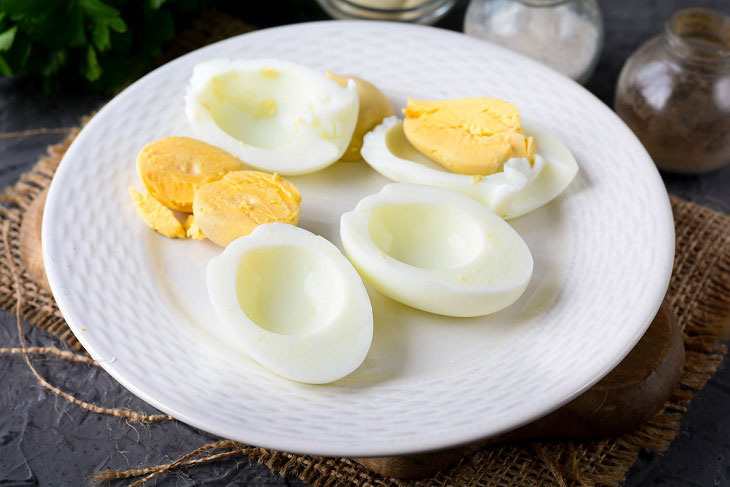 4. Fold the grated beets, carrots into a deep container, add the chopped onion and add the egg yolks.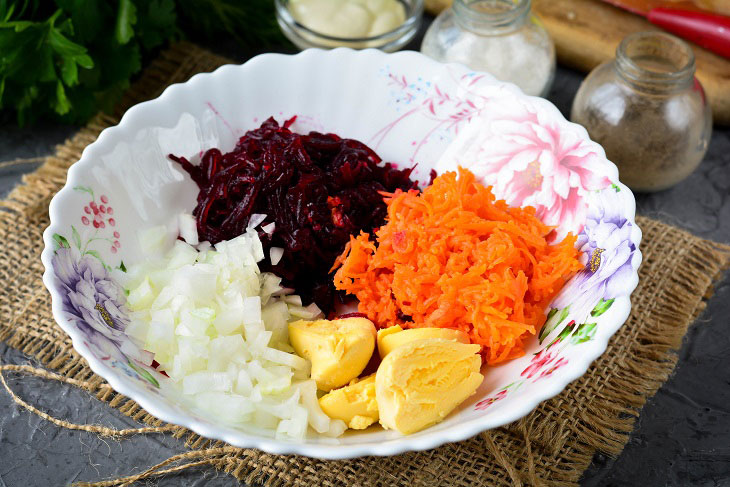 5. Salt and pepper all the ingredients to taste.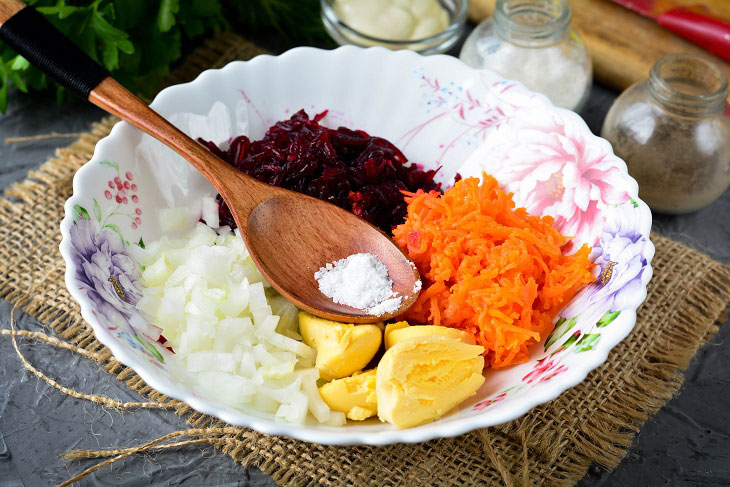 6. Add a small amount of mayonnaise, it is better to use a thick sauce so that the filling does not turn out to be liquid.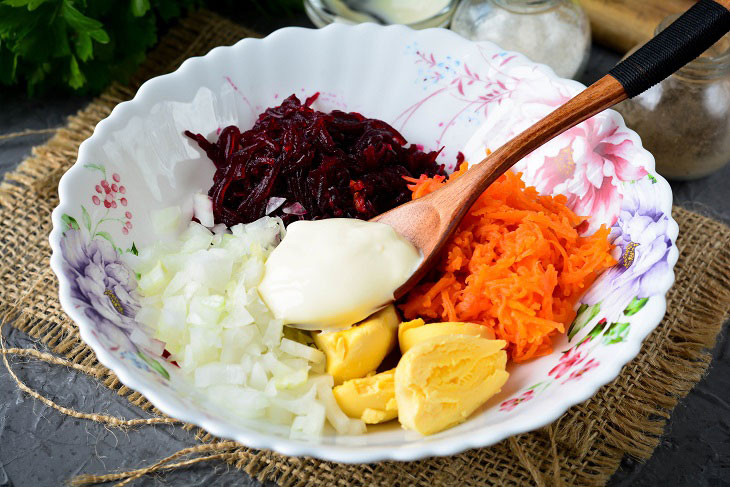 7. Stir the filling so that the yolks are well connected with the vegetables.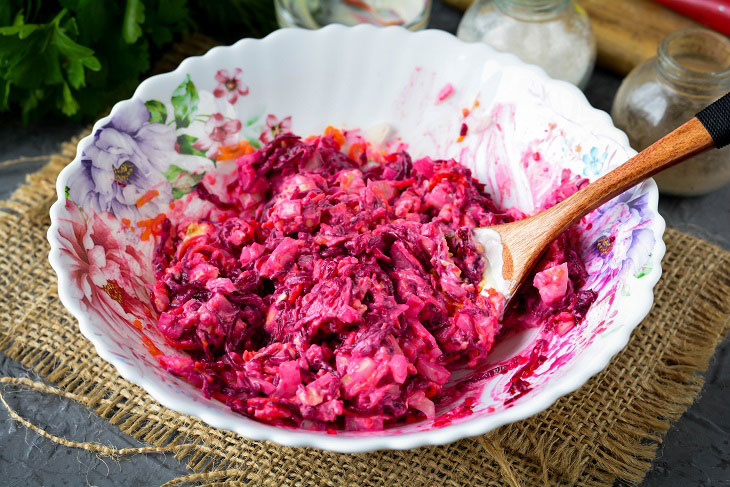 8. Stuff the egg whites with the beetroot filling. Fill completely, forming a small slide.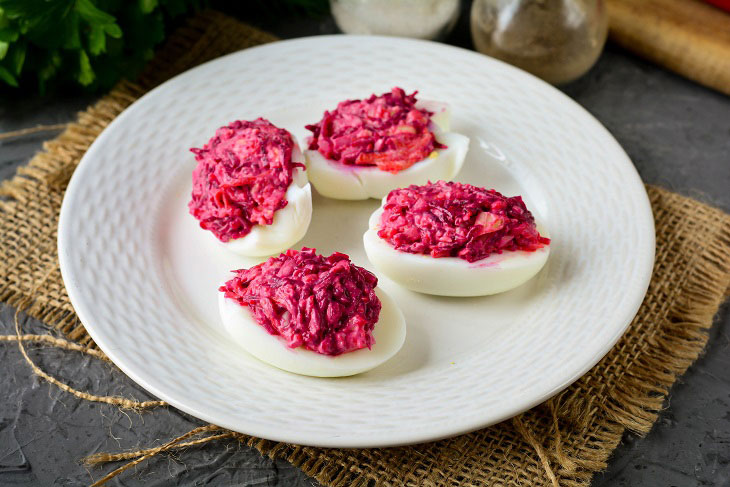 9. Put a piece of herring on each half of the egg.
It is convenient to buy a peeled herring, cut into pieces. You don't need to peel or cut anything, it remains to be used immediately for the recipe. You can buy a whole salted herring, peel it from the skin, bones and cut into pieces.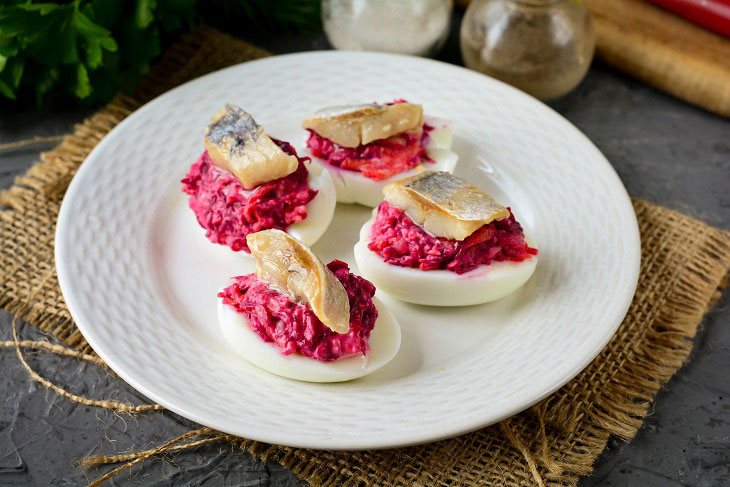 10. Decorate stuffed eggs with fresh herbs such as parsley. Serve chilled. Lazy "Herring under a fur coat" will appeal to you and your guests.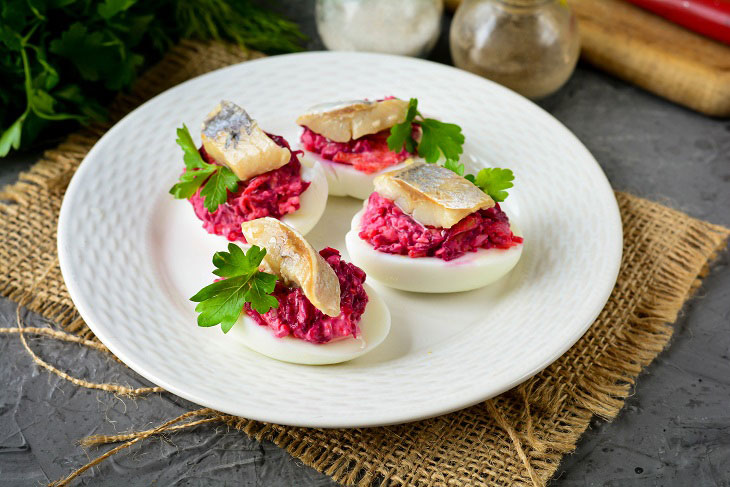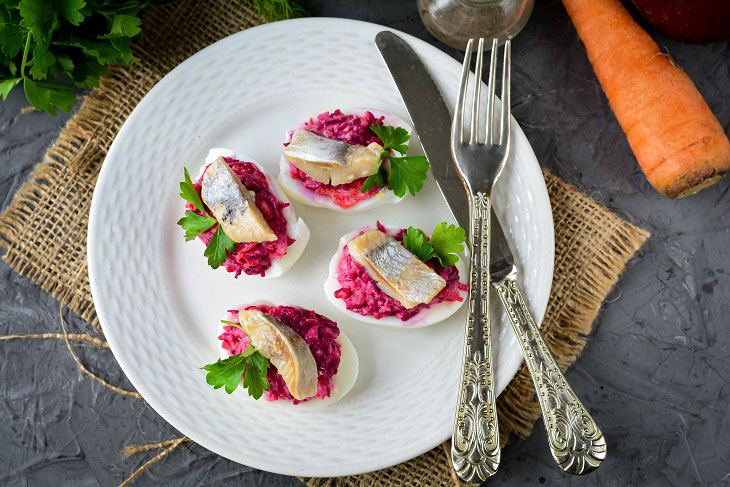 Enjoy your meal!