This simple recipe is sure to please. Prepare a bright and tasty appetizer "Chickens" that will delight not only adults, but also children. It is prepared quite quickly from available products, which, without any problems, can be bought at any supermarket. Delicate yellow balls with a light garlic aroma will certainly appeal to all guests at the festive table.
Ingredients:
Chicken eggs – 4 pcs.
Crab meat – 100 g.
Processed cheese – 50 g.
Garlic – 1-2 cloves.
Salt, pepper – to taste.
Mayonnaise – 2-3 tbsp. l.
For decoration:
Boiled carrots – 1 pc.
Dill – 2-3 sprigs.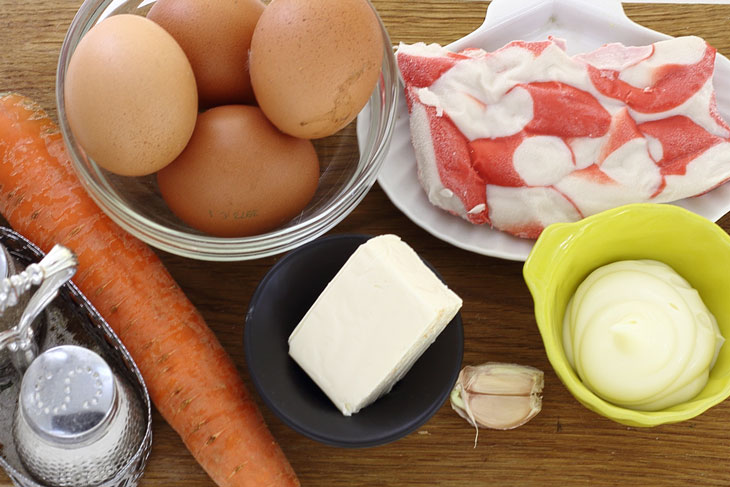 How to cook:
1. To prepare snacks, you need boiled eggs. Take them out of the refrigerator a few hours before cooking. Rinse well.
If the eggs are heavily soiled, use a kitchen sponge.
Boil water in a saucepan. Salt. Dip the prepared eggs at room temperature in boiling water. Cook from the moment of boiling for 10 minutes. Cool down in cold water. Clear. Separate the whites from the yolks. Grind on a medium grater.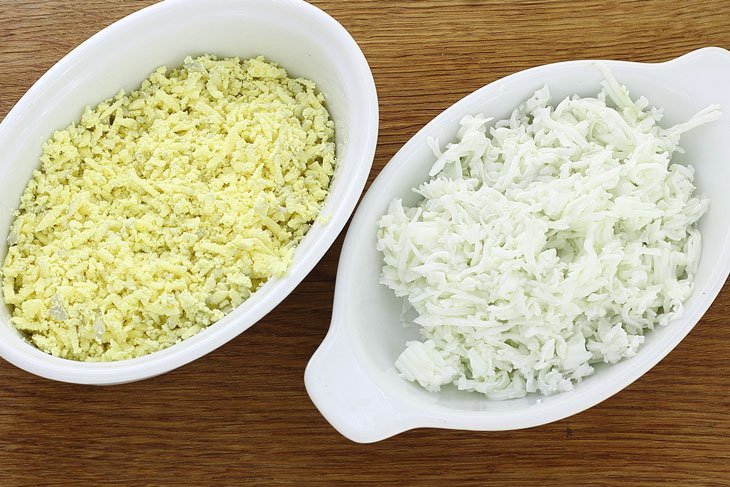 2. Keep crab meat and melted cheese in the freezer for a while. Then grate on a medium grater. Instead of crab meat, use quality crab sticks. Processed cheese can be replaced with hard cheeses.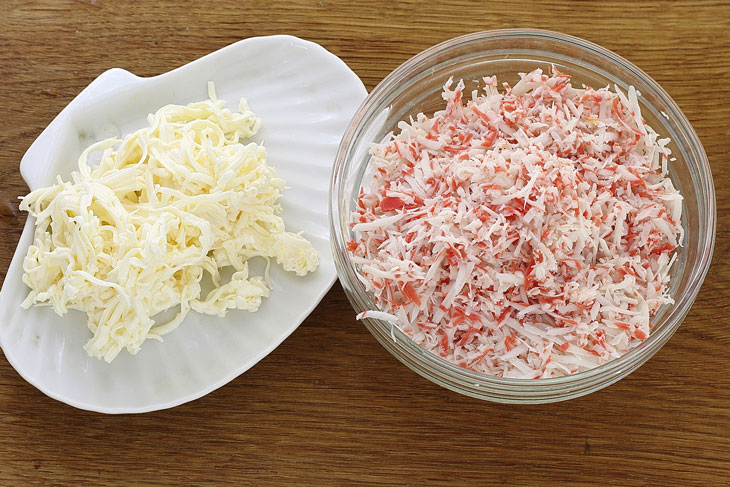 3. Choose the right size salad bowl. Sprinkle grated processed cheese, crab meat, proteins.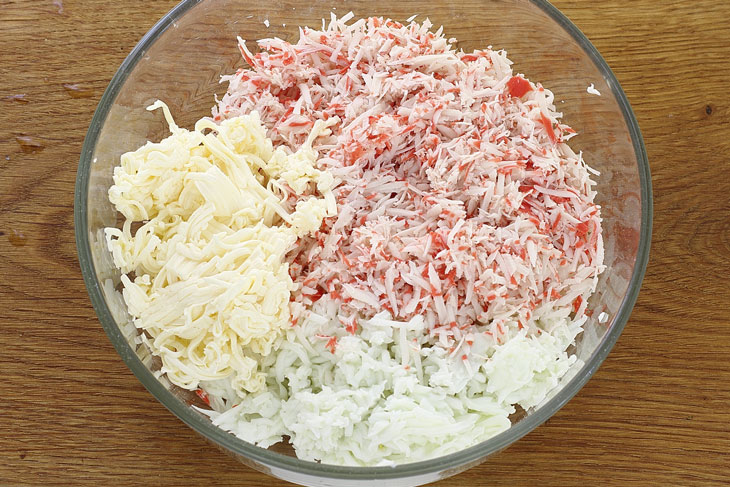 4. Peel the garlic cloves. Pass them through a press or chop on a fine grater. Add mayonnaise and garlic to salad bowl. Salt and season with ground pepper. Stir. Add the amount of mayonnaise to your liking so that the crab mixture lends itself well to molding.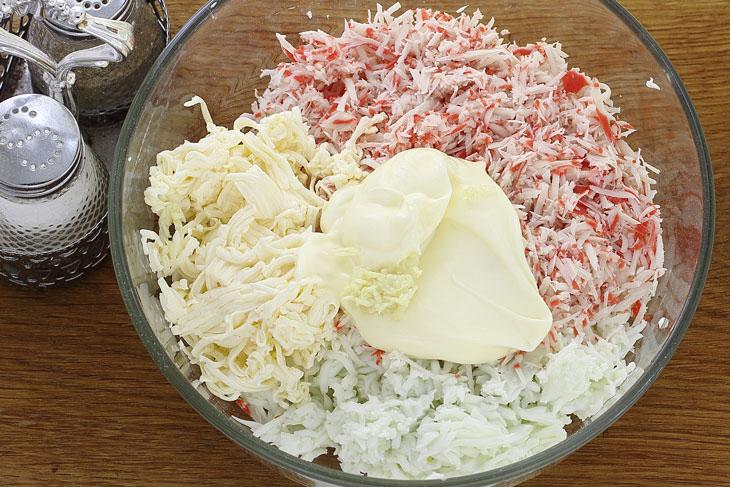 5. Take a small portion of the crab mass and form a ball a little larger than a walnut. Dip in the grated yolks and coat well on all sides. Roll again with your hands.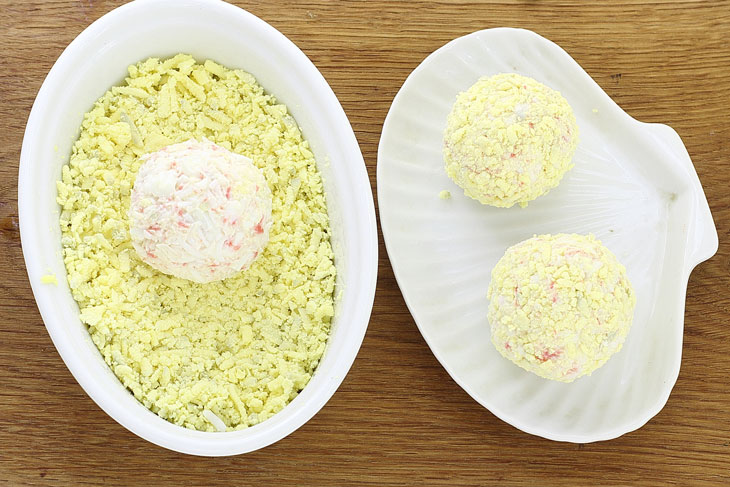 6. Take a flat plate to serve the snack. Lay out the formed balls. The blanks can be moved to green lettuce leaves or a round salted cracker.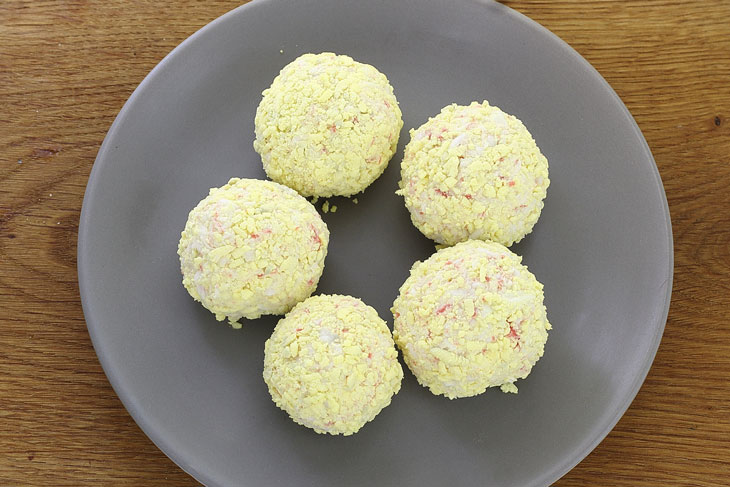 7. Boil a small carrot in advance. Let it cool to room temperature so that it is convenient to work with it. Clear. Cut out the "beak" and "tuft". For the "eyes" use black peppercorns.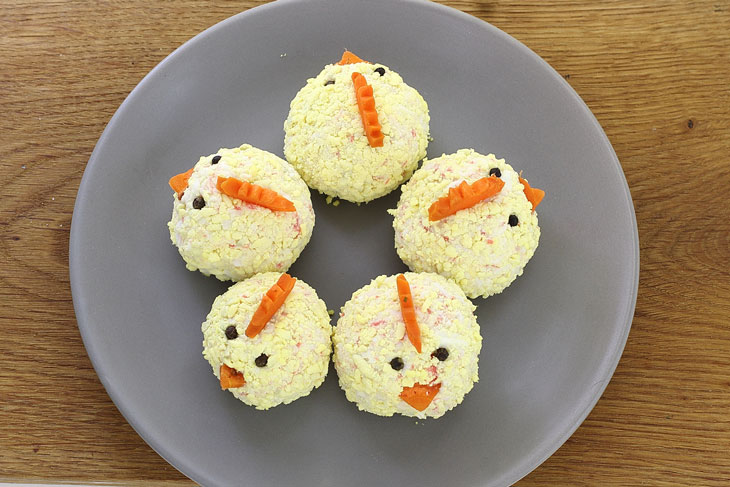 8. Garnish with sprigs of dill or other herbs.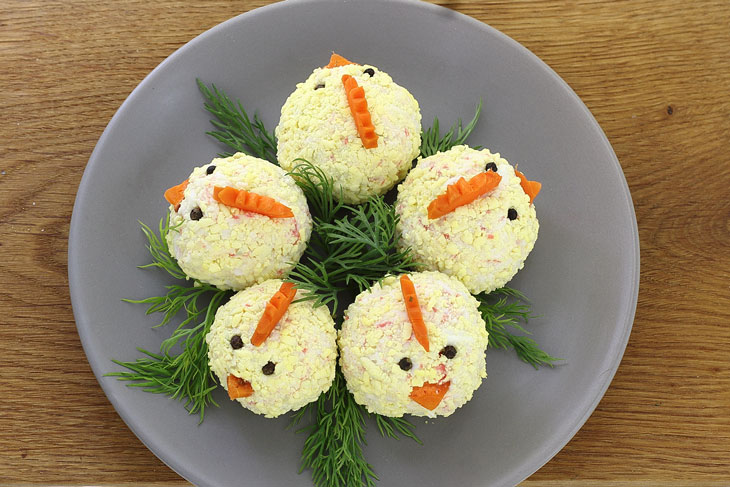 Snack "Chicken" is ready. Serve immediately.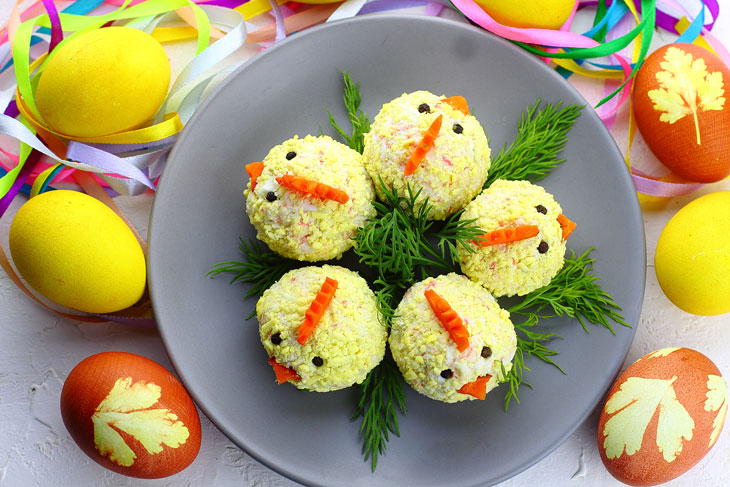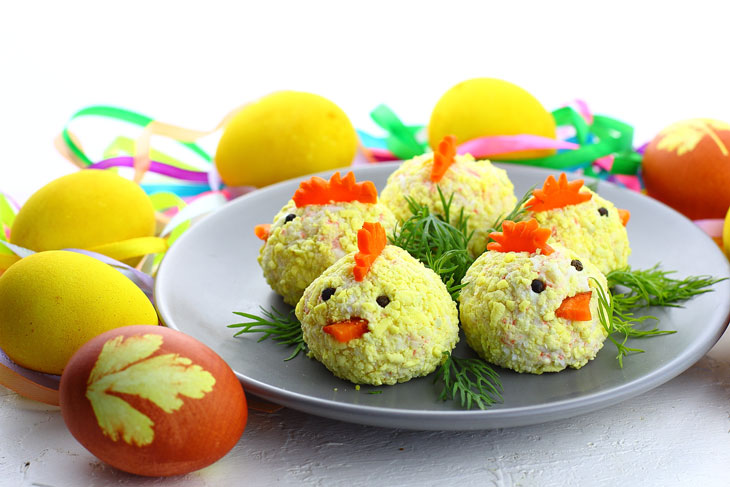 Enjoy your meal!