Lyulya kebab is a dish of oriental cuisine, it is an oblong cutlet, which is most often prepared from lamb, chopped onion and spices. A distinctive feature is the long kneading of minced meat (therefore, it does not hold its shape, despite the absence of eggs in the recipe).
Modern kebabs are made from any meat: lamb, beef, pork or chicken. Lyulya is fried not only on the grill, but also in a pan, and also baked in the oven.
Today we will cook a very tasty pork and beef kebab. We will use minced meat (however, the meat can be finely chopped with a knife, it will be more authentic), add onions, sweet peppers and herbs to it. You can fry such a kebab over coals, strung on skewers. Or just fry in a pan until golden brown. Either way, it will be delicious!
Ingredients:
Pork (fatty) – 250 g.
Beef – 250 g.
Onion – 60 g.
Bulgarian pepper (red) – 30 g.
Chopped parsley – 1 tbsp. l.
Salt – 2/3 tsp.
Ground coriander – 0.5 tsp.
Red ground pepper – 1/4 tsp.
Vegetable oil – 1 tbsp. l. for frying.
How to cook:
1. Grind pork and beef through a meat grinder with a large grate. If your pork is not very fatty, then you can add 50 g of fat (without skin) for juiciness.
Please note that onions cannot be ground in a meat grinder!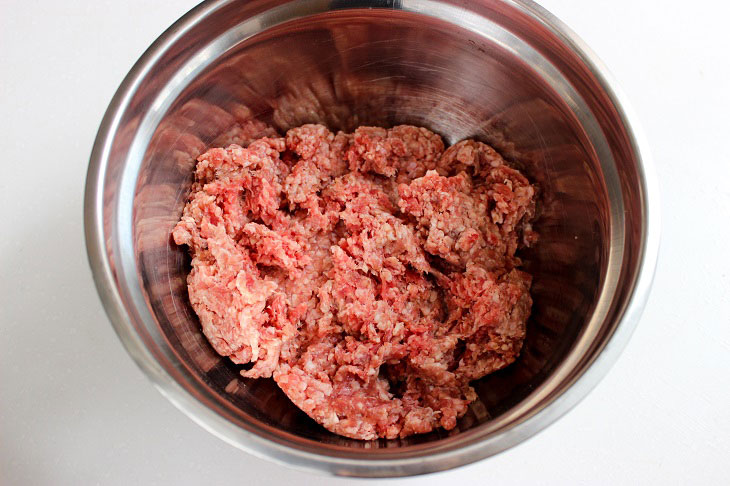 2. Peel and chop the onion with a knife as finely as possible – this is exactly the case when slicing is of fundamental importance. Small onion cubes will only partially release the juice when you knead (thus marinating the meat), but most of it will hold when frying. Sweet pepper is also cut into small cubes. It is best to take red pepper, it will look beautiful in the finished dish, it will not be lost against the minced meat.
Do not forget to add parsley, in this case, frozen greens from our own garden were used.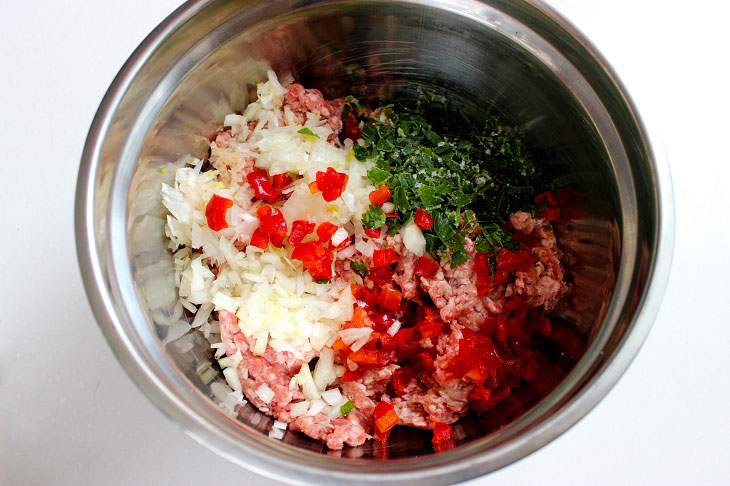 3. Add salt, hot pepper and ground coriander.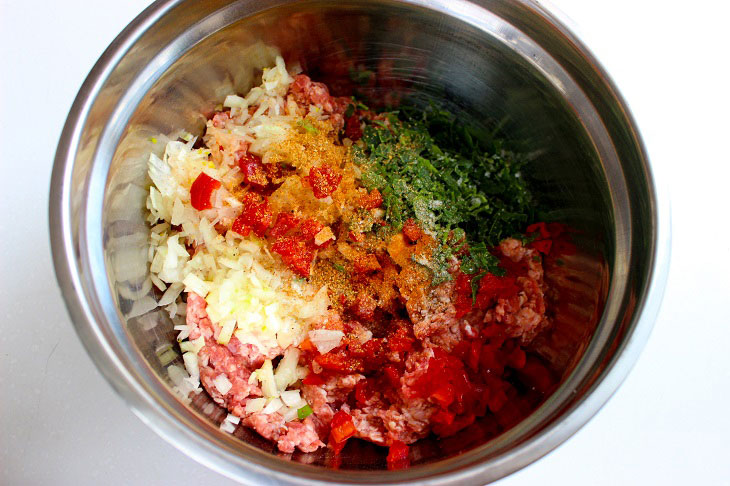 4. Next, the most important thing is to knead thoroughly. You need to work intensively with your hands, at least 10-15 minutes. Due to prolonged kneading, the minced meat will change its structure, it will, as it were, stretch with long threads behind the fingers. Vegetables will release juice, and spices will reveal their flavor to the fullest. Cover the mixed minced meat with a plate on top and put in the refrigerator for 1 hour to marinate and cool (the fat should solidify).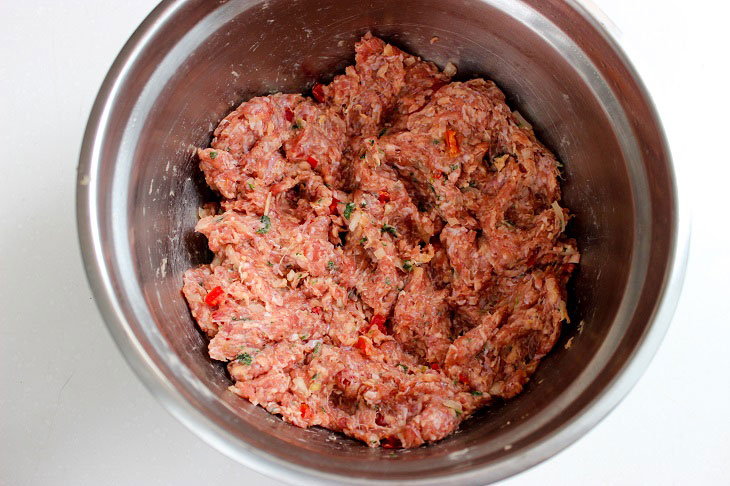 5. With hands dipped in oil, form oblong sausages. If you cook on coals, then you should immediately string it on a skewer (cold, dry), pressing it along the length. If you plan to fry in a pan, then you can simply form long cutlets of a slightly flattened shape, about 18-20 cm long.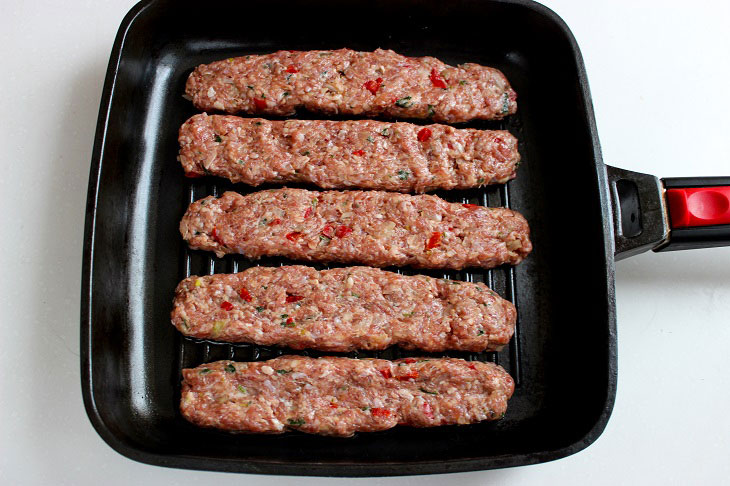 6. Fry the kebab in a pan over medium heat until a firm crust, about 3 minutes on both sides, without a lid, turn over with a spatula. If you cook on the grill, then first hold it over very hot coals until crusty for just a minute, and then bring it to full readiness over already burnt coals, turning the skewers.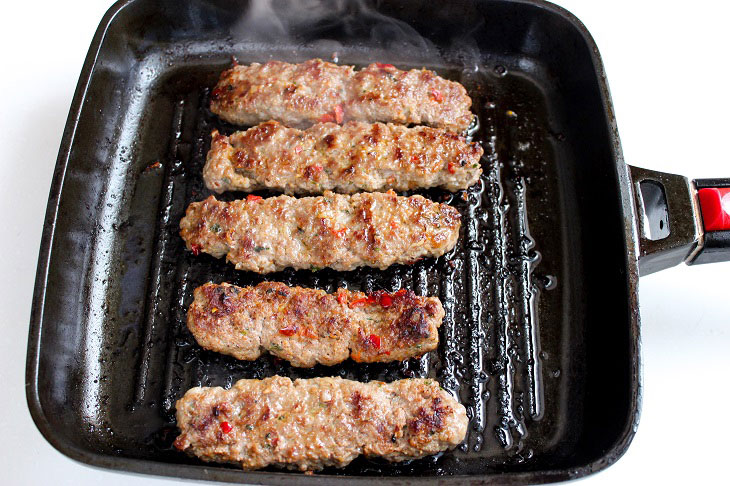 Serve hot, complementing the dish with spicy tomato satsebeli and pickled onions.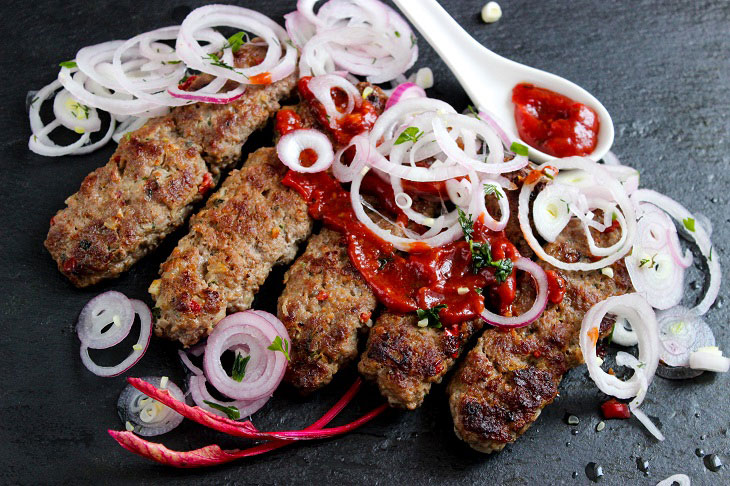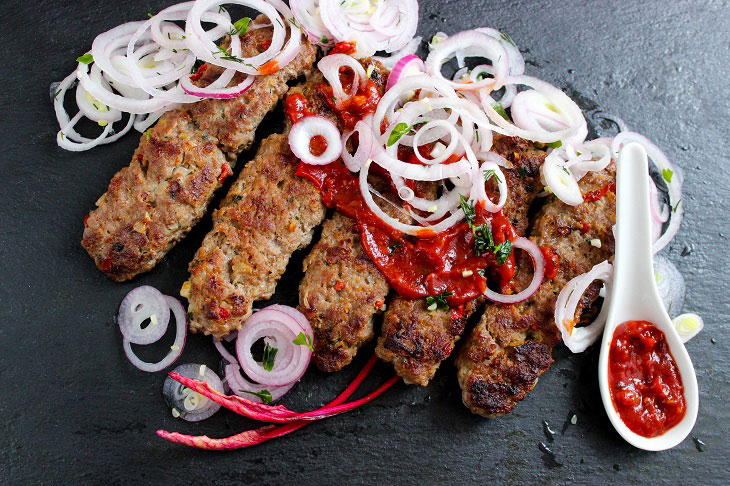 Bon appetit!