Pies with cabbage and egg are incredibly yummy. But sometimes you want something new. Today we will change the form and partly the content of "favorites". The shape will attract the attention of children, who, as you know, do not always please us with excellent appetite and love for savory treats. And I will add a certain amount of spices to the classic ingredients of the filling. In the end, you will get about ten cupcakes of the same volume as our silicone mold.
Ingredients:
For test:
Kefir – 300 ml.
Raw egg – 1 pc.
Wheat flour – 1.5 tbsp.
Sugar – 1 tsp.
Soda – 1 tsp
Salt – 0.5 tsp.
Egg yolk diluted with milk for lubrication – 1 pc.
For filling:
Fresh cabbage – 300 g.
Boiled eggs – 2 pcs.
Medium bulb – 1 pc.
Sweet ground paprika – 1 tsp
Freshly ground black pepper – 0.5 tsp.
Vegetable oil – 2 tbsp. l.
Water – 100 ml.
Adyghe salt – to taste.
For submission:
Melted butter – 1 tsp
Greens, boiled egg, paprika – optional.
How to cook:
1. Let's start by preparing the necessary ingredients. Kefir and eggs will be taken out of the refrigerator in advance. These products should be at least at room temperature – this is important for future testing. Let's wash the cabbage.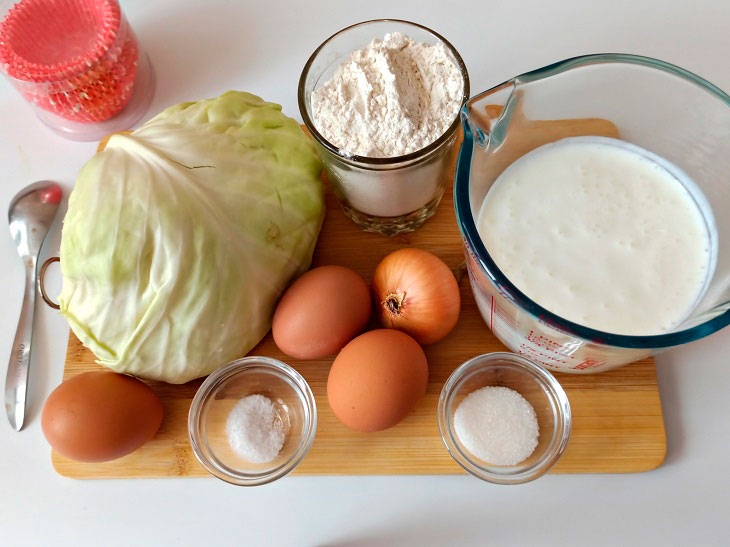 2. Shred the cabbage into thin and not long strips. It will shrink in size as it cooks.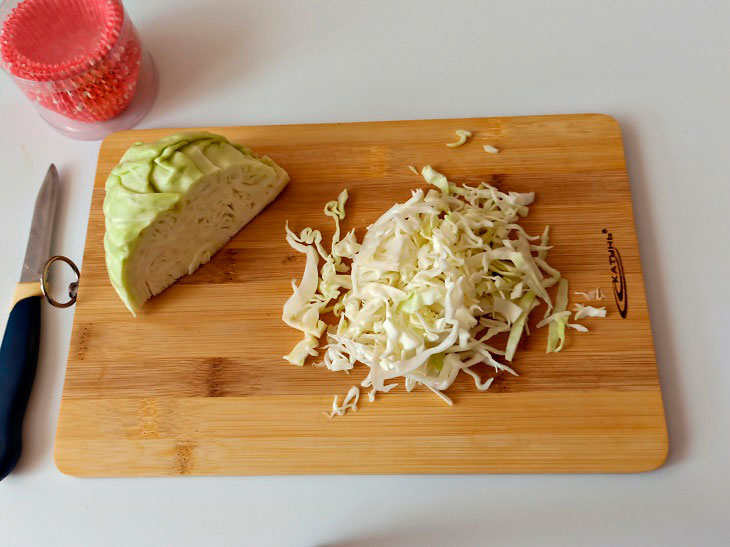 3. Hard boil the eggs and let them cool. Peel the onion and chop it randomly.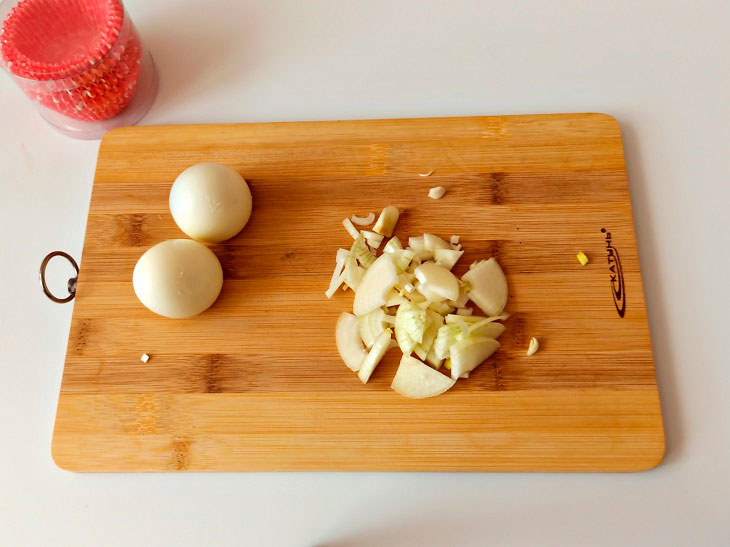 4. To begin with, let's start shredded cabbage in a pan with the addition of 100 ml of water.
How long this takes will depend on the stiffness of the fork. Early cabbage is more tender than late cabbage varieties.
After seasoning, add onion, pepper, paprika, salt it with Adyghe salt, pour vegetable oil and fry the vegetables for 7 minutes, stirring constantly. The stuffing is ready and needs to cool down.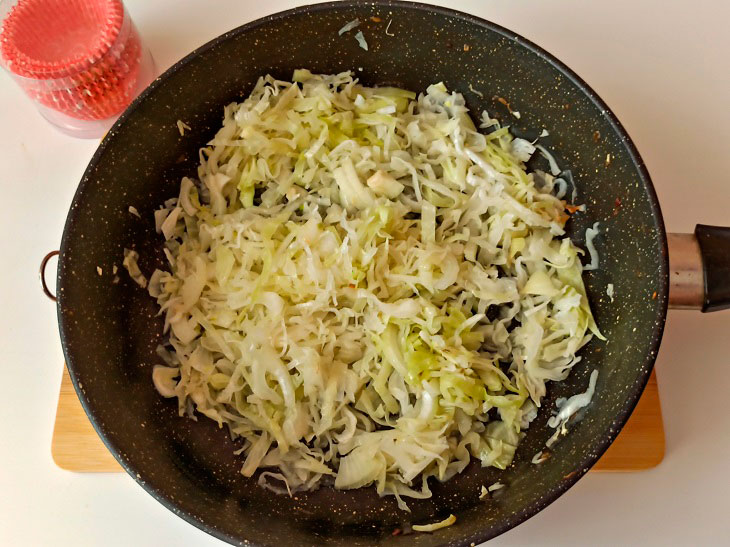 5. In the meantime, let's prepare the dough. Break an egg into a bowl, put salt, granulated sugar and soda.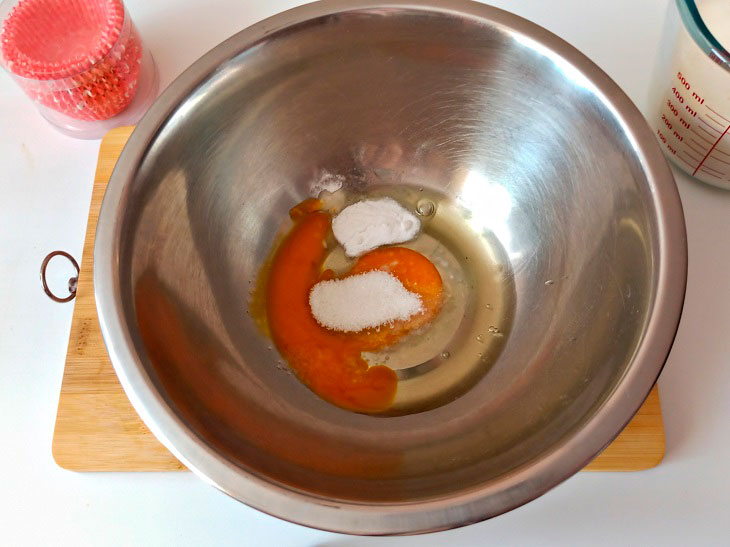 6. We will pour kefir there and gradually add the sifted flour.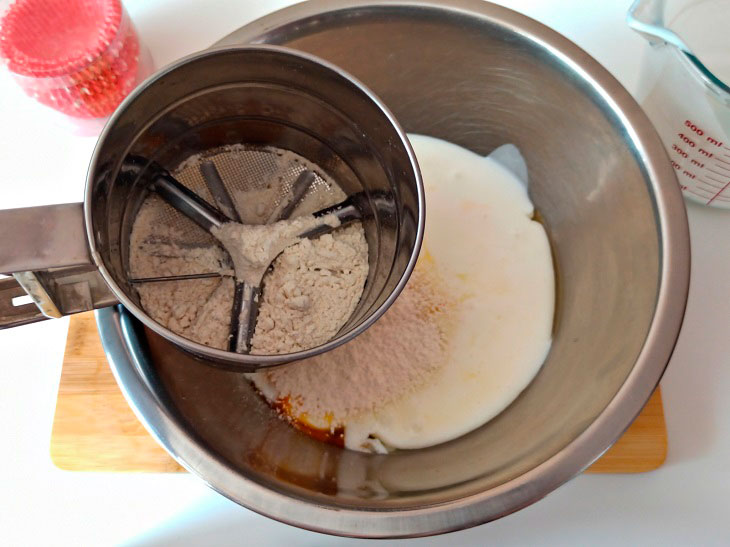 7. Gradually mix the dough without any electrical devices.
The dough starts bubbling – a sure sign that it will be soft when baking.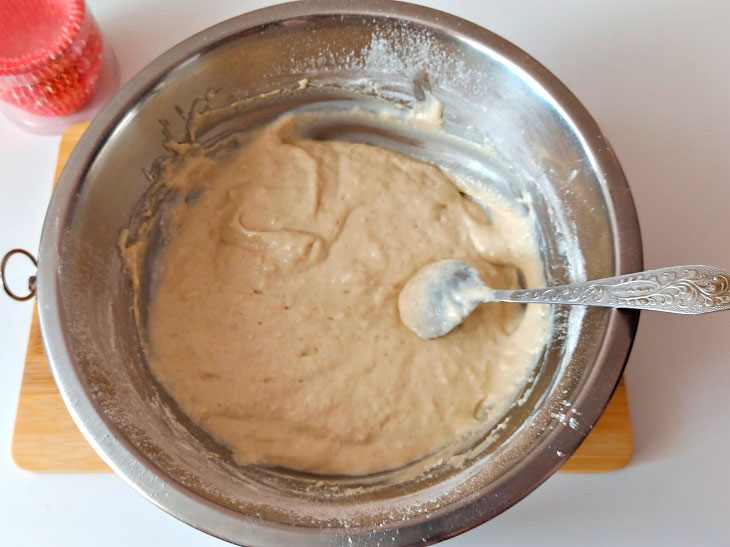 8. Add chopped boiled eggs to the cooled cabbage.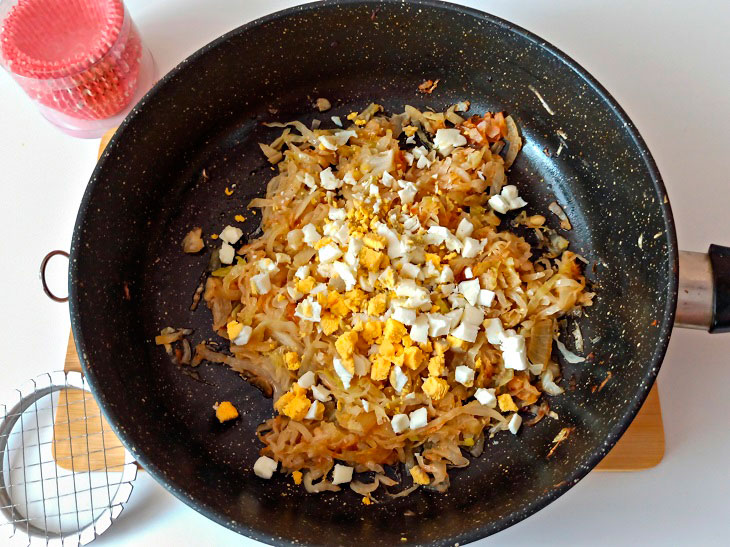 9. Put a little dough into the cupcake molds (about 1/3 of the volume).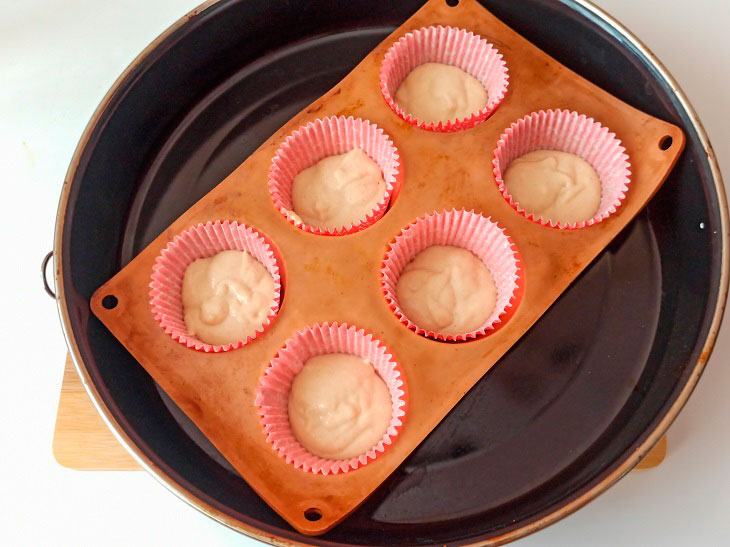 10. Then add the cabbage filling and close it with the next layer of dough. The oven is already preheated to 180°C and is waiting for cabbage muffins for 15 minutes. You won't have to bake for a long time, because the filling is ready and time is needed only for the dough to be ready.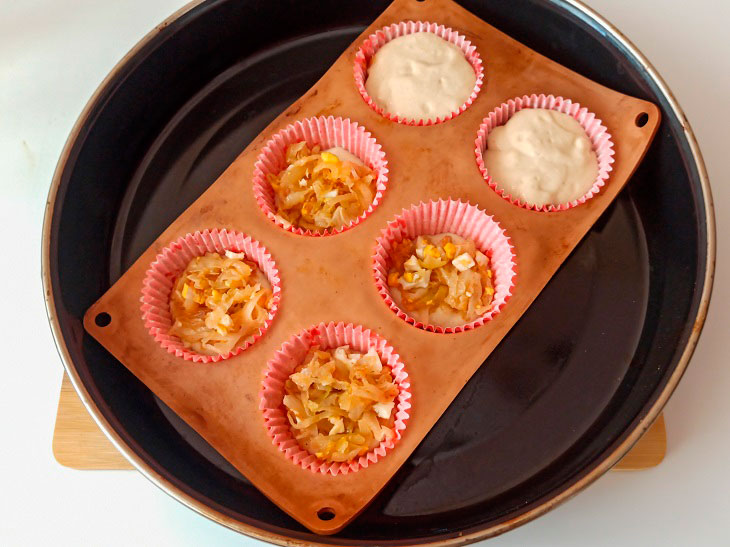 11. The intermediate version of the cupcakes looks promising – the dough has risen beautifully and the filling oozes butter in some places. It remains to grease the surface with egg yolk mixed with milk and leave under the top heat for five minutes.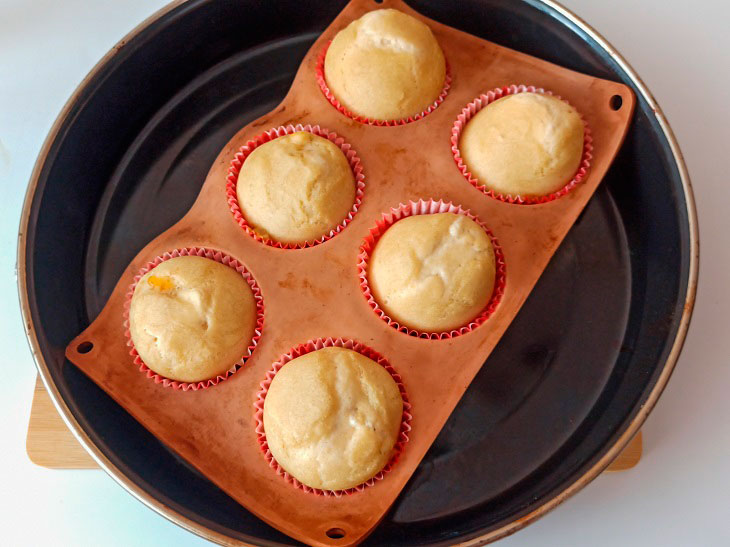 Cupcakes turned out rosy, tender, melting in your mouth. Lubricate the crust with melted butter, let rest under a clean towel.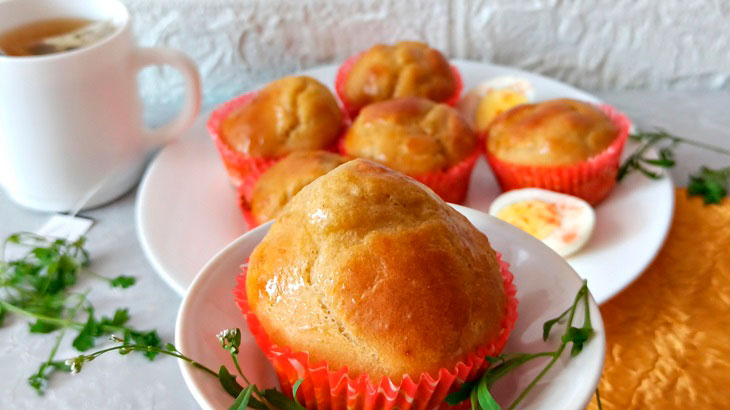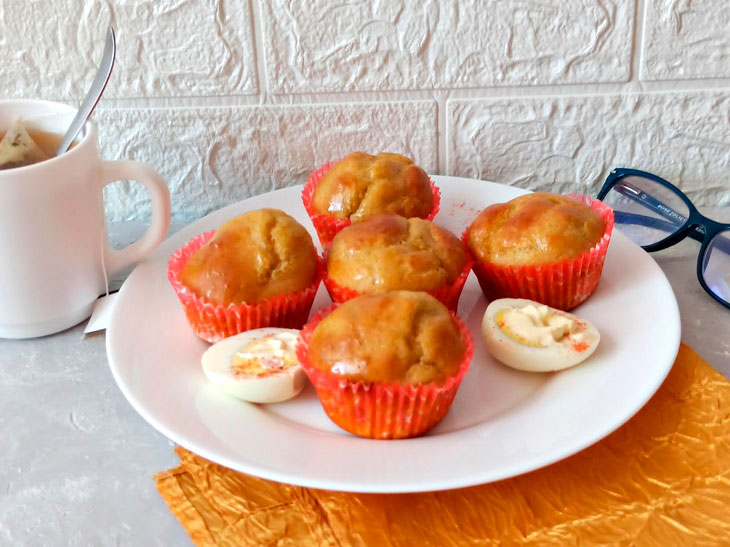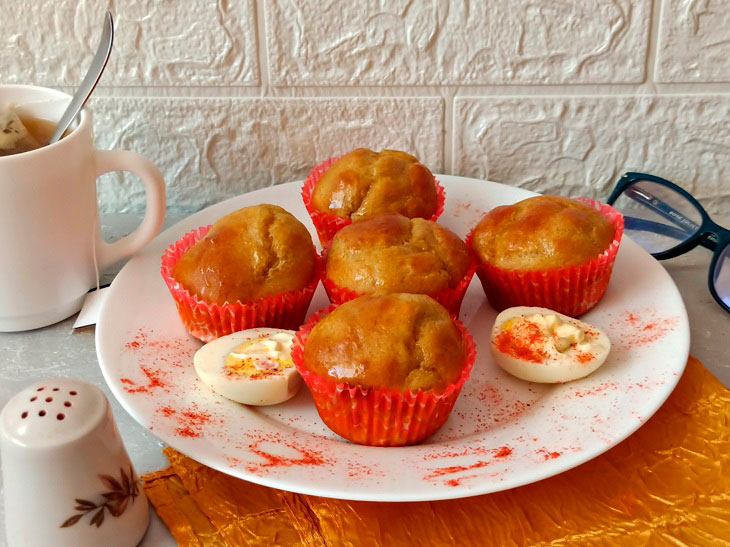 Bon appetit!