Do not know how to please men on February 23? Set the table! No matter how severe our defenders are, their male heart will surely tremble and melt at the sight of the original festive table. Therefore, wise women are not too lazy and will prepare delicious mouth-watering snacks, salads and hot dishes for their men. We suggest you prepare a men's salad, decorated in the form of a tank. It will be especially appropriate if your husband has served or is serving in the tank forces.
For the recipe you will need chicken meat – you can use fillet or meat from the thigh. Salty mushrooms – preferably porcini or any forest analogues (honey mushrooms, milk mushrooms, butter mushrooms) will give a light spicy touch to the dish. A set of greens can be anything. The salad must keep its shape, so high-quality fat mayonnaise is an objective necessity. For decoration, you will need carrots, pickled or fresh cucumber, a little canned peas.
Ingredients:
Chicken fillet – 170 g.
Eggs – 2 pcs.
Salted porcini mushrooms – 150 g.
Dill, parsley – half a bunch.
Pickled cucumber – 1 pc.
Green peas – 2 tbsp. l.
Mayonnaise – 2 tbsp. l.
Salt, pepper – to taste.
Carrots – for decoration.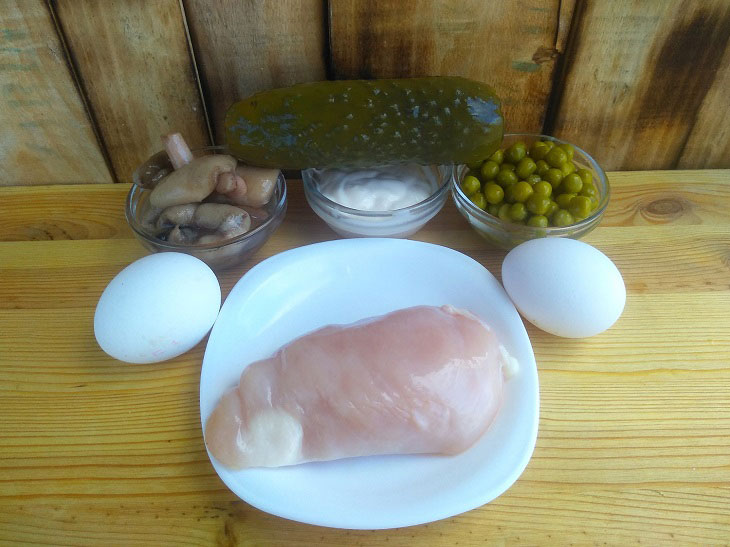 How to cook:
1. Put the chicken fillet in a saucepan, pour cold water over so that it completely covers the meat. Bring to a boil, cook over low heat for 15 minutes. Cool the meat in the broth. Cut the fillet into cubes with a side size of 0.5 – 0.7 cm. Put the prepared chicken meat in a salad bowl.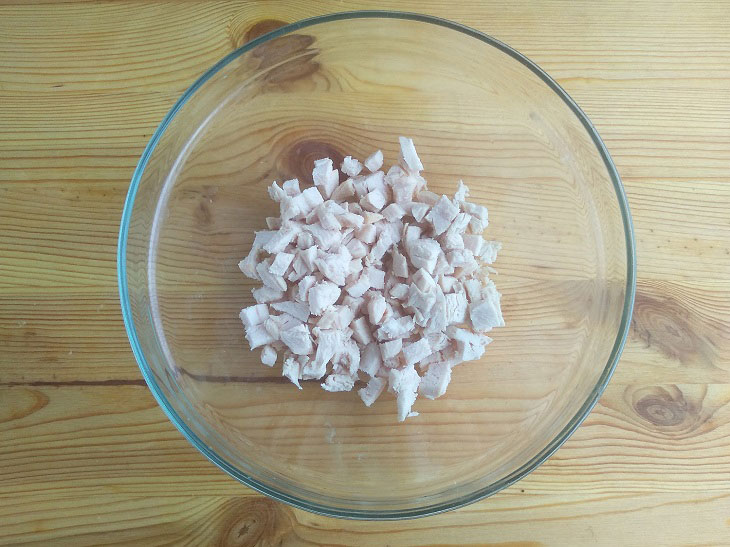 2. Rinse mushrooms in running water, chop with a sharp knife.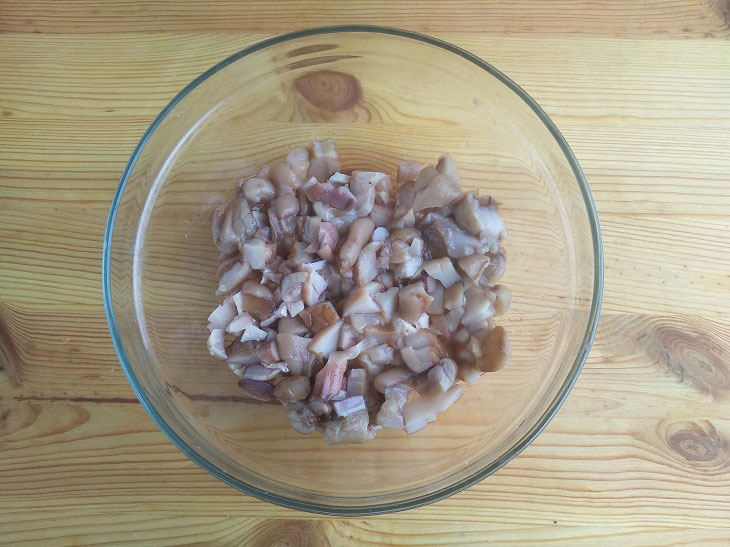 3. Hard boil the eggs, peel and cut with an egg cutter.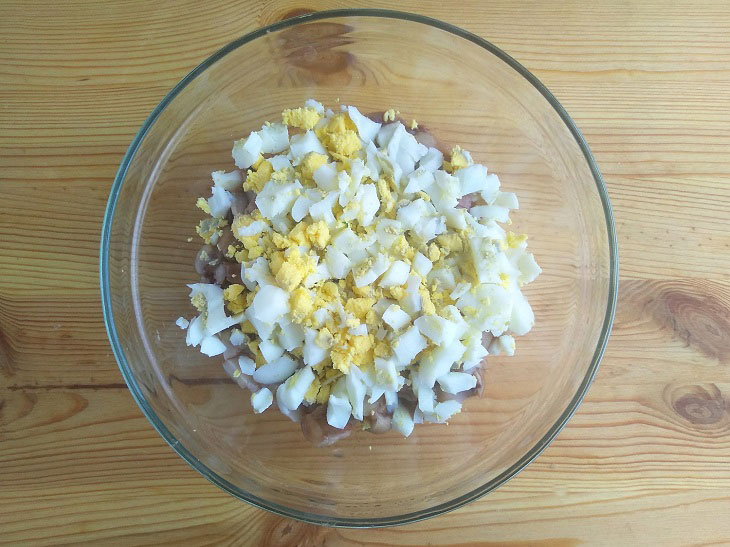 4. Rinse greens, dry, chop. Part of the greens will be for decoration, part – put in a salad.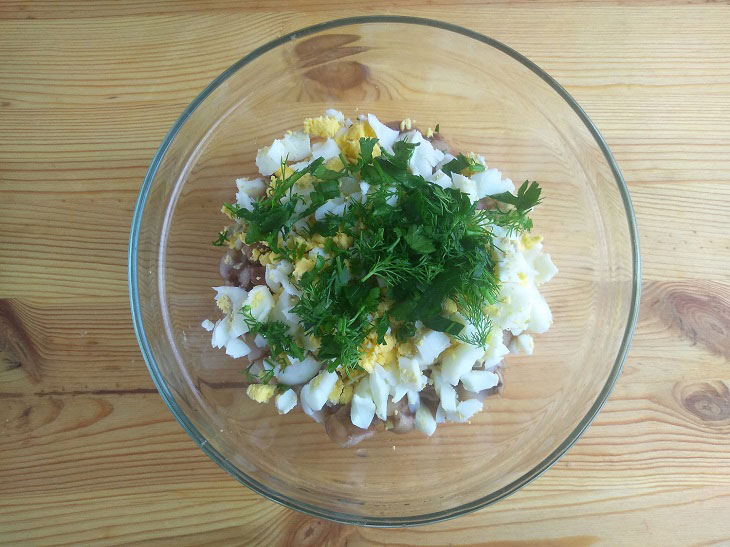 5. Salt, pepper and season with mayonnaise. Leave the salad for half an hour at room temperature to infuse.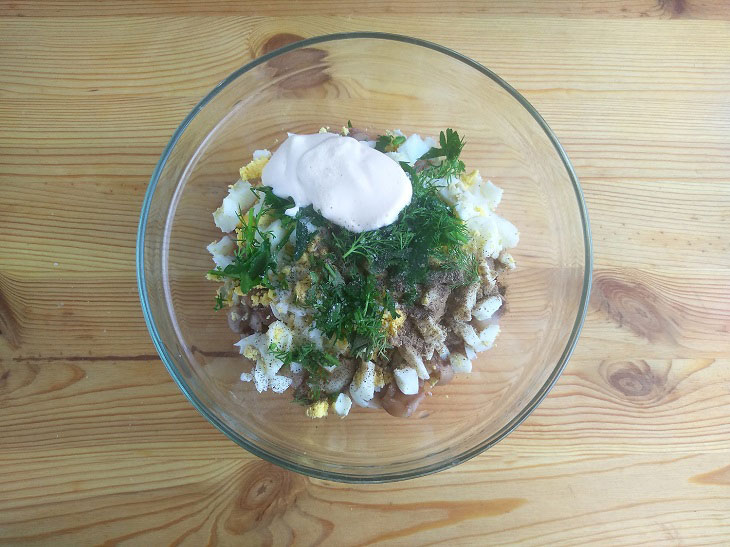 6. For decoration, take a flat plate, put the salad in the form of a tank.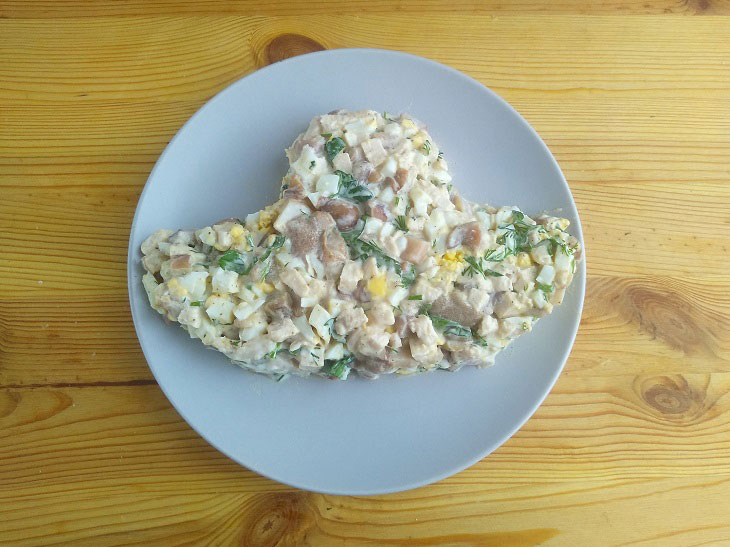 7. Cucumber cut in half, form the wheels, armor and chain of the tank. Lay out the peas as in the photo.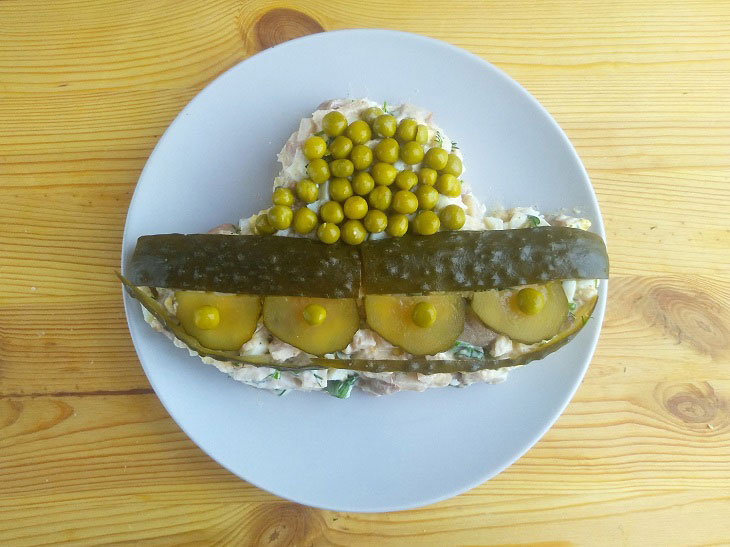 8. From carrots, cut out the numbers 2 and 3, an asterisk and two strips about 3-4 mm wide. Install a trunk from a parsley or onion branch on the tank turret.
Men's salad will decorate your festive feast and attract the attention of your guests and loved ones.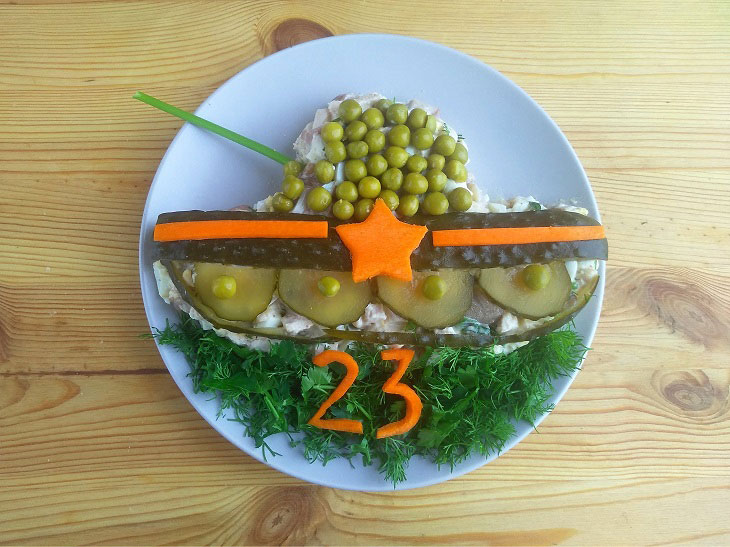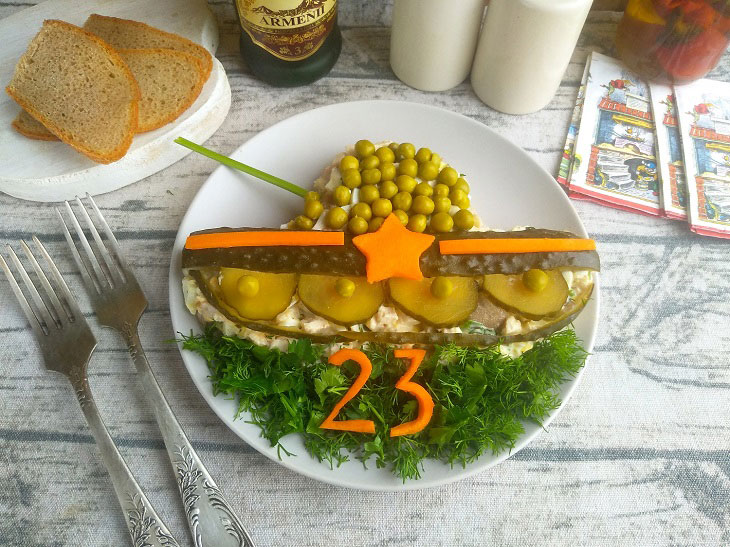 Enjoy your meal!