If you are tired of boring banal salads, diversify your diet and cook Mediterranean cucumbers. Salad highlight in a thick dressing made from a mixture of olive oil, lemon juice and boiled egg yolk. This dressing coats the vegetables and gives a delicate texture to the dish.
To prepare it, select fresh cucumbers, preferably only from the garden. You will also need soft labne cheese in a spicy sauce. You can replace it with feta cheese. Two types of olives should be used for salad – green and black, they will give the dish a Mediterranean taste.
Ingredients:
Cucumbers – 3 pcs.
Eggs – 2 pcs.
Olives – 50 g.
Labne – 3 balls.
Honey – 1 tsp
Lemon juice – 2 tbsp. l.
Olive oil – 2 tbsp. l.
Fresh mint – 0.5 bunch.
Salt pepper. –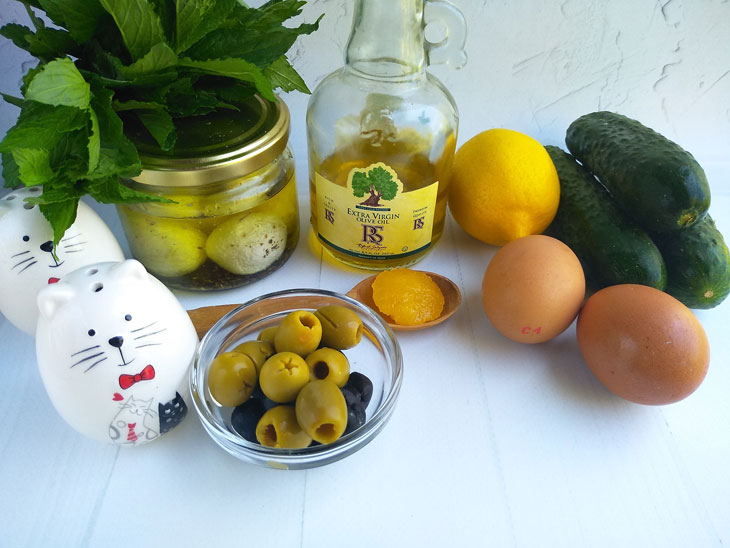 How to cook:
1. Rinse cucumbers, dry, peel.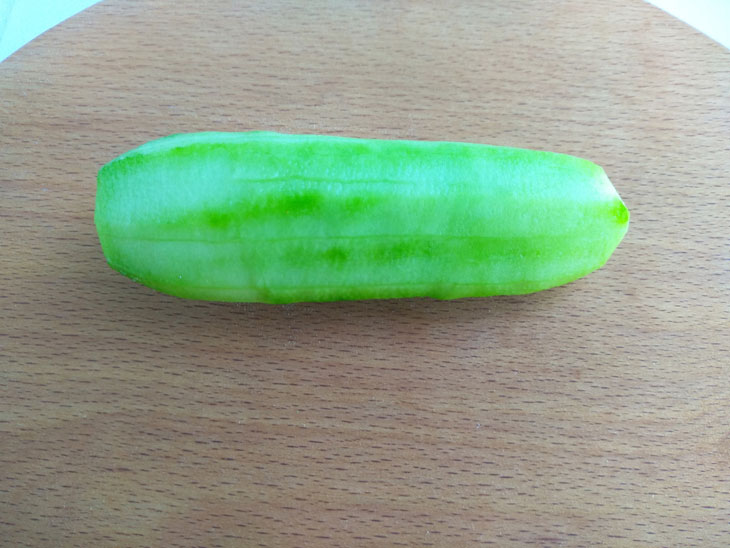 2. Cut each cucumber lengthwise into 4 pieces, remove the seeds.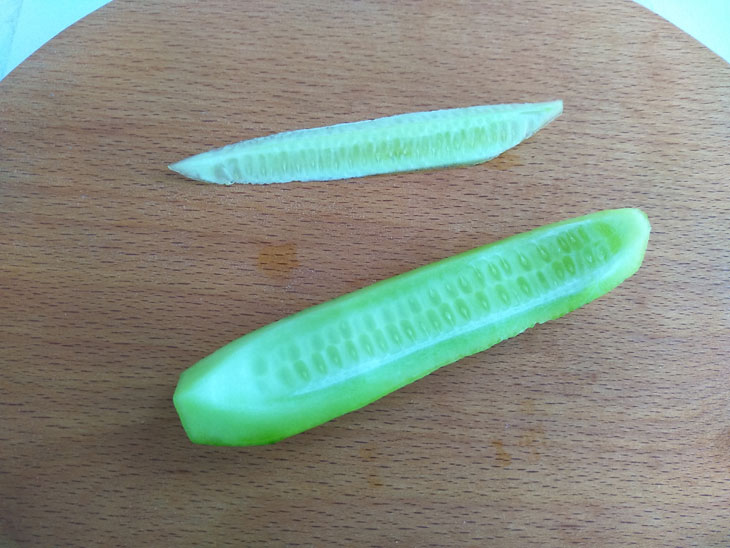 3. Cucumbers cut into cubes 4-5 cm in size.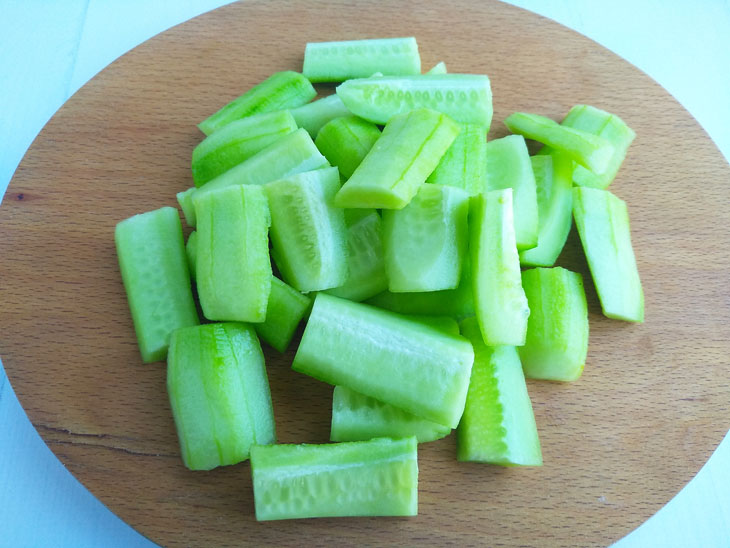 4. Cut olives in half.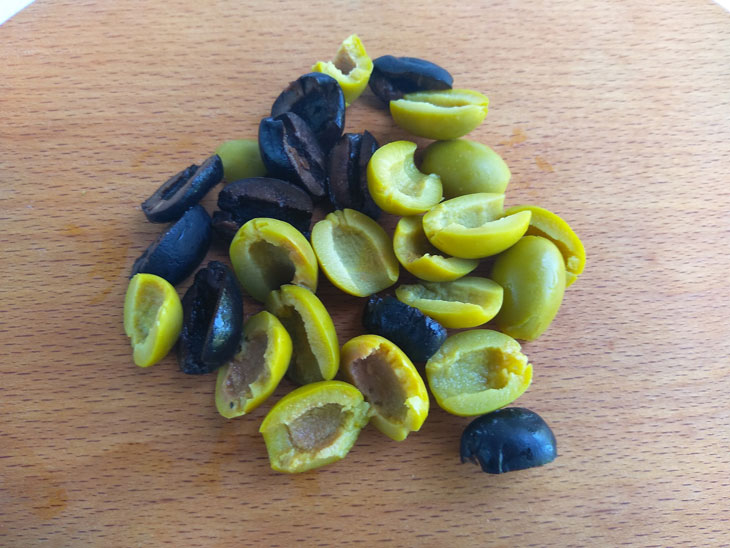 5. Divide each ball of cheese into 4 parts.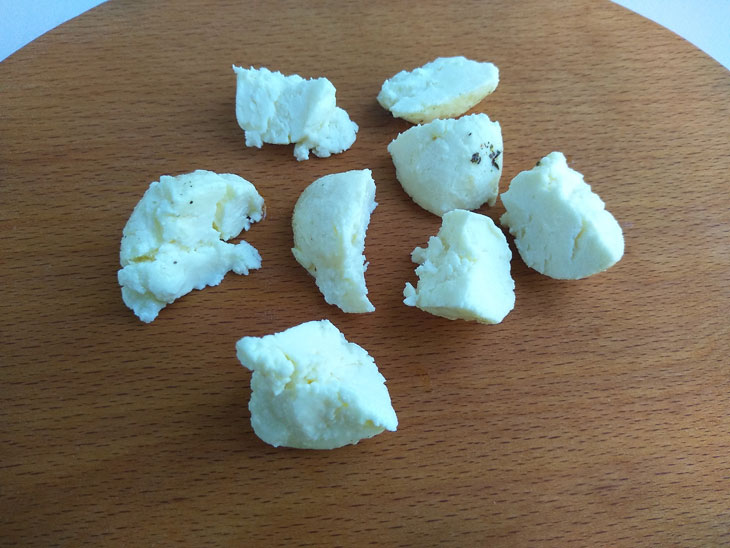 6. Place prepared ingredients in a mixing bowl.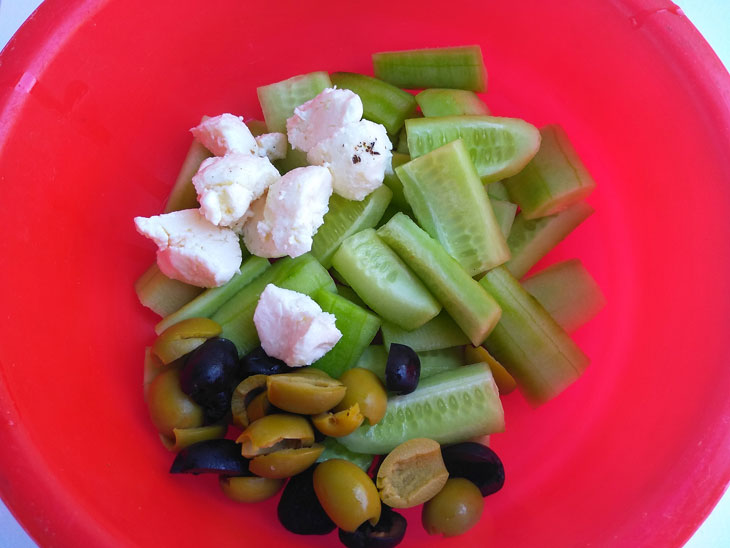 7. Boil eggs. For the sauce, use 1 yolk, white is not needed. Put honey, pepper, salt, egg yolk into a mixing bowl.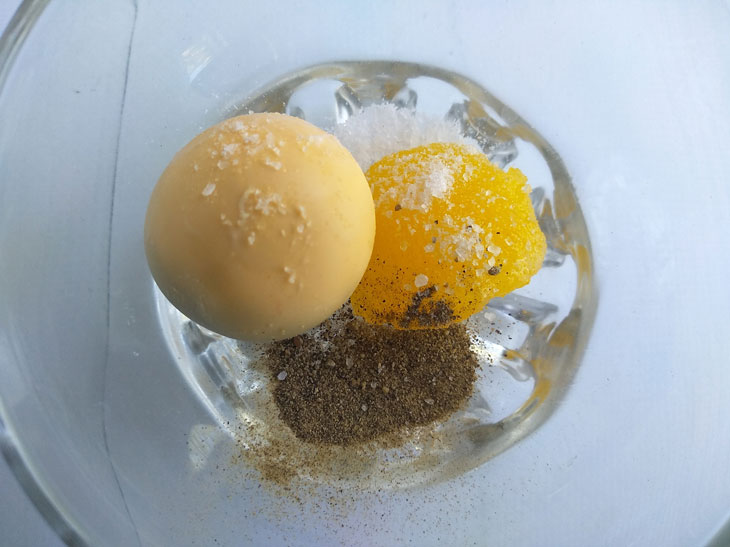 8. Add lemon juice, mix until smooth.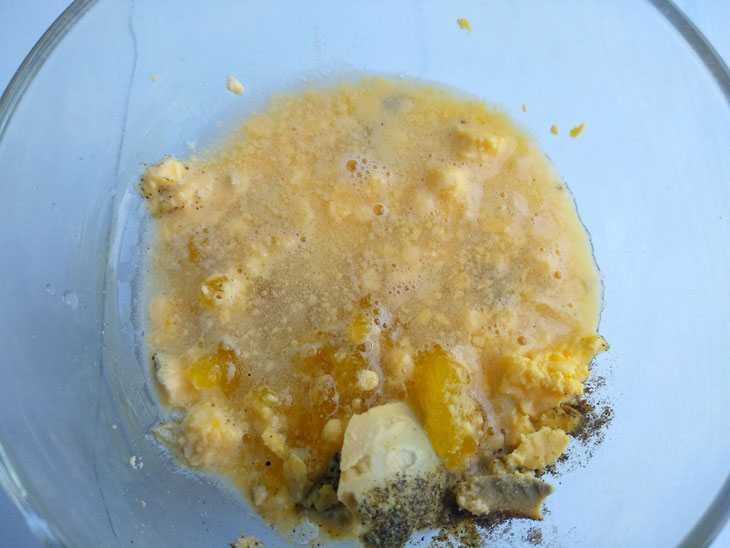 9. Pour in olive oil, stir.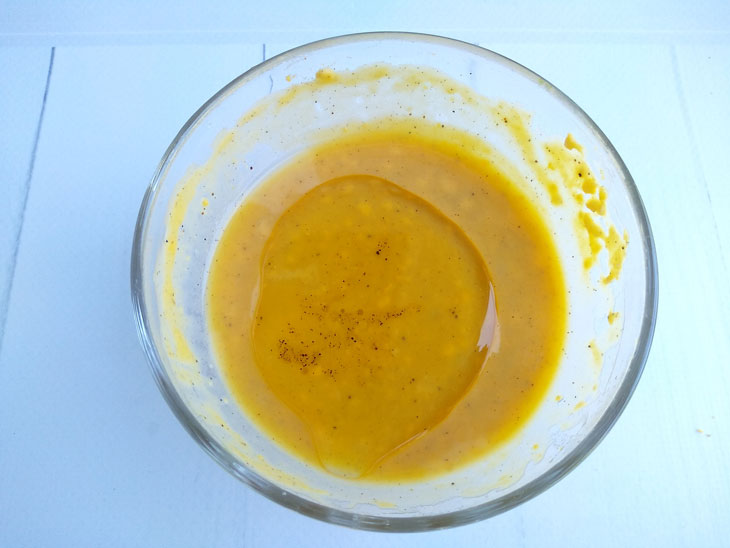 10. Pour the dressing over the salad and mix gently.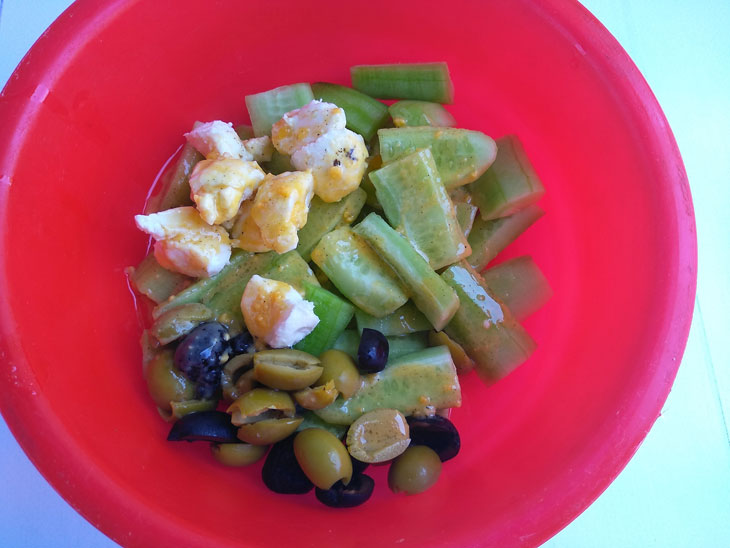 11. Rinse mint, dry, remove stems. Cut the leaves with a ceramic knife and add to the salad.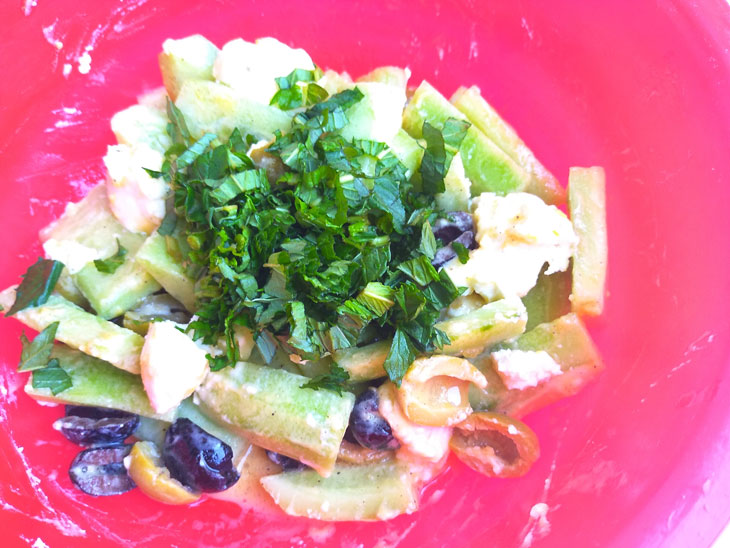 12. Put the dish on a serving plate. Divide the boiled egg into 4 parts and arrange on the salad.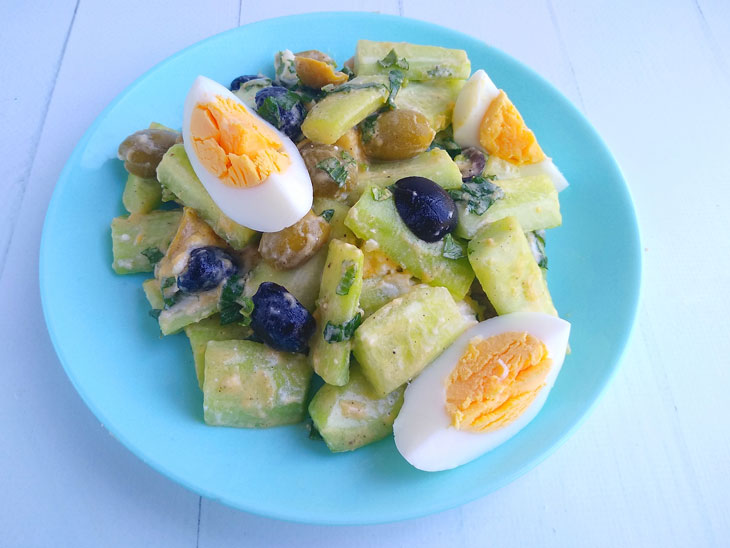 Garnish the dish with mint leaves and serve. You can complement the dish with salty waffles or carrot croutons.
The salad has a bright juicy taste of cucumbers with the smell of mint and olive dressing, with a cheesy aftertaste. The dish is not stored. It loses its taste.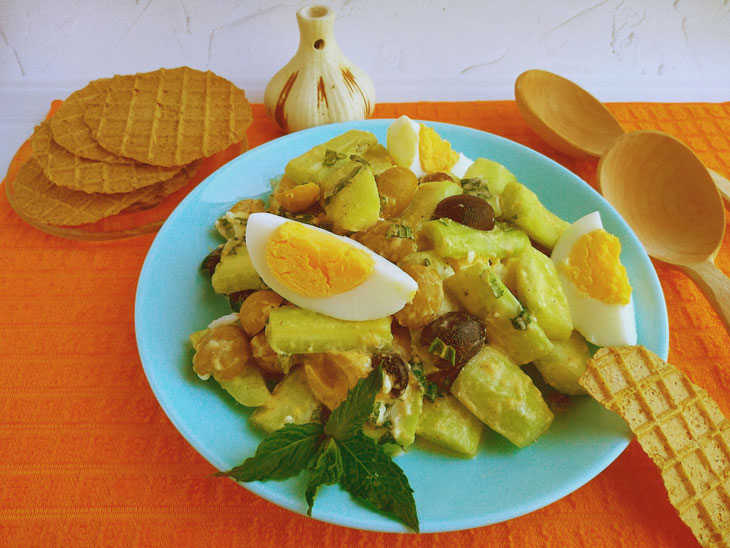 Enjoy your meal!