Delicious and unusual "Moroccan salad" of carrots can always diversify your menu, including a festive 1. Such a salad is prepared from very affordable ingredients. In addition to the carrot itself, you will need pitted green olives, orange and lemon juice, a little paprika, honey and olive oil. Dressing from juice with honey – perfectly combines all the components and makes the dish spicy and harmonious, with an oriental accent.
This salad will be the highlight of your dinner. The dish is suitable even for those who are on a diet, because it contains so many healthy products that have the most positive effect on health and figure. "Moroccan salad" of carrots can be prepared in any season and in a matter of minutes, the recipe is useful to any housewife.
Ingredients:
Carrots – 200 g.
Pitted olives – 80 g.
Orange juice – 40 g.
Lemon juice – 20 g.
Olive oil – 40 g.
Honey – 1 tsp
Sweet paprika – 0.5 tsp
Salt, black pepper – to taste.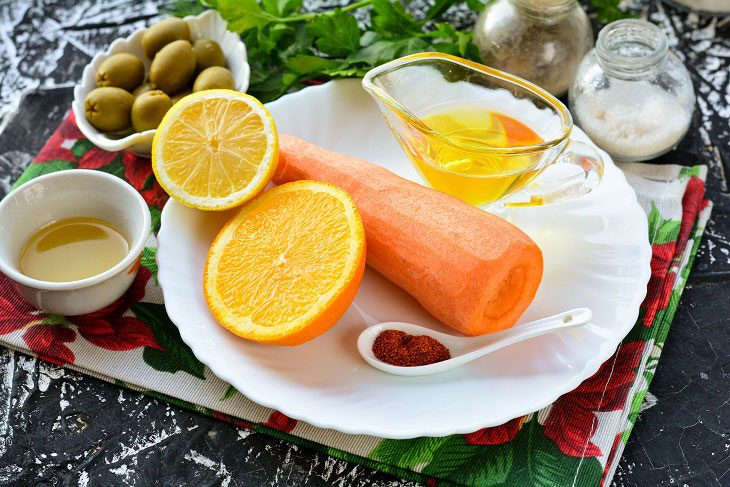 How to cook:
1. Peel and grate the carrots to make thin chips.
Carrots should be initially tasty, sweet and juicy.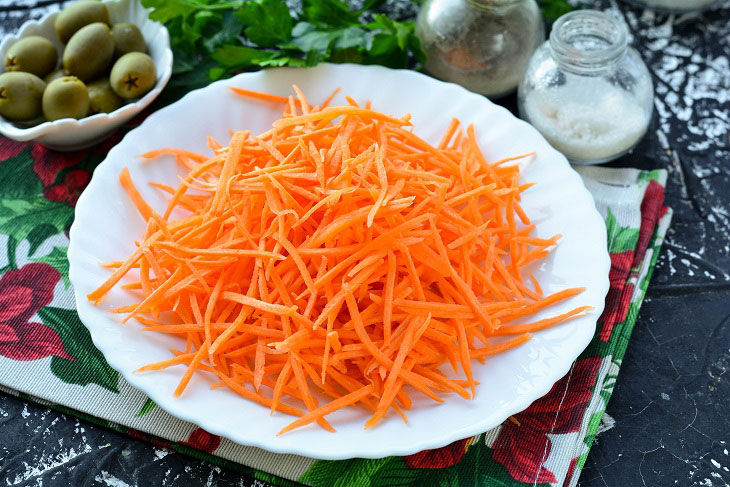 2. Place in a mixing bowl, preferably a deep 1. Add sweet ground paprika, salt and black pepper to taste.
Spices play an important role in a salad. Paprika perfectly emphasizes the taste of carrots and complements it.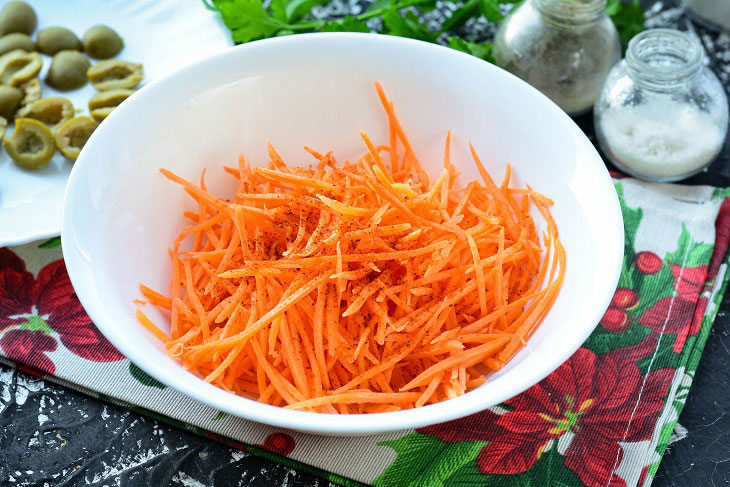 3. Cut the olives into equal halves. Pitted and unstuffed green olives are ideal for salad.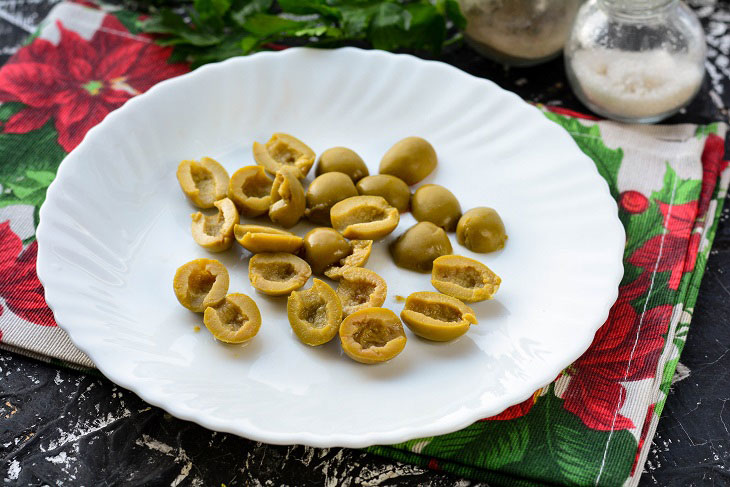 4. Add olives to carrots.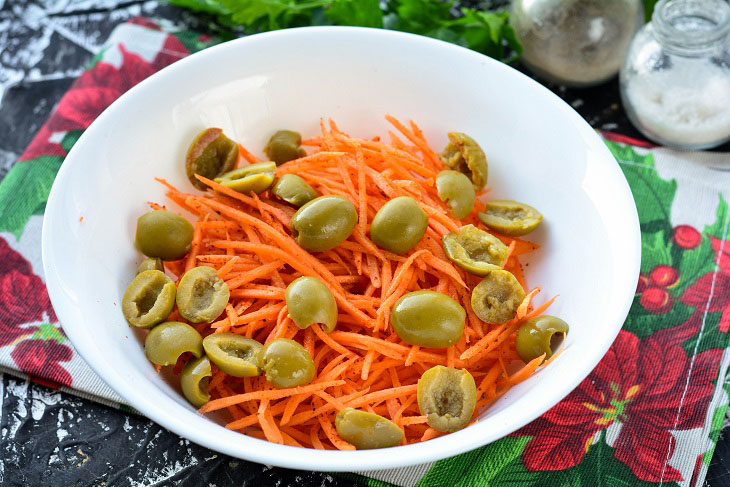 5. Squeeze juice from lemon and orange for dressing. Mix the resulting juice with honey and olive oil, mix all the ingredients.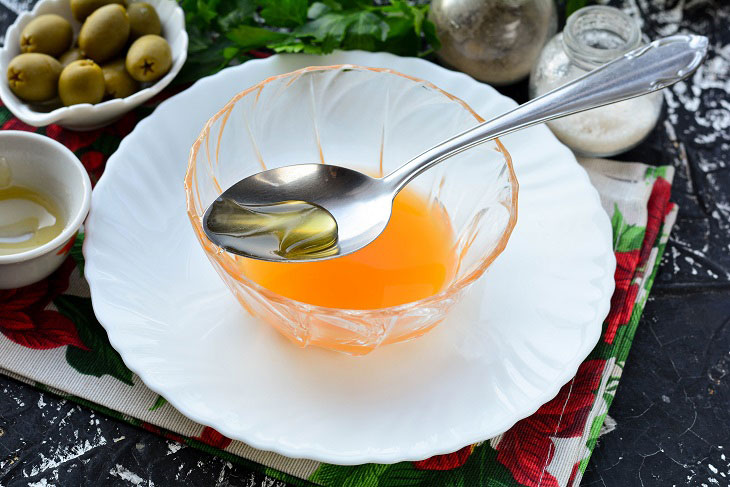 6. Drizzle the tasty dressing over the salad and toss. Leave the salad to marinate for 15-20 minutes. It will turn out juicy, tasty, slightly sweet with a sour note.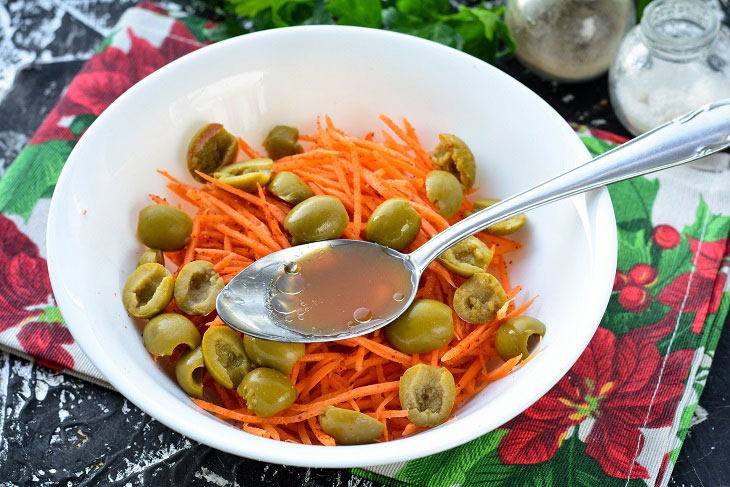 7. Then serve to the table, decorating with any fresh herbs.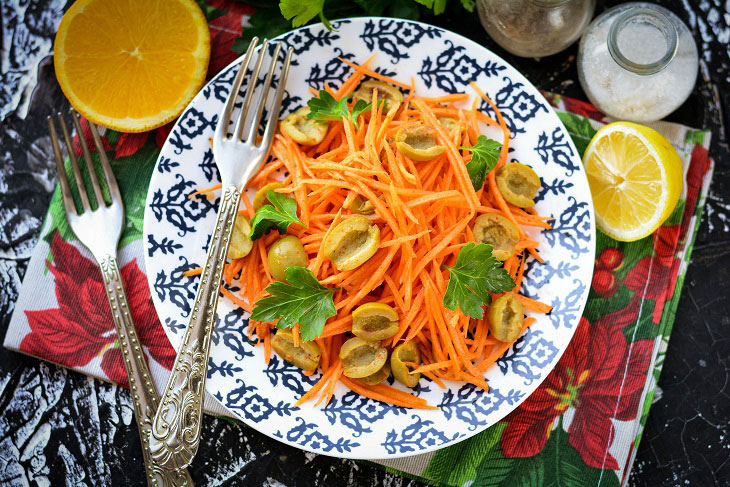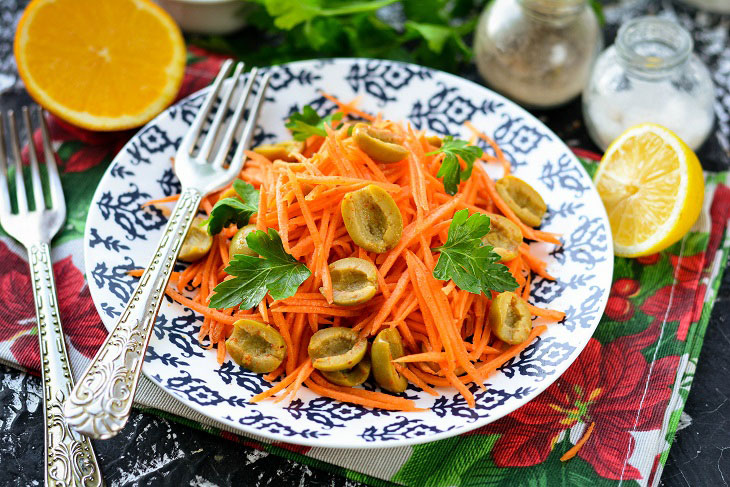 Enjoy your meal!