The chiming clock and the most romantic night of the year are getting closer. In pre-holiday chores, it is important to properly distribute forces and think over the New Year's menu in advance. The owner of the next 2021 is the Metal Ox, so traditional snacks and salads should be arranged taking into account the diet of the owner of the year. We offer you a recipe for salad "Goby", which will decorate your table and give the holiday a special atmosphere.
For the recipe, you will need boiled lean pork, which can be replaced with poultry meat. Choose a quality full-fat mayonnaise and country eggs. White cheeses such as mozzarella are best for topping. For decoration, you can use any edible products.
Ingredients:
For salad:
Boiled pork – 150 g.
Pickled chanterelles – 200 g.
Potato – 1 pc.
Carrots – 50 g.
Egg – 1 pc.
Mozzarella -80 g.
Mayonnaise – 2-3 tbsp. l.
Salt pepper.
For registration:
Pumpkin – 2-3 slices.
Gray bread – 1 slice.
Olive – 1 pc.
Dill – 1 sprig.
Lettuce – 2 leaves.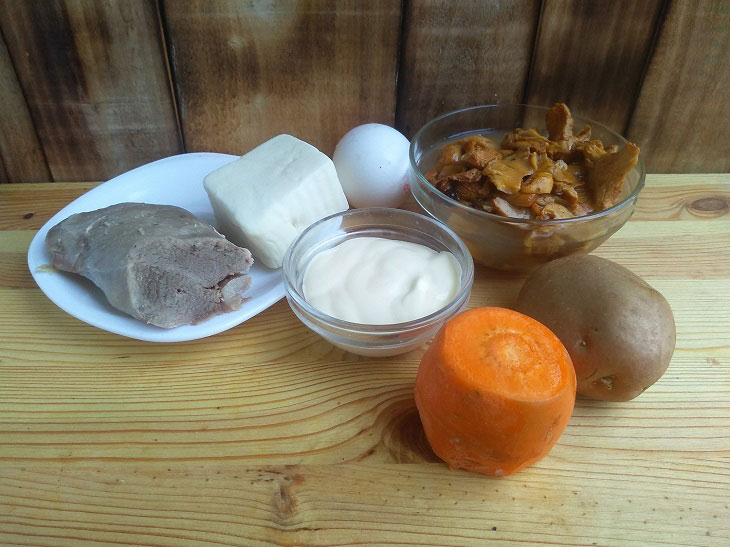 How to cook:
1. Cut the pork into cubes with a side size of 0.5 – 0.7 cm, put in a salad bowl.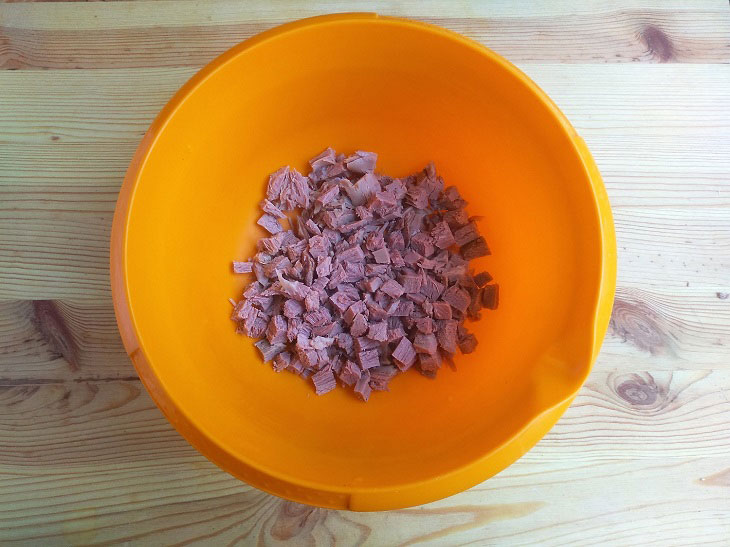 2. Boil potatoes, cool, peel. Cut with a special mesh, put on top of the meat.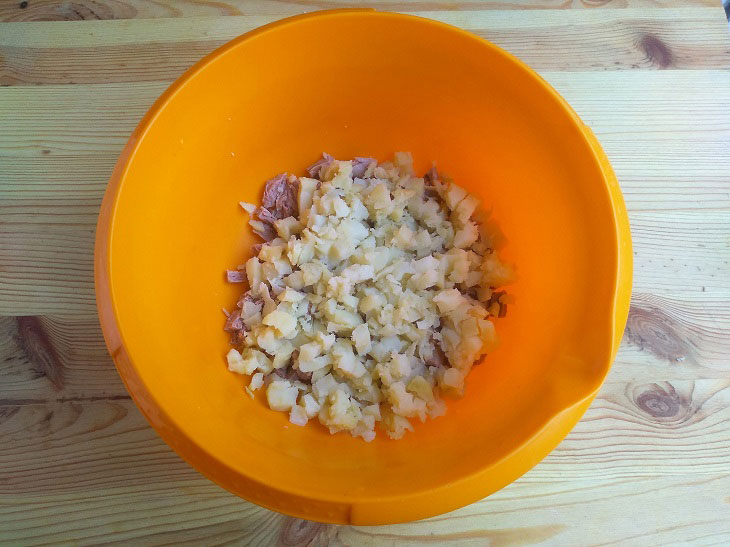 3. Peel boiled carrots, cut in the same way.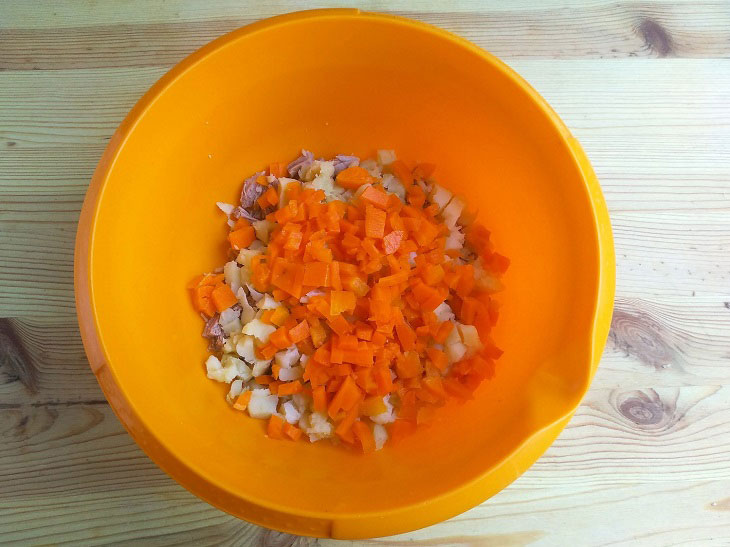 4. Boil the egg hard, cool, peel. Grate on a coarse grater, put in a salad bowl.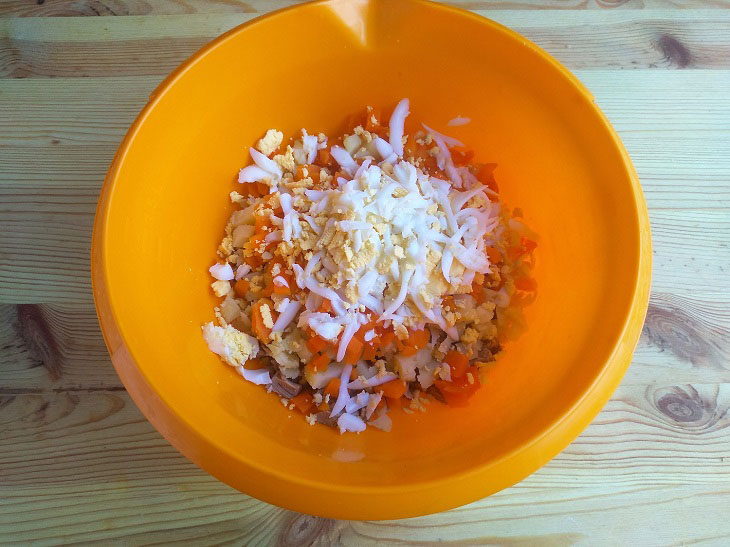 5. Rinse the chanterelles in running water, cut into small pieces.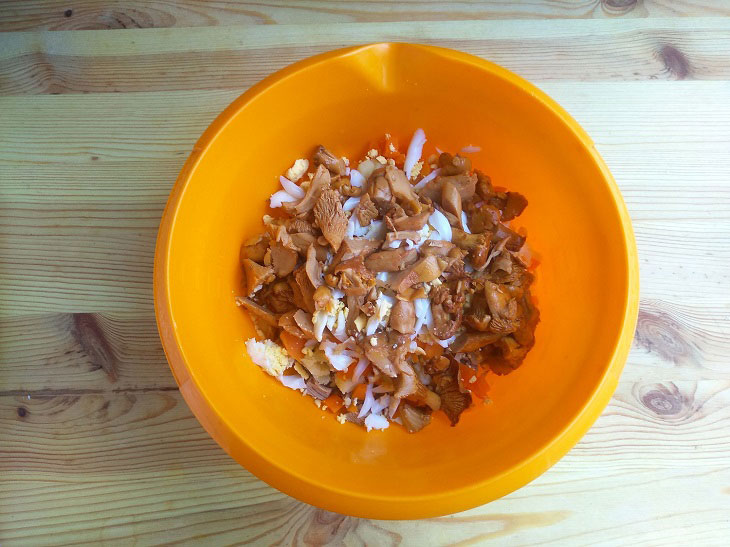 6. Salt to taste, add pepper. Fill with mayonnaise.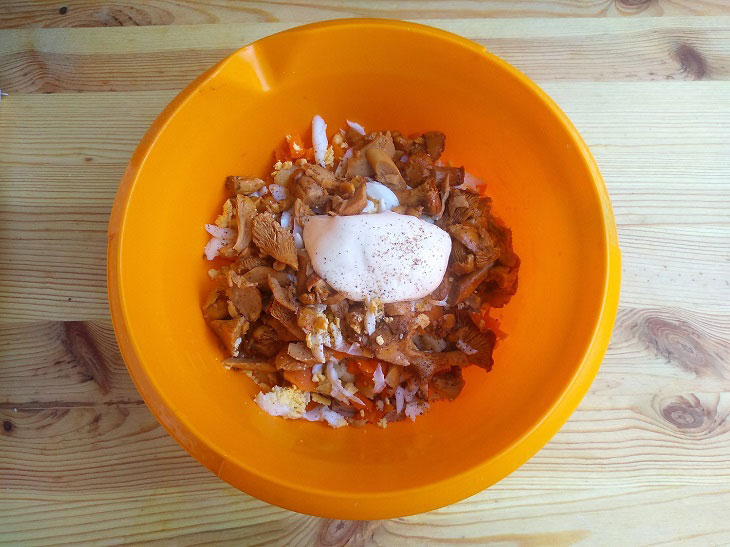 7. Stir the mass, leave at room temperature for 10 minutes.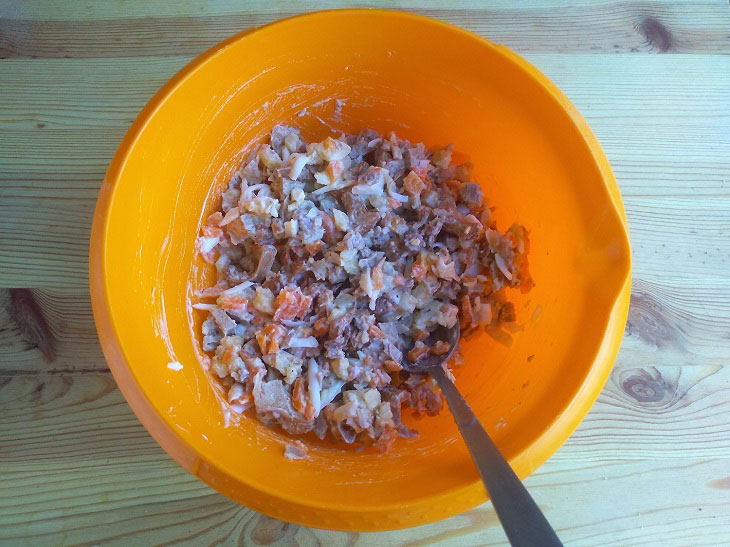 8. Put the salad in the form of a goby muzzle on a flat serving plate.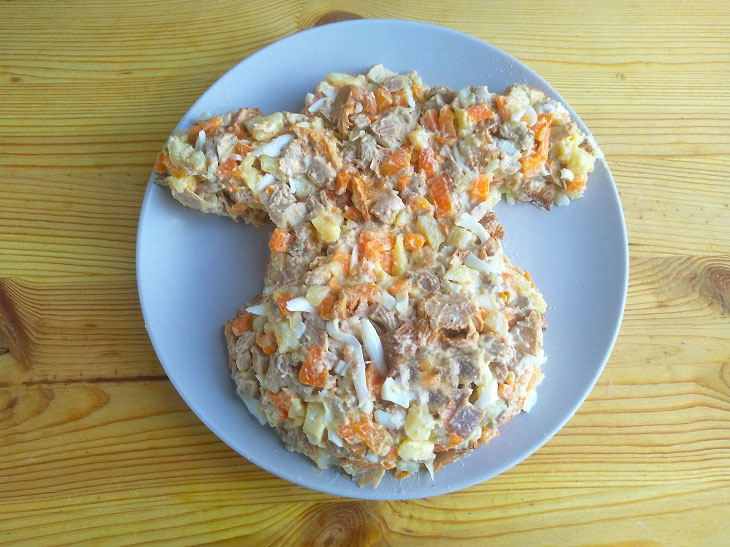 9. Mozzarella grate on a fine grater, cover the salad.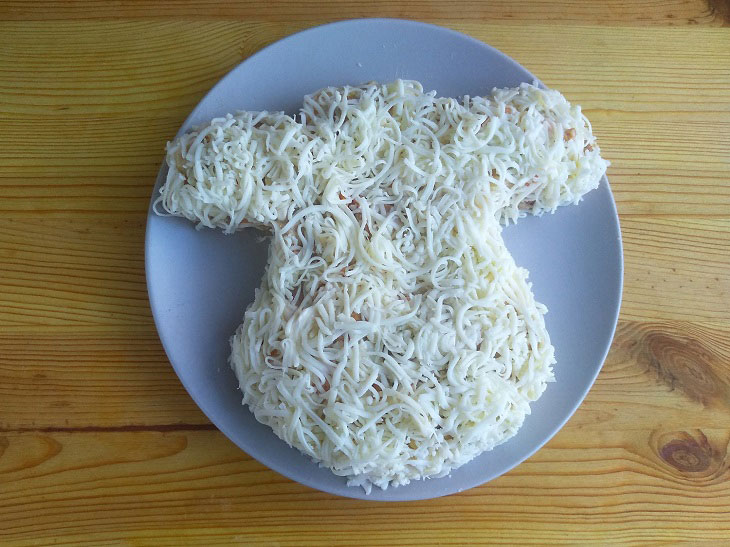 10. Cut out two "ears", two halves of the "nose" from pumpkin slices. Make holes in the spout using a cocktail tube. From the crusts of gray bread form horns. With the reverse side of the metal part from the confectionery syringe or a suitable lid, make "eyes" out of bread. Put the parts of the muzzle on the salad.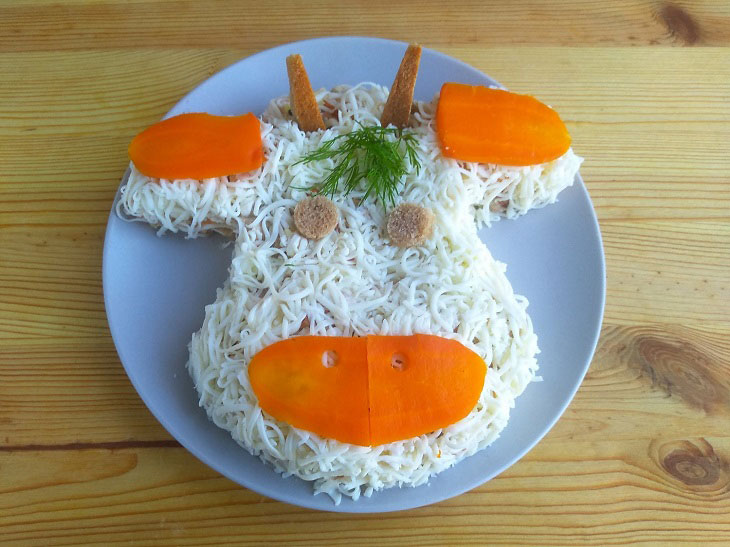 11. Cut off the circles of olives, put on bread. Insert a ring of pickled radish or lemon peel into the "nose".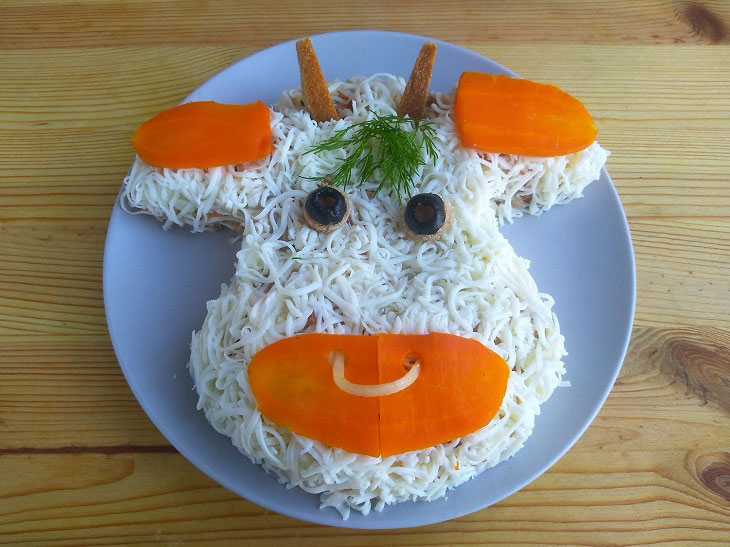 12. Garnish the dish with lettuce leaves, serve to the festive table.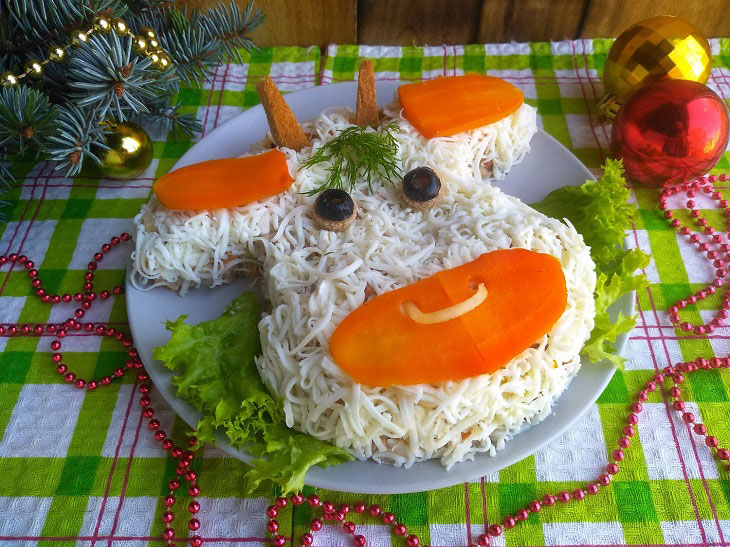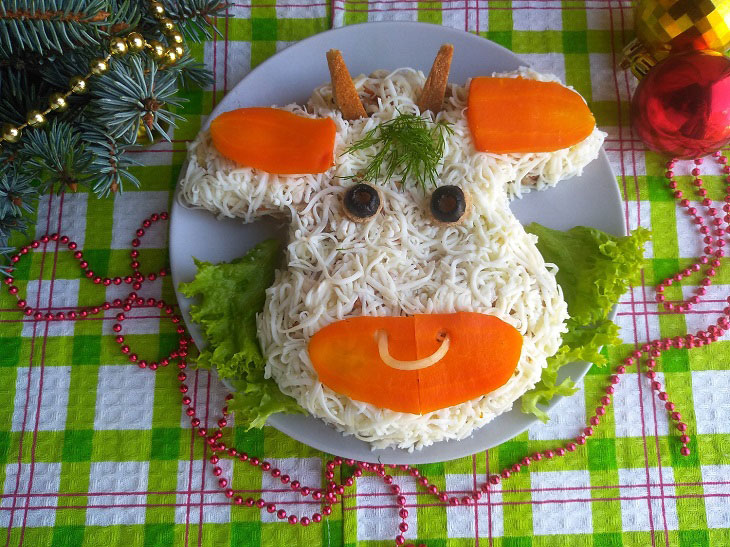 Enjoy your meal!