Salad "Sunny Bunny" has such a beautiful name due to the fact that it is made from cabbage and corn, and, as you know, these ingredients are simply adored by hares.
It turns out the salad is delicious, for its preparation you can use fresh cabbage or white cabbage. In our opinion, it is better to opt for fresh, it is more juicy and soft. Crab sticks are also added to the salad, so it turns out to be quite satisfying. It is better to use a homemade chicken egg, and take a sweet and bright pepper, for example, yellow or red.
You can decorate the finished salad with fresh herbs, which must first be washed well and cut into small pieces. You can fill the Sunny Bunny salad with mayonnaise with any percentage of fat content, or you can use sour cream or yogurt without additives for the same purpose.
Ingredients:
Sweet pepper – 0.5 pcs.
Chicken boiled egg – 1 pc.
Crab sticks – 3-4 pcs.
Fresh cabbage or white cabbage – 100 g.
Canned corn – 1.5 tbsp. l.
Salt – to taste.
Ground black pepper – to taste (this ingredient can be omitted).
Mayonnaise (or sour cream, or yogurt without additives) – 1-2 tbsp. l.
Greens – to decorate the salad.
How to cook:
1. Wash the cabbage and chop finely. If the leaves are damaged or dirty on top, then be sure to remove them. Cut off the head.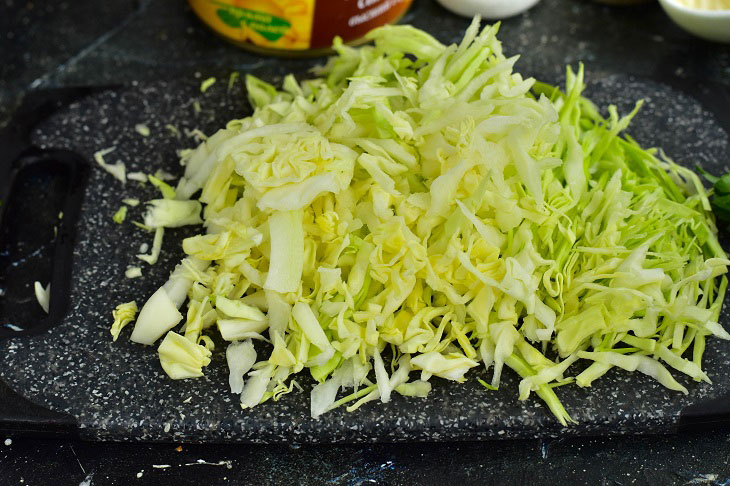 2. Boil the chicken egg, for this, put it in a bowl, fill it with water. Bring the water to a boil, boil the egg for 8 minutes. Then peel the shell and cut it into cubes. Remove the packaging film from the crab sticks, cut them in the same way as an egg.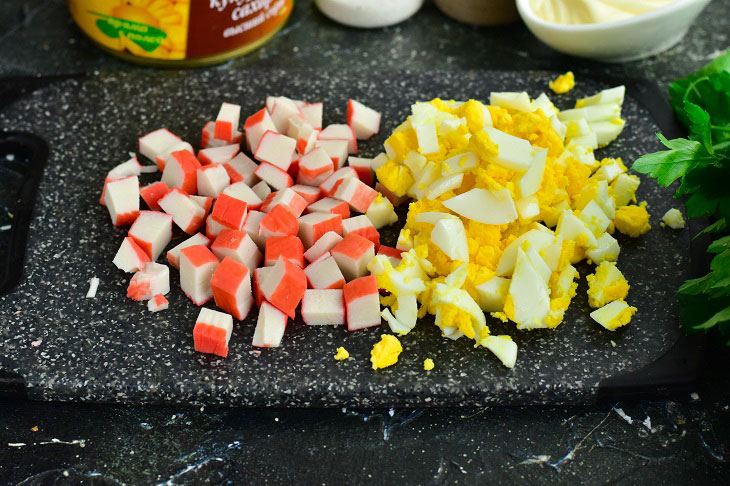 3. Wash the sweet pepper and cut into cubes.
If you decide to cut all the previous ingredients into strips, then cut the pepper in the same way.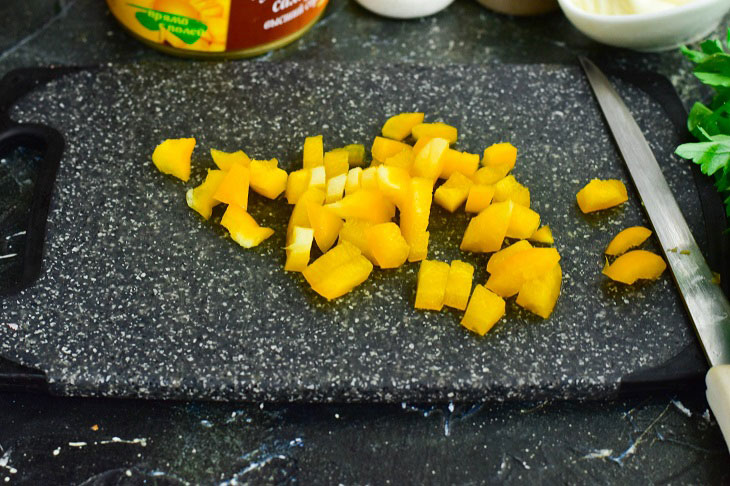 4. Put all the food in a bowl, add canned corn.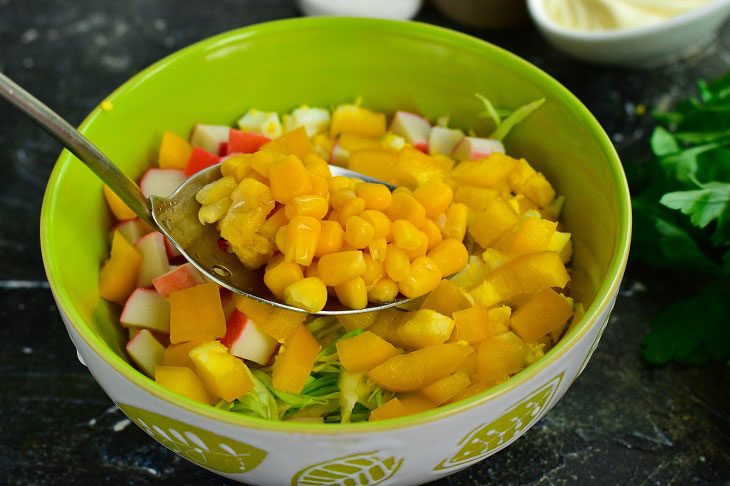 5. Add mayonnaise, salt and ground pepper. Mix the salad well. Let it stand in the refrigerator for half an hour.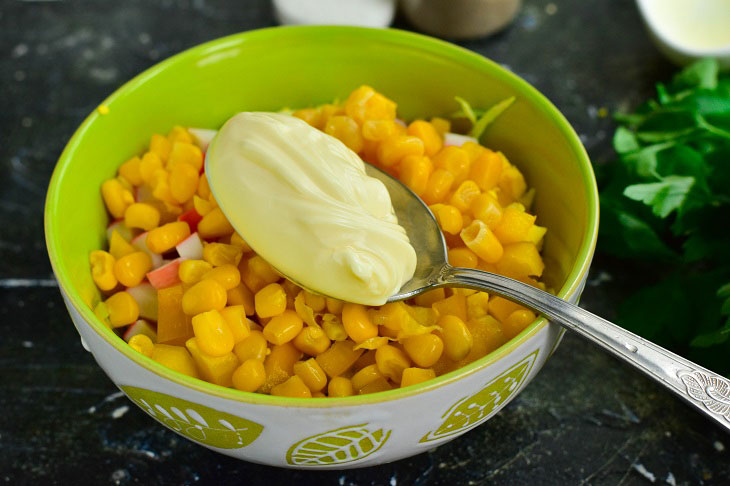 6. Put the finished salad "Sunny Bunny" in a beautiful bowl and serve it to the table.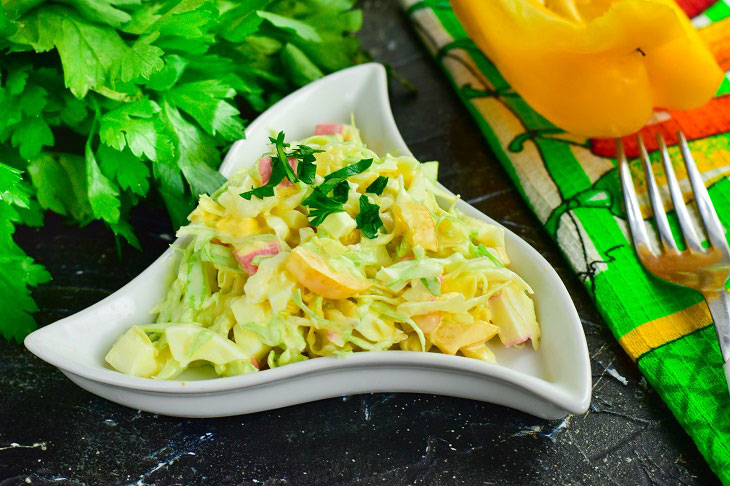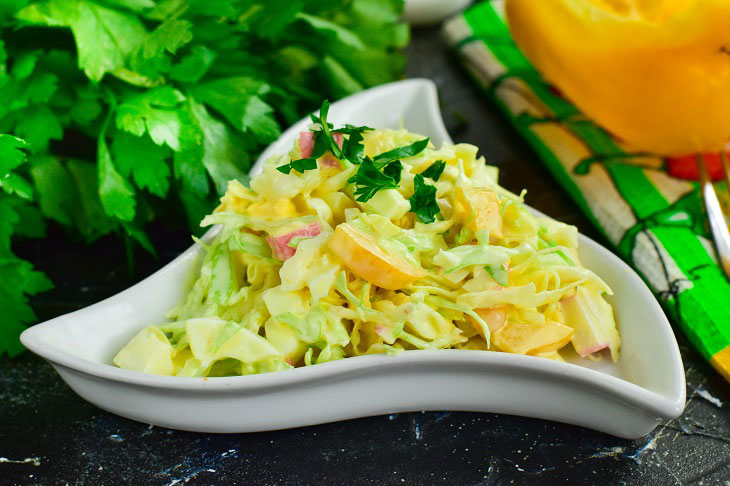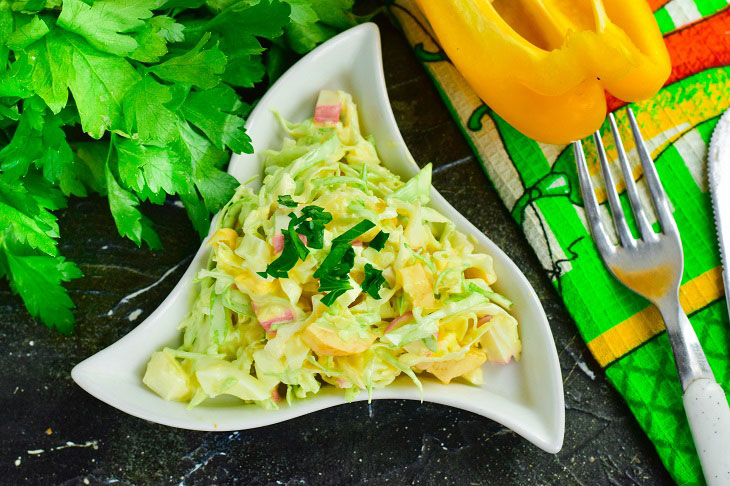 Enjoy your meal!