The winter holidays are approaching – it's time to plan a menu for the New Year and Christmas table. Every housewife, of course, has proven recipes for New Year's dishes. They offer to supplement their culinary notebook with a simple recipe for the Snowdrifts salad. The perfect combination of products, interesting presentation – these are the main advantages of the dish.
A salad is prepared from the available ingredients, the proportions of which can be varied. The dish is collected in layers and should remain airy. Therefore, you should not crush, much less compact the layers. For dressing, use mayonnaise with a classic taste and a fat content of 50%. When choosing onions, give preference to salad varieties. Eggs and potatoes are best boiled the day before the salad is prepared. For the last "snow" layer, you need white cheese.
Ingredients:
Sausage – 250 g.
Mayonnaise – 50 ml.
Cheese health – 120 g.
Hard cheese – 80 g.
Eggs – 3 pcs.
Potatoes – 220 g.
Salad onion – 70 g.
Garlic – 3 g.
Salt, pepper – to taste.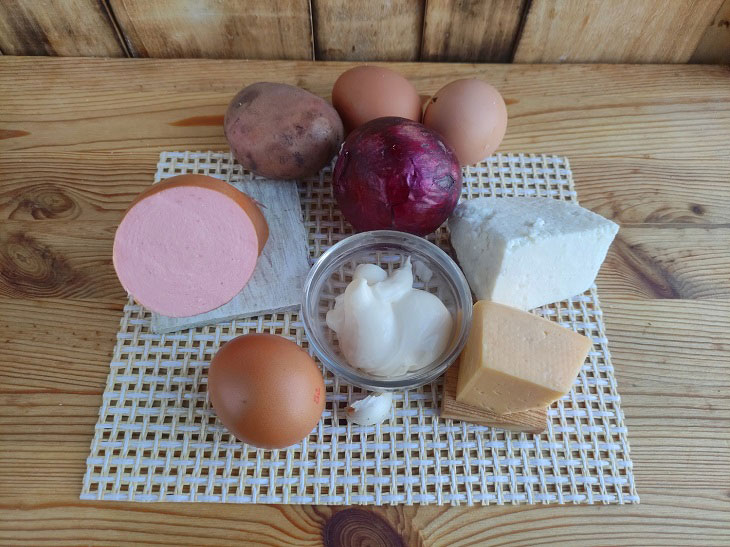 How to cook:
1. Peel the boiled potatoes and grate on a coarse grater immediately on a serving plate. Salt and pepper the layer.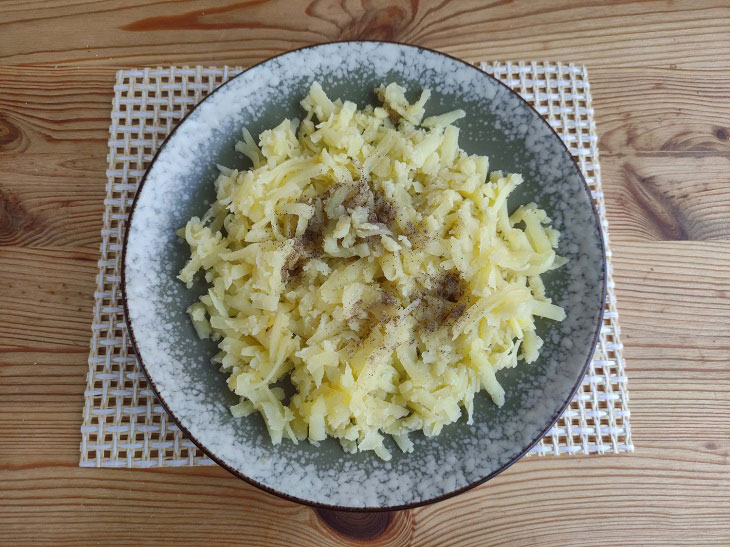 2. From above, apply a frequent mesh of mayonnaise.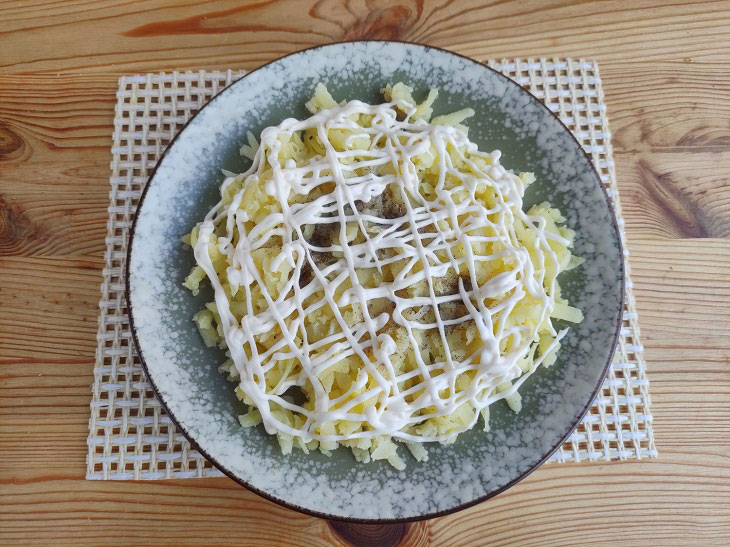 3. Peel the purple onion and cut into thin half rings. Drizzle lightly with vinegar and arrange the onions on top of the potatoes.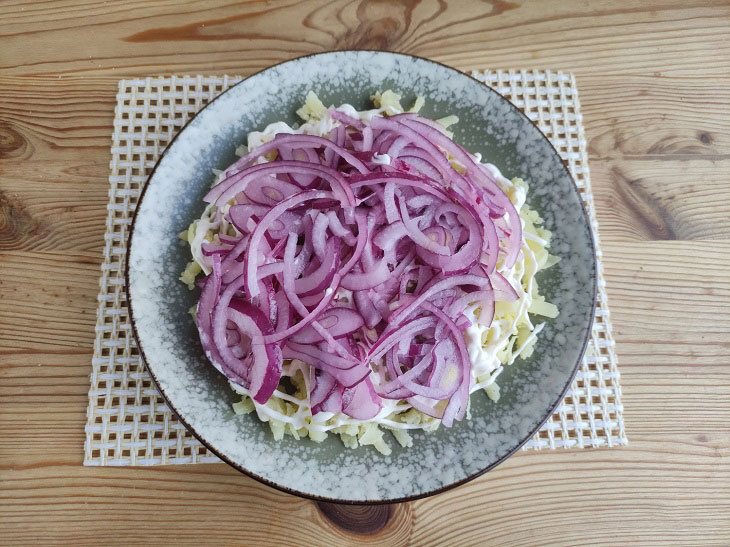 4. Apply mayonnaise.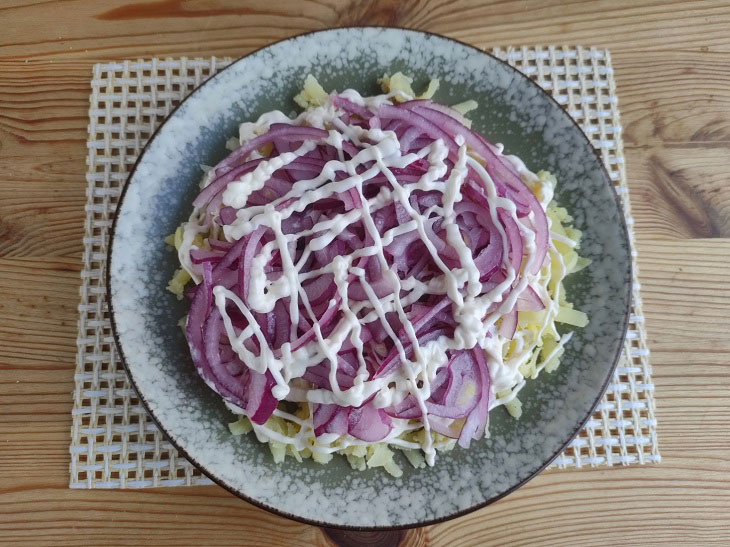 5. Peel the sausage from the skin, cut into cubes with a side size of 0.5 cm. Put on the onion. Repeat mayonnaise net.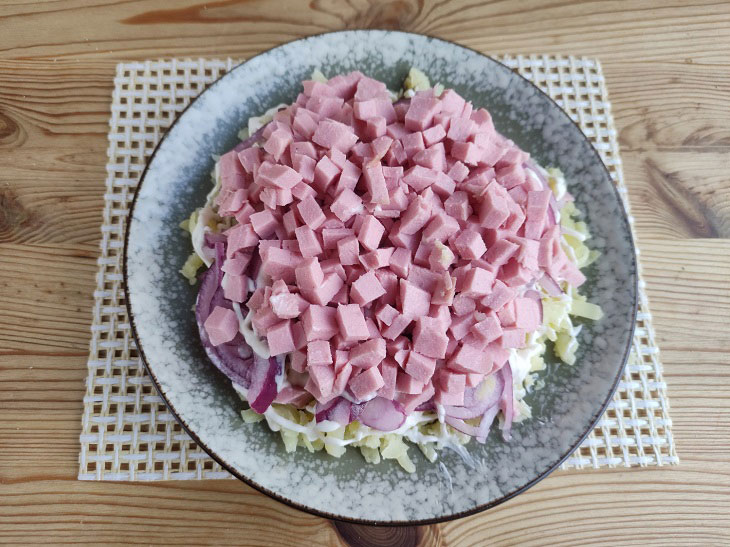 6. Hard cheese on a fine grater, lay in a loose layer. Cover the entire salad (sides and top) with a net of mayonnaise.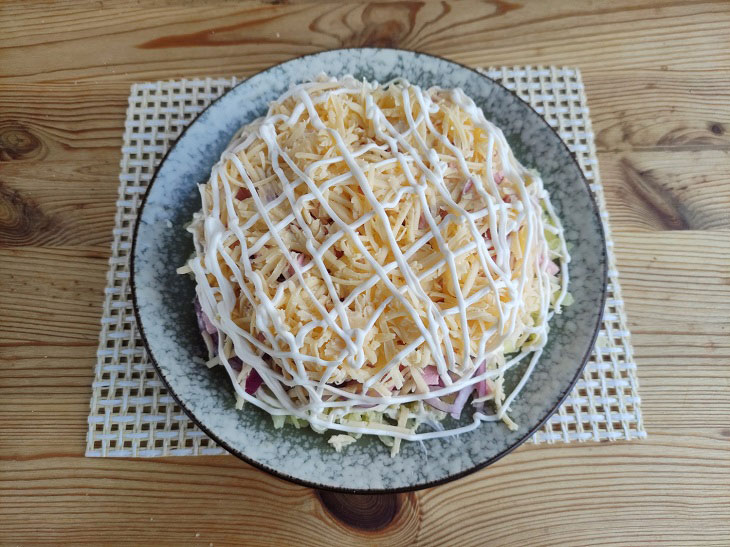 7. Peel boiled eggs from the shell. Cut them in half, put the yolks in a separate bowl.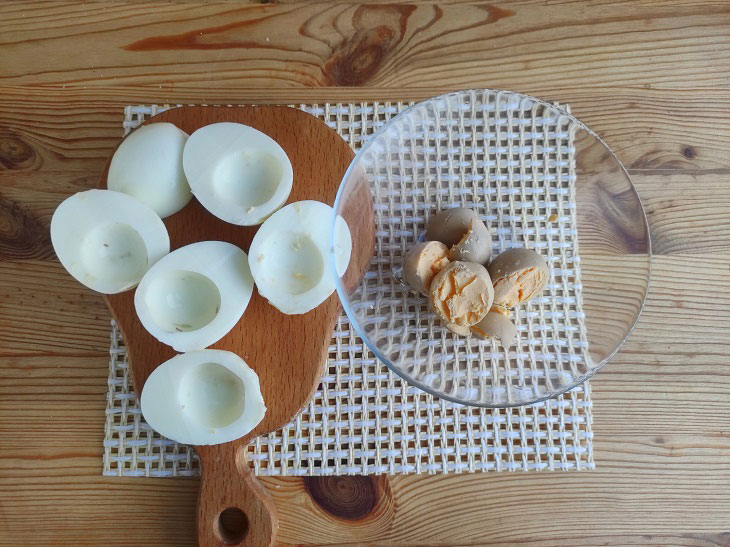 8. Add salt, grated garlic and mayonnaise to the yolks. Grind the mixture into a fine paste.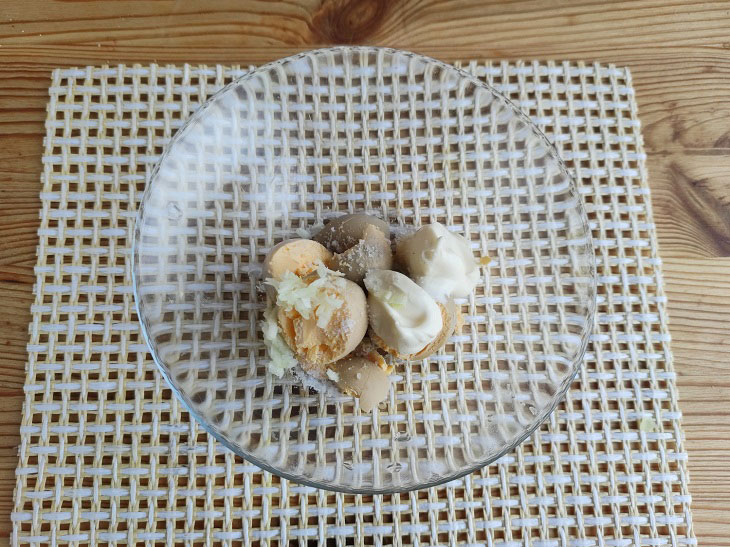 9. Fill the halves of the eggs with the prepared mass.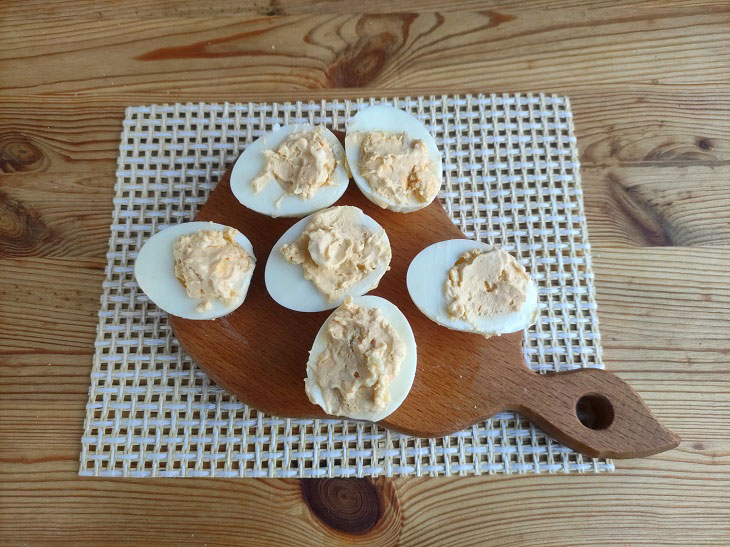 10. Put the eggs on the salad as in the photo.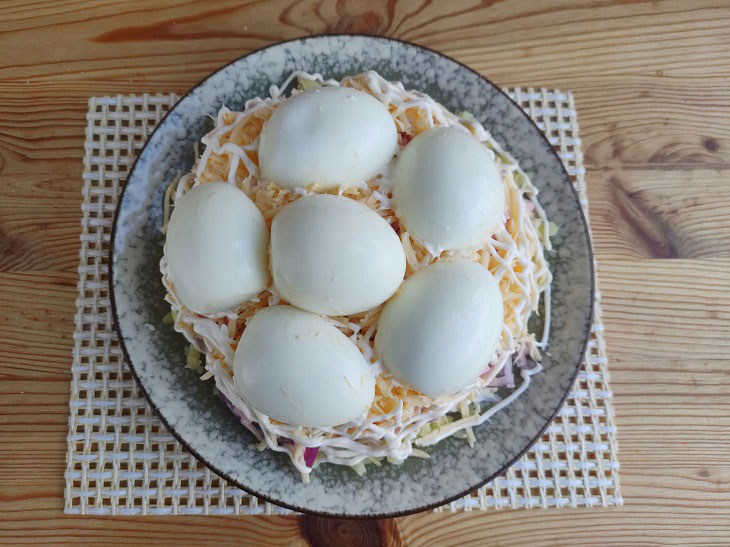 11. Cheese "Health" grate. Lay the cheese on the salad so that no colored areas are visible, and the whole dish is white.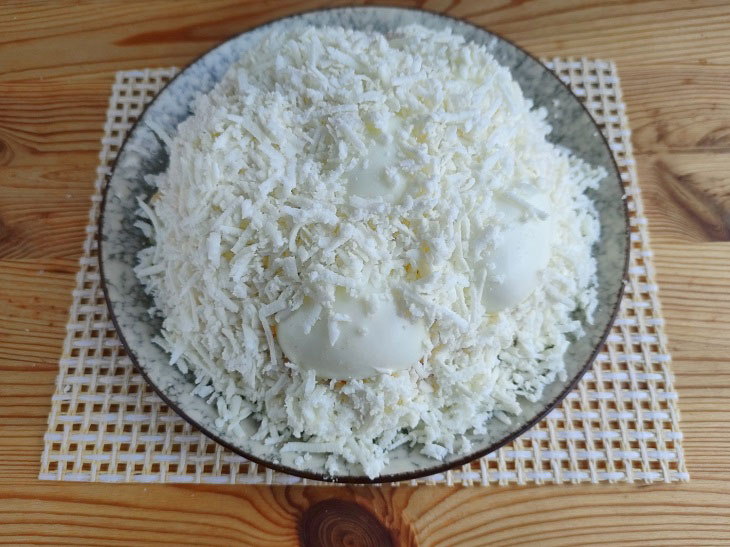 The salad looks original, unusual and resembles a snowdrift. A real winter dish!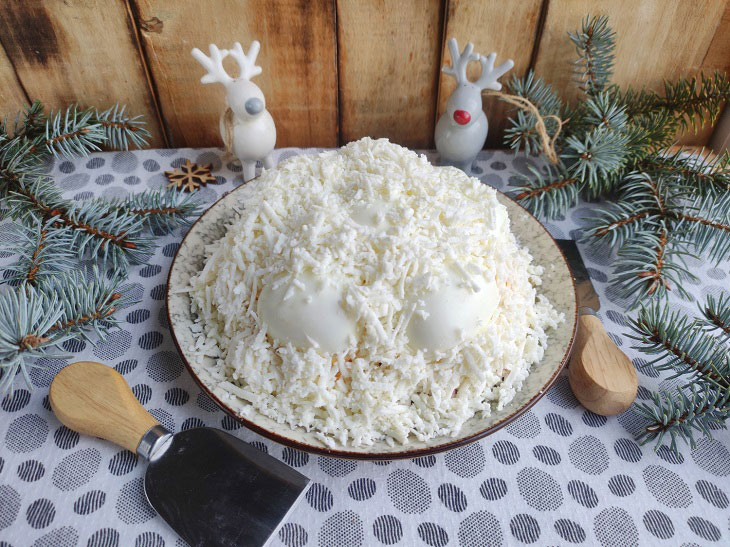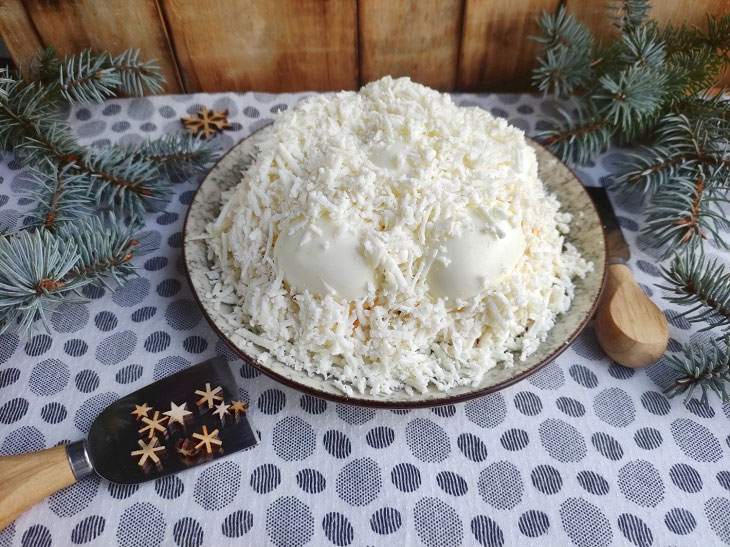 Bon appetit!