Salad "White Night" is a great option for a festive snack, especially on New Year's Eve. It consists of available and inexpensive ingredients. The recipe is useful to every housewife.
For the New Year, a bright and tasty masterpiece will be appreciated by all guests. For the dish you will need chicken liver, some vegetables, eggs, pickles and melted cheese. With chicken liver, it comes out tender and fragrant. All vegetables perfectly complement the appetizer and make it juicy. The salad is layered, so follow the order. Soak each layer with mayonnaise. Form the salad using a special form or lay out the layers in a deep transparent salad bowl.
Ingredients:
Chicken liver (boiled) – 200 g.
Potatoes – 150 g.
Carrots – 80 g.
Onion – 60 g.
Pickled cucumbers – 100 g.
Processed cheese – 80 g.
Processed cheese – 2 pcs.
Vegetable oil – 30 g.
Mayonnaise – 130 g.
Salt, black pepper – to taste.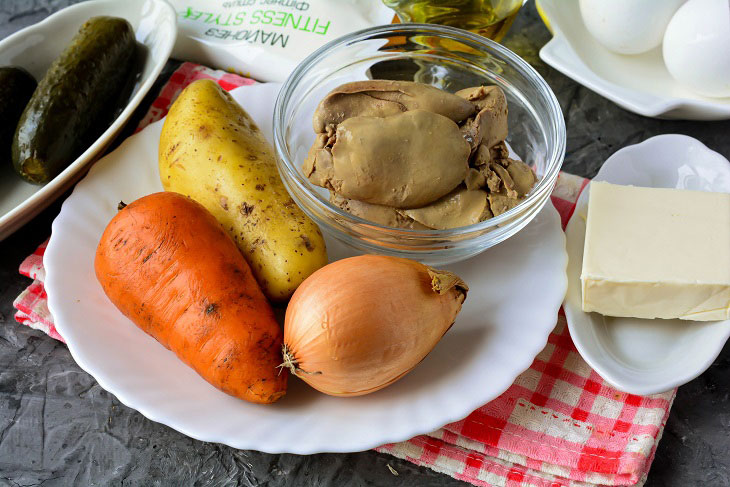 How to cook:
1. First of all, boil all the necessary ingredients and do it better in advance, so you save the overall cooking time. Hard boil the chicken eggs and boil the potatoes in boiling water until soft, about 25 minutes. Cool the boiled eggs and potatoes completely.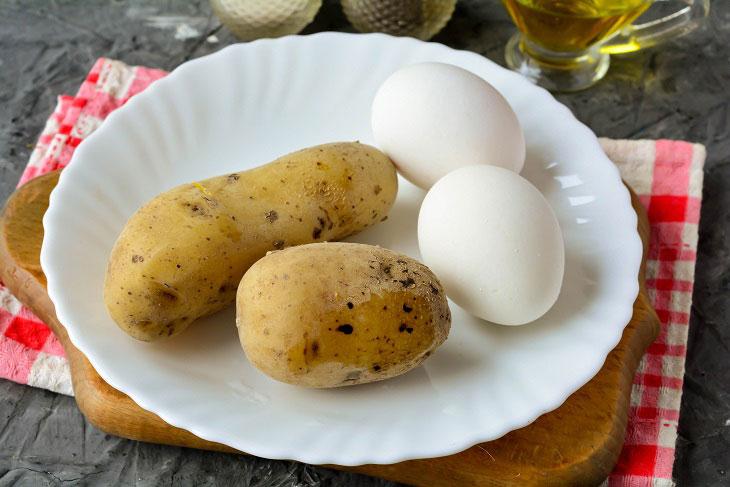 2. Peel carrots and onions. Grate the carrots on a coarse grater, and cut the onion into thin half rings.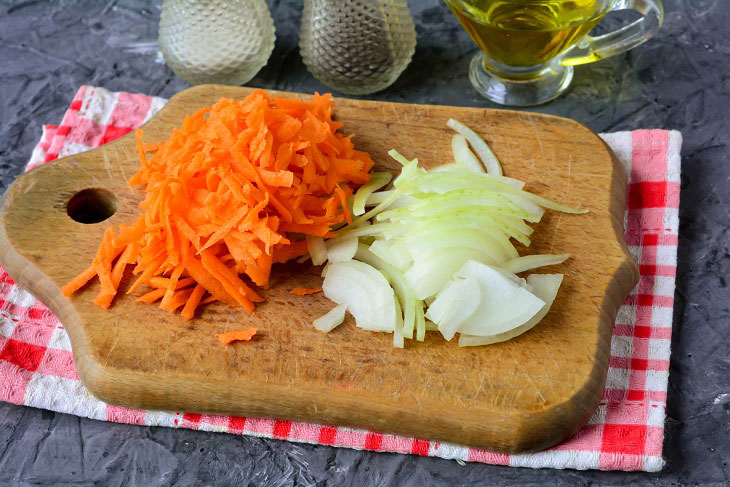 3. Heat the oil in a frying pan, add vegetables – onions and carrots. Sauté for 3-4 minutes until tender, stirring occasionally to evenly brown the vegetables. Remove the pan from the heat, let the vegetables cool.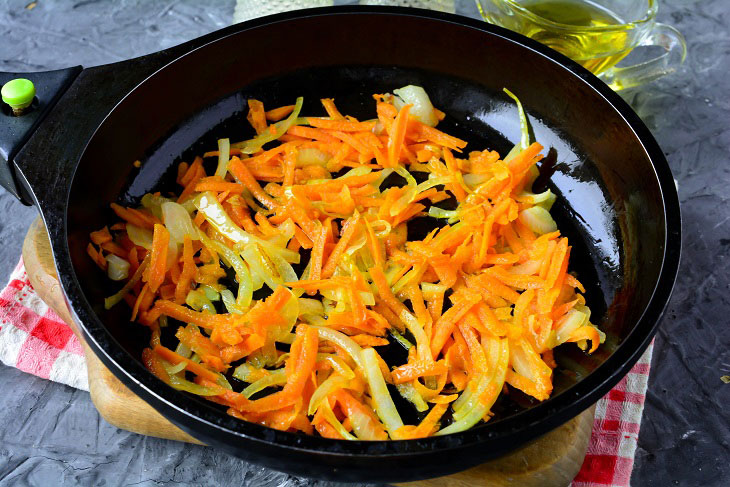 4. Peel the chicken eggs, separate the whites from the yolks. Grate the whites separately from the yolks. Grate the yolks as well.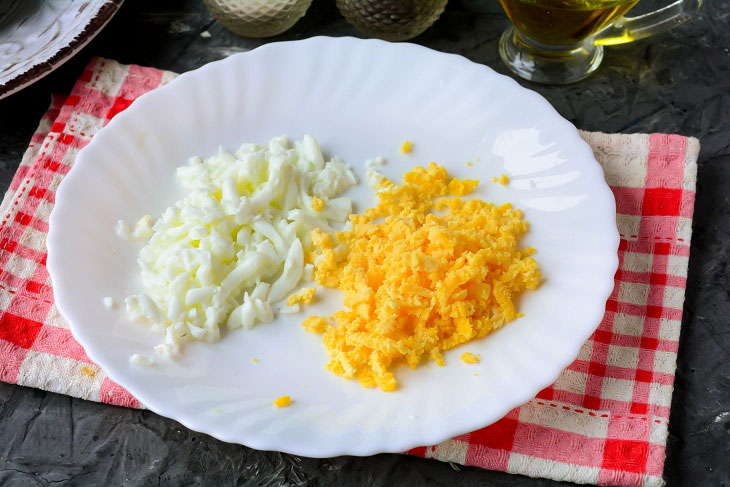 5. Also grate pickled cucumbers and melted cheese. Processed cheese, choose high-quality and tasty, it will give the salad a pleasant creamy taste.
6. Peel potatoes, grate.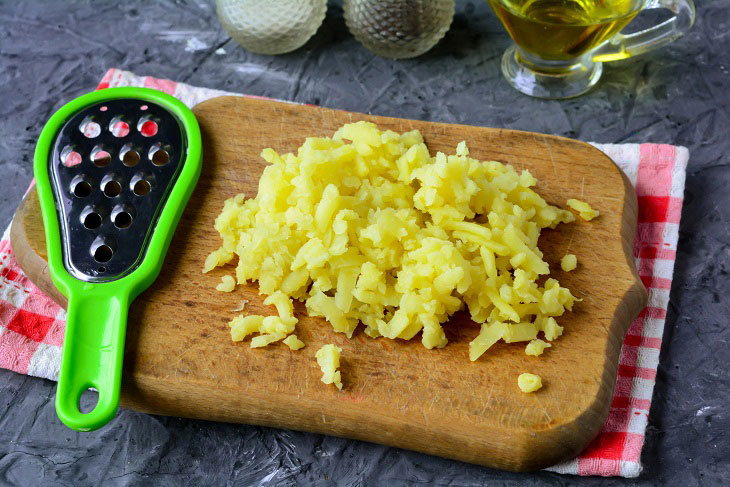 7. Start forming a layered salad. The first layer is potatoes. Add salt and ground black pepper. Top up with mayonnaise.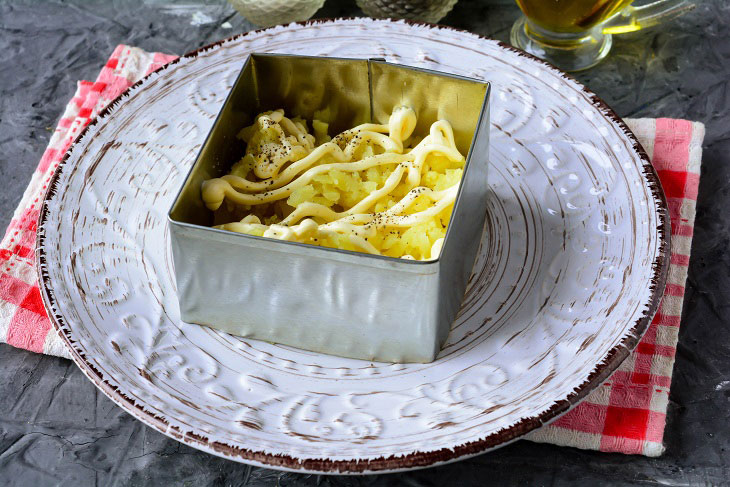 8. Boil the chicken liver in advance and cool it. Chicken liver is cooked quickly – 7-8 minutes in boiling salted water. Grate the boiled liver.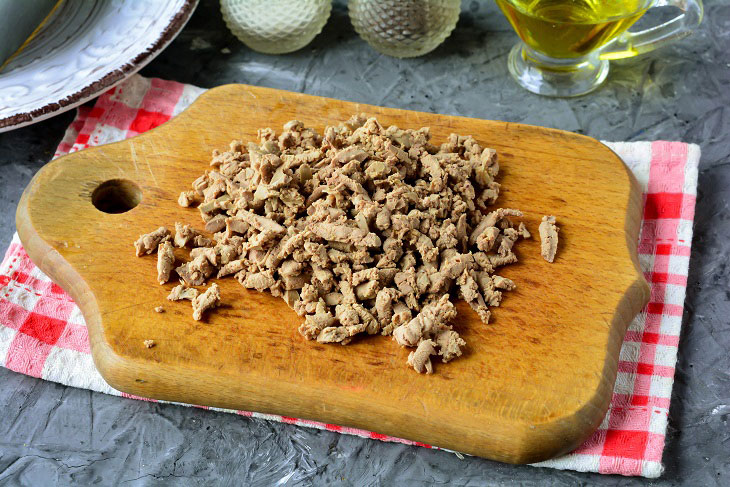 9. Put the liver in the second layer and pour over with mayonnaise. Add spices to taste.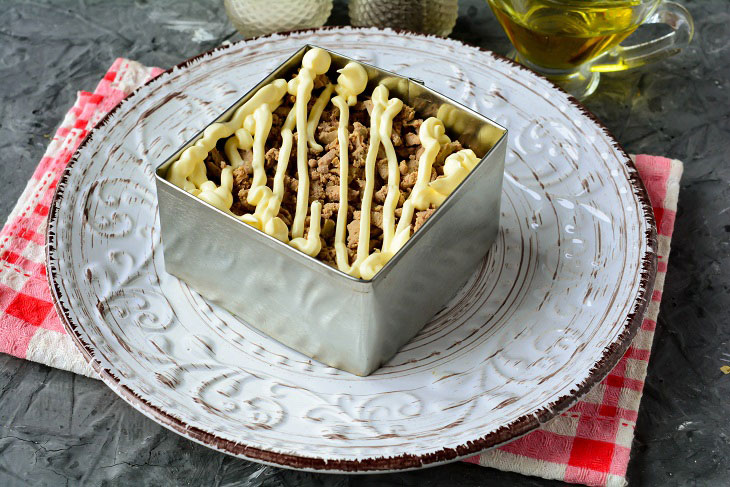 10. Put the liver in the second layer and pour over with mayonnaise. Add spices to taste.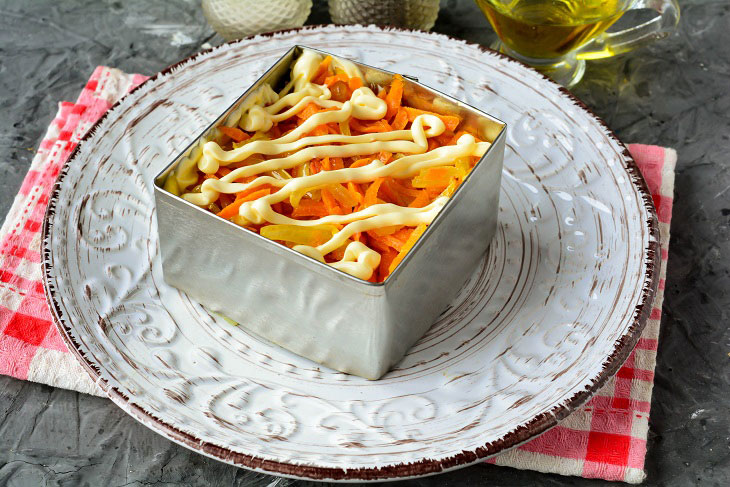 11. The fourth layer is pickled cucumbers, sprinkled with mayonnaise. Do not salt this layer.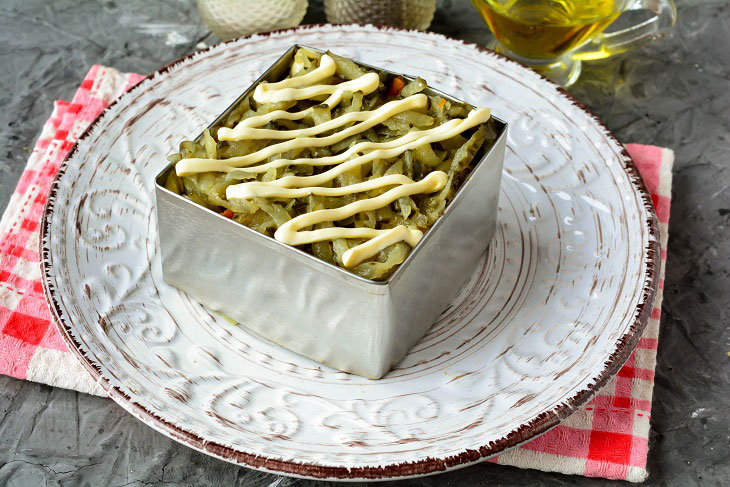 12. The fifth layer is melted cheese. Pour the cheese with mayonnaise, the salad will be juicier.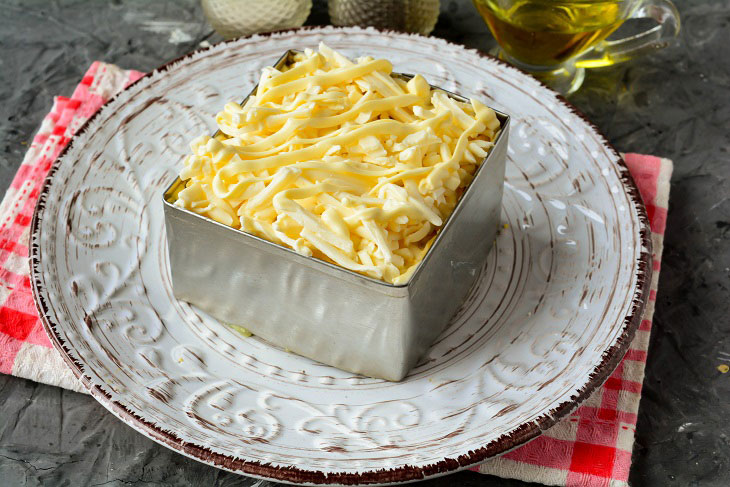 13. The sixth layer is grated egg yolks. Drizzle with sauce and add spices to taste.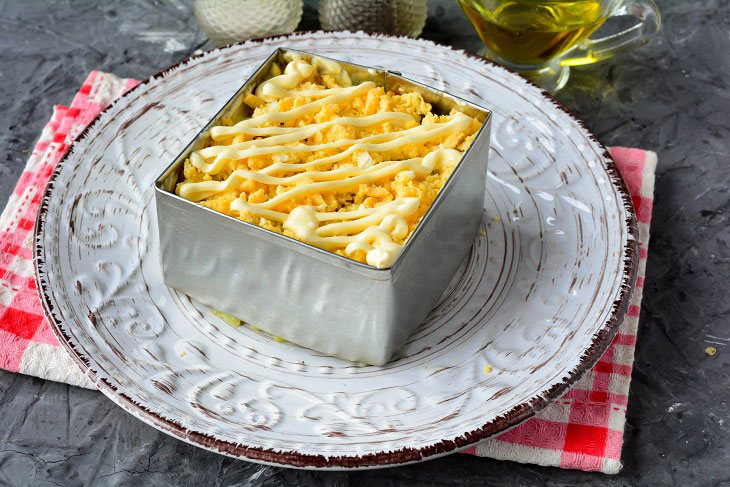 14. The final layer is egg whites. Let the salad brew and soak for 30-40 minutes in the refrigerator.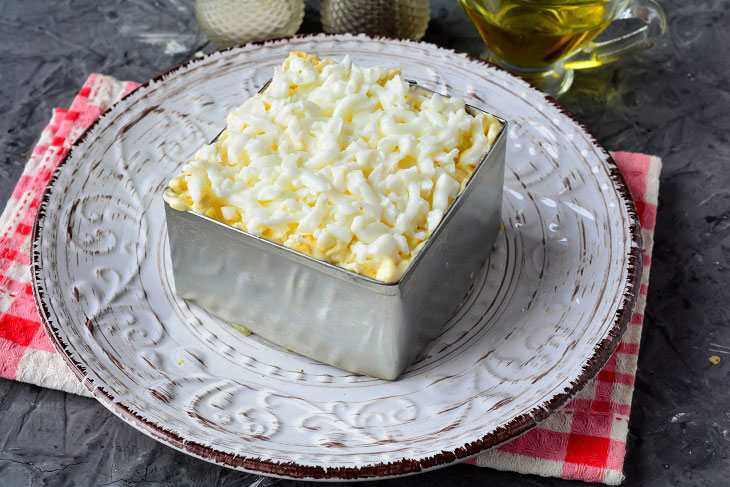 15. Serve the ready-made salad "White Night" to the festive table, the dish is elegant and very appetizing.
The salad has a delicate and piquant taste, all the ingredients harmoniously complement each other.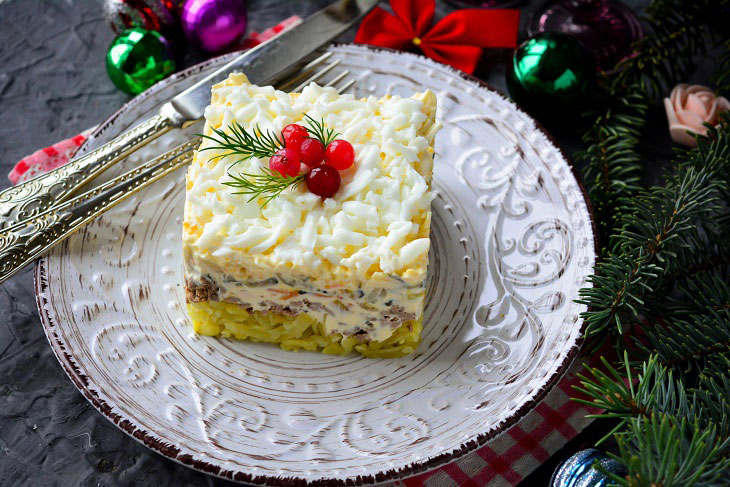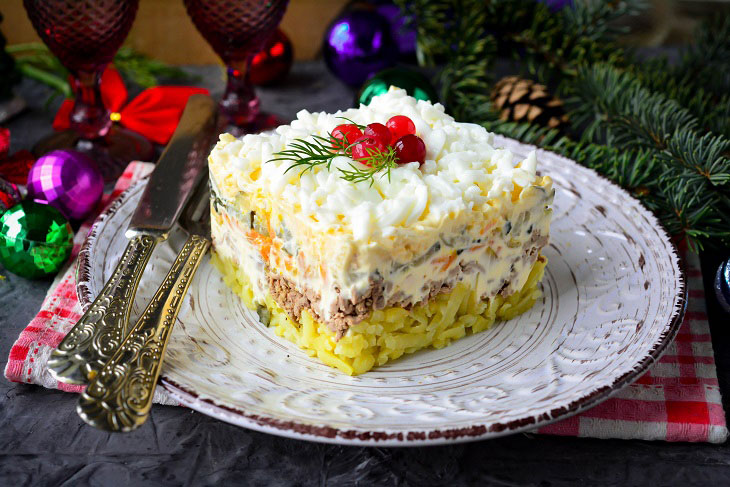 Bon appetit!