The simplest thing you can think of from pasta is to cook noodles. This is the same casserole, which consists of only two main ingredients – pasta and eggs. The filling can be anything, it is not necessary to add minced meat, chicken or mushrooms to it.
Noodles are also prepared sweet – with apples and dried fruits, and the filling is made from eggs and milk with sugar. The variety of pasta does not matter, but if you want the casserole to be more uniform and tender, take small pasta: spirals, shells, feathers, horns, noodles or short vermicelli. Apples are better to take sweet and sour, juicy, but, in principle, any will do.
Ingredients:
Small pasta – 400 g.
Eggs – 3 pcs.
Sugar – 0.5 tbsp.
Milk – 0.5 tbsp.
Apples – 3-4 pcs.
Raisins – a handful.
Ground cinnamon – 0.5 tsp.
Salt – to taste.
Butter – grease the mold.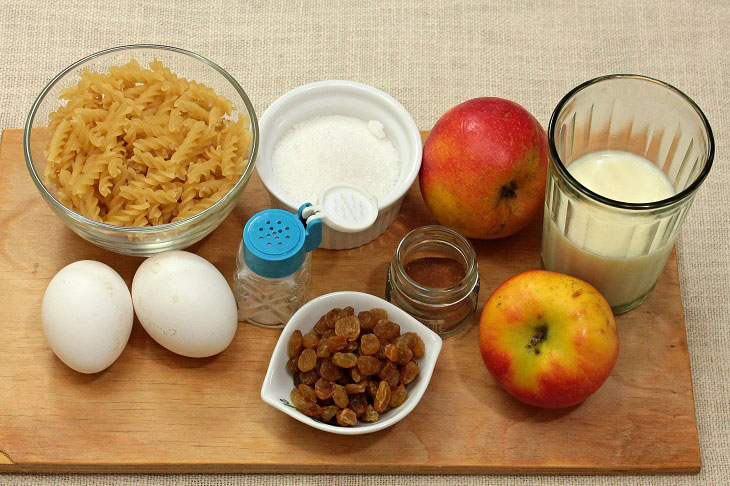 How to cook:
1. Pour pasta into boiling water, add a little salt. Stirring, bring to a boil and cook until tender. We recline in a colander, leave for a while to glass the water.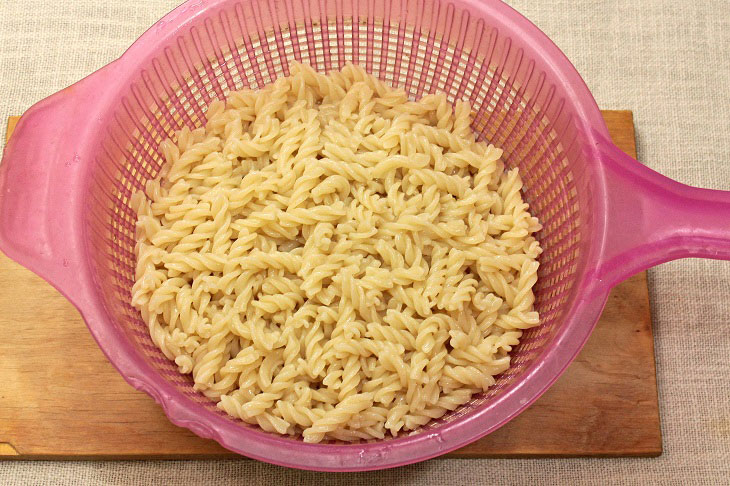 2. Soak the raisins in boiling water for five minutes. Then rinse with cold water.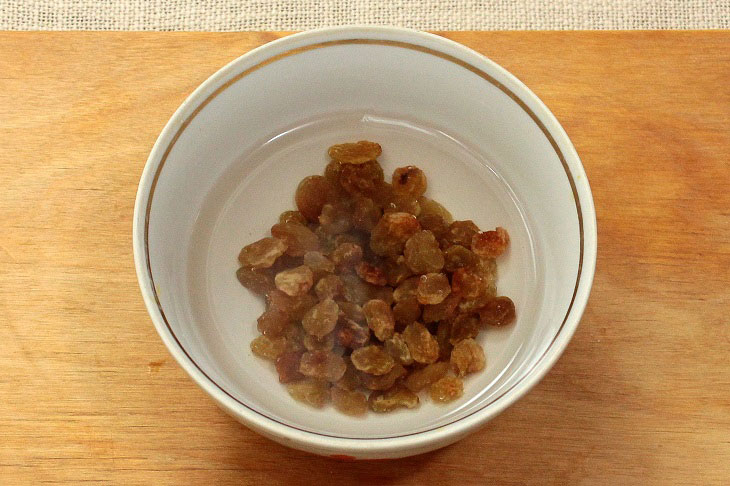 3. Mix the eggs with sugar, beat with a whisk until a foam cap appears. Pour in the milk, stir until the sugar grains dissolve.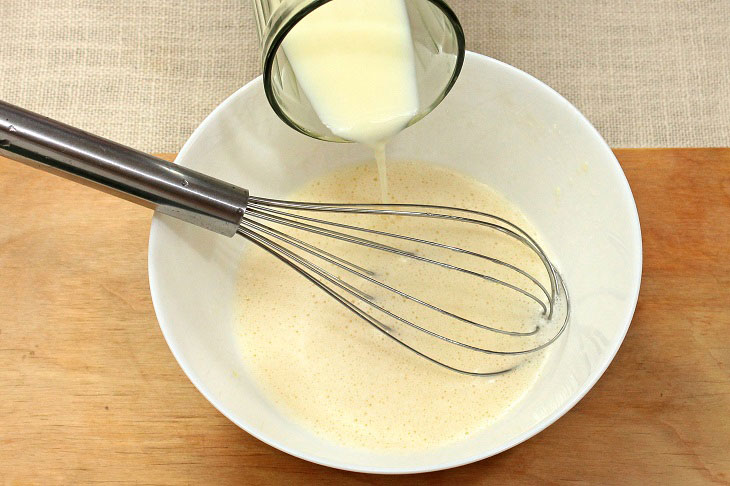 4. Transfer the pasta to a large bowl. Add apples cut into small slices, washed raisins and ground cinnamon.
Additionally, you can add a little dried mint – it will give aroma and a peculiar aftertaste.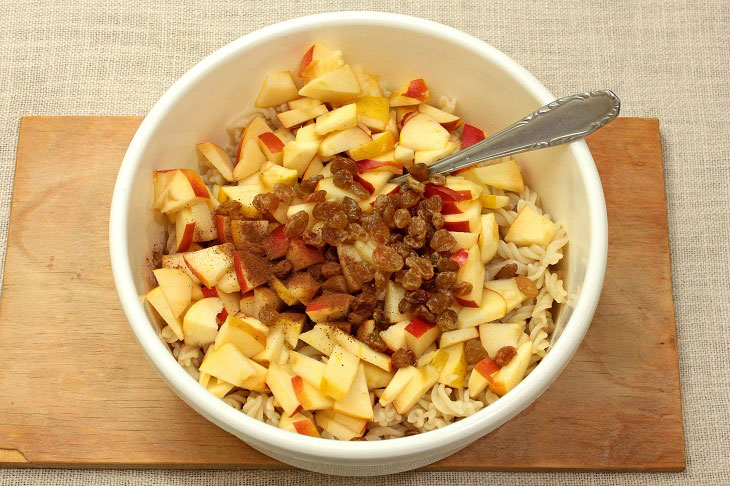 5. We mix everything. Pour egg, sugar and milk filling into pasta with apples. Mix again.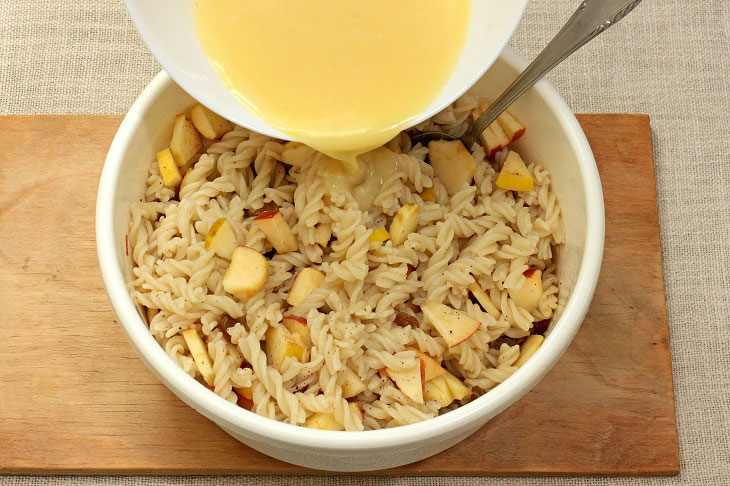 6. Grease a deep baking dish with butter. Spread the pasta mixture, smooth the top.
If the pasta is not completely covered with the fill, it's okay, the top layer will still be fixed, although it will not be smooth.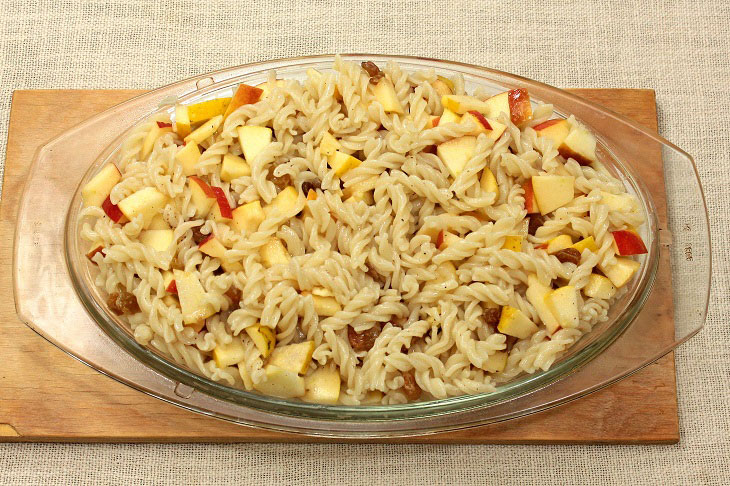 7. We put the noodles in an oven preheated to 180 degrees for 30-35 minutes, until compacted. To make the top brown better, raise it higher and slightly increase the temperature about five minutes before cooking.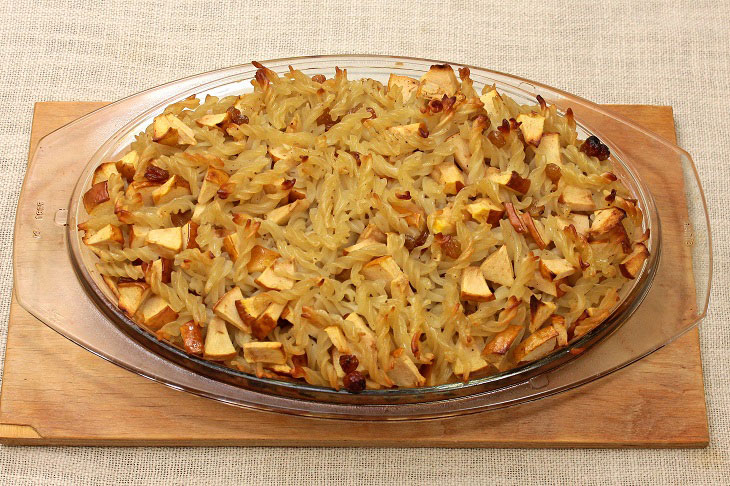 8. Noodles, like most casseroles, taste much better warm or cool, but not hot. Let cool in the form, cut into portions and serve. You can add sour cream mixed with sugar, condensed milk or just sprinkle with powdered sugar and cinnamon.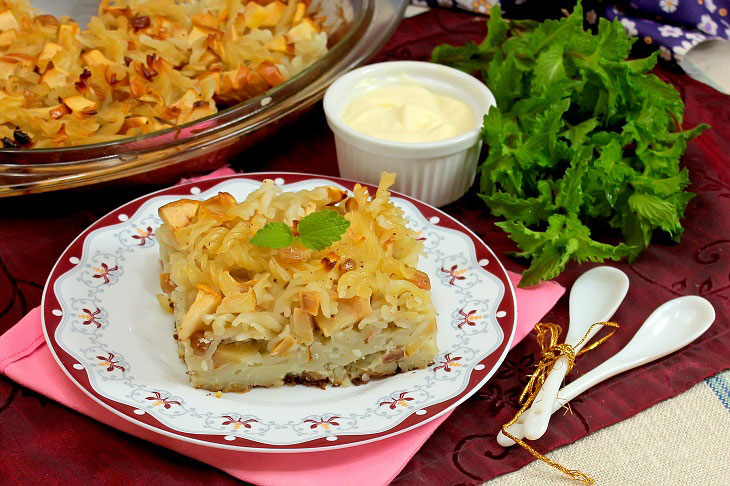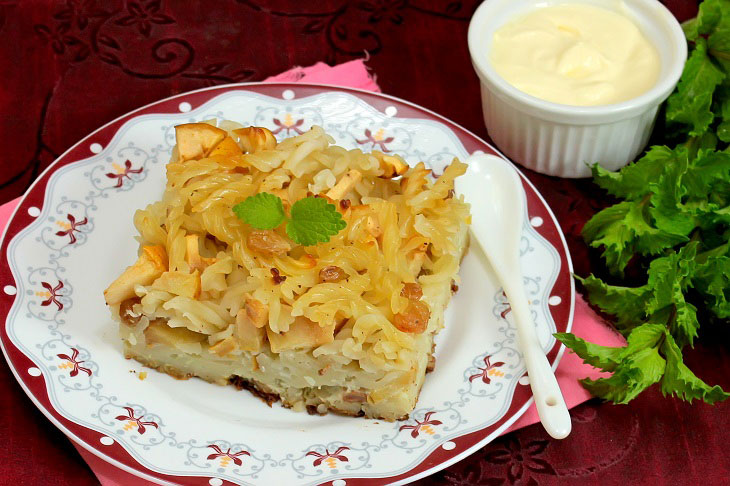 Bon appetit!