Okroshka in Azerbaijani is not such an outstanding dish, since in fact it is an ordinary cold soup, only cooked on the basis of yogurt. For a brighter flavor, you can add to okroshka (or ovdukh, as it is also called) a whole bunch of fresh herbs, consisting of parsley, cilantro, basil. In addition to matsoni, ordinary kefir or ayran can also be used for ovdukh – they are somewhat easier to find on store shelves.
Ingredients:
Beef – 150 g.
Potatoes – 1-2 pcs.
Chicken egg – 1-2 pcs.
Fresh parsley – 5-6 sprigs.
Fresh cucumber – 1 pc.
Matsoni – 3 tbsp. l.
Salt – 3 pinches.
Spices – 3 pinches.
How to cook:
1. Wash fresh cucumber, be sure to check for bitterness. If necessary, cut off the peel. Then cut the vegetable into small cubes. In some cases, the cucumber is grated on a grater to make the oatmeal more uniform. It is better to cook beef in advance in salted water with the addition of spices.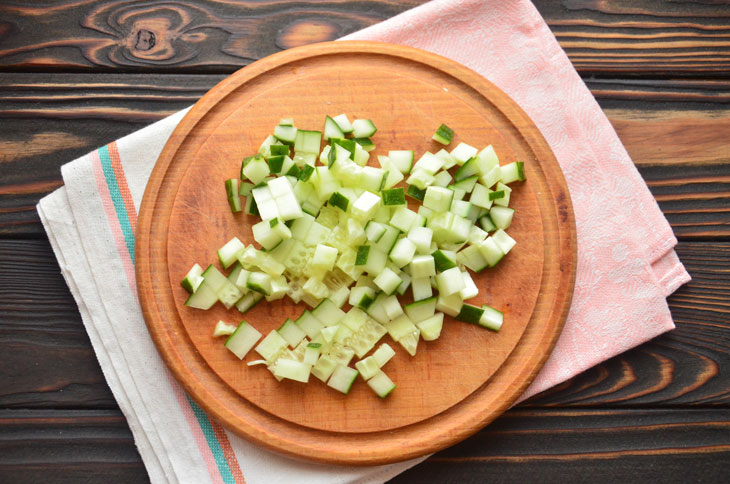 2. Boil potatoes and eggs, cool. Then peel the vegetable and also cut into cubes, put in a salad bowl.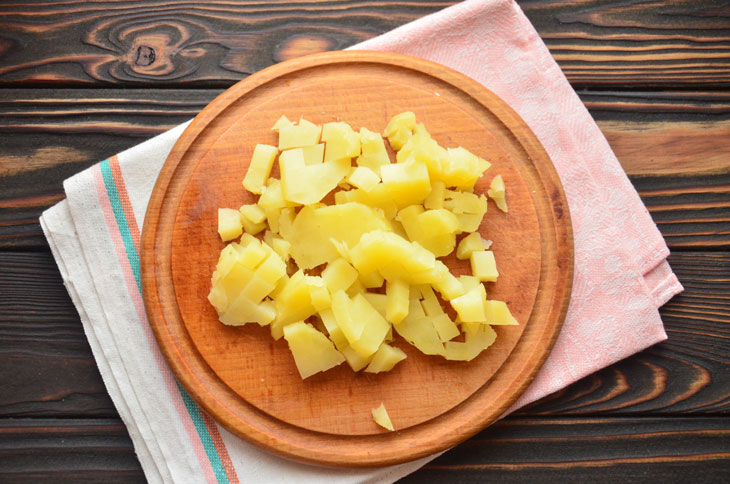 3. Peel the chicken eggs, then crumble and throw into a salad bowl.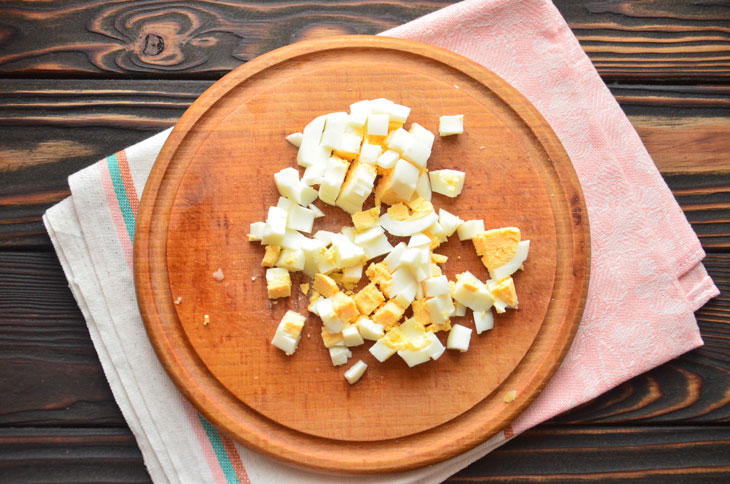 4. Boiled beef should be cooled, then cut into small cubes. This is the case when you need to use almost lean meat without veins.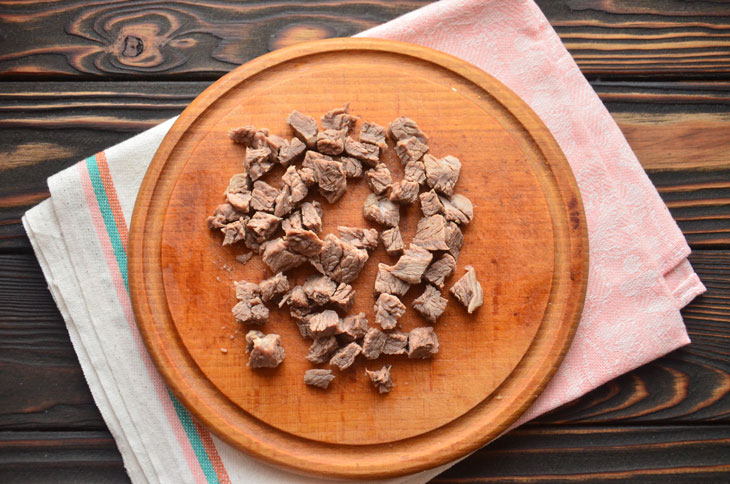 5. Wash the selected fresh herbs, then spread on a towel and dry. After crumble the leaves and send to the salad bowl.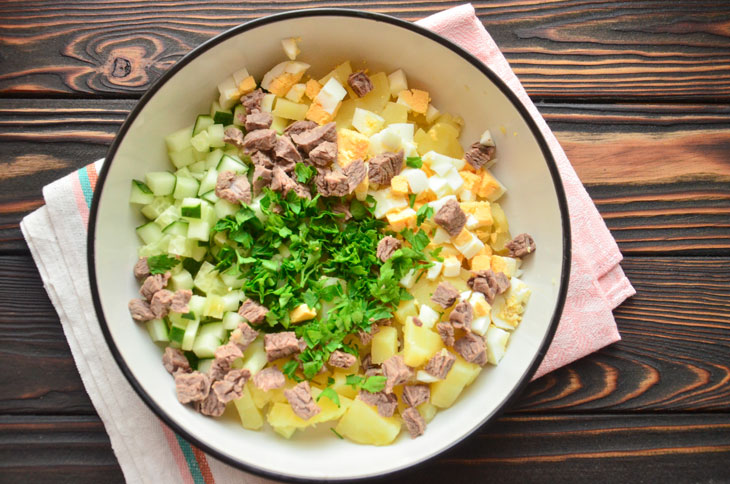 6. So that the okroshka does not turn out fresh, you need to add salt and a little black pepper.
7. Mix all the ingredients in a salad bowl, transfer the required amount to a bowl. Add fresh matsoni.
8. Pour water into the bowl and stir the okroshka. At this stage, you can make the first sample to evaluate the taste and understand which of the ingredients is missing. Serve the dish immediately after dressing.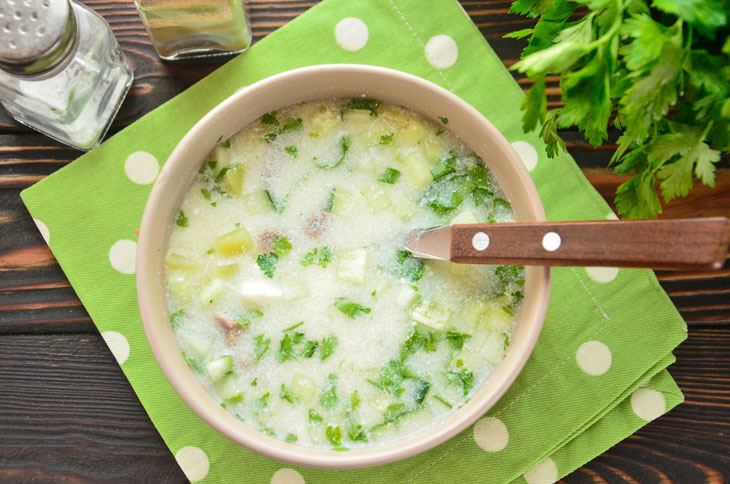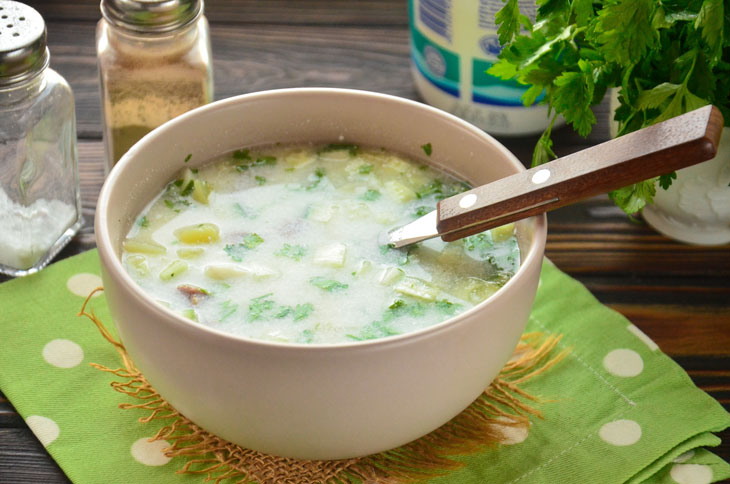 Bon appetit!