A simple, quick recipe for cooking champignons without additives. If you want to enjoy only the taste of baked mushrooms with spices and sauce, this recipe will suit you perfectly. No onions, carrots or other vegetables. Ingredients listed are per serving. Increase their number proportionally. Mushrooms are baked in the oven for 25 minutes, preparing the ingredients will take no more than 3 minutes.
During this time, you just have time to rinse and cook the rice. Baked champignons with wild rice is an incredibly tasty meatless dish.
Ingredients:
Fresh champignons – 150 g.
Vegetable oil – 1 tbsp. l.
Balsamic vinegar – 2 tbsp. l.
Soy sauce – 2 tbsp. l.
Fine salt – to taste.
Black ground pepper – to taste.
Garlic – 3 cloves.
Provence herbs – 1/2 tsp
Cooking:
1. For roasting champignons, it is better to take extra virgin olive oil.
Choose fresh mushrooms. See that the hats are snow-white, without spots. If you lightly press on the mushroom cap with your finger, the resulting dent should quickly recover. The mushroom must be elastic. The skirt should be white and fit snugly to the leg. See that there is no damage. A yellowed skirt indicates that the mushrooms are far from the first freshness. If champignons are packed in trays, see the packaging date.
Other mushrooms are not suitable for this recipe. The taste will not be exactly the same. Thanks to the mixture of herbs, sauce and balsamic vinegar with garlic, they acquire a simply delicious taste. For other mushrooms, it is better to use other recipes.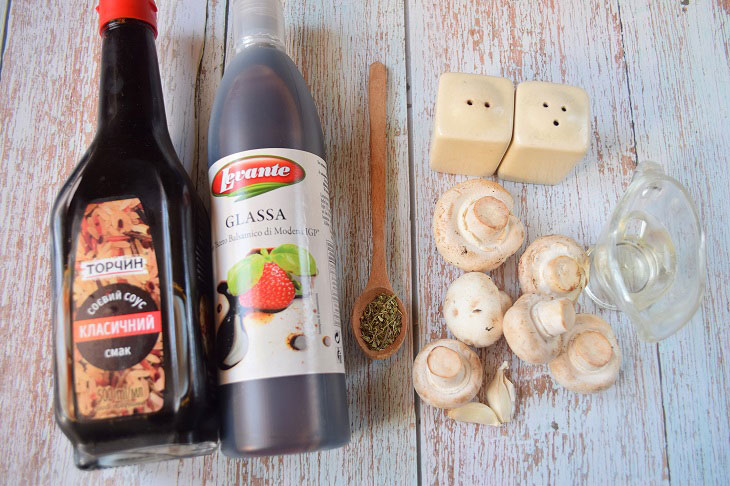 2. Rinse the mushrooms quickly with cold water. Leave on paper towel to absorb excess liquid. Transfer to a bowl.
If the mushrooms are small, leave them whole. Large cut into 3-4 parts. You can leave the skin on fresh mushrooms. Scrape the leg and cut a thin slice at the cut point. But if you want, you can clean the hat. Although during baking, all bacteria will die, and the skin does not affect the taste of the finished dish.
Salt the mushrooms, taking into account the fact that there is already salt in the soy sauce. Add herbs de Provence and some ground black pepper.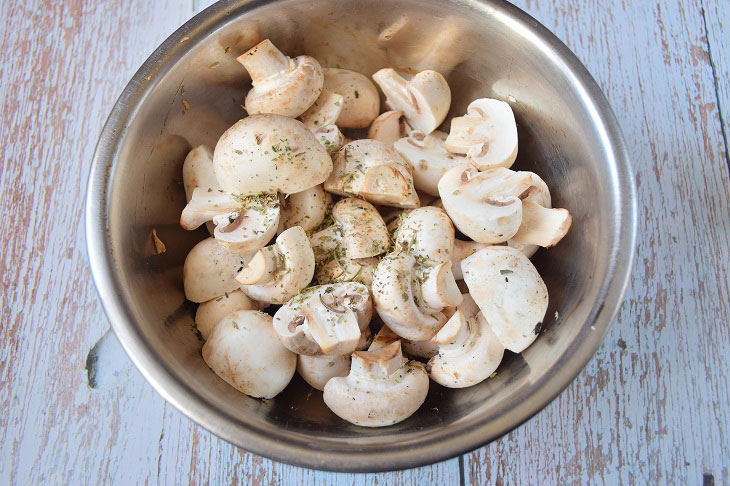 3. Drizzle with soy sauce, oil and balsamic vinegar.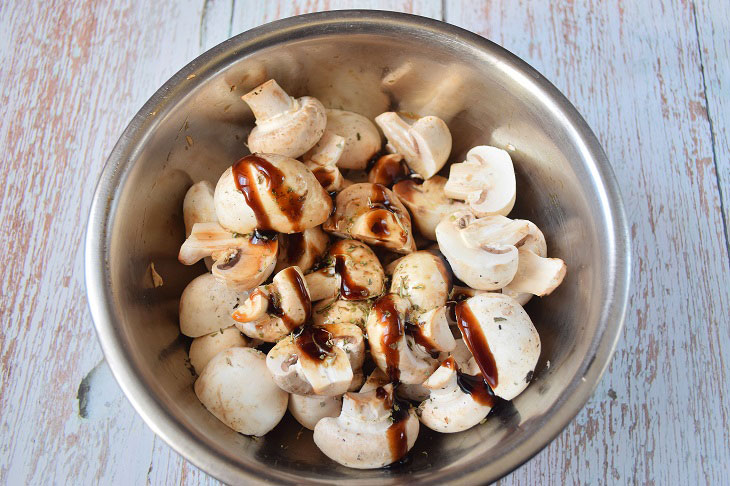 4. Mix well and leave for five minutes.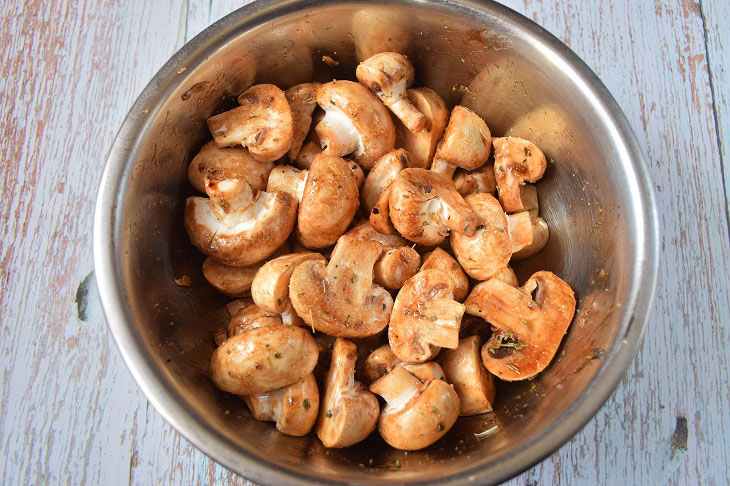 5. Line a baking dish of the right size with parchment and lay out the mushrooms in a single layer.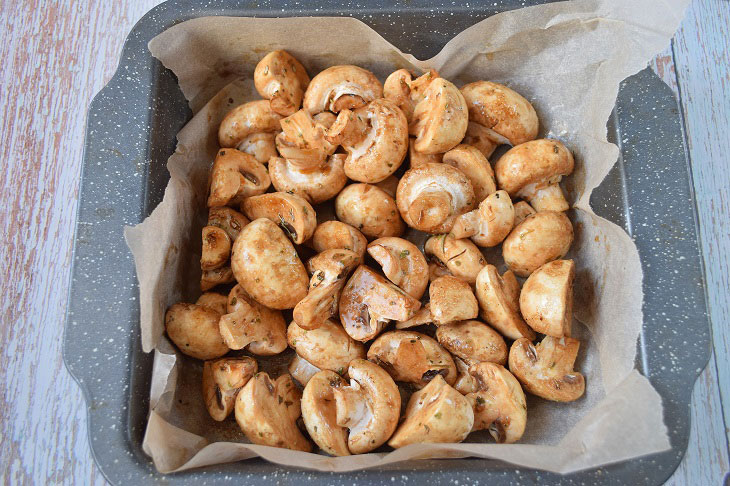 6. Bake for 25 minutes in an oven preheated to 180 degrees.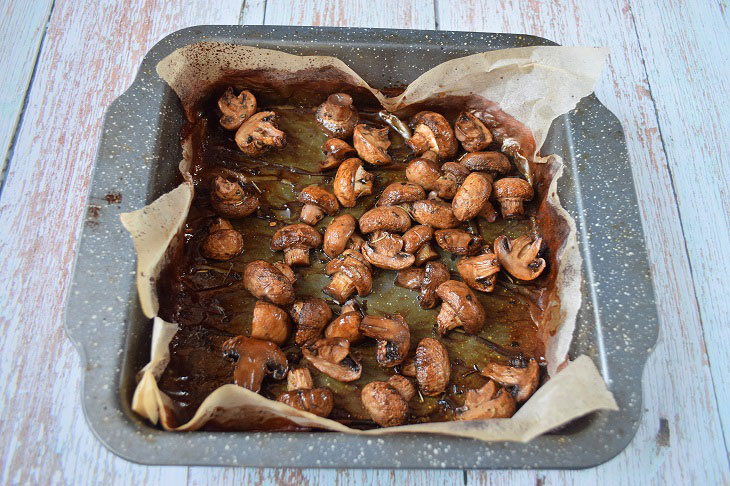 Serve with a side dish and herbs.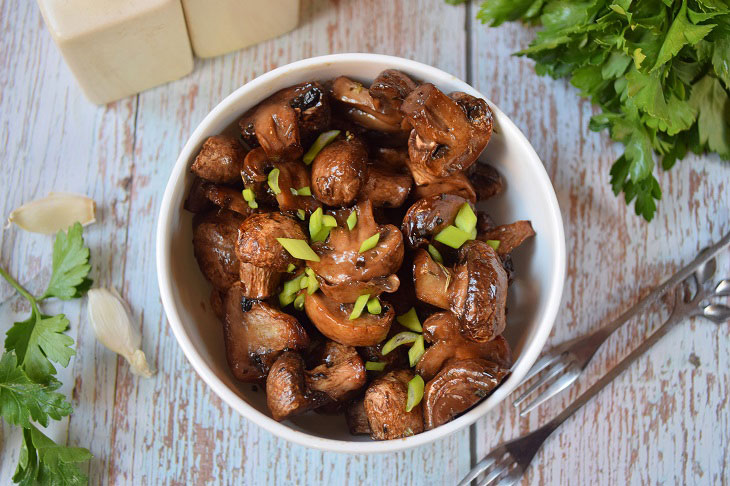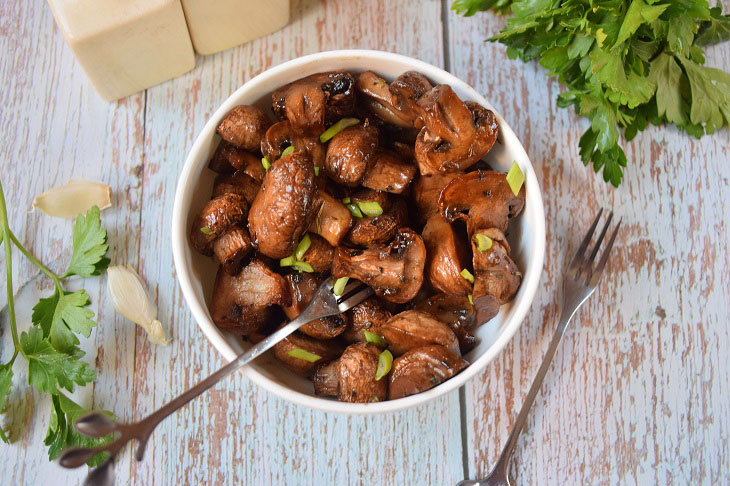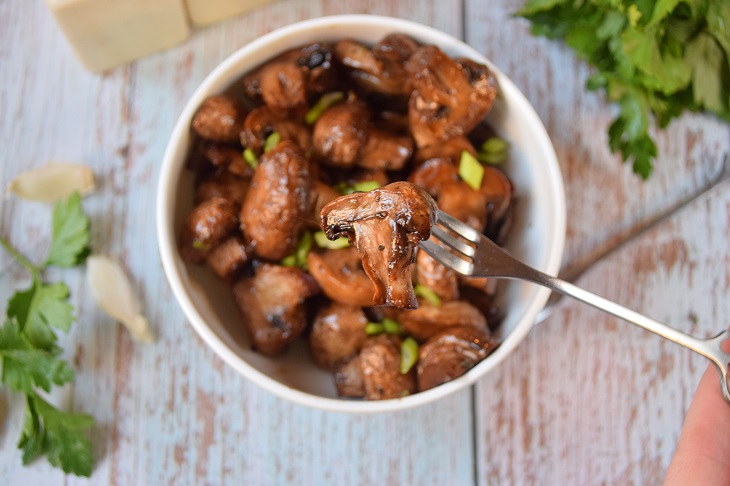 Enjoy your meal!