This simple and quick recipe is sure to be appreciated by all lovers of beautiful and tasty snacks that can be prepared both for every day and for the festive table. The cooking technology is quite simple and does not require expensive ingredients and a lot of time. The appetizer is best prepared before serving.
Ingredients:
Zucchini – 1 pc.
Cucumbers – 1 pc.
Tomatoes – 2 pcs.
Olives – 5-7 pcs.
Mayonnaise – to taste.
Salt – to taste.
Ground black pepper – 2-3 pinches.
Vegetable oil – 50 g.
Greens – for decoration.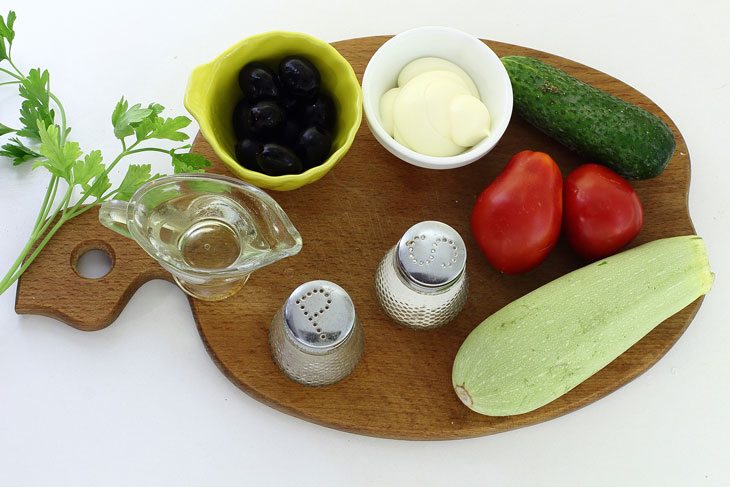 How to cook:
1. Buy young, small squash with thin skins and underdeveloped seeds. Zucchini or yellow zucchini are perfect. Rinse well and pat dry with a towel. Trim the ponytails on both sides. Cut into slices obliquely 4-5 mm high. Put in a bowl. Salt and season with ground pepper. Pour in oil and stir.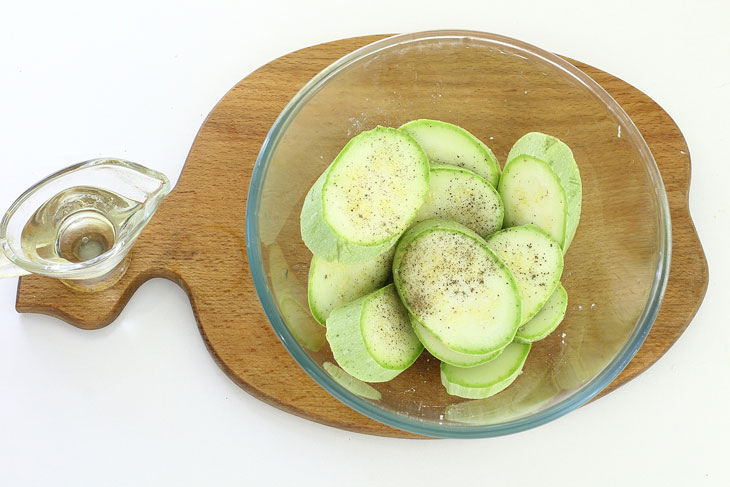 2. Send the pan without oil to the fire and heat well. Put the oiled circles of zucchini and fry until golden brown on both sides over moderate heat. Cool the fried zucchini to room temperature.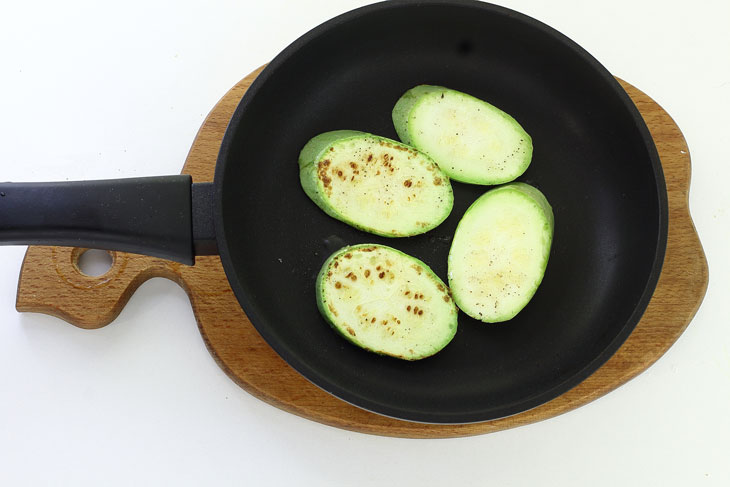 3. While the zucchini is cooling, prepare the rest of the ingredients. Remove the pitted olives from the brine and dip with a napkin. Cut into two halves. Rinse a small cucumber and tomatoes. Cut into circles. Cucumbers should be smaller than zucchini, and tomatoes should be smaller than cucumbers.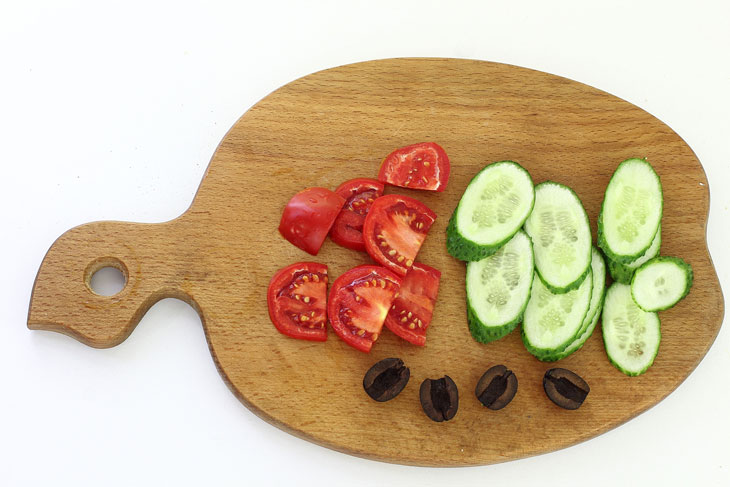 4. Choose the right dish to serve as an appetizer. Lay out the zucchini rings in the shape of a "peacock tail". At the bottom, add a drop of mayonnaise.
5. Lay cucumber slices on zucchini rings. Top up with mayonnaise.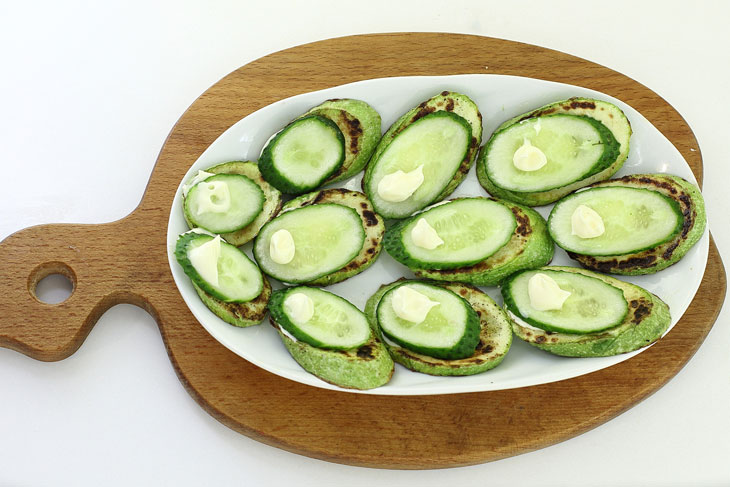 6. Lay out the tomato rings. At the bottom of the tomato, add a little mayonnaise and attach half of the olive. Season the top with salt and crushed pepper.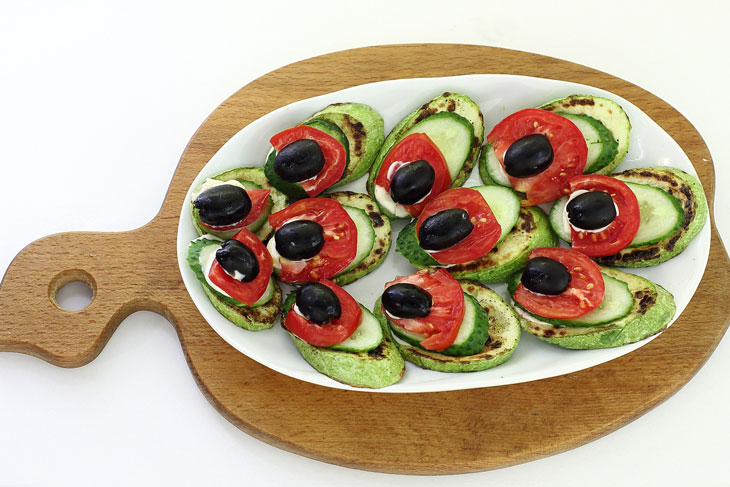 7. Rinse your favorite greens and pat dry with a paper towel. Decorate as you wish.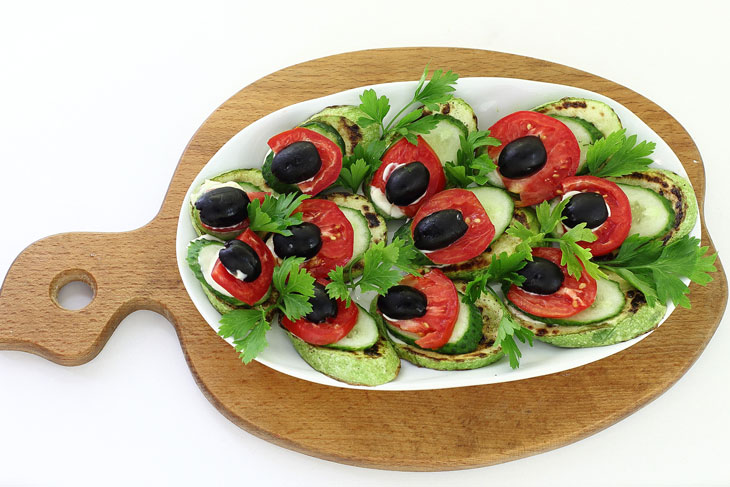 Snack "Peacock tail" of zucchini is ready. Serve immediately to the table.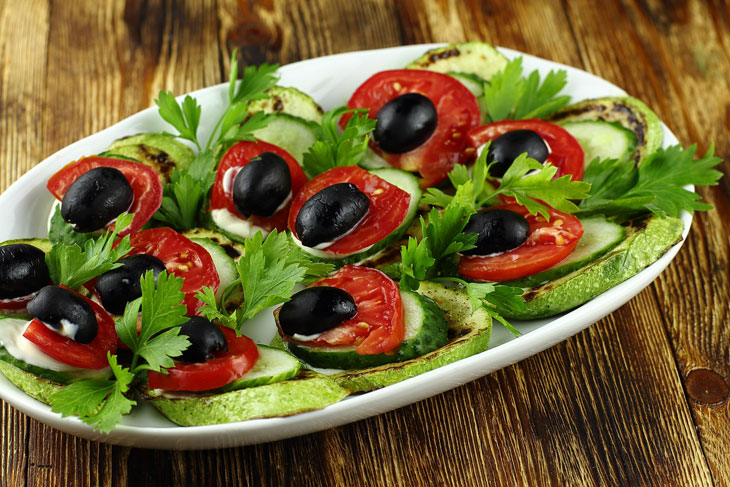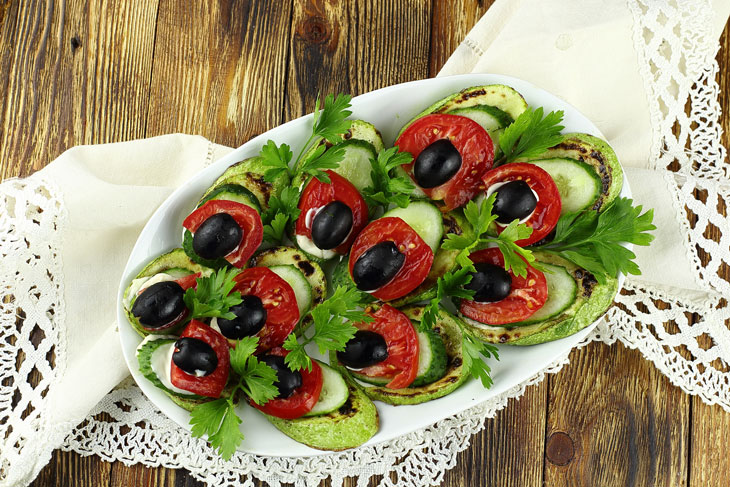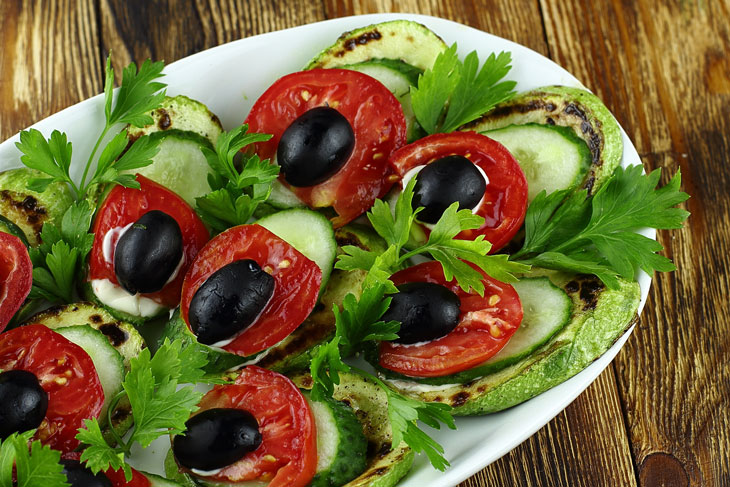 Enjoy your meal!