There are a lot of recipes for stuffed peppers: with minced meat and rice, with couscous and mushrooms, with cabbage and carrots, the list is endless! It seems that this vegetable was specially created by nature so that we can stuff it with all sorts of fillings. Today we suggest you add another very successful recipe to your piggy bank – peppers stuffed with chicken and tomatoes.
Pepper halves are stuffed with chicken fillet, onions and tomatoes, and then baked in the oven with cheese. The aroma is beyond words! The meat turns out very tender and juicy, and on top is covered with a cheese crust …
Ingredients:
Sweet pepper – 2 pcs.
Chicken fillet – 300 g.
Onion (small) – 1 pc.
Tomato – 1 pc.
Hard cheese or mozzarella – 80 g.
Salt – to taste.
Black ground pepper – to taste.
Sour cream – 2 tbsp. l.
Vegetable oil – 1 tsp.
How to cook:
1. Rinse the pepper, cut lengthwise, trying to keep the green "tail". Remove baffles and seed box. Put in a form, greased with vegetable oil (if using a baking sheet, it will not be superfluous to line it with foil).
If you take vegetables of different colors for baking (red, yellow and green), then stuffed peppers will look even more appetizing on a plate.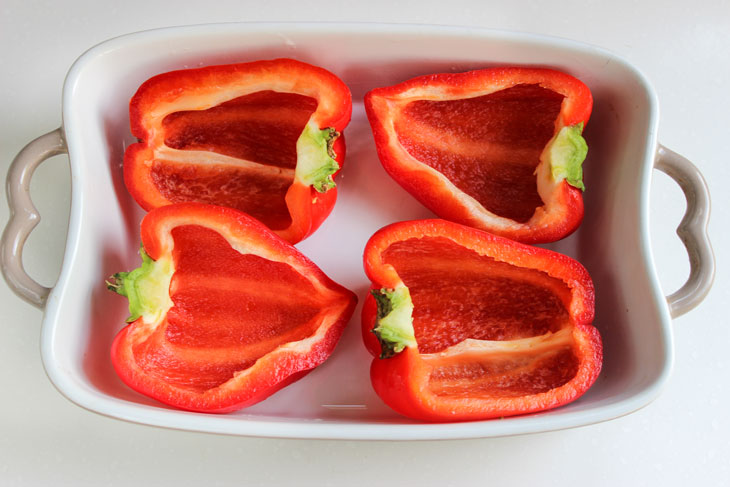 2. Cut the chicken fillet into small cubes, chop the onion as small as possible, put everything together, salt and pepper, add sour cream, mix.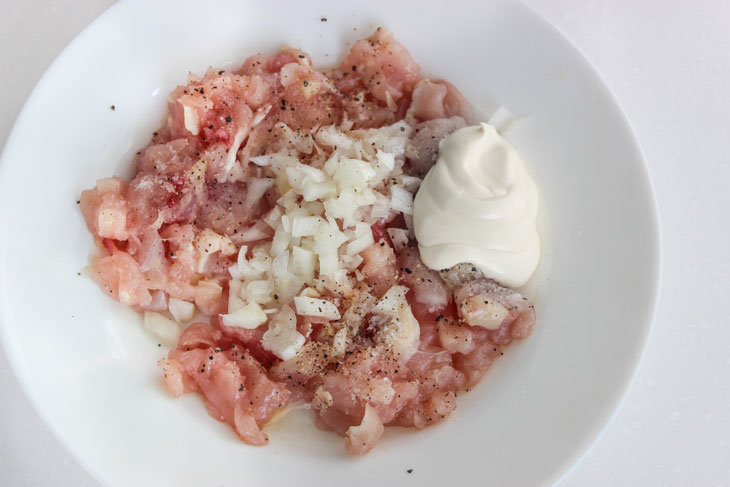 3. Chop the tomato into cubes and add to the bowl with the chicken. Mix gently again. By the way, the tomato can be pre-peeled or left as is – there will not be much difference in taste. If you decide to peel, then cut it crosswise, place it in boiling water for a couple of minutes, and then pour over ice water, after which the skin should peel off very easily.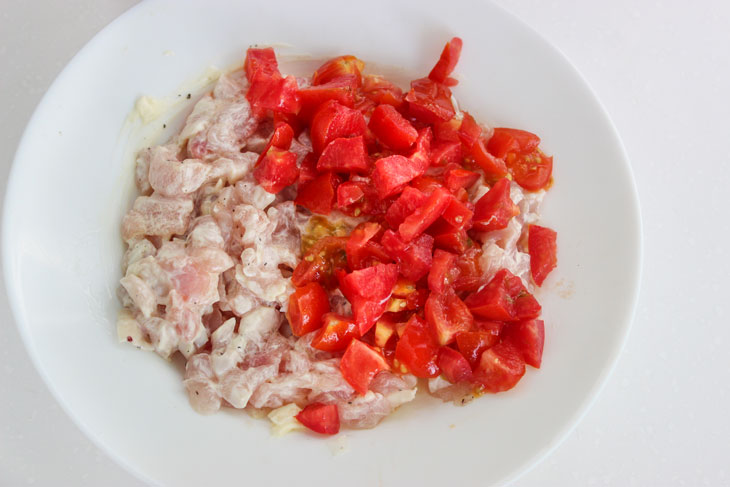 4. Divide the filling into the pepper halves. And send them to the oven, preheated to 190-200 degrees, for 30 minutes.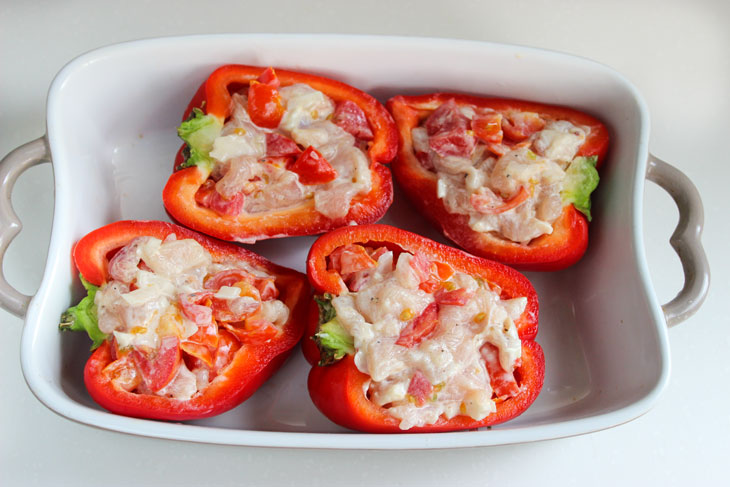 5. After half an hour, sprinkle grated cheese on top and return the oven back for another 10-15 minutes until the cap is melted. Cheese You can use any hard cheese or mix hard cheese with mozzarella.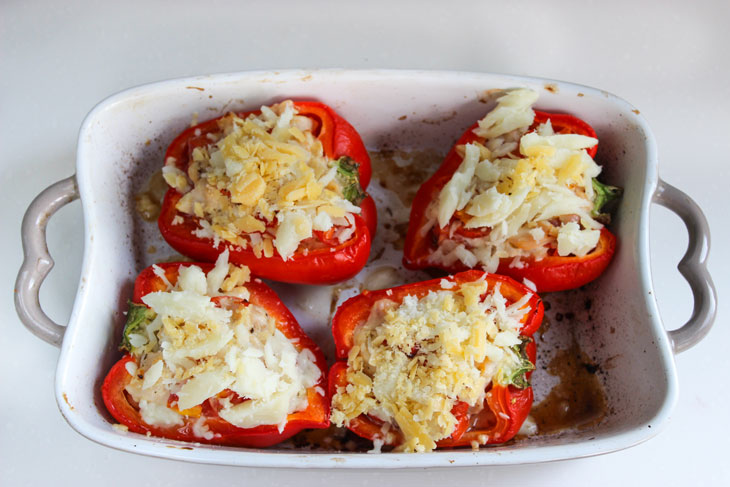 6. Serve the peppers baked with chicken fillet under cheese, warm, garnished with parsley. You can do without a side dish or supplement the dish with crumbly boiled rice.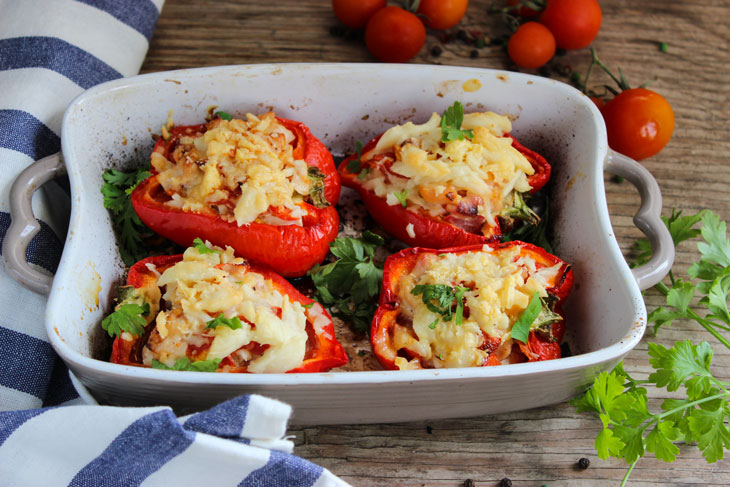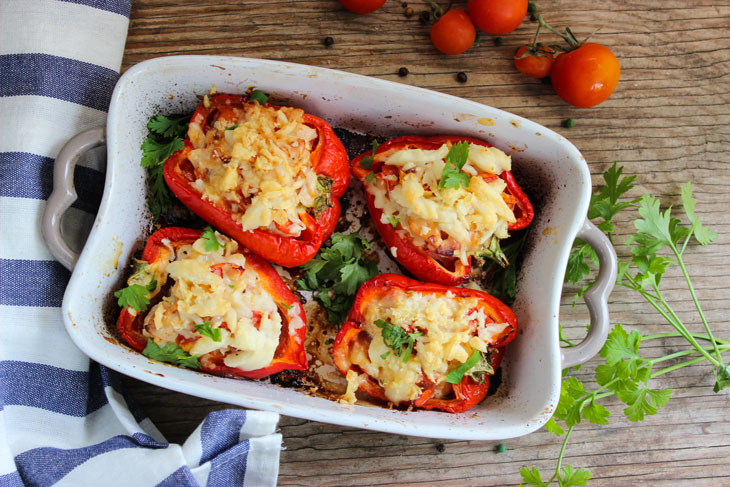 Enjoy your meal!