Do you love beets? Then prepare this interesting appetizer. In Greece, you can often see her in different cafes. Take fragrant olive oil and make an original marinade based on it. Send the beets to this marinade and wait only half an hour. The result is a light snack that goes well with meat dishes, spaghetti, and just separately with a slice of delicious bread.
Ingredients:
Large beets – 400 g.
Lemon – 2-4 slices.
Soy sauce – 50 ml.
Olive oil – 100 ml.
Salt – to taste.
Honey – 1-2 tsp
Garlic – up to 2 cloves.
Bay leaf – 1-2 pcs.
Greens – to taste.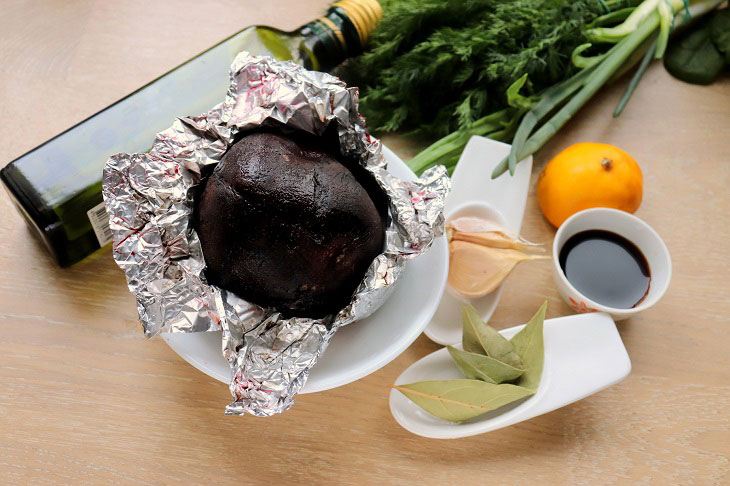 How to cook:
1. Prepare beets for this appetizer. I recommend rinsing the beets without peeling them, and wrap them in foil. Roast beetroot until fully cooked for 40 minutes. If you take small beet roots, then it will cook much faster. Peel the cooled baked beets.
Alternatively, beets can be boiled. But in this case, it turns out to be watery and not so rich in taste. You can also cook in the microwave, which will save you time.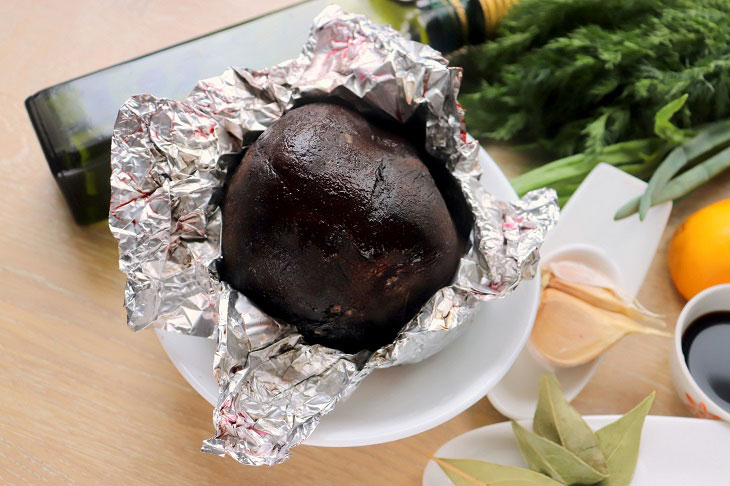 2. Prepare marinade for beets. The main component of the marinade is olive oil, use a good cold-pressed oil. Pour olive oil into a bowl or bowl, add soy sauce and honey. Tear the bay leaf into pieces and add to the marinade. Add chopped lemon wedges or use apple cider vinegar to this. Finely chop the garlic cloves and send to the marinade.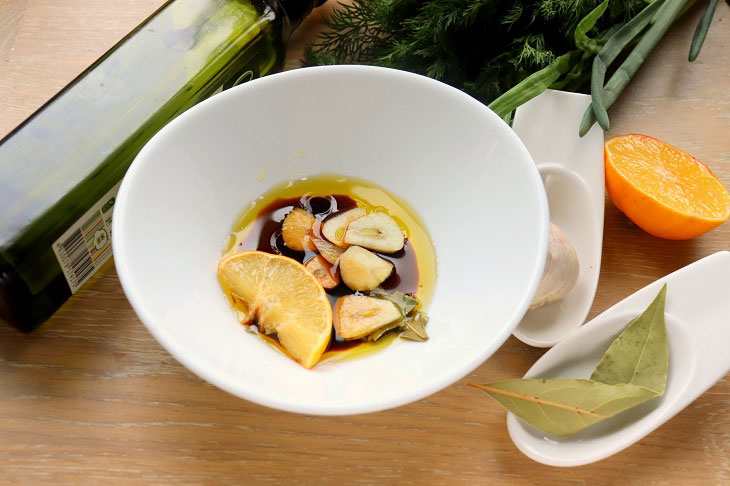 3. Cut the prepared baked beets into arbitrary thin slices and add to the marinade. Stir the beetroot and leave for 30 minutes, let it soak in all the aromas and flavors. Use chopped herbs to taste. We use dill and parsley.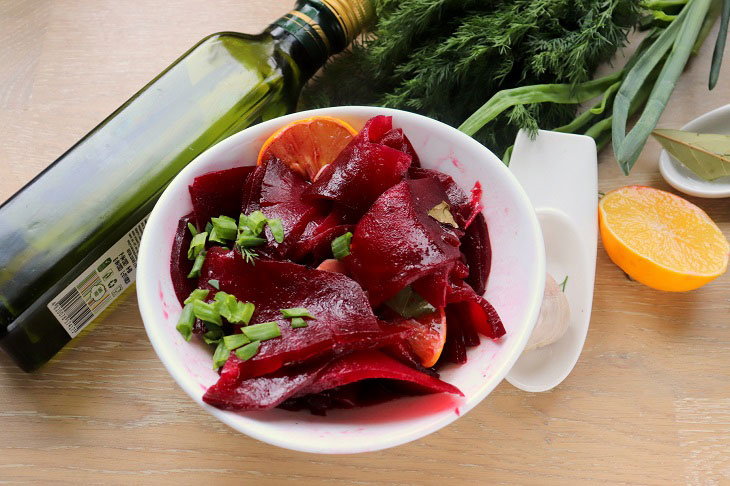 4. Serve such Greek-style pickled beets as a cold appetizer for main courses.
Greek-style pickled beets will keep for up to three days in the refrigerator in a food container.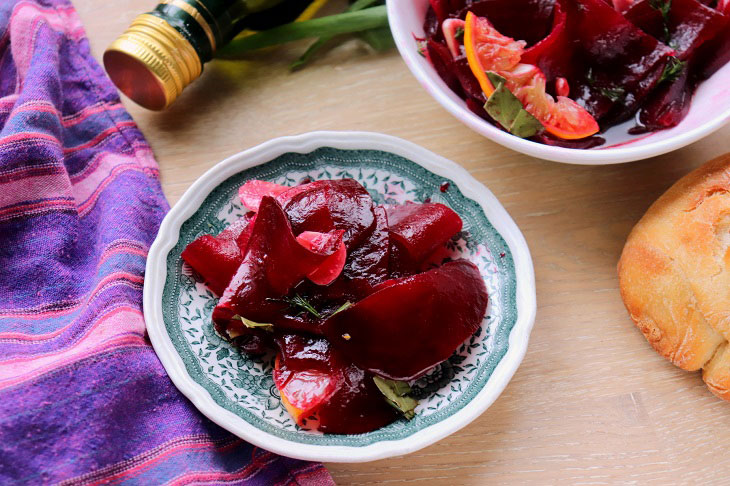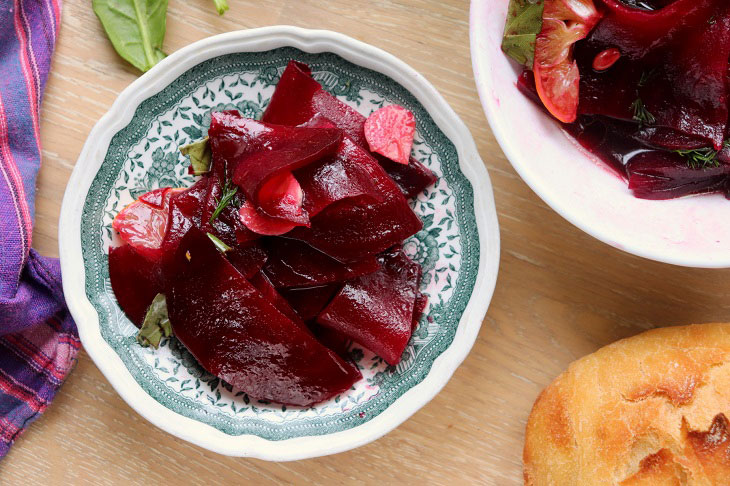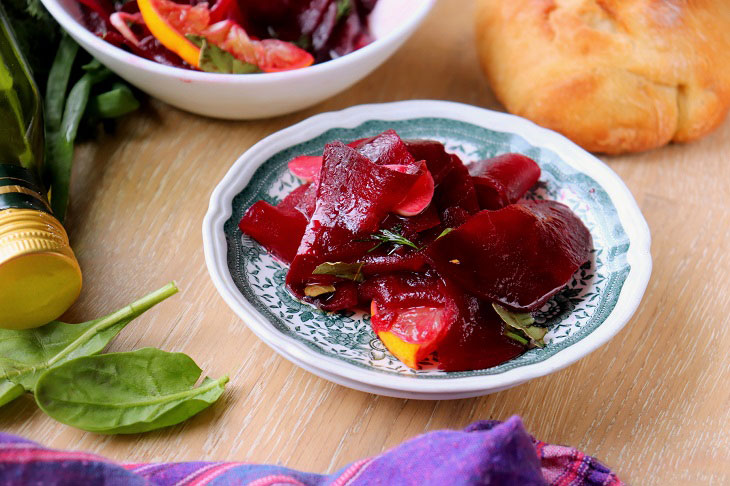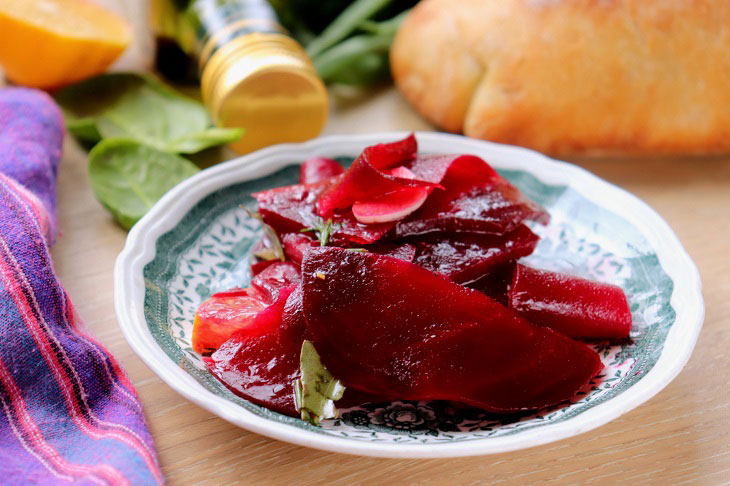 Bon appetit!