Zucchini baked with suluguni can be cooked for any occasion – even for a regular dinner, even on the occasion of a holiday. The vegetable turns out soft, with a bright garlic note and a cheese cap. Zucchini can be cut into slices, slices or circles – as you like. You can also experiment with cheese – both classic and smoked suluguni are suitable. The fragrant vegetable should be served hot or warm before the cheese has set. Fresh herbs will make the dish look even more appetizing – add a sprig of basil, parsley or dill.
You need to prepare a dish from fresh zucchini. Wash vegetables. There should be no damage on the peel, and if there are any, you need to cut it off with a knife. Garlic can be added if desired. Sour cream can be medium or high fat, that is, not too liquid. You can use mayonnaise instead of sour cream.
Ingredients:
Zucchini – 1 pc.
Suluguni cheese – 70 g.
Garlic – 1-2 cloves.
Vegetable oil – 25 ml.
Sour cream – 35 ml.
Salt – to taste.
Spices – to taste.
Dried herbs – 2 pinches.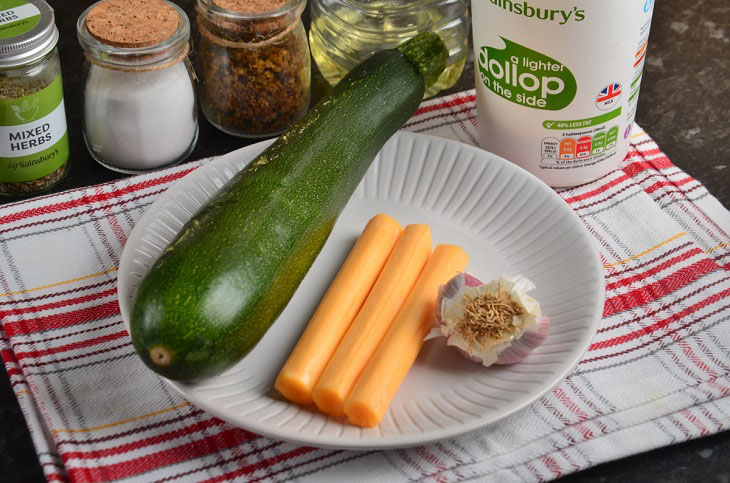 How to cook:
1. Cut the zucchini into thin slices.
A frozen vegetable will not work, as it is more watery.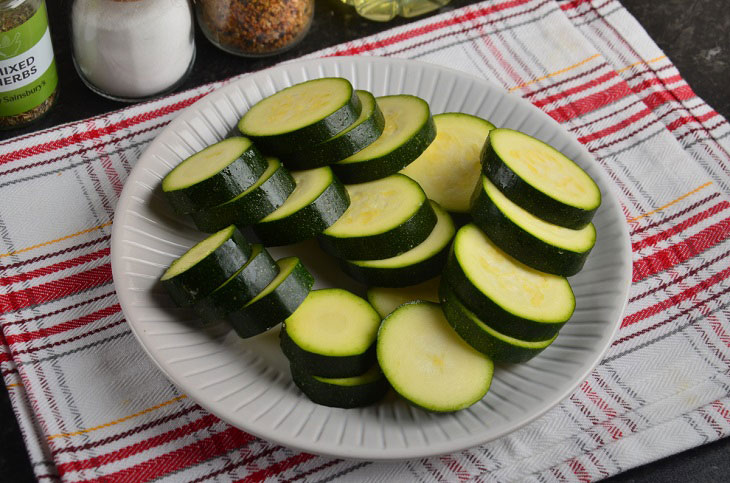 2. Cover the baking sheet with foil or baking paper, grease with vegetable oil. Lay out the circles of zucchini – you can close to each other. Salt the vegetables.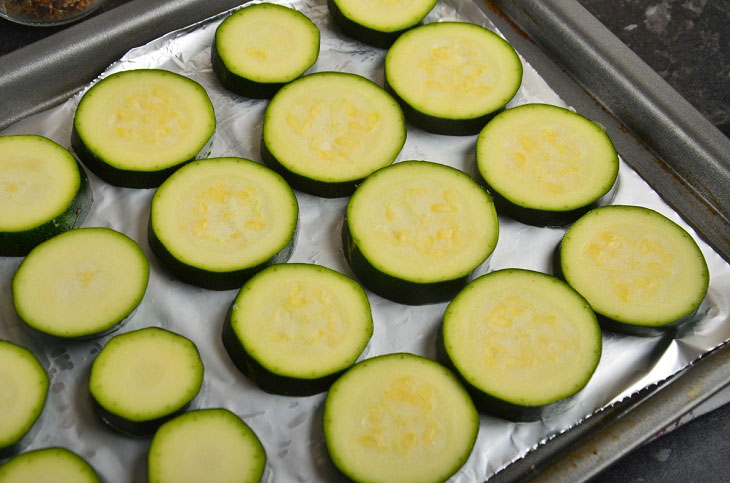 3. Put grated suluguni cheese into a deep bowl.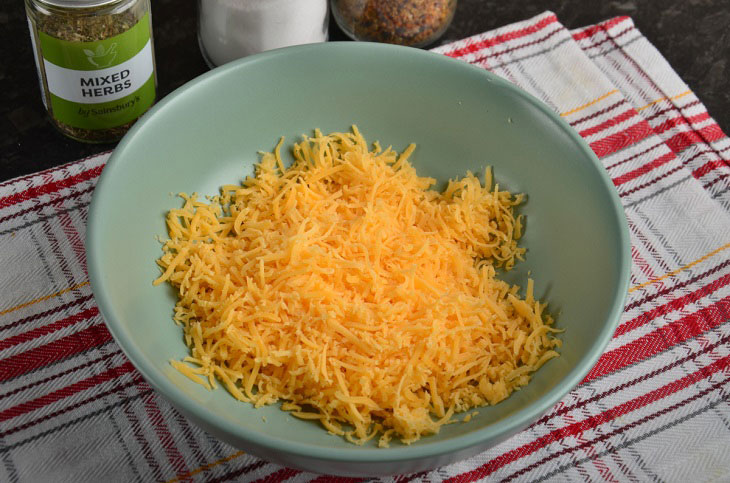 4. Add 20% fat sour cream (or another), as well as some dried herbs (thyme, basil, oregano) to a bowl of cheese.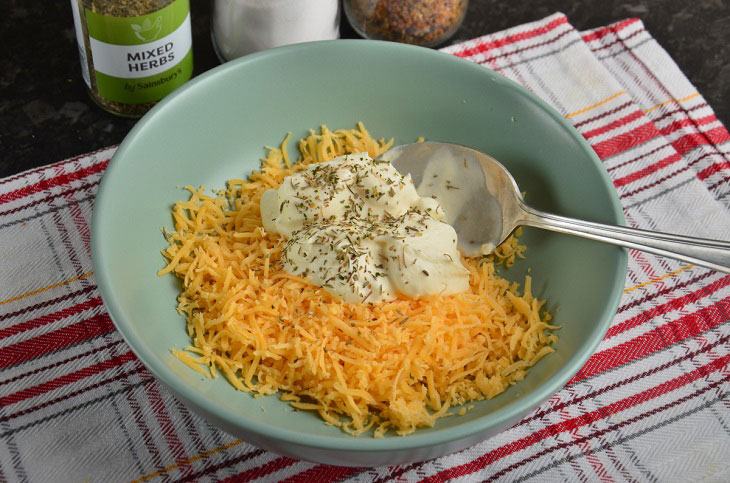 5. Peel the garlic cloves, grate or pass through a special press. Add to bowl with cheese.
6. Mix everything thoroughly – the mass should be completely homogeneous.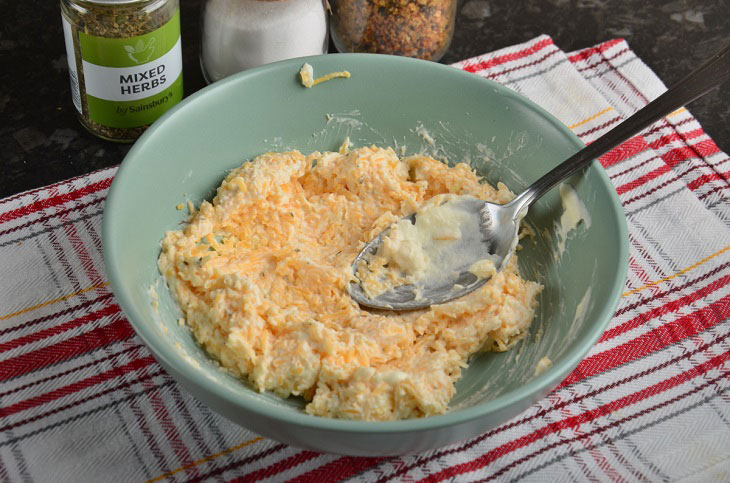 7. Using a teaspoon, put the cheese mass with sour cream and garlic on the circles of vegetables. Place the baking sheet in an oven preheated to 170 degrees. Bake the dish for 15-20 minutes.
Make sure that the cheese layer does not start to burn.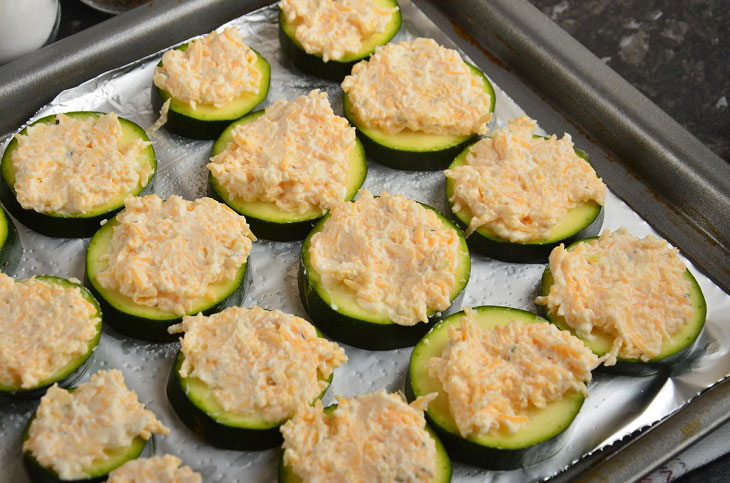 8. Transfer the finished dish to a plate, garnish with a sprig of fresh basil and serve.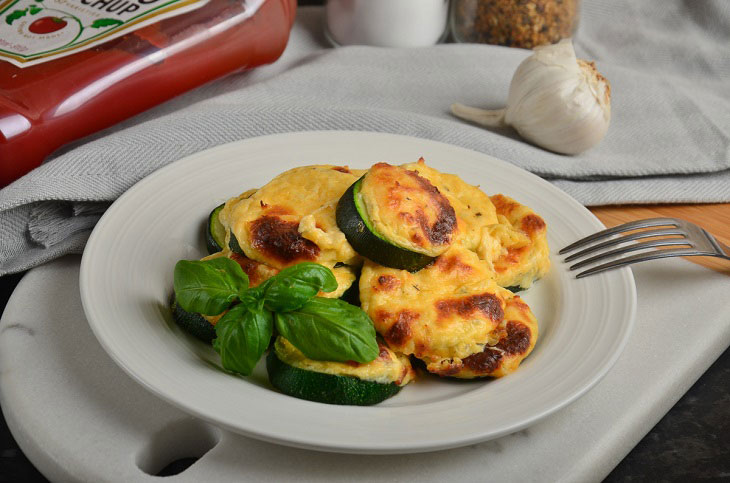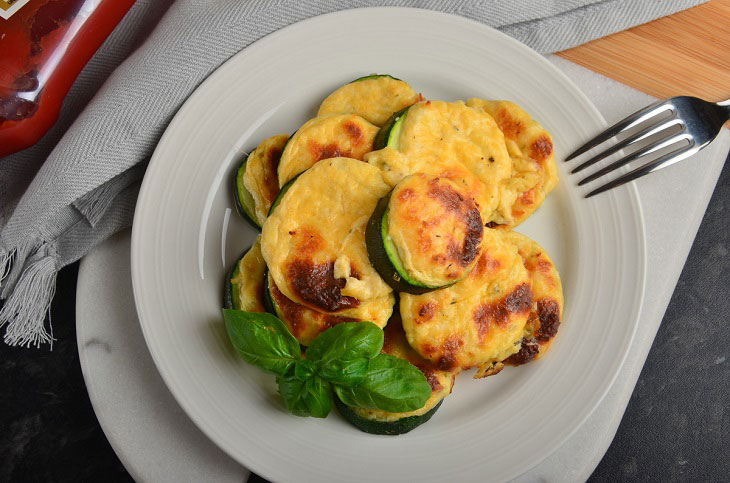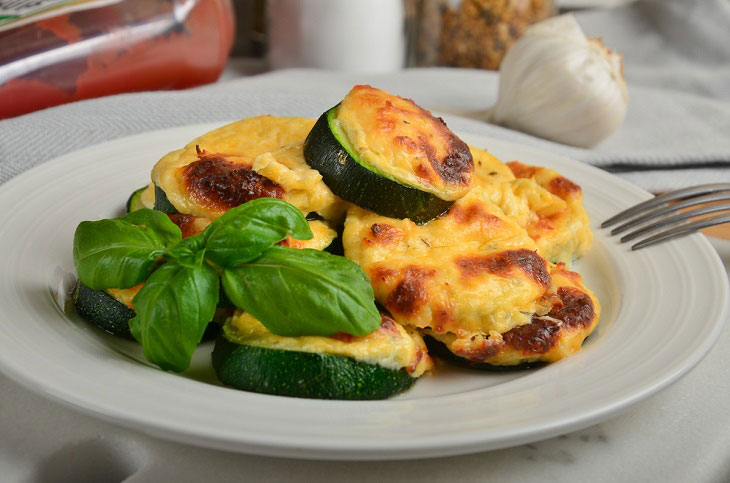 Enjoy your meal!