Summer is in full swing – it's time to preserve delicious and crispy cucumbers. Mustard seeds help keep the vegetables crunchy, and use dry herbs, leaves, and fresh herbs for flavor. For a spicy taste, you can add a little hot red pepper to the workpiece. Preservation is prepared without sterilization by the method of two fillings. This is quite enough for cans with a size of up to one and a half liters. If you close the cucumbers in a larger container, we recommend pouring the preservation three times. The recipe is based on a 1.5 liter jar.
For the recipe, choose fresh, thin-skinned cucumbers and use 9% vinegar. Salt should be rock, coarse grinding.
Ingredients:
Cucumbers – 800-850 g.
Salt – 35 g.
Sugar – 40 g.
Parsley – 0.5 bunch.
Vinegar – 30 ml.
Water – 750 ml.
Dill umbrella – 2-3 pcs.
Horseradish leaf – 1 pc.
Cherry leaves – 3 pcs.
Garlic – 2 cloves.
Mint – 1 sprig.
Mustard seeds – 1 tbsp. l.
Hot pepper – 1/3 pc.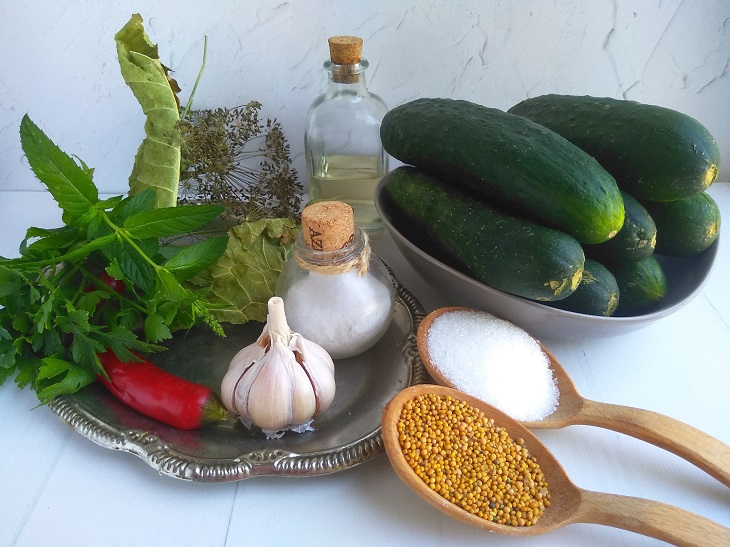 Yield: 1 can of 1.5 liters.
How to cook:
1. Wash cucumbers, soak for 2-3 hours in cold water.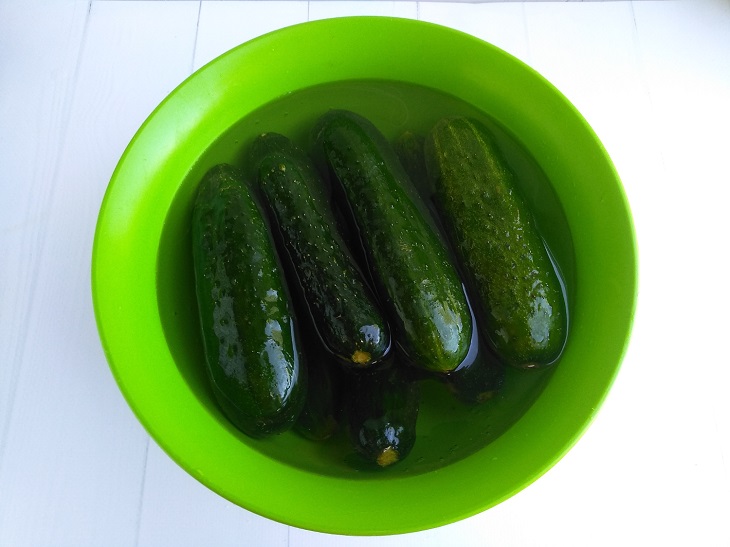 2. Sterilize the jar in a convenient way, boil the lid. At the bottom of the jar, lay cherry leaves, horseradish and dill umbrellas. Peel the garlic, cut in half, put in a jar.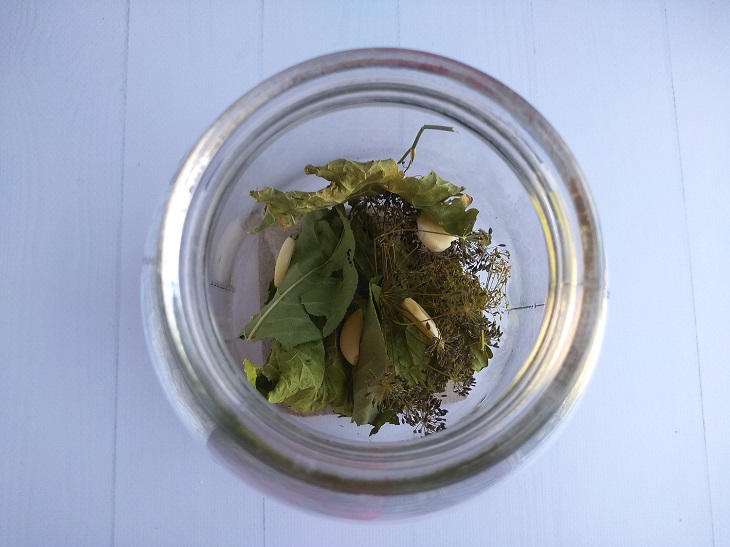 3. Rinse greens, dry, place in a jar.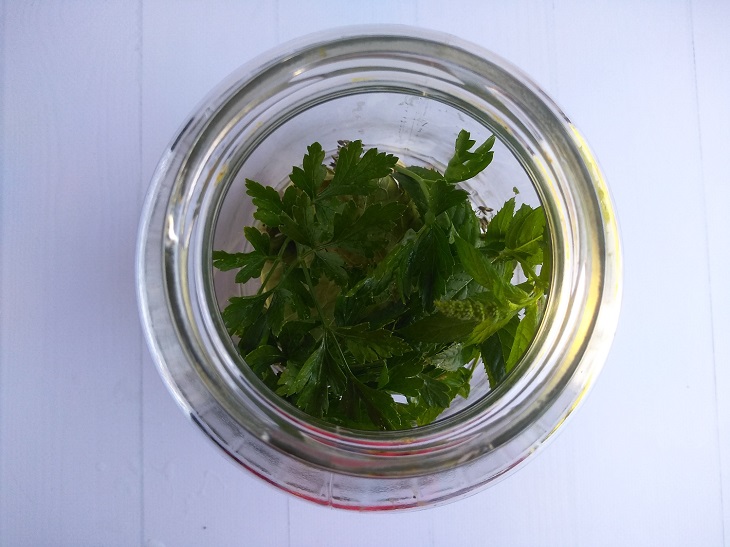 4. Cut off the tips of the cucumbers, put them tightly in a jar.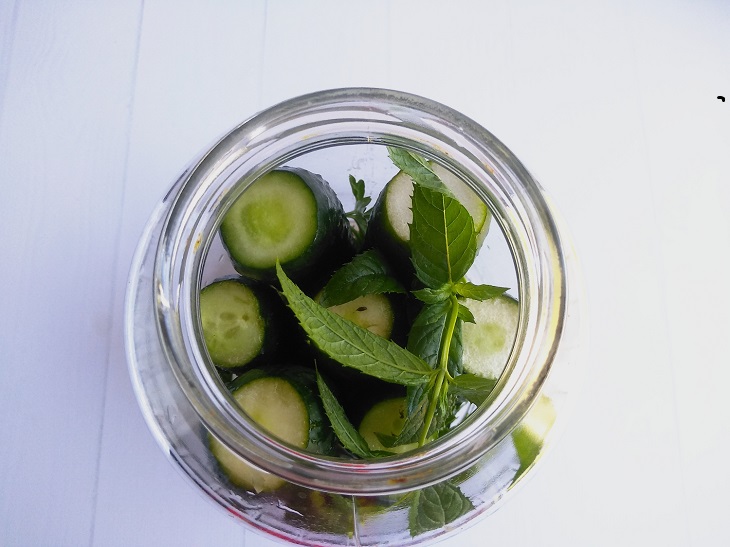 5. Peel red peppers, cut into slices about 5-7 mm thick. Spread over cucumbers.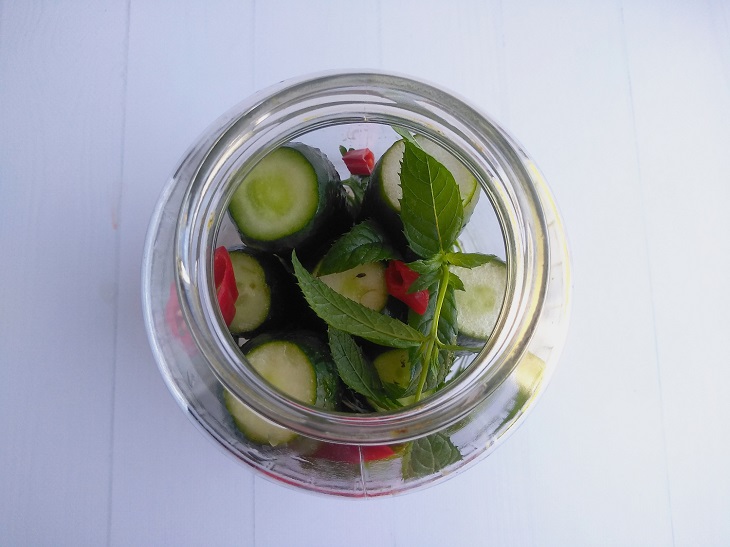 6. Pour mustard.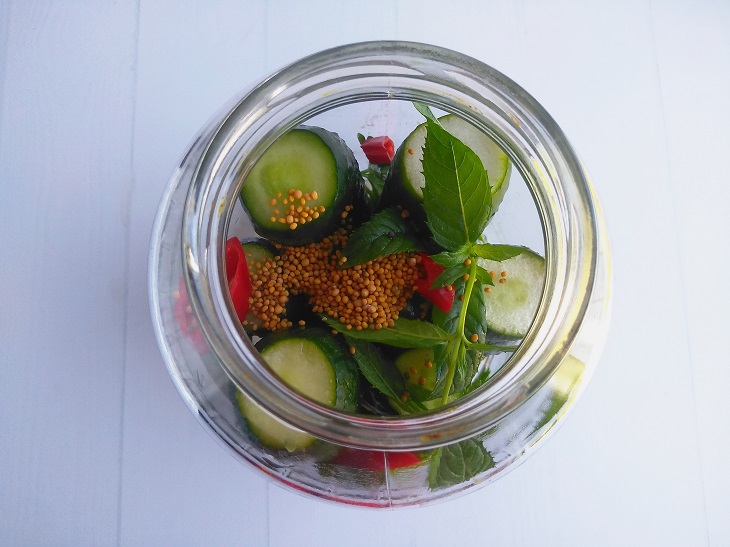 7. Pour the contents of the jar with boiling water, cover with a lid and leave to warm for 20 minutes.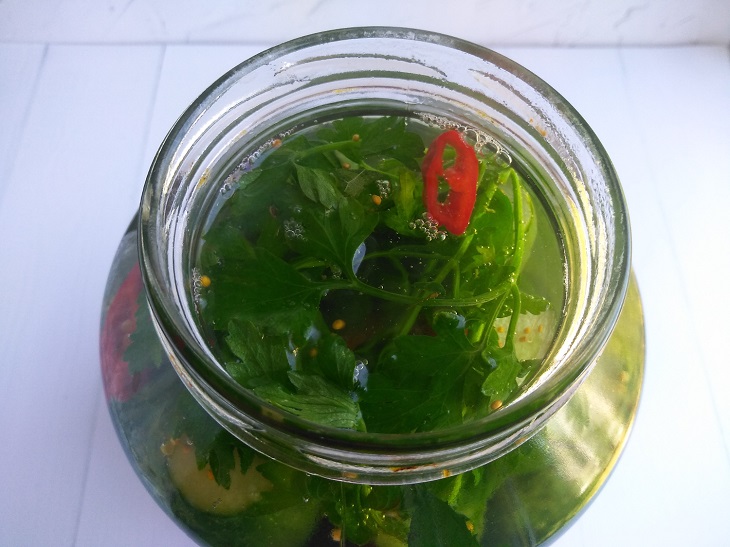 8. Put a clean lid with holes on the jar. Pour the infusion into a saucepan.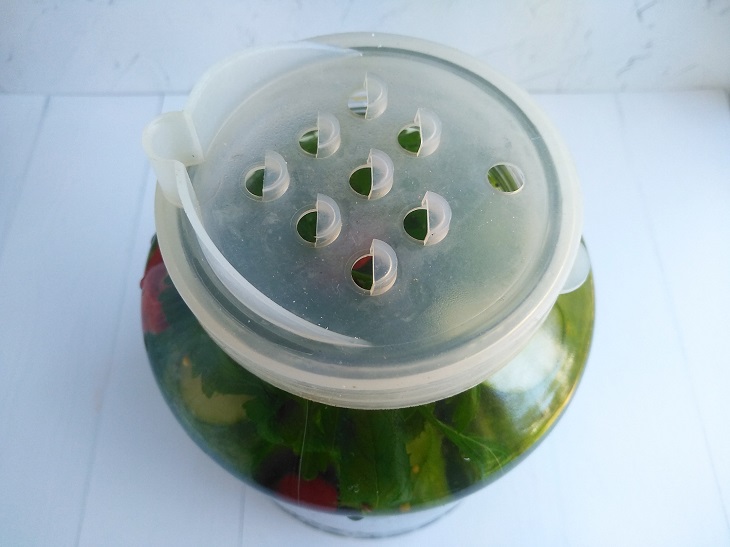 9. Add salt, boil sugar again.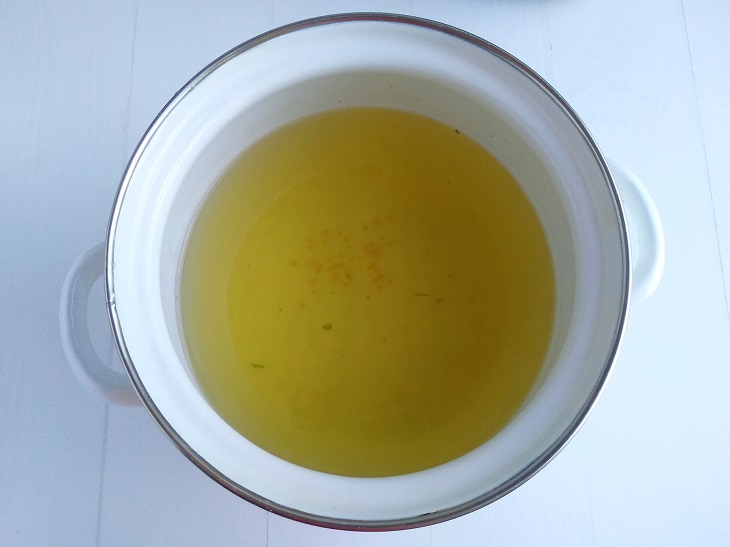 10. Pour the workpiece, pour in the vinegar.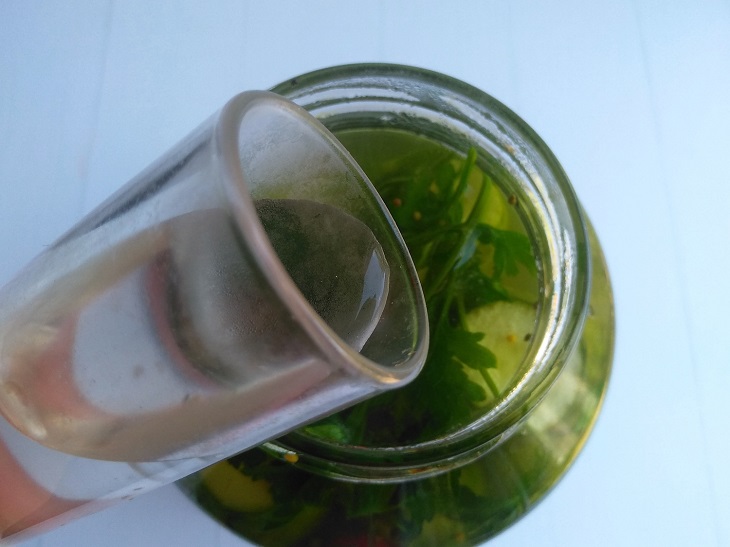 11. Close the jar tightly with a lid, wrap in a towel and a warm blanket. Leave the workpiece to cool for 6 hours.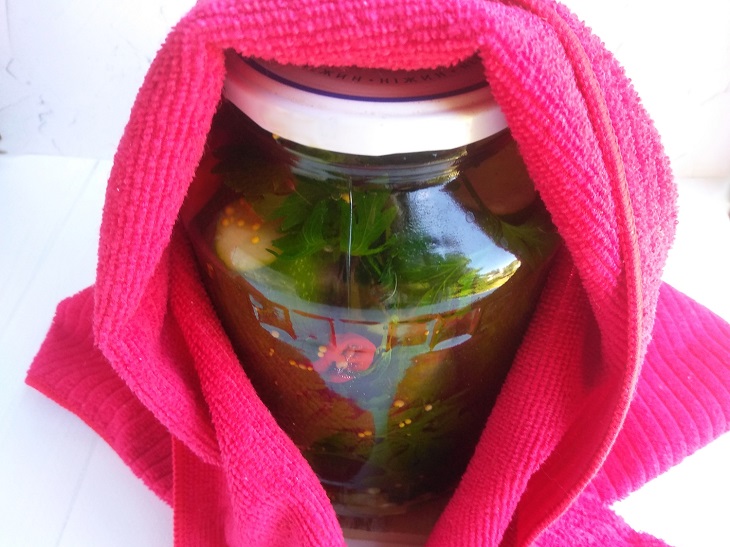 Store cucumbers in a dark, dry place at room temperature.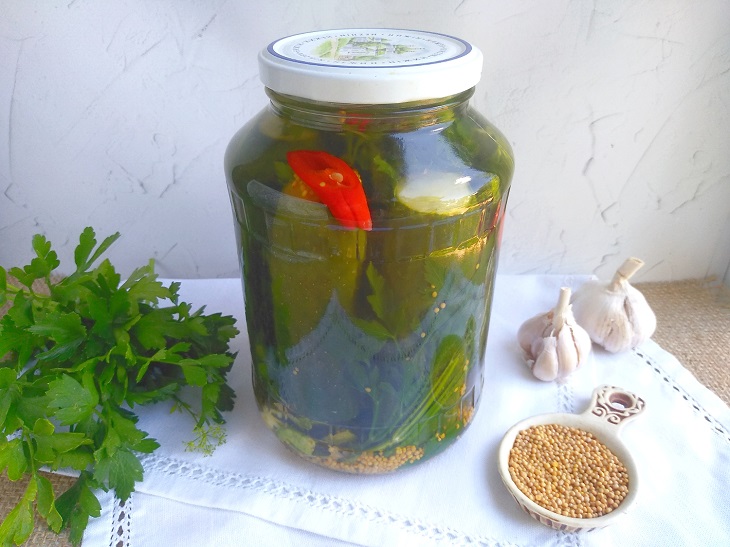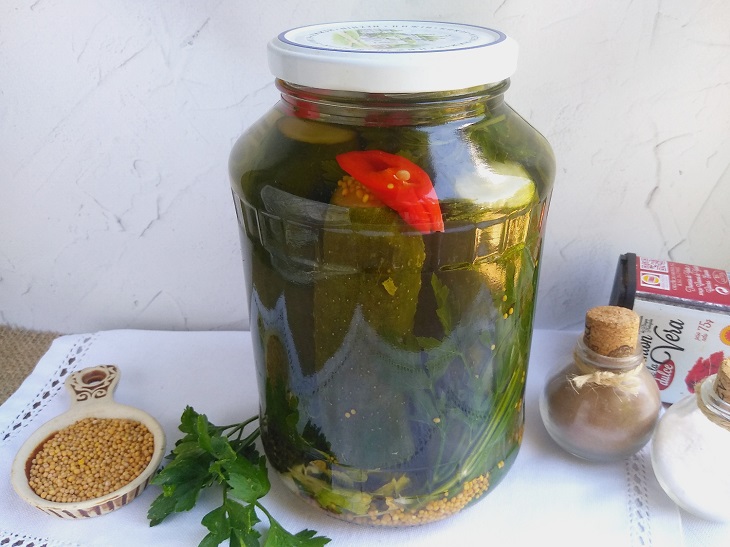 Enjoy your meal!