The season of zucchini is in full swing, which means it's time to close the proven preparations, which will definitely please all household members at a homemade lunch or dinner.
Marinated zucchini "You'll lick your fingers" for the winter are prepared quite simply and are perfect for any side dish, barbecue and other meat dishes or fish. A jar of such a blank will instantly fly away at a picnic.
Ingredients:
Zucchini – 1.7-2 kg.
Spices (for 1 jar) – 480 g.
Garlic – 1-2 cloves.
Mustard seeds – 0.5 tsp
A mixture of peppers – 0.5 tsp.
Hot pepper – to taste.
Dill – 2-3 sprigs.
Cherry leaf – 1-2 pcs.
For marinade:
Water – 2.1 liters.
Salt – 3 tbsp. l.
Sugar – 4.5 tbsp. l.
Table vinegar 9% – 12 tbsp. l.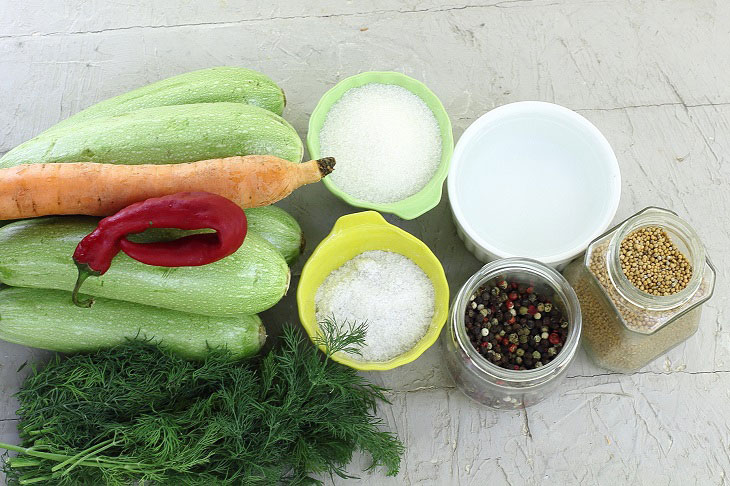 Cooking time: 60 minutes. Yield: 8 cans of 480 g.
How to cook:
1. First of all, prepare the vegetables.
Buy small, young zucchini. Rinse them thoroughly with plain water. Trim the tails on both sides. Cut into circles 8-10 mm or half rings. For cutting, use a curly or regular knife.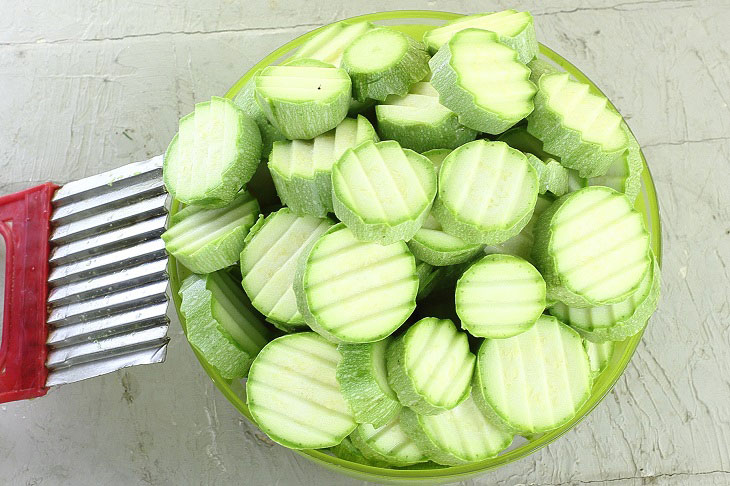 2. Peel and wash the carrots. Cut into thin rings.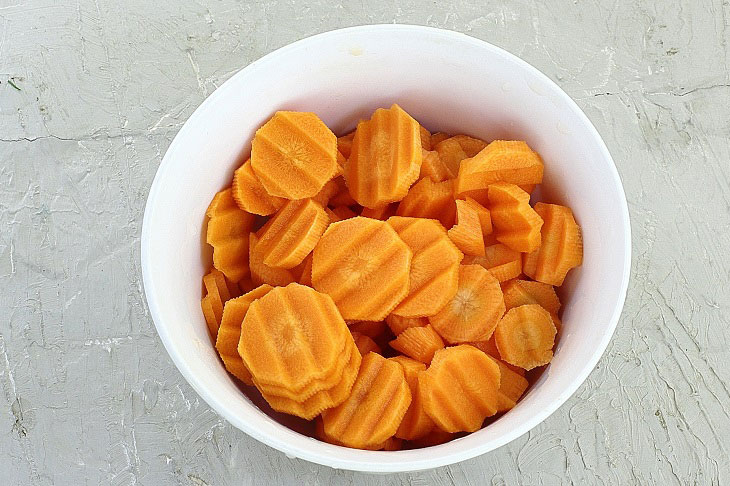 3. Have jars ready in advance. It is better to use half-liter containers. Rinse them with baking soda along with the lids and rinse well. Boil the lids for 10 minutes.
Banks must be sterilized over steam, in a microwave or oven.
At the bottom of each jar, add dill sprigs, cherry leaves, peeled garlic, mustard seeds, a mixture of peppers, a piece of hot pepper.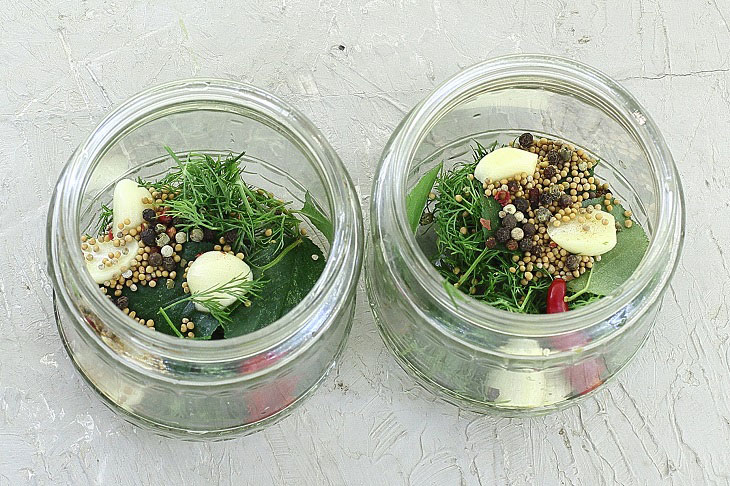 4. Lay out the zucchini, alternating with carrots to the very top. Tamp a little.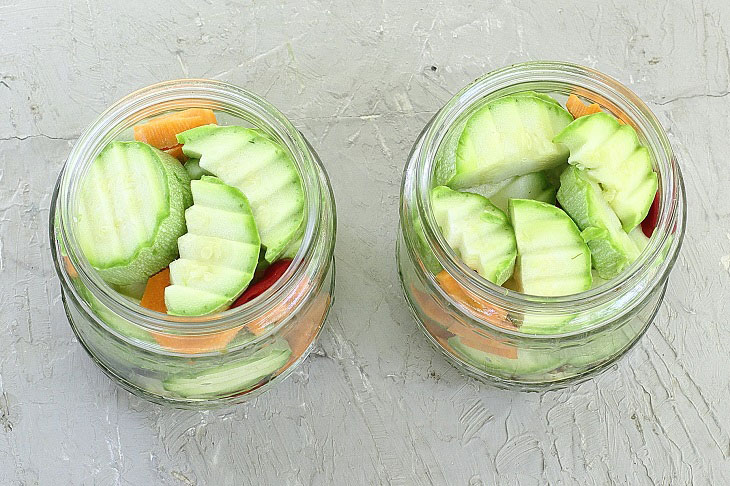 5. Boil water in a ladle or saucepan. Carefully pour the boiling water into the jars so that the liquid does not spill over the top. Cover and leave for 10-15 minutes. Repeat this procedure 2 more times.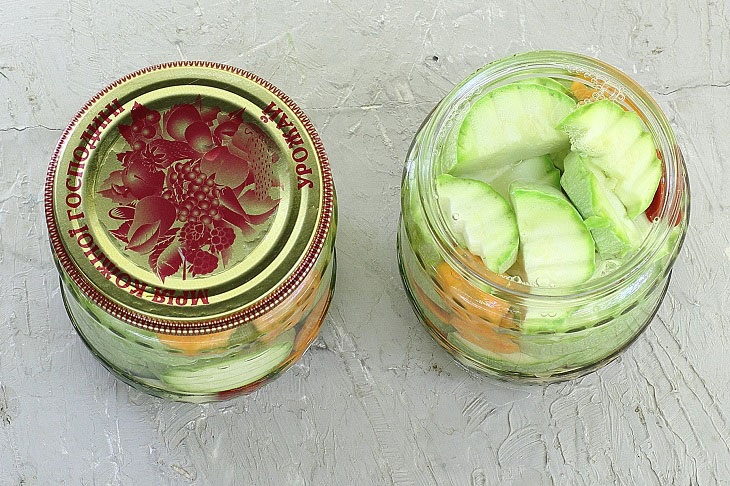 6. Now let's do the marinade. Pour water into a saucepan. Pour in sugar and salt. Send to fire. While stirring, bring to a boil. Boil for 3-4 minutes over moderate heat. Pour in table vinegar. Stir and remove from heat.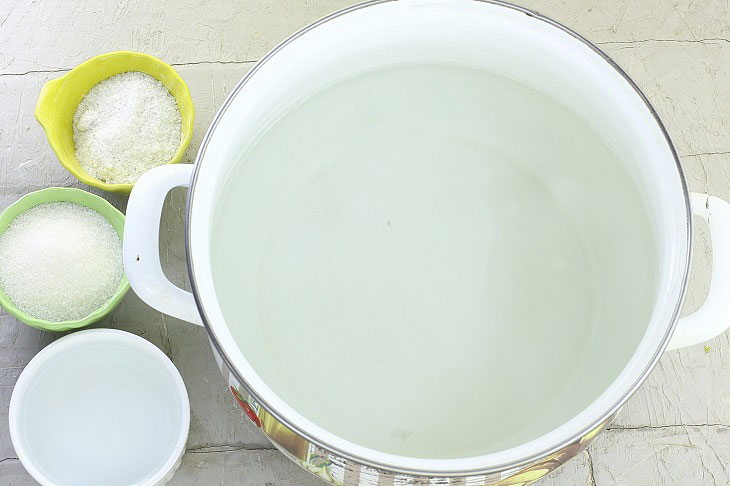 7. Pour the boiling marinade into jars to the very top. Cover with lid and seal tightly. Turn over and wrap well. Leave to cool completely.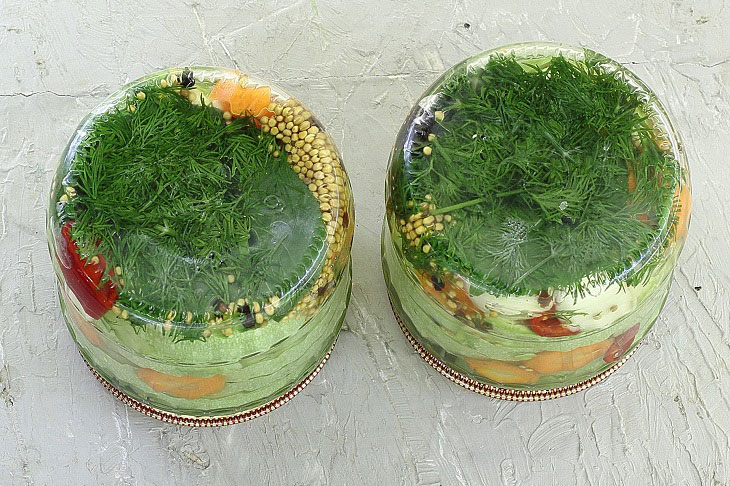 Store in an apartment or basement. Now everything is ready.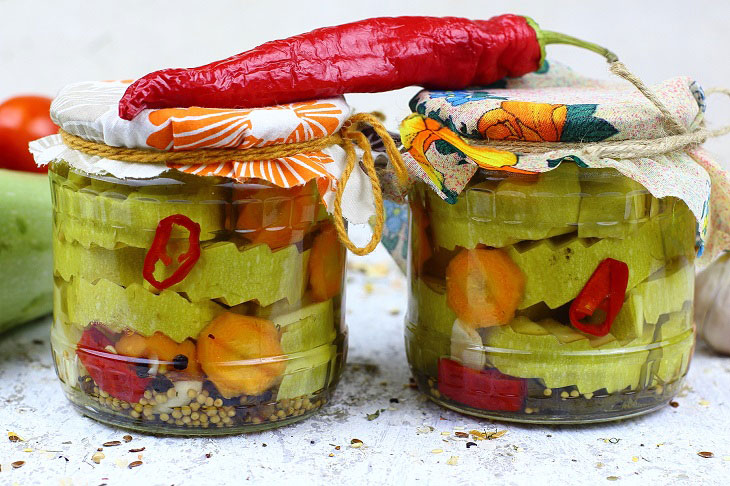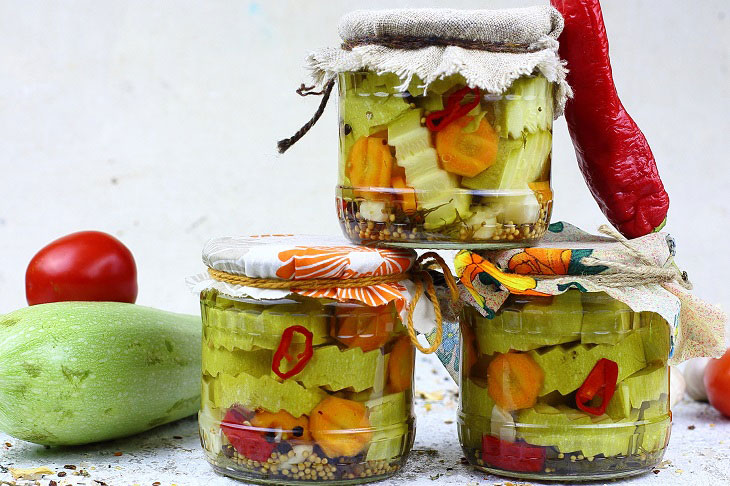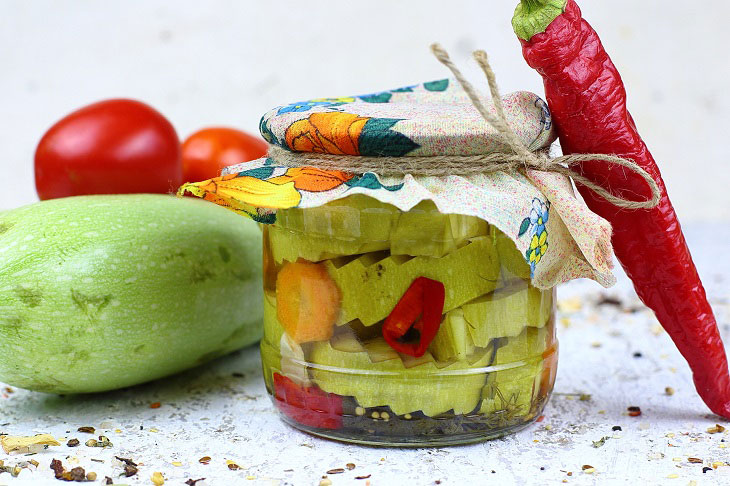 Bon appetit!