You can cook according to this recipe not only pink salmon, but also any other fish. But it is pink salmon that turns out to be so tender and soft that your homemade ones will definitely require supplements. And no wonder, because fish stewed in cream is truly a royal treat. The most interesting thing is that even a schoolboy will be able to cook such fish, you just need quite a bit of effort and half an hour of time.
Ingredients:
Pink salmon fillet – 200 g.
Medium turnip bulb – 1 pc.
Sour cream of any fat content – 3 tbsp. l.
Vegetable oil – for frying.
Boiled water – 1 tbsp.
Salt and spices – to taste.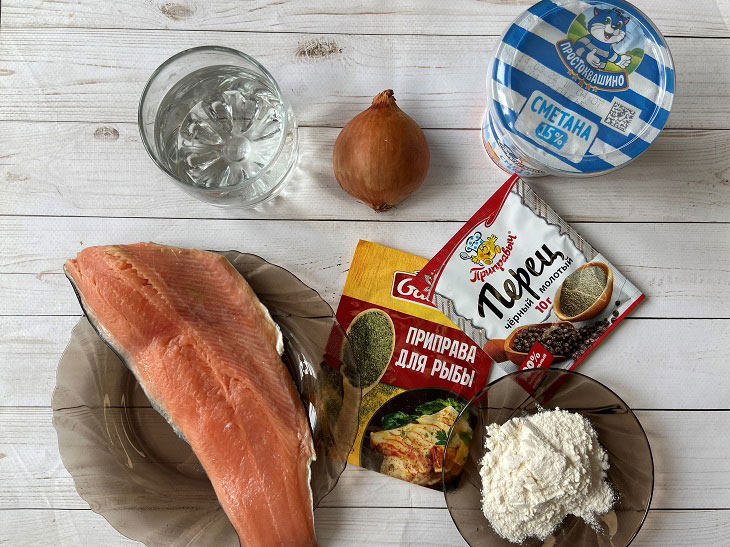 How to cook:
1. Pre-frozen fish must be thawed and, if you decide to cook it with a skin, peeled. In the event that it is decided to remove the skin, it is not necessary to clean the scales. You also need to remove everything, even the smallest bones.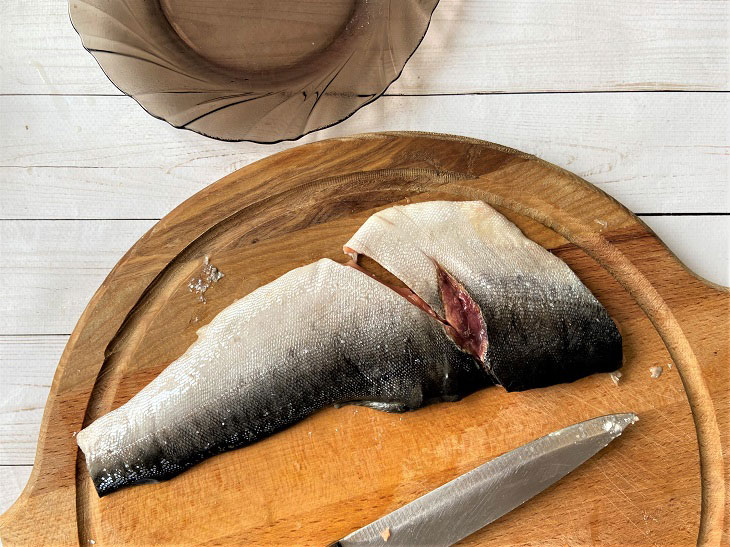 2. Then cut the fish into small pieces of arbitrary shape. It is better if these are cubes – this way the dish looks more interesting in appearance.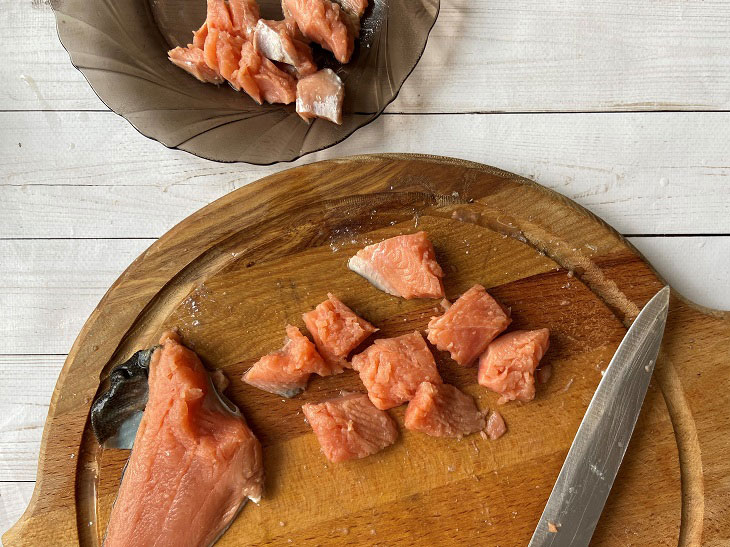 3. Luke can take more. It needs to be cleaned and chopped into strips.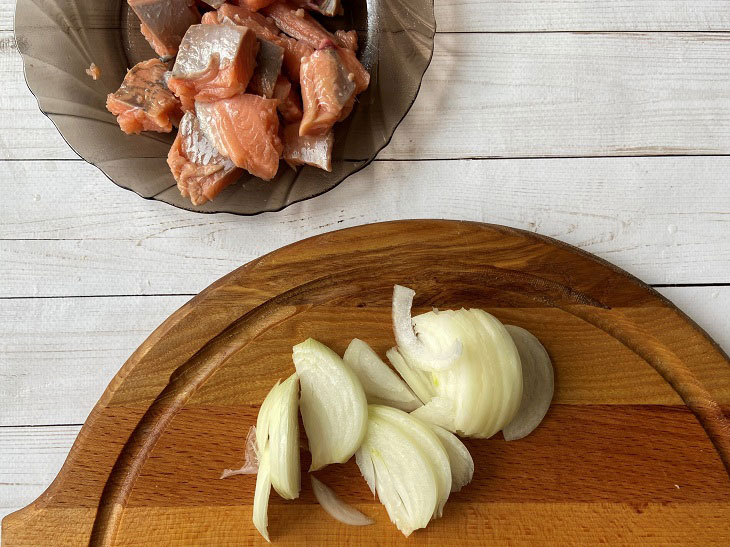 4. Be sure to salt the fish, you can take iodized salt as it is healthier.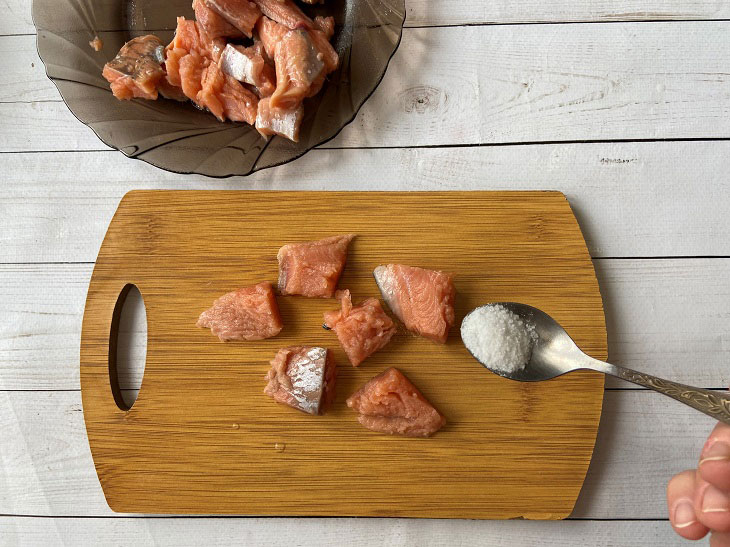 5. Spices are optional, but they give the finished dish the aroma of herbs and enhance the taste of the fish.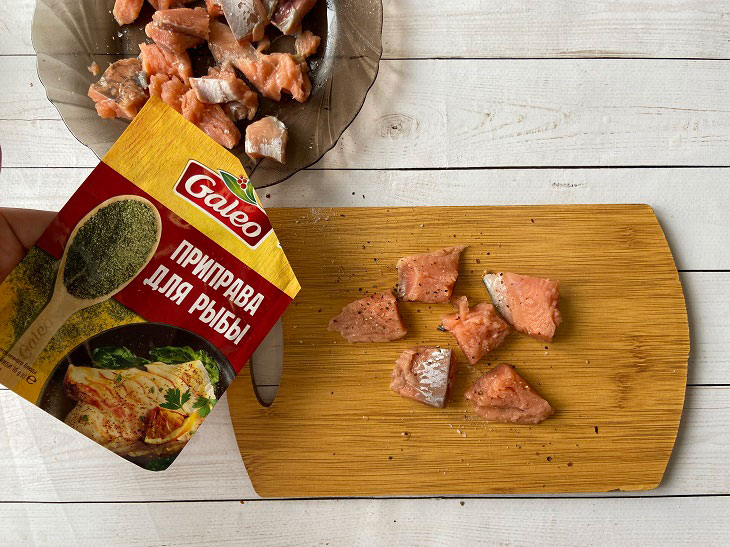 6. Sift the flour and pour onto a flat dish. Prepared pieces of fish must be rolled in flour before frying.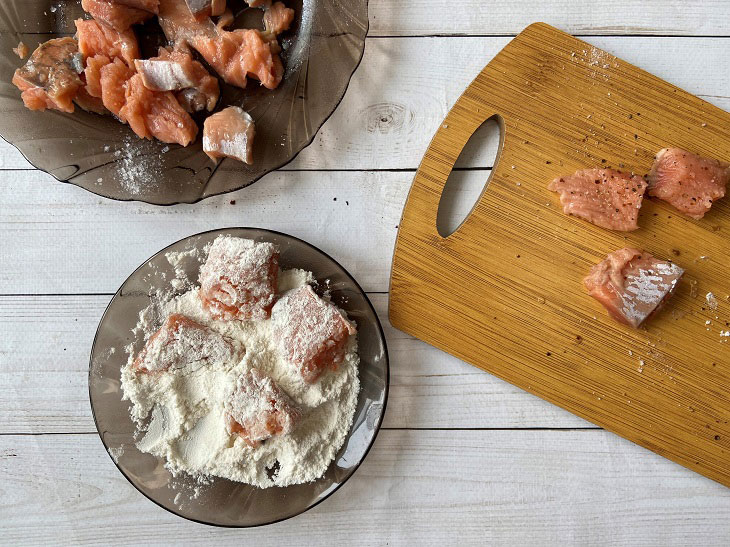 7. On a drop of vegetable oil, you need to fry the onion until it becomes transparent. This usually takes a couple of minutes.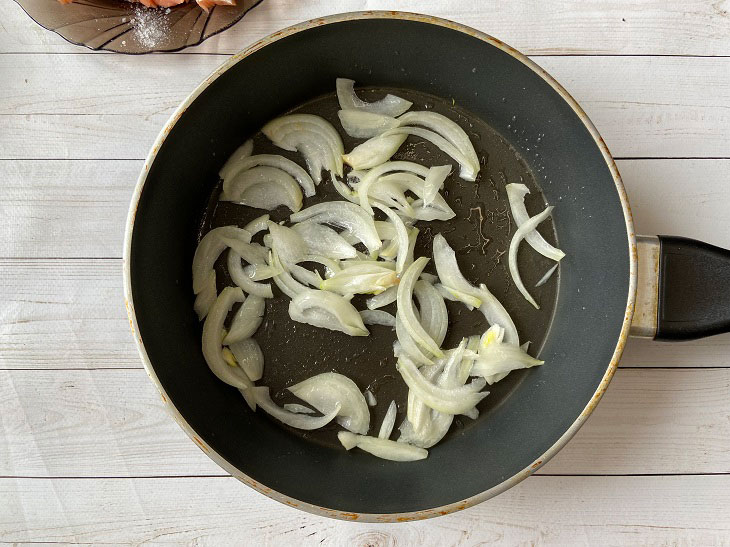 8. Place sour cream in a deep bowl and season with salt and black pepper.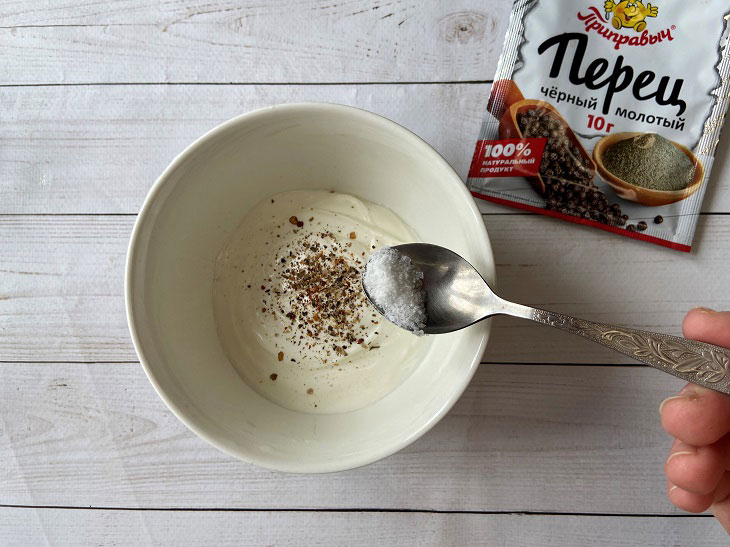 9. Then pour a glass of water into a bowl with sour cream sauce and mix until smooth.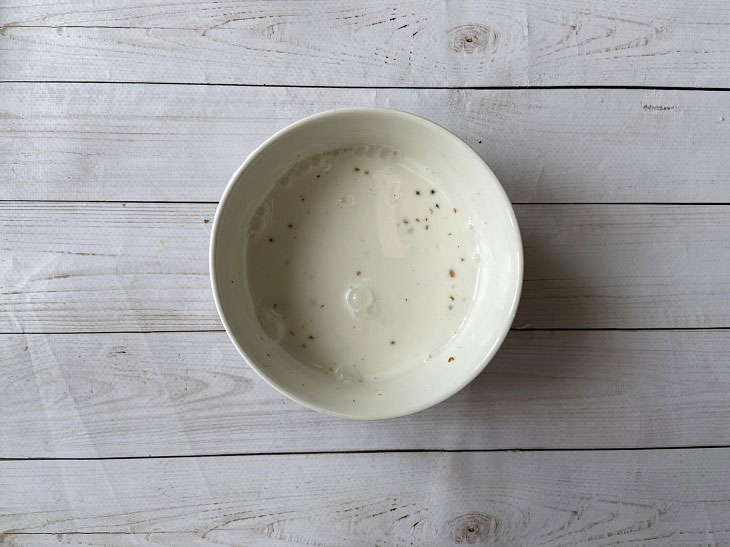 10. Remove the fried onion from the pan, and put the pieces of fish in it for frying. If required, add a little more vegetable oil.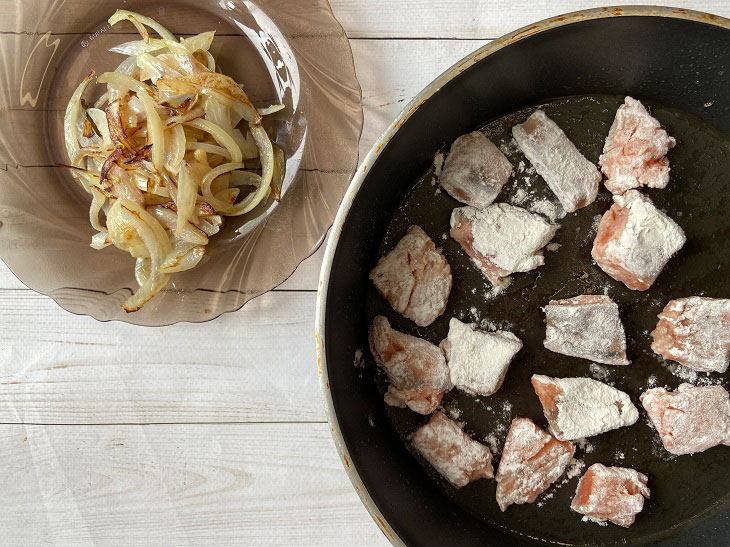 11. It should be fried on both sides so that the fish acquires a beautiful fried appearance.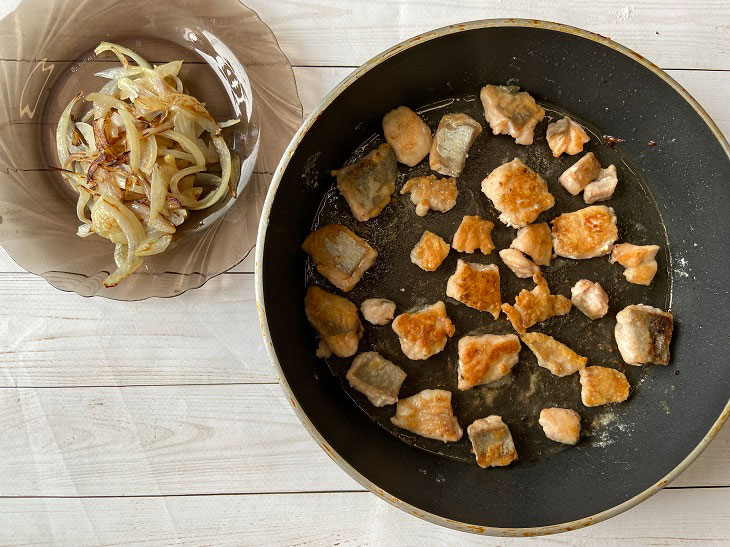 12. When the fish is ready, return the fried onions to the pan and mix.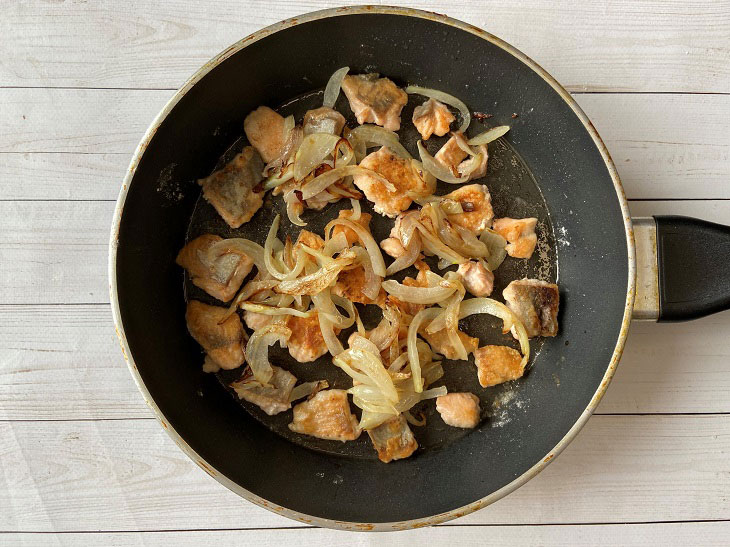 13. Pour the sour cream sauce into the pan and leave to simmer for ten minutes with the lid closed. During this time, the fish will have time to soak in the creamy aroma of sour cream and become soft.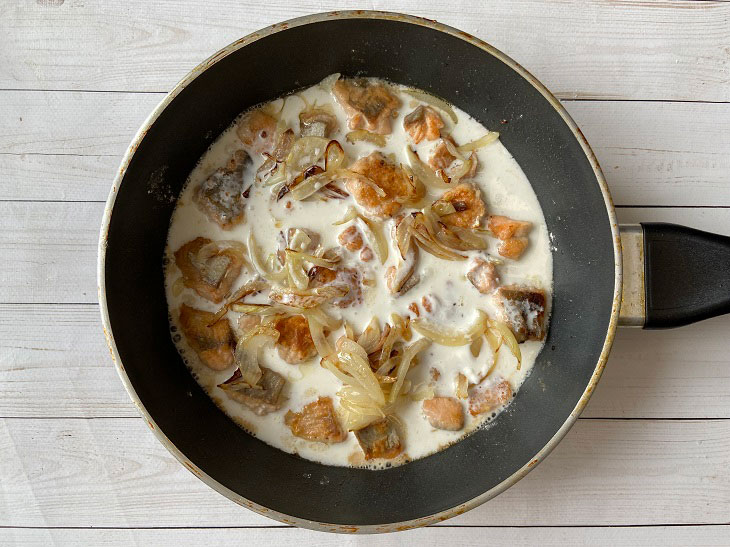 You can serve such pink salmon in sour cream with absolutely any side dish. The usual rice and buckwheat are also suitable. You can decorate with any greenery, for example, cilantro.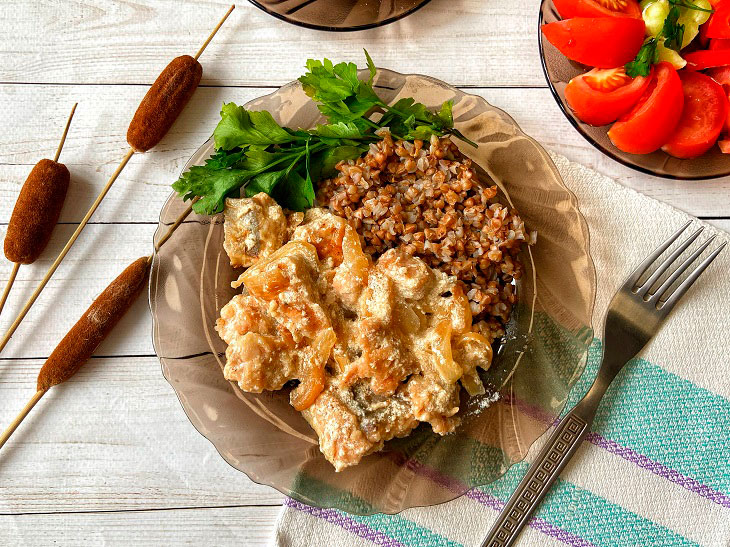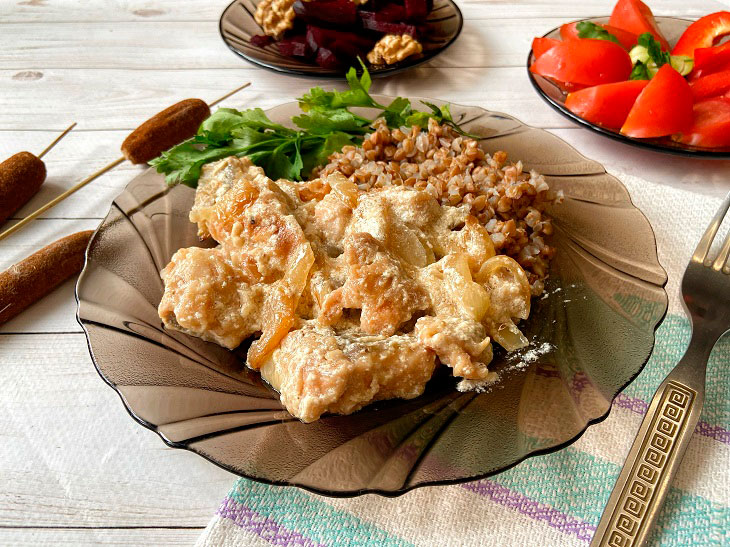 Bon appetit!