If your family loves the taste of halva, then prepare an unusual pie for them. The cream for it is prepared on the basis of halva. It turns out a very sweet and hearty dessert for tea.
Ingredients:
Chicken eggs – 5 pcs.
Sugar – 0.5 tbsp.
Salt – a pinch.
Wheat flour – 170 g.
Baking powder – 1 tsp
Cocoa powder – 2-3 tbsp. l.
Milk – 250 ml.
Chicken yolks for pudding – 2 pcs.
Starch for pudding – 2 tbsp. l.
Vanilla pudding mix – a little.
Butter – 150 g.
Halva – 300 g.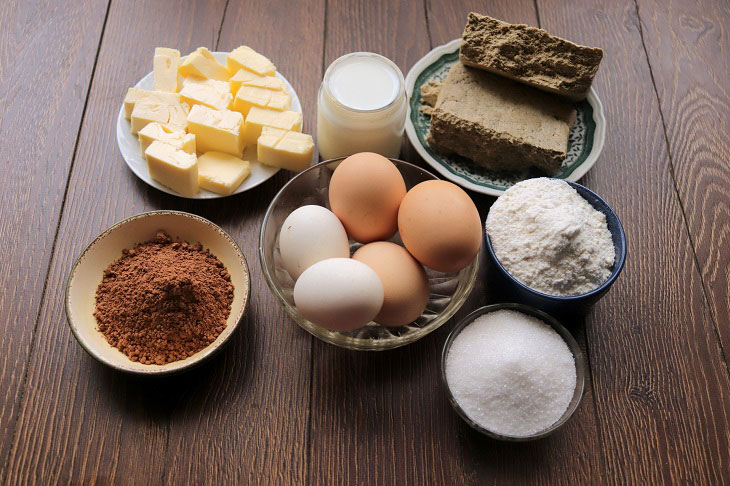 How to cook:
1. Prepare the biscuit dough for the base of the pie. Separate chicken proteins from yolks in two clean and dry containers.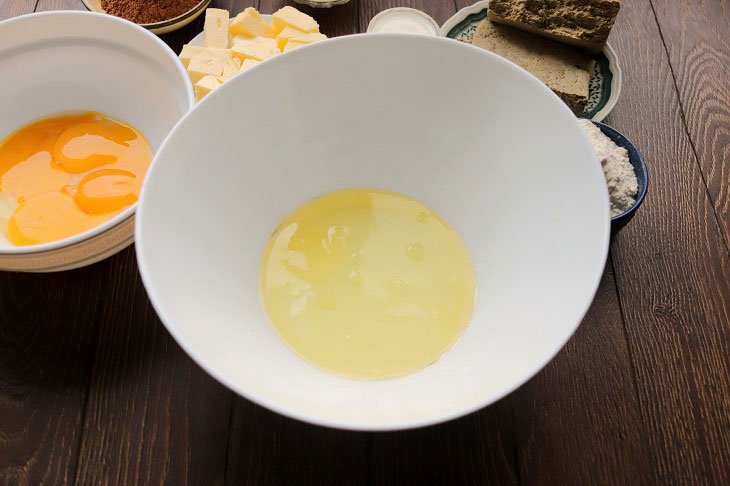 2. Beat the whites with a mixer at medium speed until a stable mass, adding 2-3 tbsp. l. Sahara.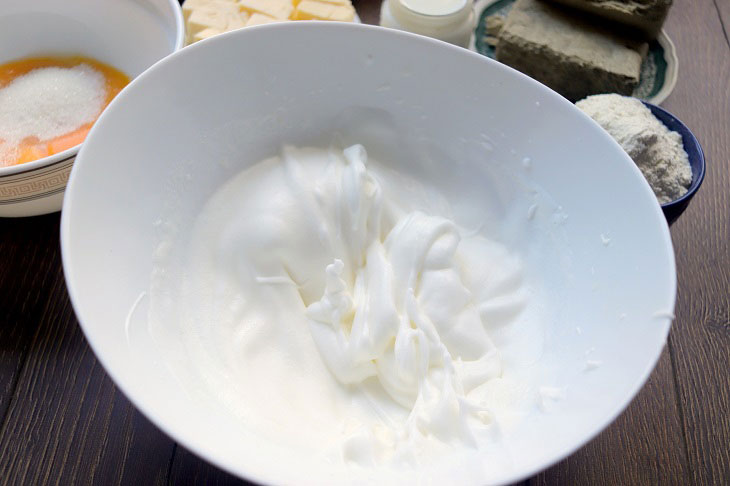 3. Beat chicken yolks with a mixer, adding also 2-3 tbsp. l. Sahara.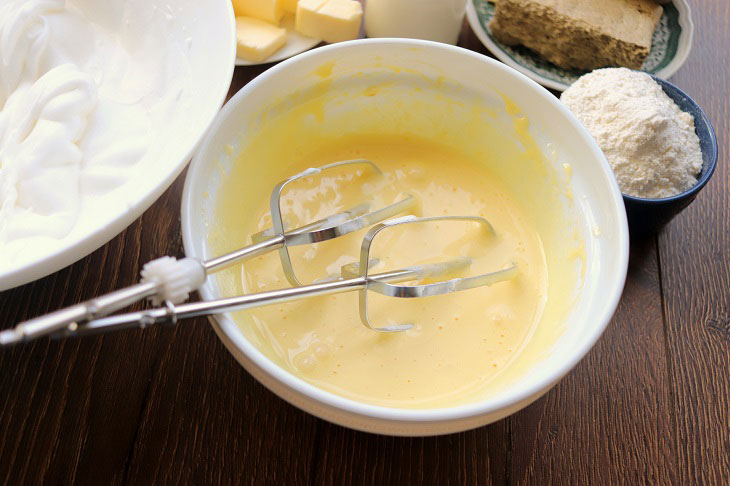 4. Gradually add cocoa powder to the yolk mass.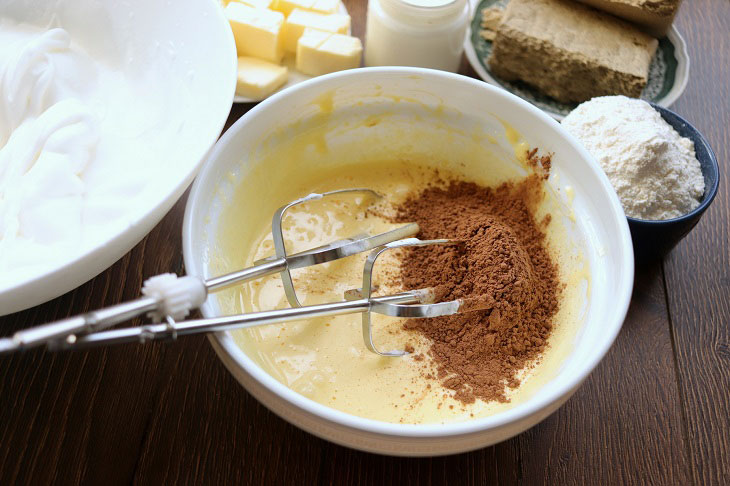 5. Mix the sifted flour, baking powder and a pinch of salt in one bowl. Combine gradually the yolk mass, whipped proteins and flour. Knead the dough gently with a spatula to keep it airy.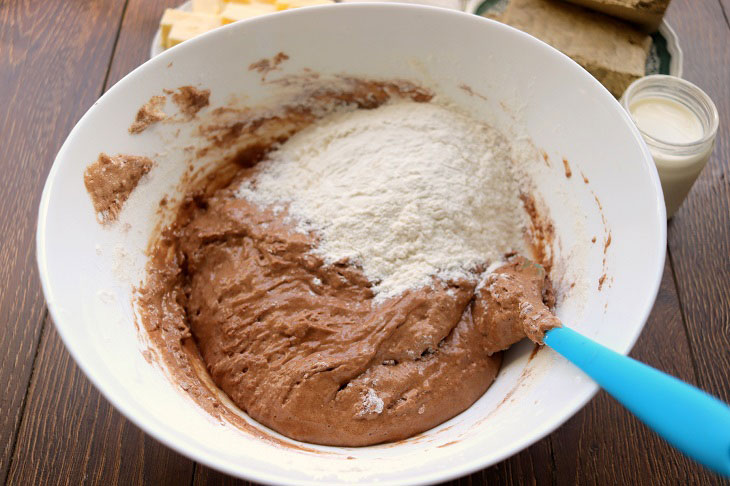 6. Preheat the oven to 170 degrees. For baking, take a rectangular, square or round baking sheet. Line the bottom of a baking sheet with parchment paper and brush with vegetable oil. Spread the biscuit dough and put in the oven for 20-25 minutes. Pierce the cake with a wooden toothpick and check the cake for doneness.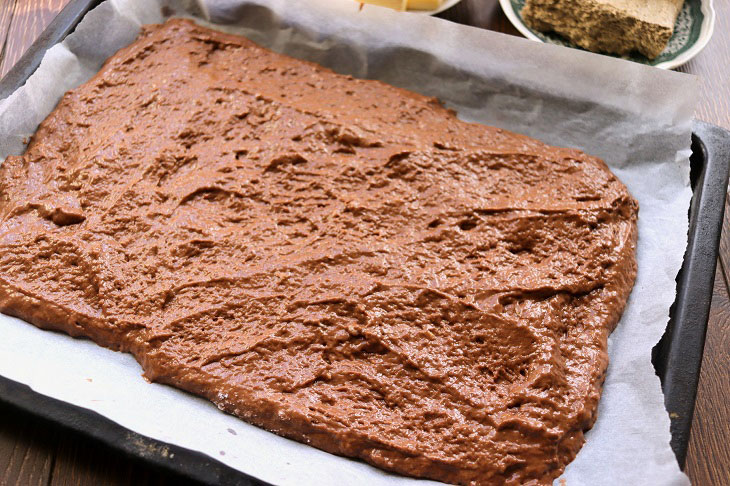 7. Remove the cake from the oven and then transfer to a wire rack to cool.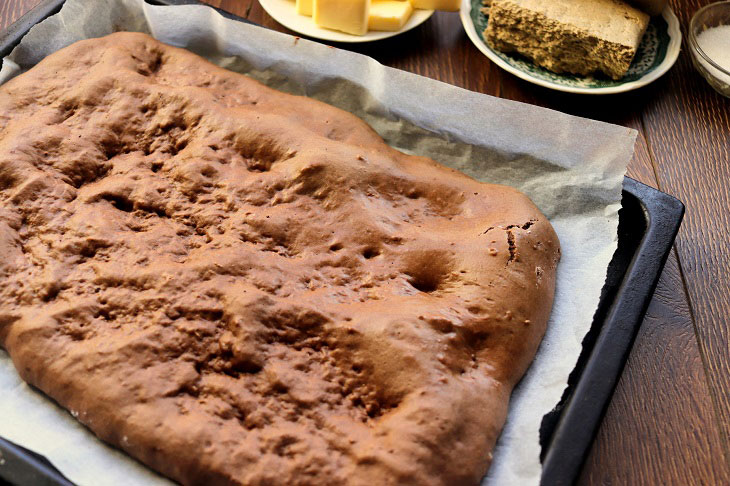 8. Prepare cream. First of all, you need to make the base for the cream, vanilla pudding. You can buy dry pudding and add milk to brew it in a saucepan, following the instructions.
Alternatively, you can make the pudding in a different way. To do this, combine milk and a few chicken yolks in a saucepan, add starch and a pinch of sugar, vanilla sugar. Mix all the ingredients with a whisk and go to the stove. On low heat, without ceasing to whisk the mass, brew the pudding. This process will take 3-4 minutes.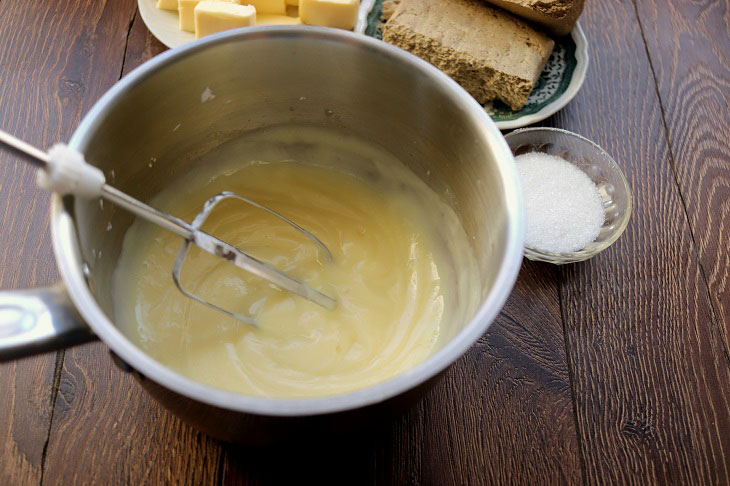 9. Cool the pudding to room temperature and only then add butter to it, beat with a whisk or a mixer.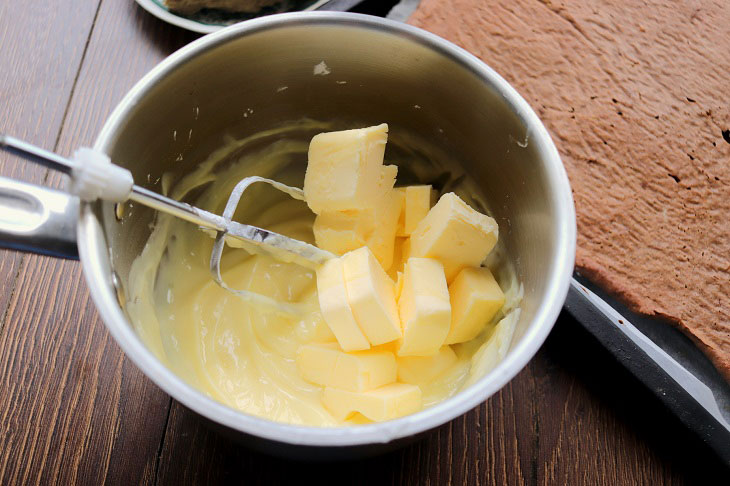 10. Crumble the halva, and add gradually to the cream, stirring until a homogeneous consistency.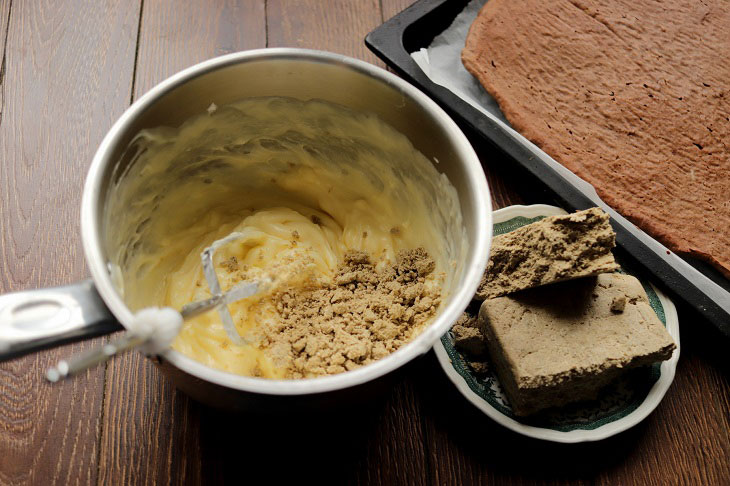 11. Place the cream in the refrigerator for 15 minutes to allow it to stabilize.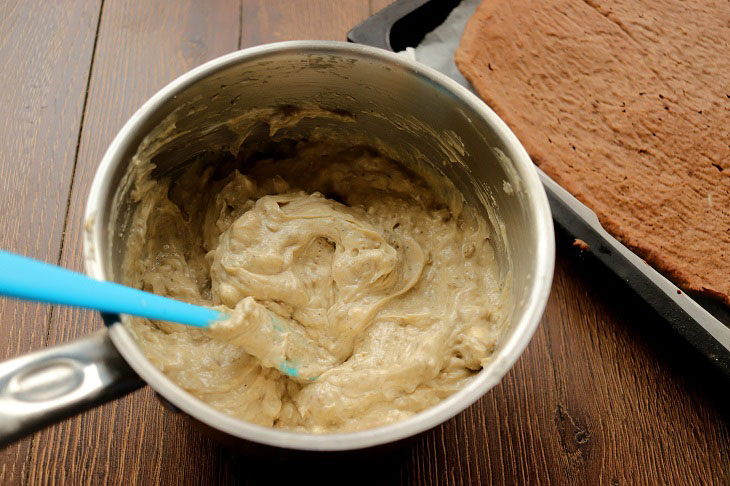 12. Cut the pie into 2-3 cakes, coat each layer with cream.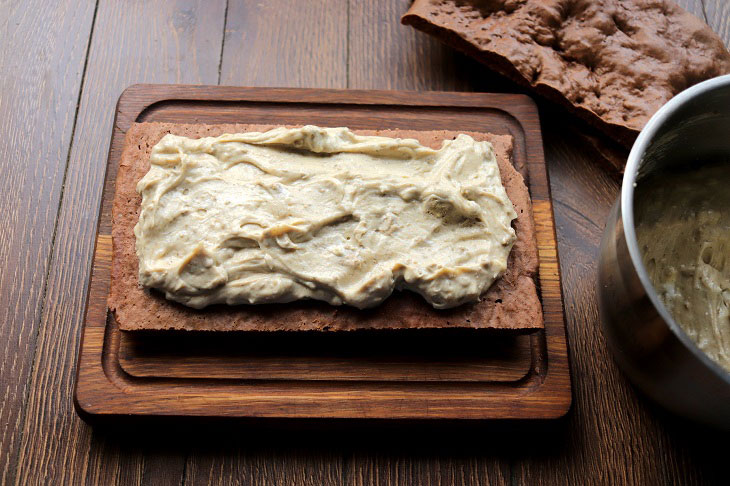 13. Remove the finished cake with cream for soaking in the refrigerator for 6-7 hours.
Before serving the cake to the table, we recommend that you take it out of the refrigerator in advance and let it just stand on the table in the kitchen. Then it will turn out even softer and tastier.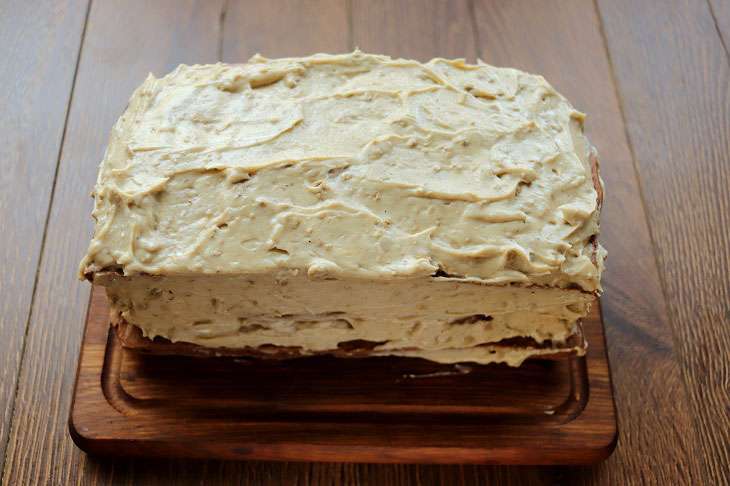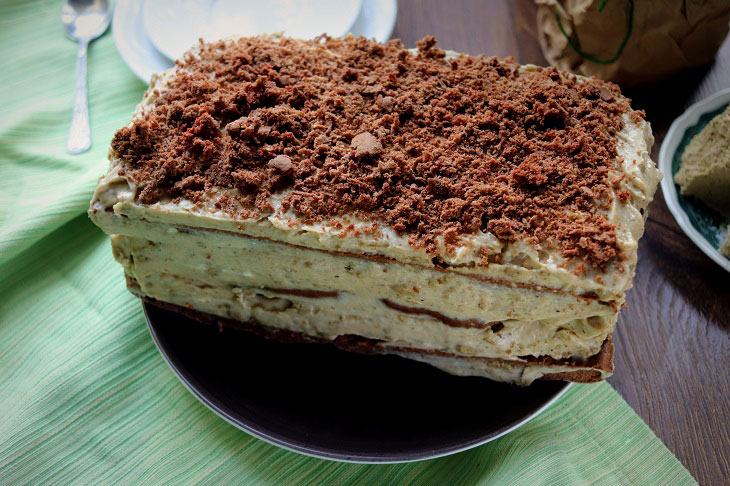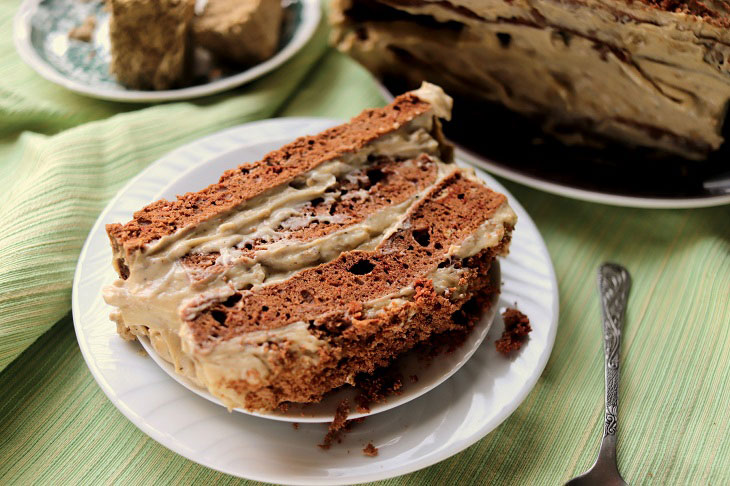 Bon appetit!