A simple, but very tasty and satisfying dinner is obtained from ordinary products that are always found in every home.
Potato casserole with juicy meatballs and a delicious golden brown crust with garlic flavor can be prepared even by a not very experienced hostess. By the way, in this case, you can use the mashed potatoes left the day before by adding eggs and aromatic seasonings to it, and meatballs can also be used pre-frozen for soup. But this time we will cook a potato casserole from prepared minced meat and fresh potatoes. Our minced meat is pork, but you can take the one that you have available in the refrigerator.
To make the meatballs juicy and soft, add the zucchini pulp, grated on a fine grater, to the minced meat.
Ingredients:
Peeled potatoes – 500 g.
Butter – 30 g.
Cream or milk – 70 ml.
Chicken eggs (medium) – 2-3 pcs.
Minced meat (pork, turkey) – 250 g.
Young zucchini – ¼ pcs.
Onion – ¼ pcs.
Garlic – 2-3 cloves.
Sour cream – 4 tbsp. l.
Any hard cheese – 30 g.
Salt, ground pepper, spices – to taste.
Additionally:
Vegetables, greens – for serving.
Breadcrumbs, vegetable oil – for frying meatballs.
Cooking time: 1 hour 20 minutes. Servings Per Container: 6.
Fireproof baking dish 15×19 cm.
How to cook:
1. Add an egg to the minced meat, chopped on a fine grater and zucchini squeezed from excess juice.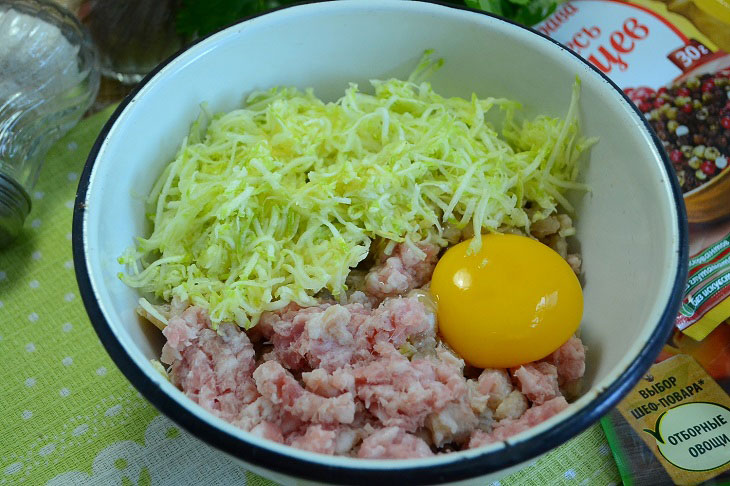 2. Season to taste with salt, a mixture of ground pepper. You can add your favorite spices here if you like. We mix everything into a homogeneous mass.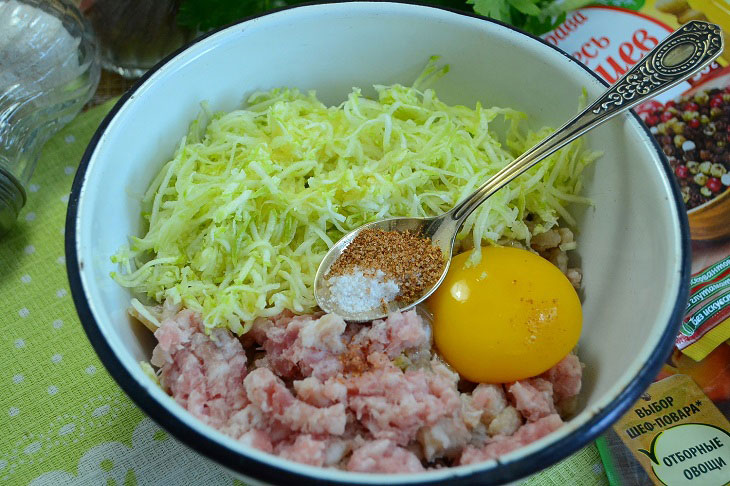 3. With wet hands, we form round meatballs the size of a small chicken egg.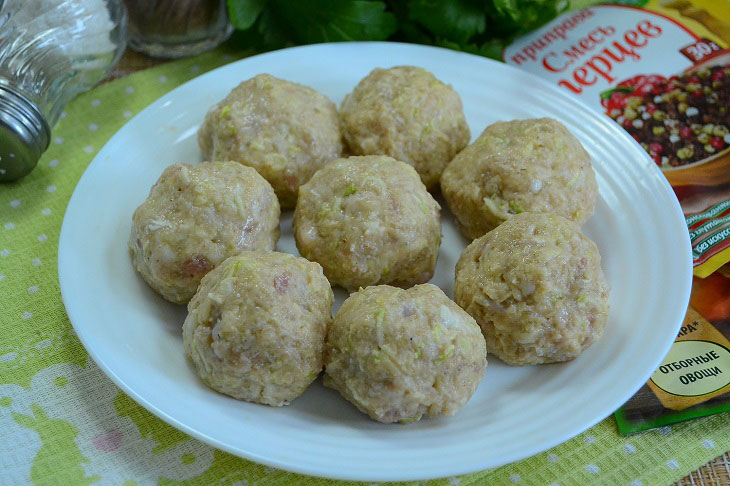 4. Lightly fry the meat balls in vegetable oil on both sides.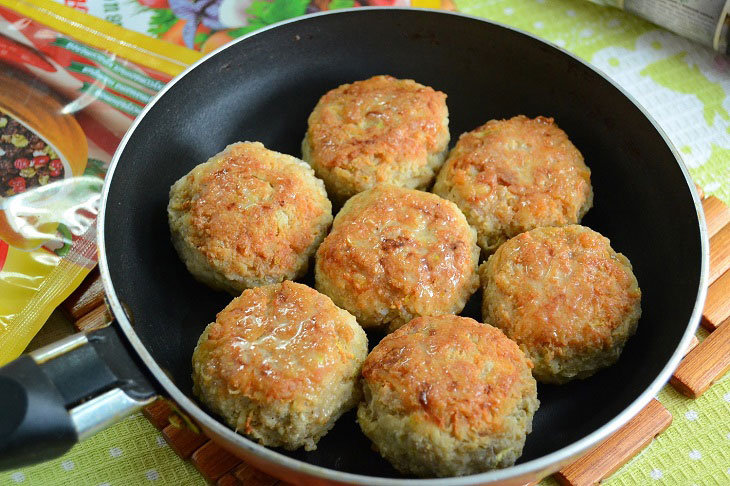 5. Boil the peeled potatoes until tender. Salt the water a little.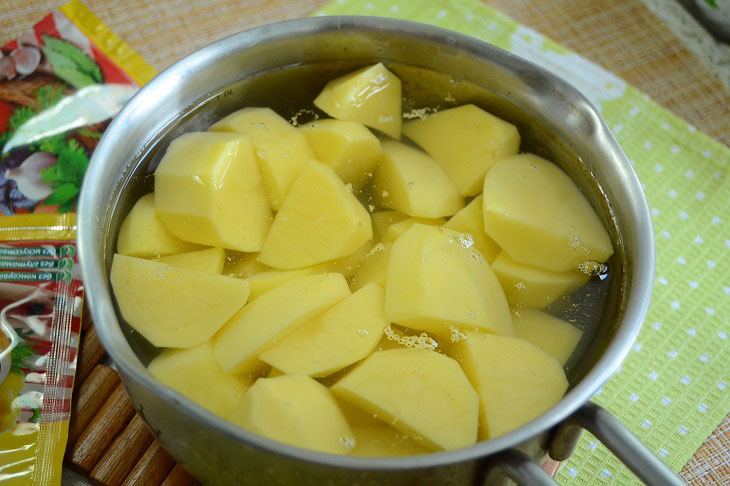 6. Mash still hot mashed potatoes with milk and butter.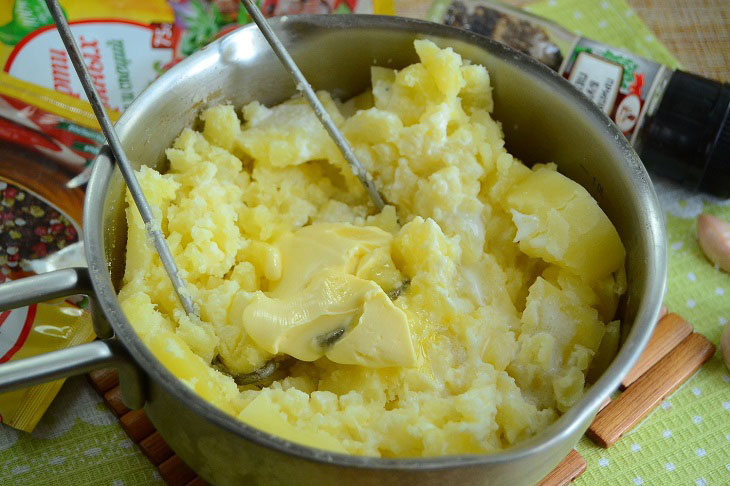 7. Break a couple of medium-sized eggs into the potato mass and mix everything well until smooth. Taste for salt and, if necessary, adjust to taste.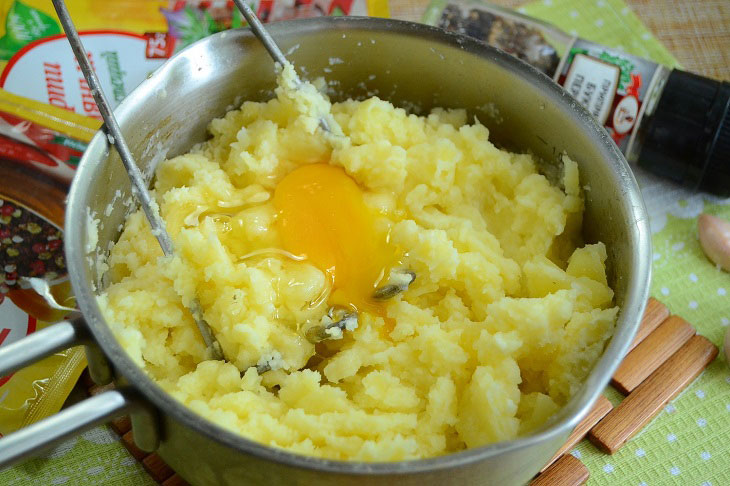 8. We generously grease the baking dish with softened butter or margarine and sprinkle with breadcrumbs. We have a "French shirt", thanks to which the casserole can be easily removed from the mold.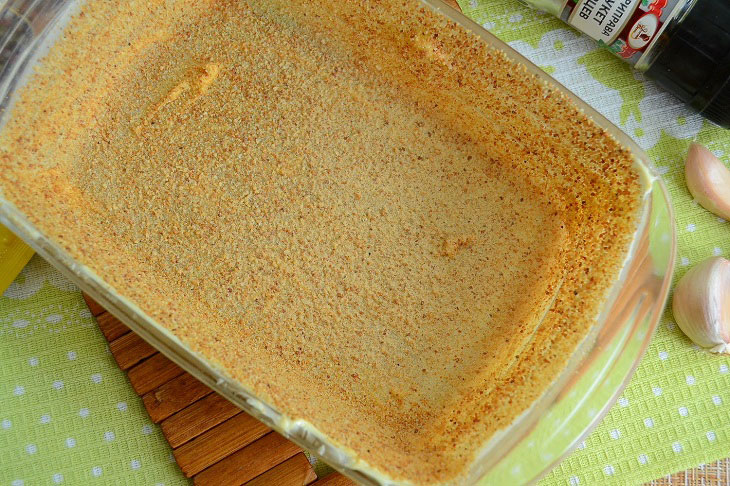 9. Distribute the meatballs over the entire surface of the potato base in any order and press them almost to the very top. So they retain their juiciness during baking and the crust on top does not turn out to be too fried and hard.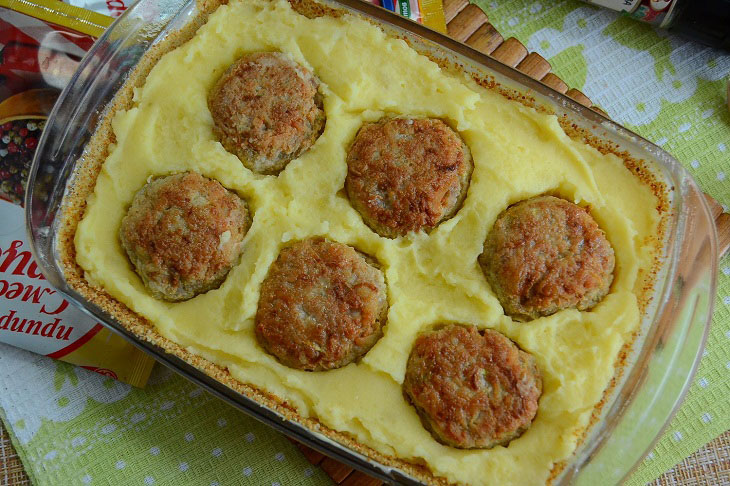 10. In a bowl, mix low-fat sour cream, chopped garlic, grated cheese and spices.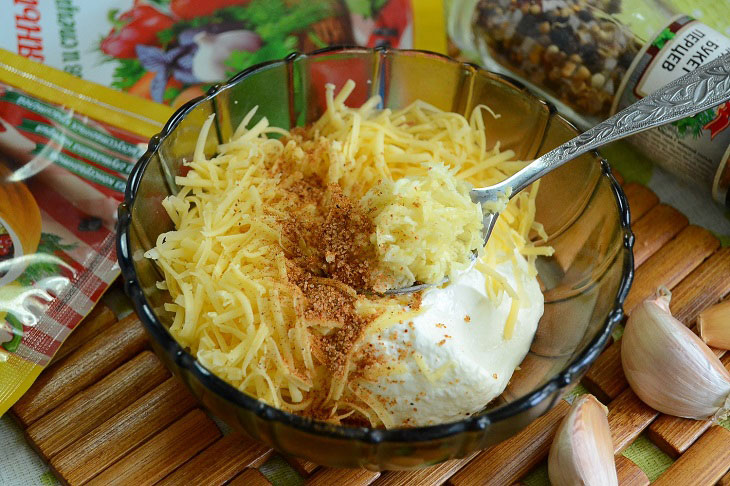 11. We cover the surface of the casserole with fragrant sauce and put it in an oven heated to 180 degrees for 20-25 minutes. It's not worth overdoing too much, just bring the top crust to a golden brown and turn off the heat.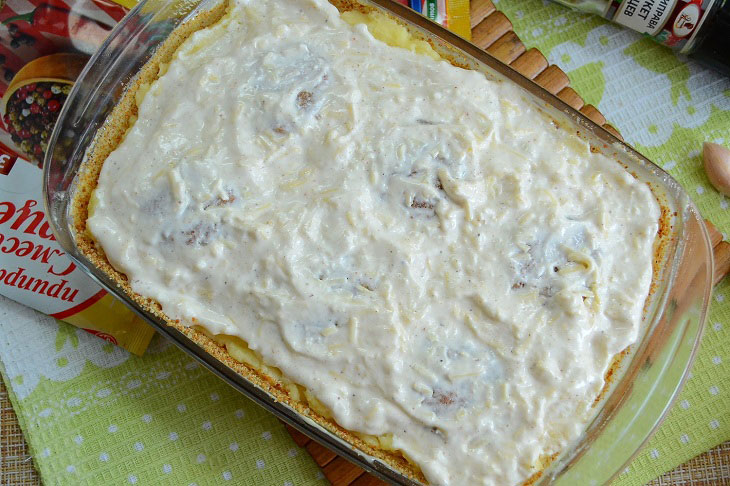 Potato casserole with meatballs is ready.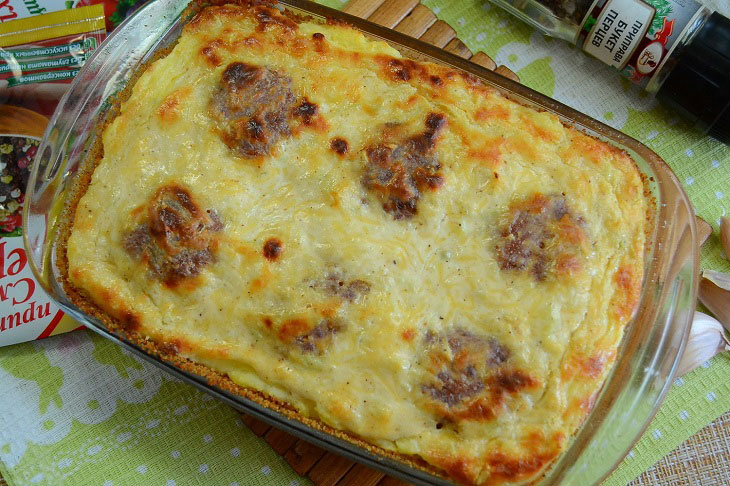 Serve to the table in the same form and then lay out on plates, adding fresh vegetables, your favorite sauce, herbs to taste. Such a casserole is good the next day if it is heated in the microwave.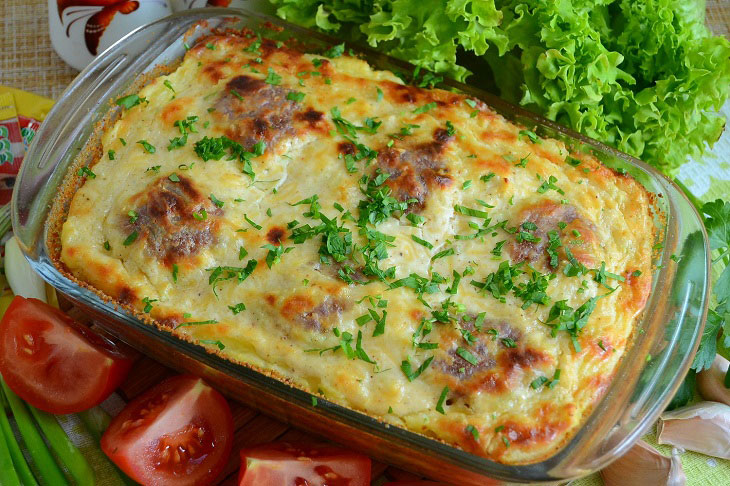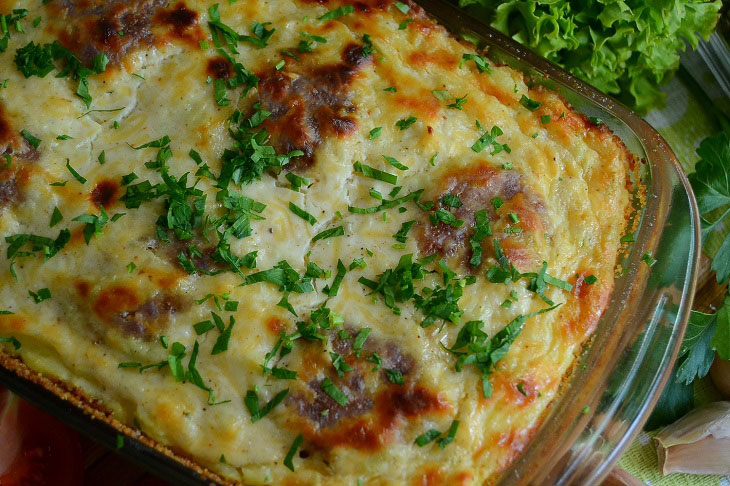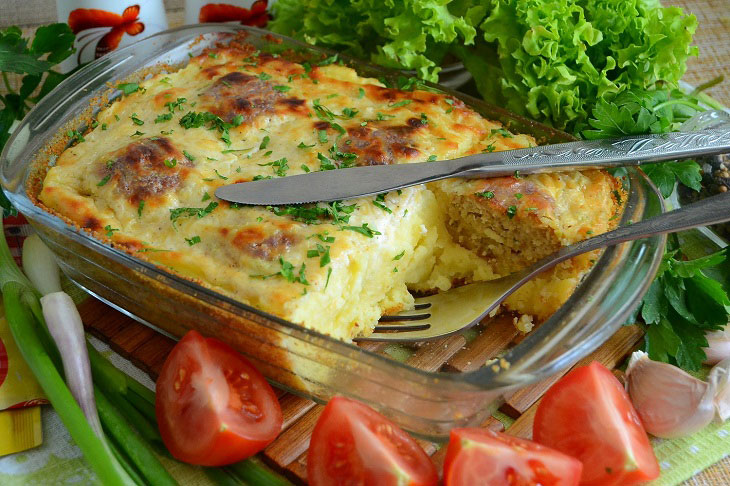 Enjoy your meal!