This version of cabbage rolls is perfect for those who love this dish, but do not want to eat cabbage. We offer today to cook very tasty and tender cabbage rolls from zucchini.
Ingredients:
Young zucchini – 3 pcs.
Minced pork – 350 g.
Onion – 1 pc.
Carrot – 1 pc.
Garlic – to taste.
Round rice – 0.5 tbsp.
Vegetable or butter – 50 g.
Spices – to taste.
Salt – to taste.
Sour cream – 3 tbsp. l.
Ketchup – 3 tbsp. l.
Parsley – to taste.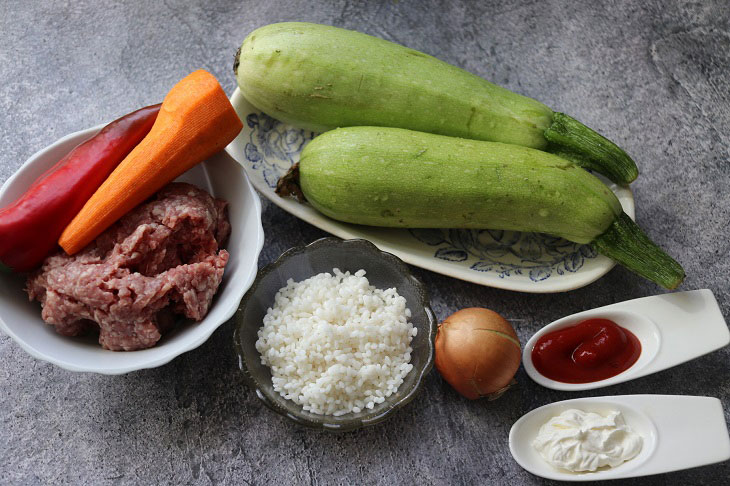 How to cook:
1. To prepare the filling of squash cabbage rolls, use minced meat from pork or chicken.
If you want to make such cabbage rolls vegetarian, then take boiled potatoes in their skins instead of minced meat. Peel and grate the potatoes and then cook as directed in the recipe.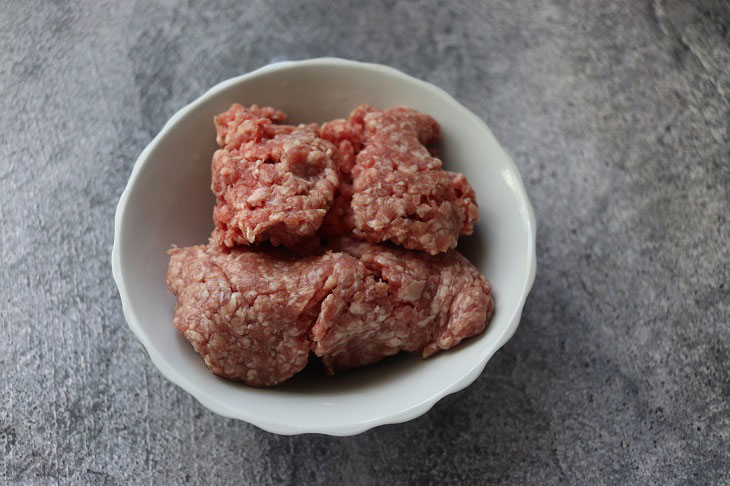 2. Place the minced meat in a deep bowl. Peel and finely chop the onion and carrot with a blender or on a grater, add to the minced meat. You can also add chopped sweet pepper to the filling. Use garlic and spices to taste.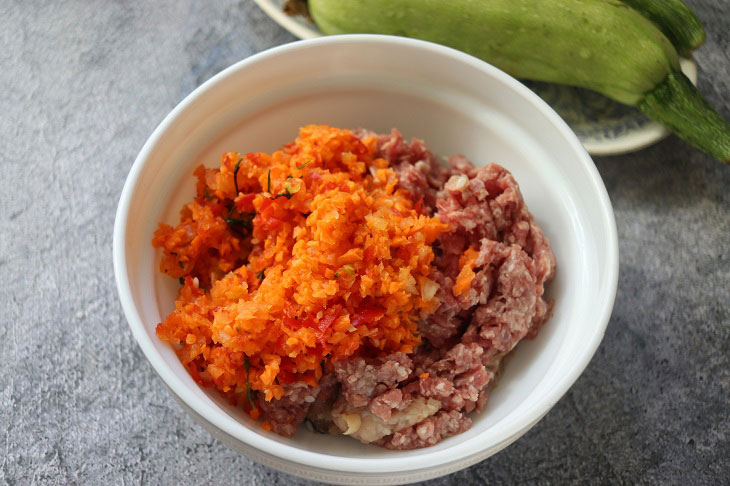 3. Prepare the rice for the filling in advance. To do this, fill half a glass of round rice with boiling water and cover with a lid. After 15 minutes, rinse the rice several times and add to the minced meat with vegetables.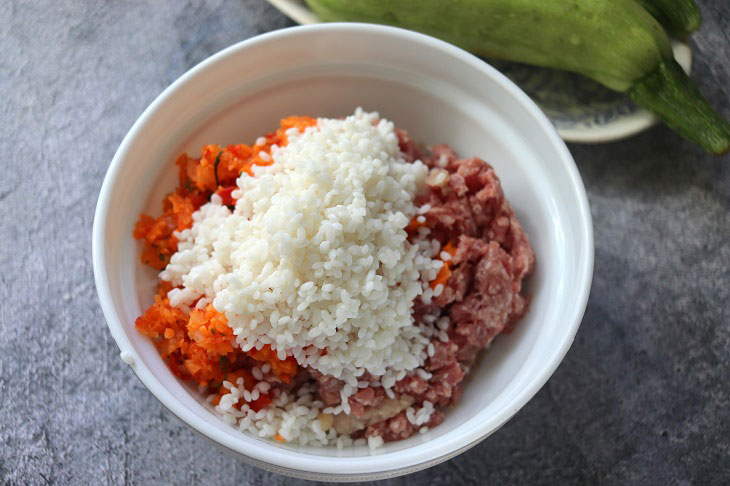 4. Stir the meat filling thoroughly, add salt to taste.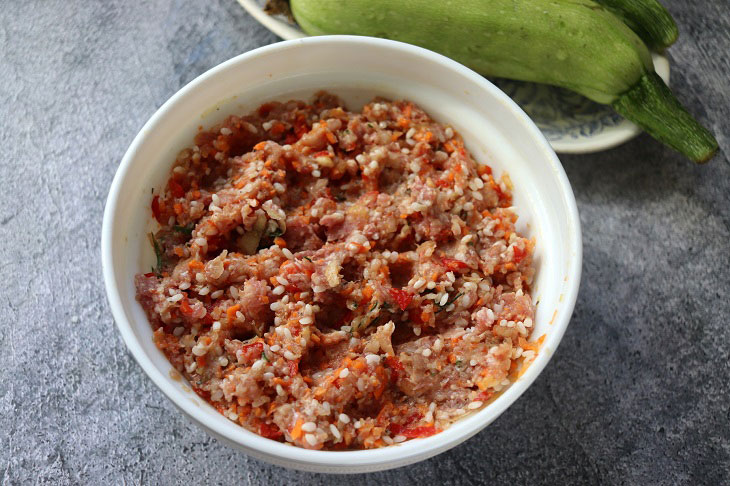 5. Young zucchini must be cut thinly enough using a special vegetable grater, or with a vegetable peeler.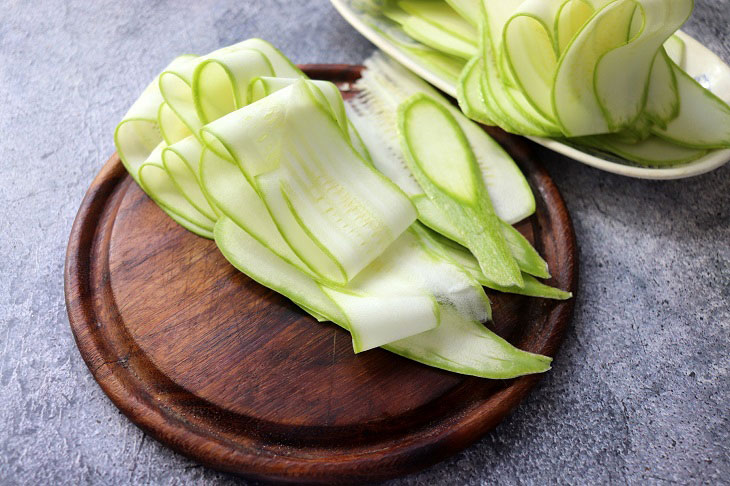 6. Pour a handful of salt into a deep plate and pour half a glass of boiling water, put prepared zucchini in it. After 10 minutes, the plates will become flexible, and cabbage rolls can be formed.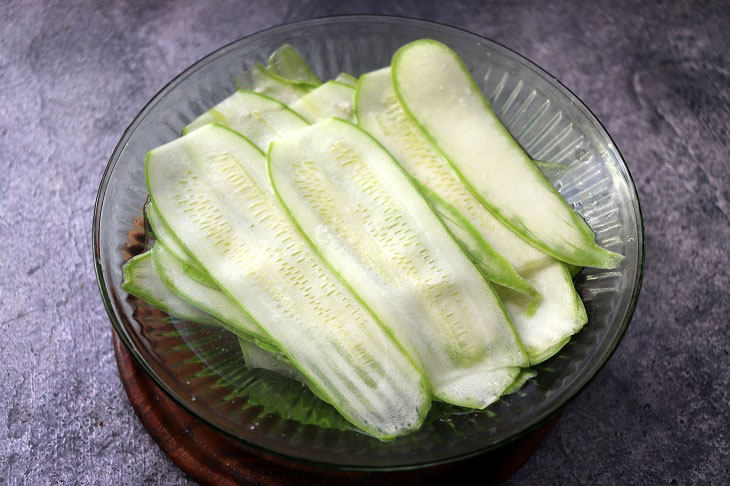 7. Turn on the oven to heat up to 180 degrees. Line a baking sheet with foil or parchment paper. I propose to make two types of cabbage rolls from zucchini, and you choose the best option for yourself. Lay several slices of zucchini overlapping on a work surface. Form a ball of meat filling with your hands and place on the edge of the zucchini. Roll the zucchini cabbage tightly and place in a mold. At the bottom of the form, you can first add pieces of butter and grease with vegetable oil.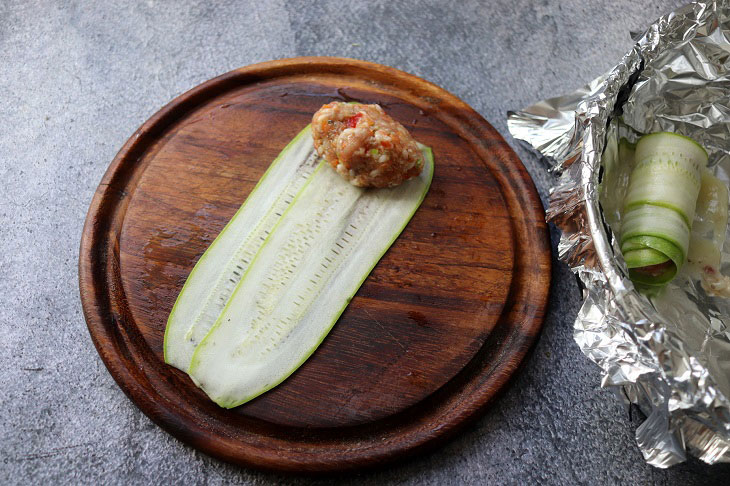 8. For the second version of the cabbage rolls, you need to put the plates of zucchini in a cross on the board. Add the stuffing on top of the zucchini in the center.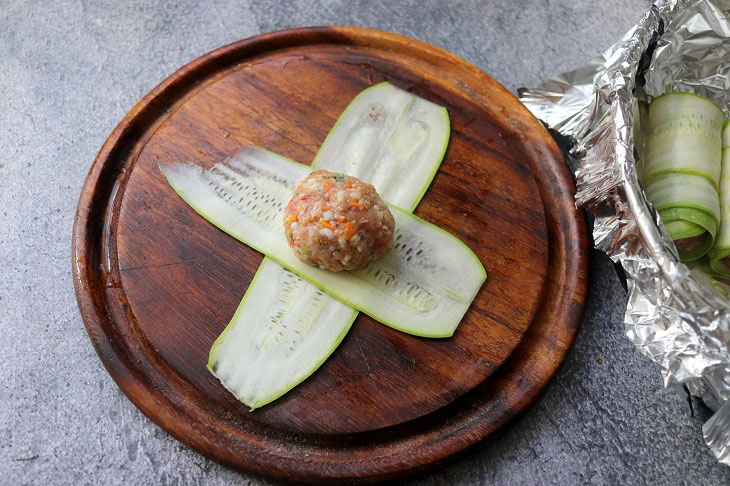 9. Fold the stuffed cabbage roll into an envelope, and then transfer it to the mold.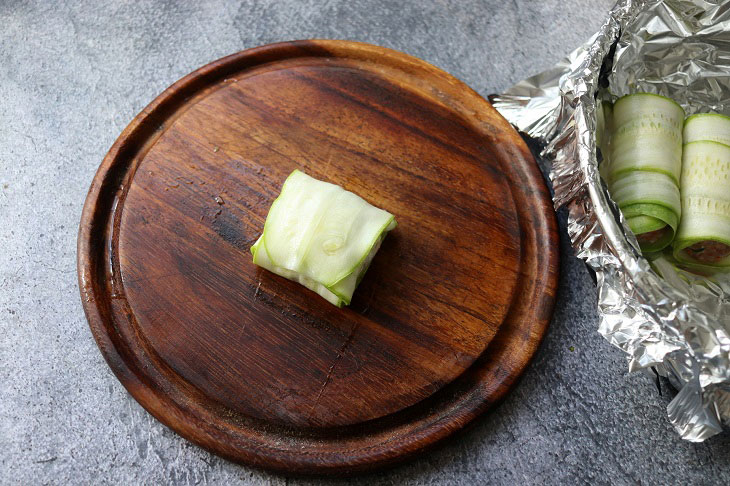 10. Fill the form, depending on its height, with cabbage rolls in one or two layers.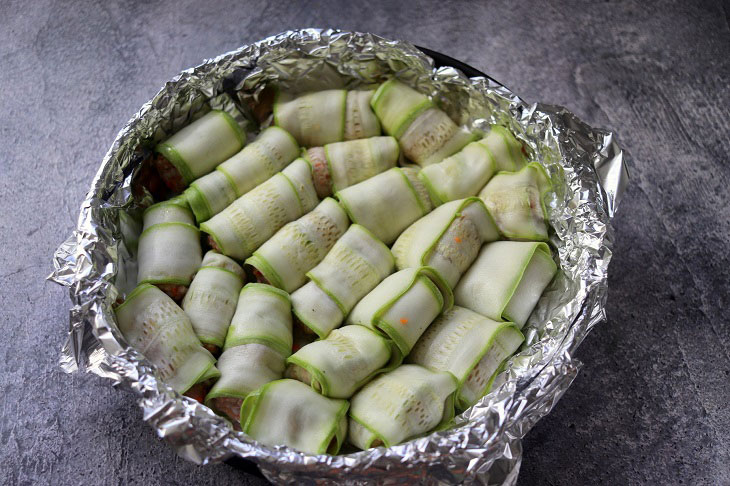 11. To fill cabbage rolls, use a mixture of sour cream, ketchup and boiled water. Filling should be so that it covers the cabbage rolls. Salt the top and add a pinch of sugar.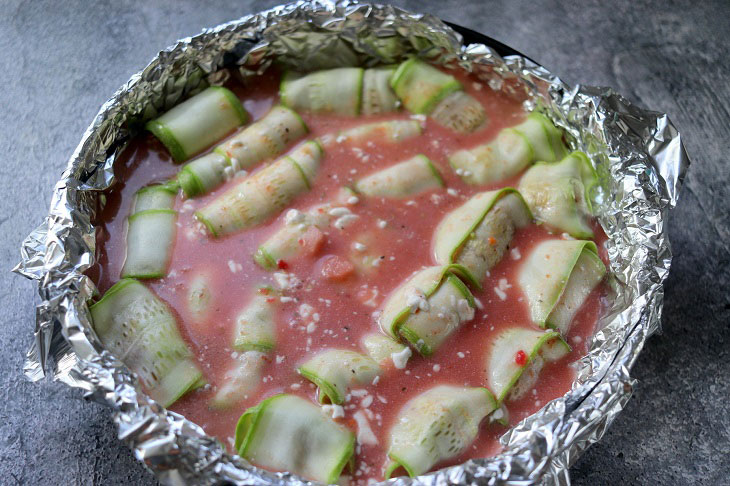 12. Bake cabbage rolls for 30-40 minutes until golden brown.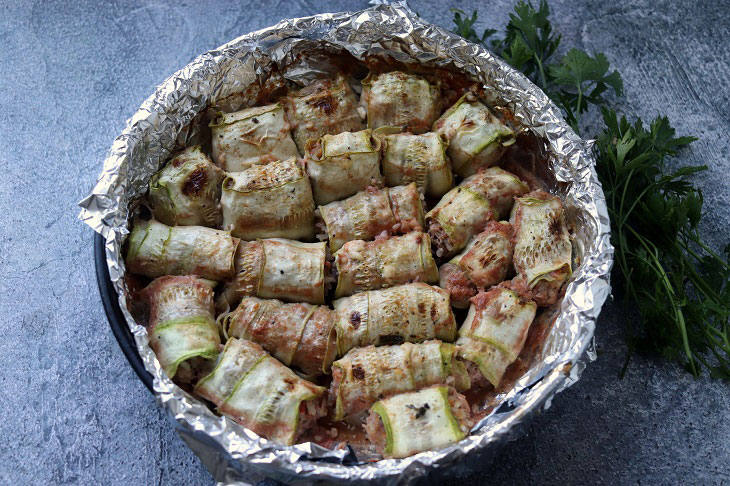 Serve the cabbage rolls warm with sour cream.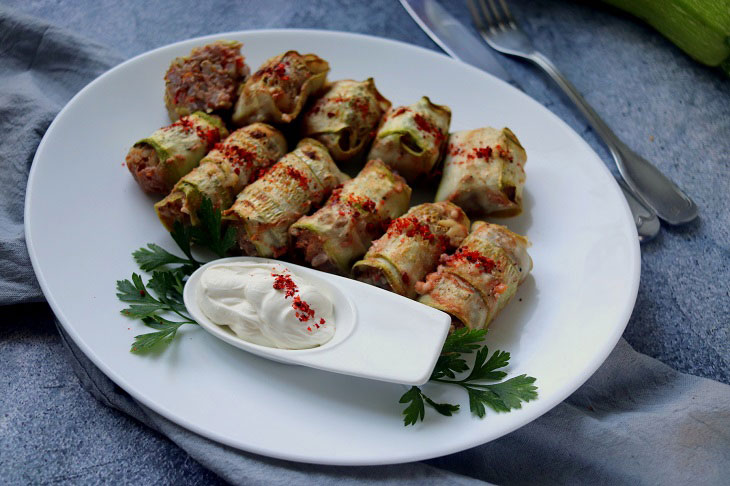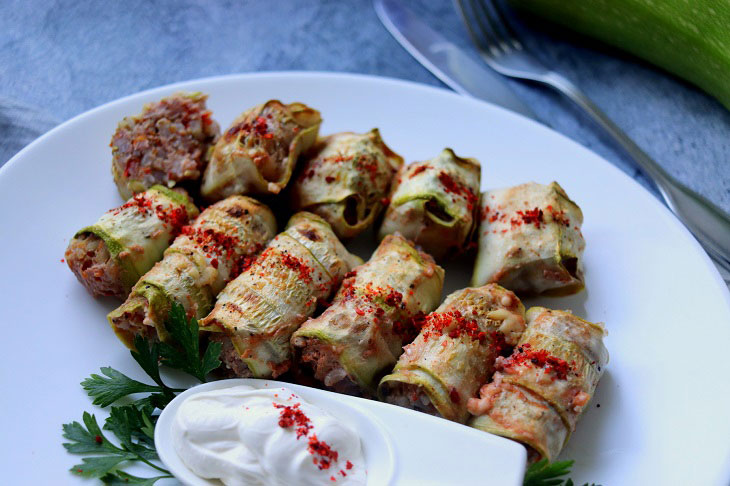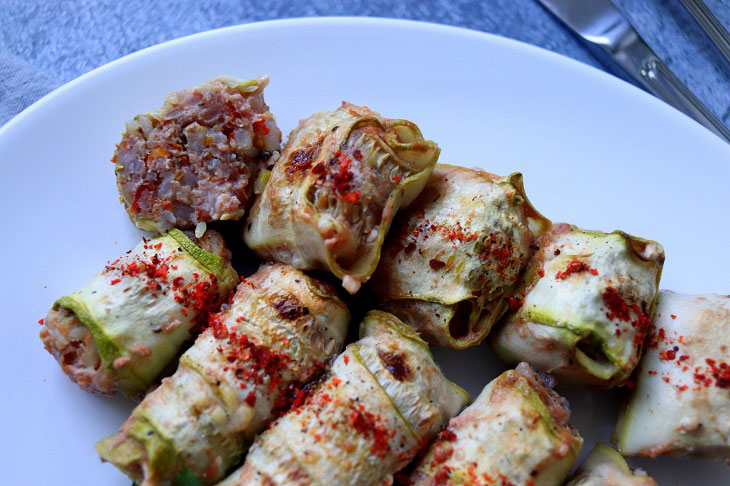 Bon appetit!