If you have leftover yesterday's mashed potatoes, do not rush to throw it away. You can easily and simply prepare potato pies, where crushed potatoes play the role of dough. You just need to add some wheat flour. For the filling, you can take homemade sausages, or a more familiar option – sausages. These pies are best served with sour cream or fresh vegetables. Mushroom sauce is also suitable, it perfectly complements the bright taste of these pies.
Ingredients:
Potatoes – 5-6 pcs.
Three half-smoked sausages – 200 g.
Wheat flour – a couple of tbsp. l.
Any greens (for example, parsley) – a bunch.
Chicken egg – 1 pc.
Butter – 40 g.
Vegetable oil – for frying.
Lettuce leaves, tomatoes – for serving.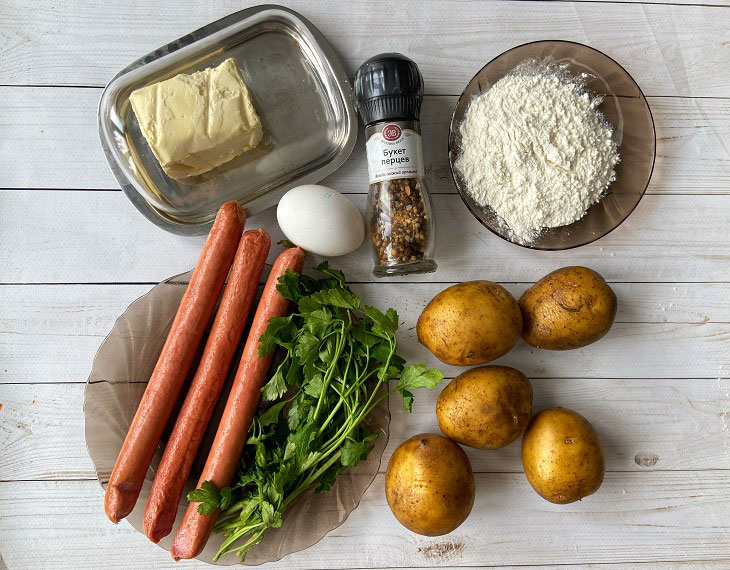 How to cook:
1. If you have ready-made mashed potatoes, then you should take it. Otherwise, it must be prepared. Peel potatoes and cut into small pieces. Place the chopped potatoes in a saucepan and cover with water, do not forget to salt and send to the stove.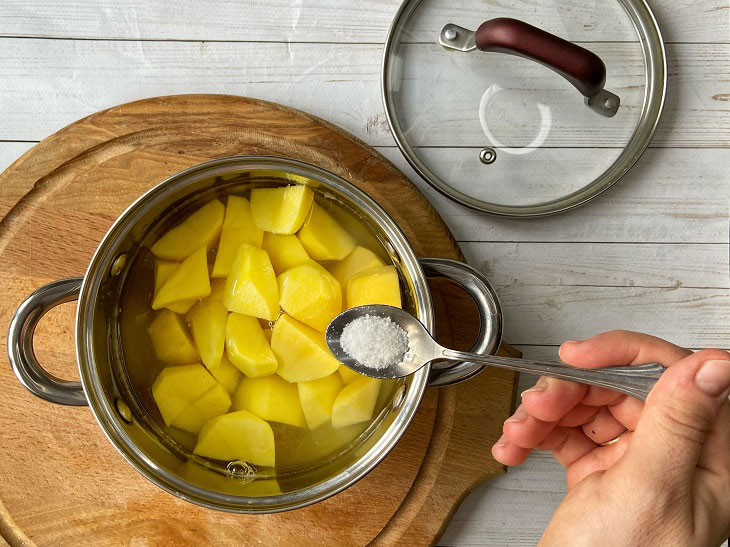 2. When the potatoes are cooked – and this is easy to check by piercing the tubers with a knife – the water must be drained. Add butter to the potatoes, as well as one chicken egg. Now the potatoes should be mashed.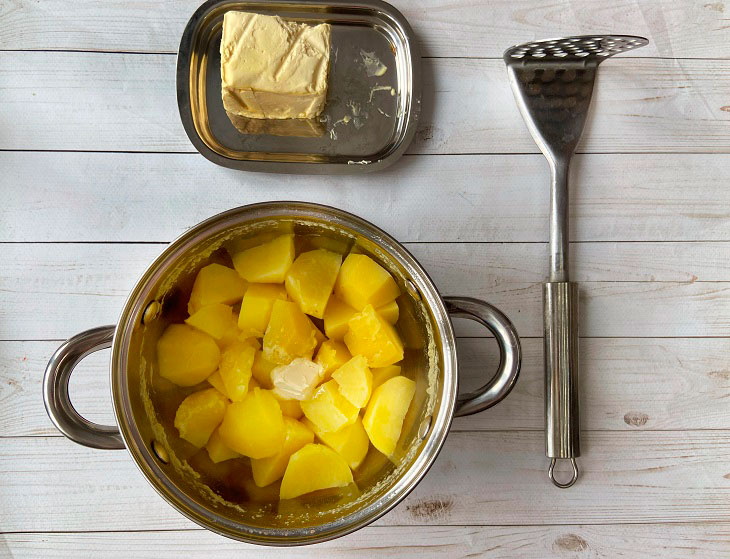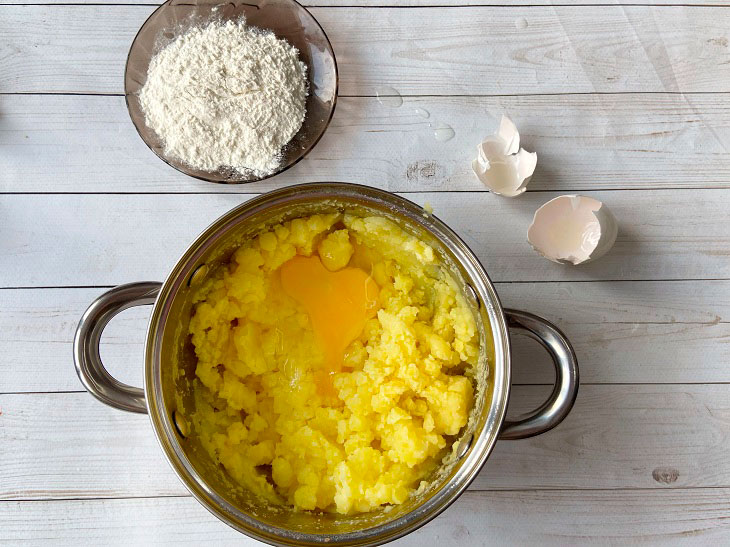 3. In order for the mashed potatoes to be more similar to the dough, and the pies not to burn, add a couple of tablespoons of flour. You can add spices to your taste, for example, it can be freshly ground pepper.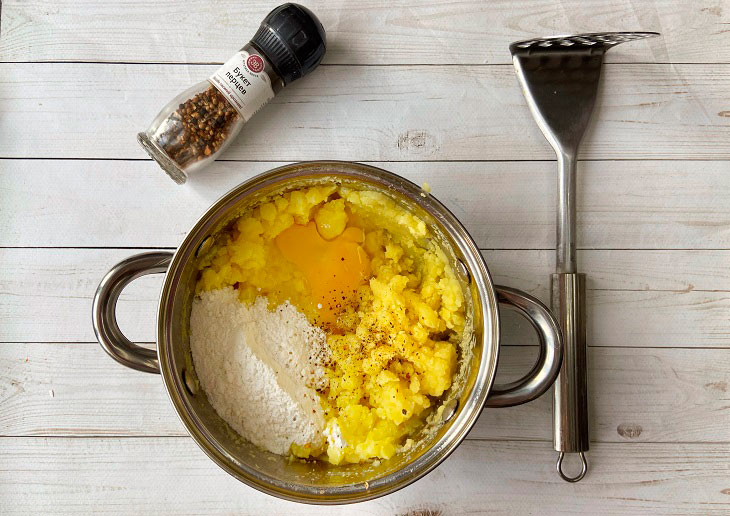 4. Peel the sausages from the shell and cut into small pieces, do the same with greens. It is best to take parsley or cilantro, these types of greens are quite fragrant and perfectly open after heat treatment.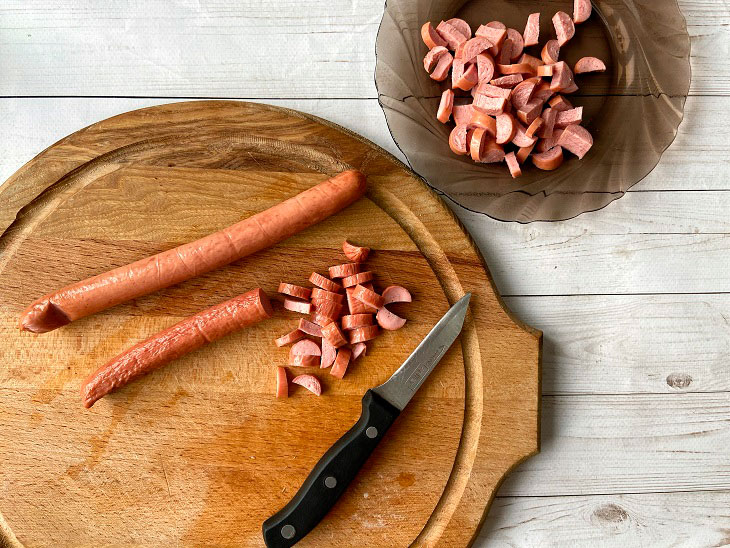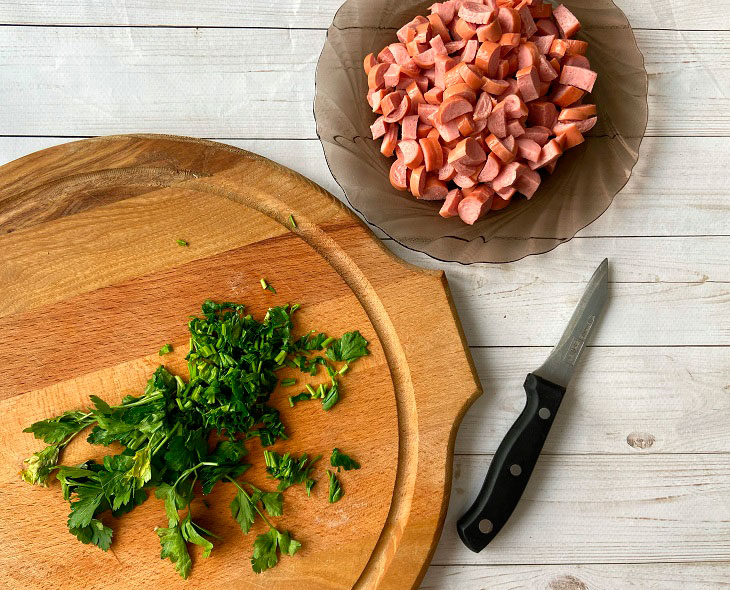 5. Heat a small amount of butter in a frying pan. Pour chopped sausages here and fry for three minutes, then add chopped greens. Simmer for another minute.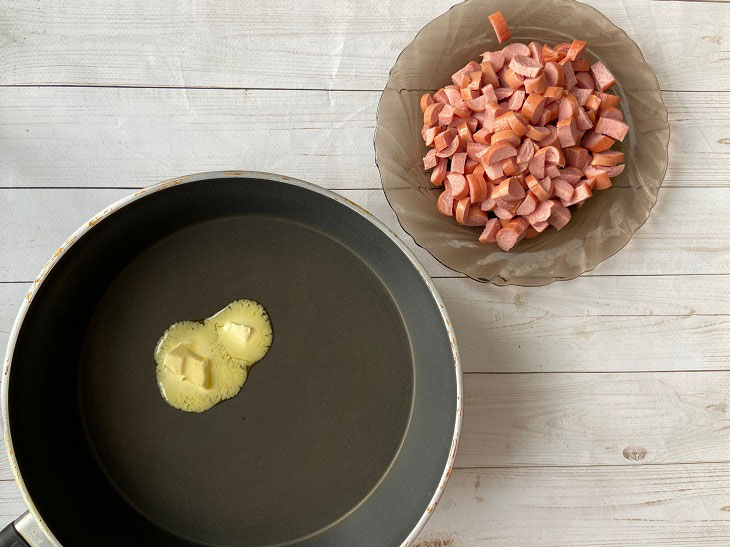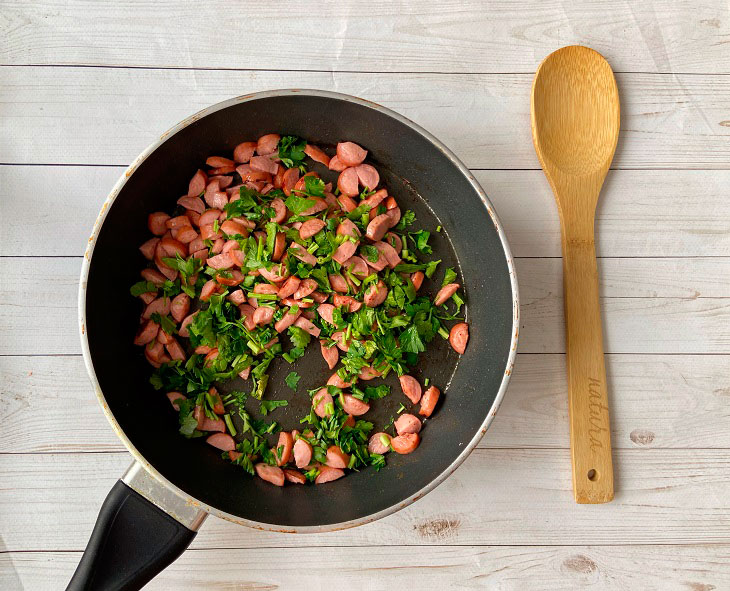 6. With wet hands, form small cakes from mashed potatoes, which should be stuffed with fried sausages with herbs. Carefully close up the pies and give an oval shape. Fry pies in vegetable oil until a beautiful crust.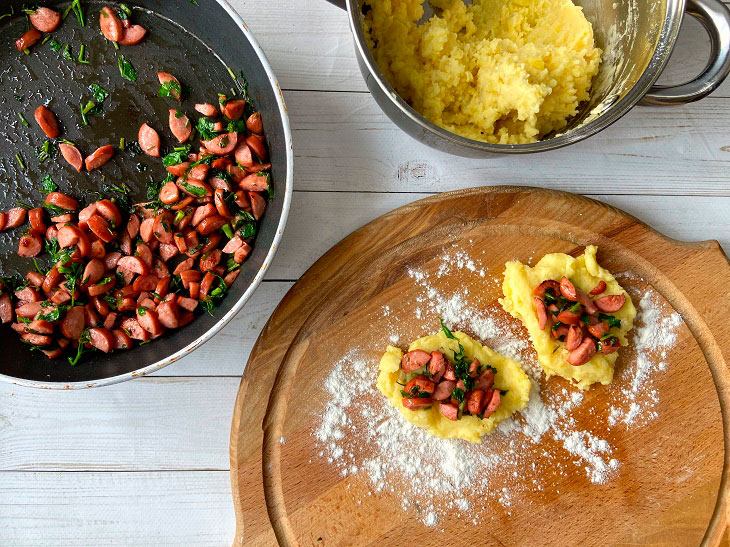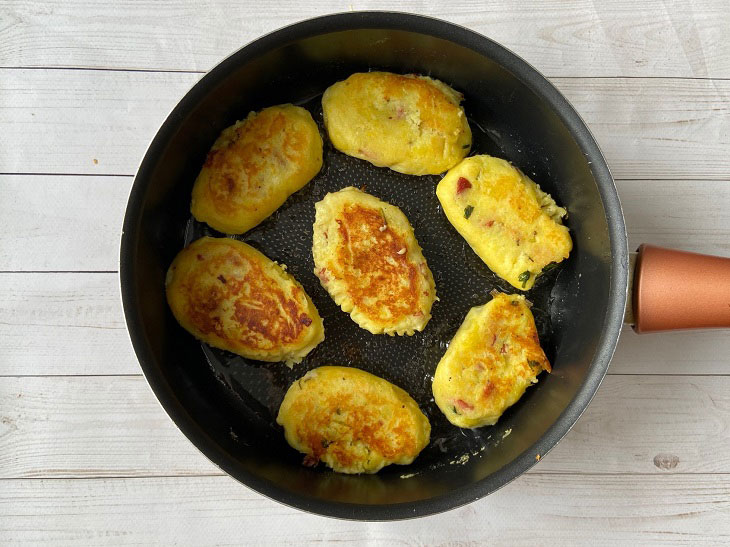 7. Place the finished pies on a paper towel to remove excess fat. After that, put on a dish decorated with lettuce leaves and tomatoes. Serve hot.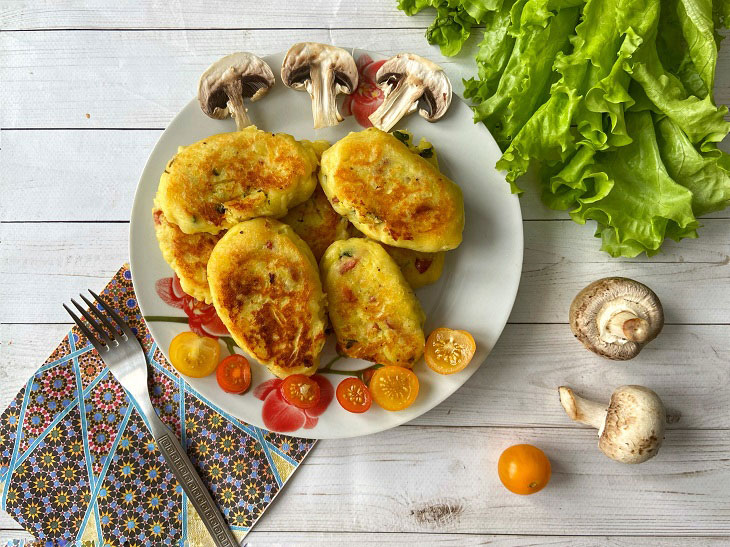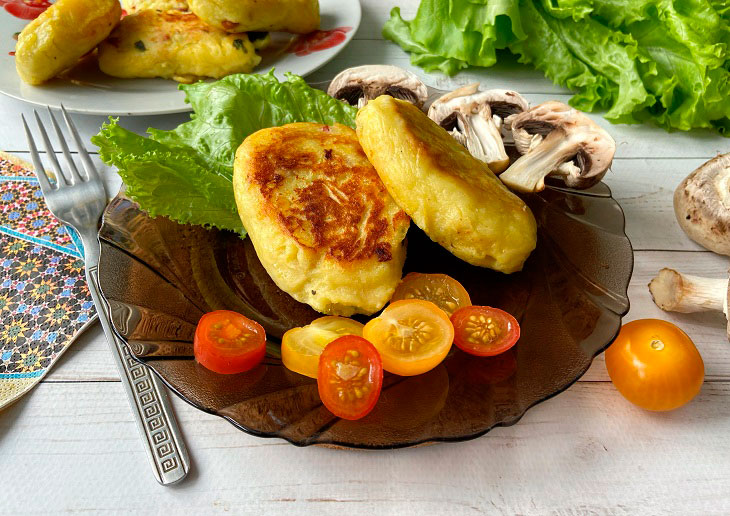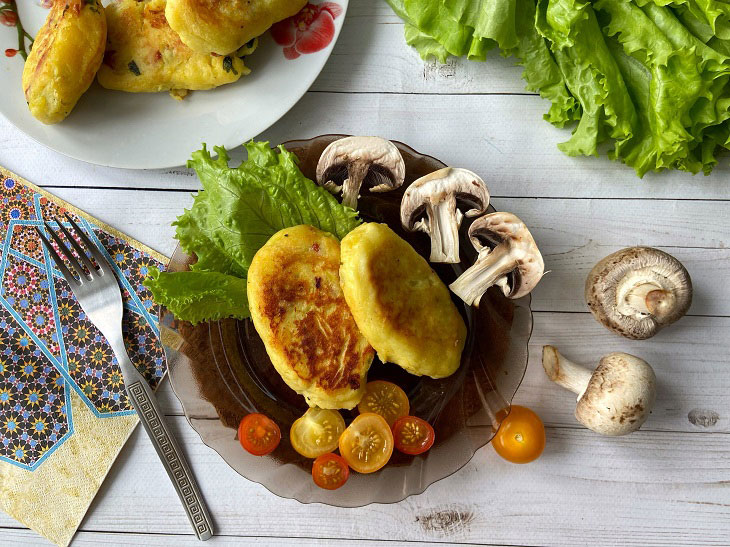 Bon appetit!