Today we will prepare a fragrant and tasty potato tart with mushrooms and chicken. The classic combination of potatoes and mushrooms always gives a good result. It makes a hearty meal for the whole family.
Ingredients:
Boiled potatoes – 350 g.
Flour – 130 g.
Chicken egg for dough – 1 pc.
Chicken egg for pouring – 2 pcs.
Sour cream – 3-4 tbsp. l.
Salt – to taste.
A mixture of ground pepper – to taste.
Nutmeg – a pinch (on the tip of a knife).
Champignon mushrooms – 300 g.
Chicken fillet – 150 g.
Carrot – 1 pc.
Onion – to taste.
Garlic – to taste.
Vegetable oil – to taste.
Hard cheese or mozzarella – 70 g.
Parsley – to taste.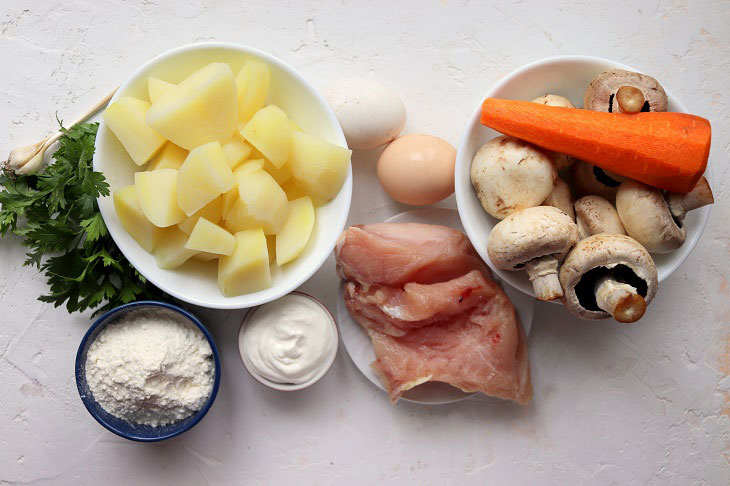 How to cook:
1. The basis of the dough for tart is potatoes. Pre-boil the peeled potatoes until tender in water with the addition of bay leaf. Drain the water from the potatoes; you won't need it here. By the way, on the basis of potato broth, you can cook delicious homemade bread.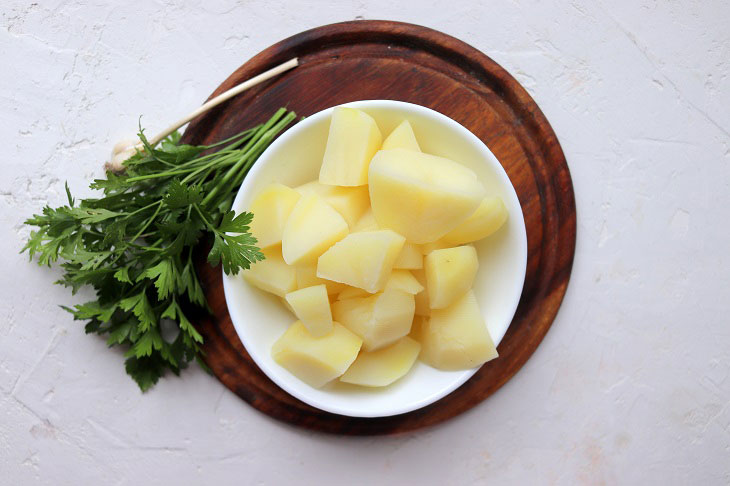 2. Prepare potato dough. Mash potatoes with a potato crusher, or use a blender. Add flour and one chicken egg to the potato dough. Use salt and spices to taste. Well sets off the taste of potatoes nutmeg, add not much at all, on the tip of a knife. Stir the dough with a spatula, it will turn out a little sticky.
The consistency of the dough will depend on the variety of potato and its glu10.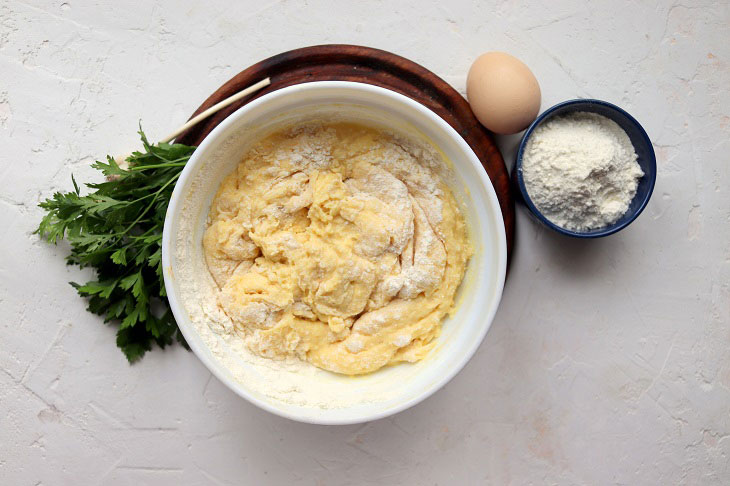 3. Prepare the filling for the tart. Finely chop the champignon mushrooms, cut the chicken breast into strips or cubes. Use carrots and onions as desired.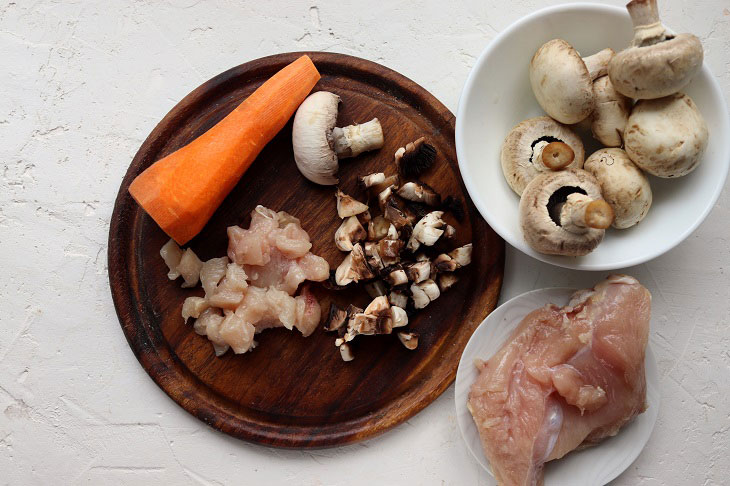 4. Fry mushrooms with chicken and vegetables in vegetable oil until soft. Add salt and grated garlic, parsley to the finished filling.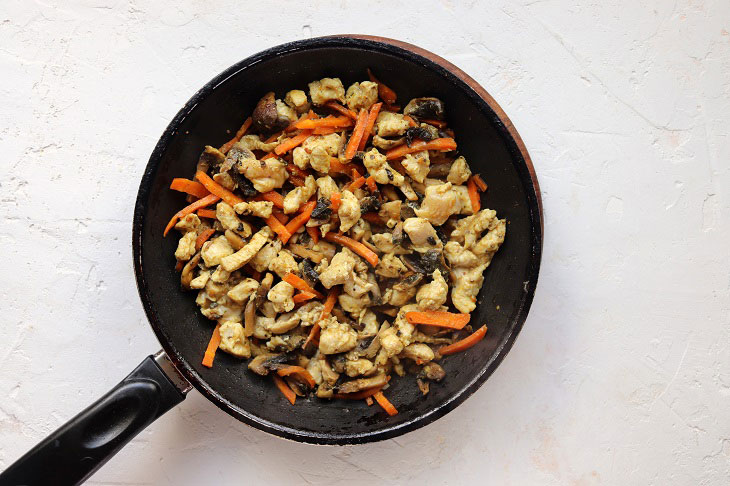 5. For filling, mix two chicken eggs with sour cream and parsley in a bowl.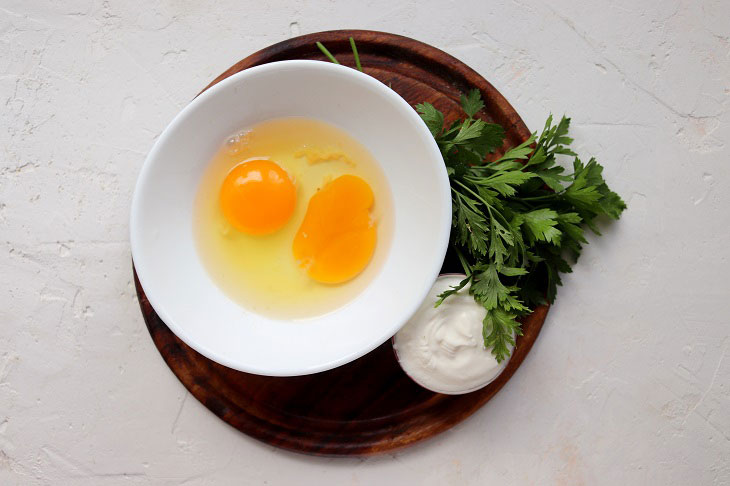 6. Turn on the oven to heat up to 180 degrees. Lay out a form with sides with parchment or foil, grease with vegetable or ghee. Pour in the potato batter and spread evenly with a spatula. With wet fingers, lightly lift the dough up the sides. The dough will not have clear edges, as the dough will drain slightly.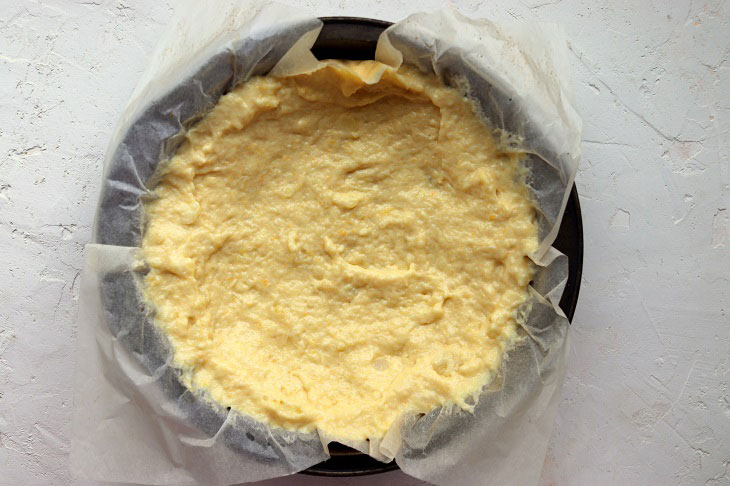 7. Spread the filling over the potato dough and immediately add the filling. Place the tart on the middle rack of your oven.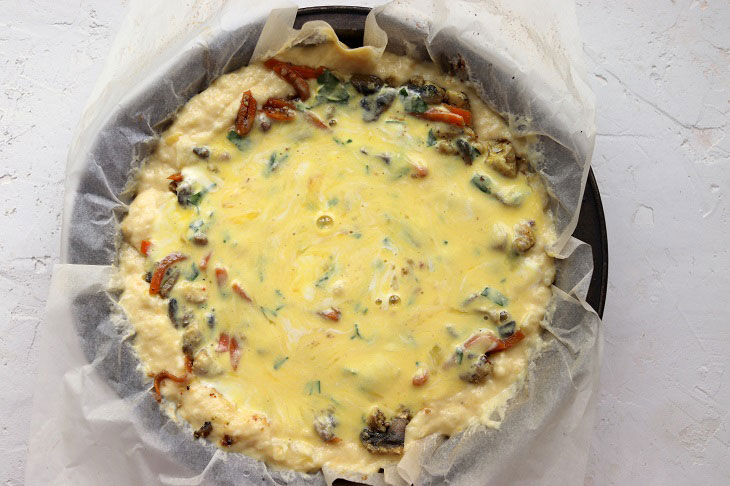 8. Grate hard cheese or mozzarella and add it after 20 minutes, sprinkling on top of the tart.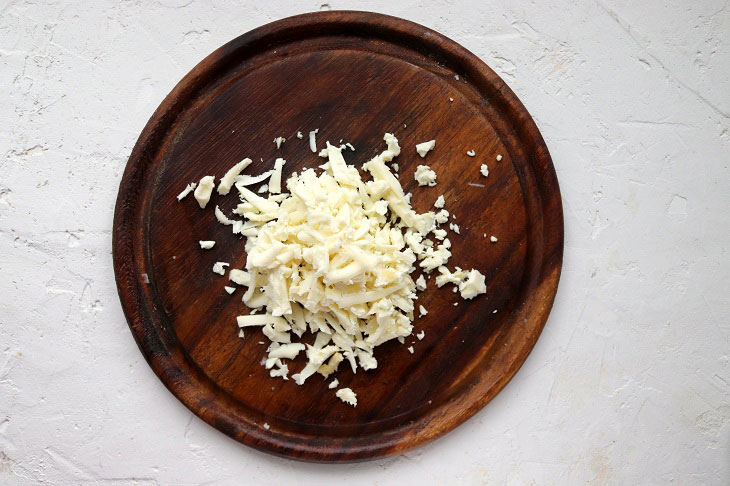 9. Remove the finished potato tart from the oven and immediately place it on a wire rack or on a board from the mold so that it does not condense from below. Let the tart cool slightly and serve it warm to the table.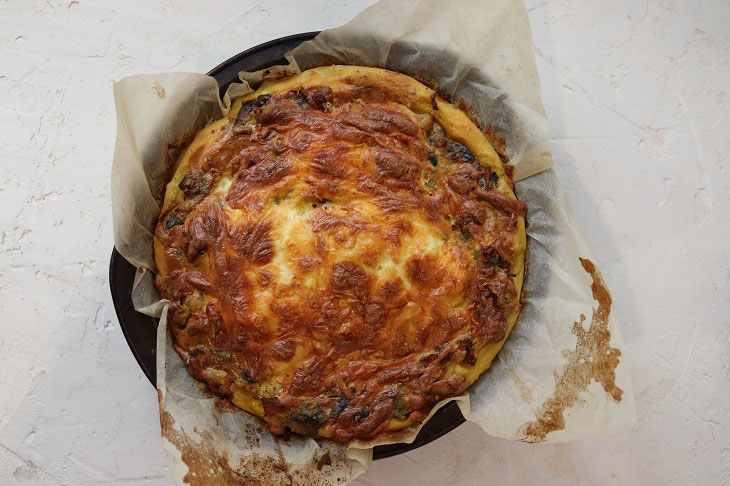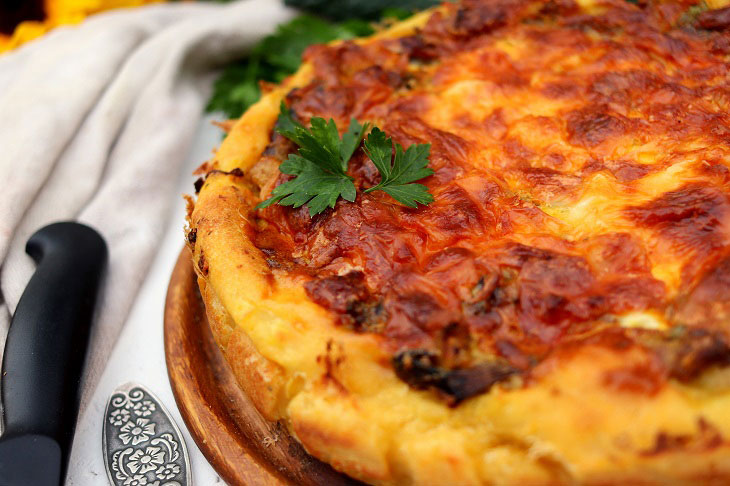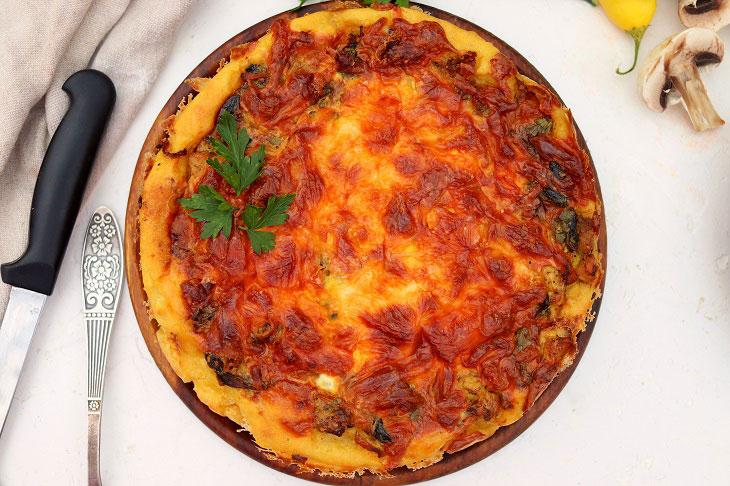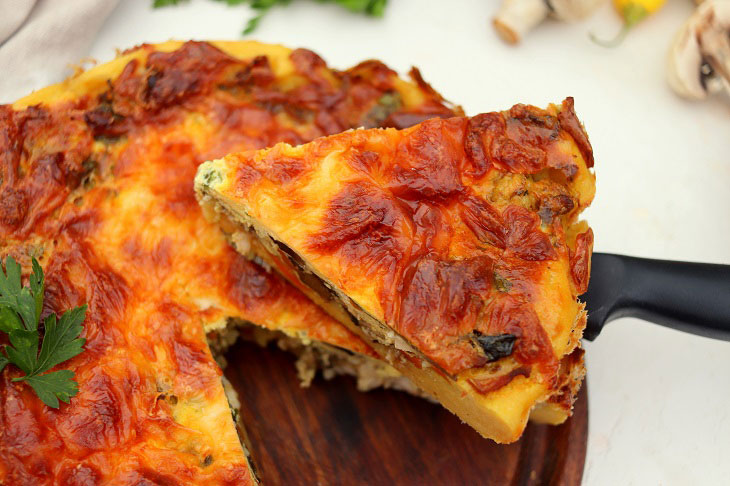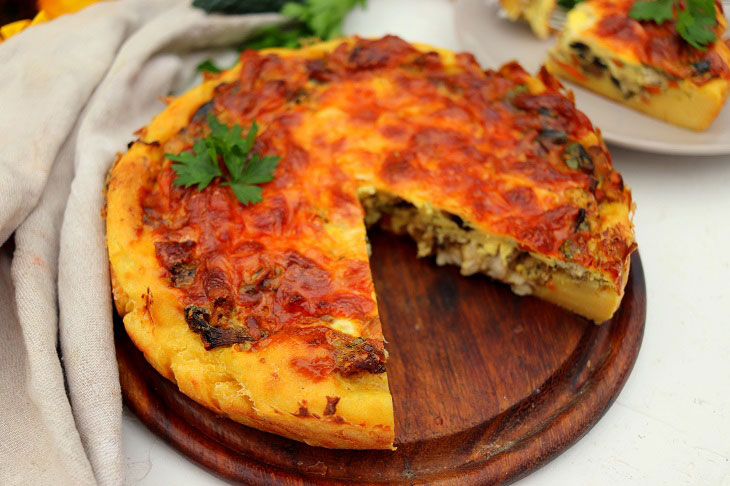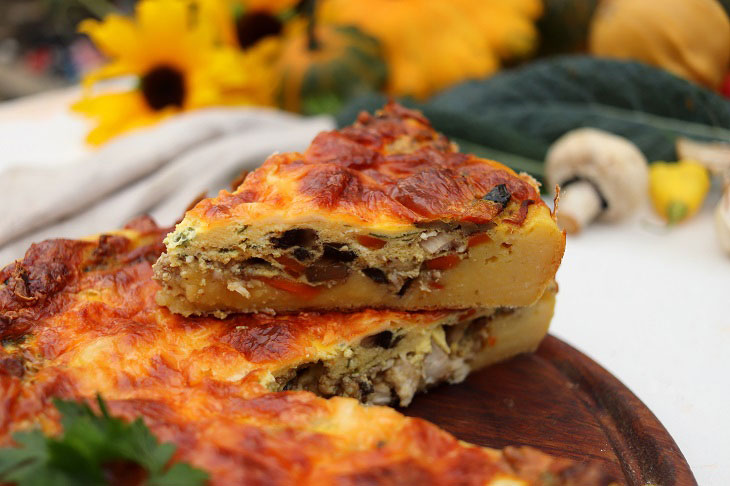 Bon appetit!