Ratatouille is traditionally considered a vegetable dish, but sometimes life makes its own adjustments to recipes. Apparently, the traditional ratatouille seemed to someone not satisfying enough, and he decided to add meat, and this is how the chicken fillet recipe turned out. Of course, instead of fillet, there can be absolutely any meat, and not just poultry meat.
The cooking process will take you about 2 hours: the dish will bake for about an hour and it will take about 40 minutes to put the vegetables and minced meat in a mold and prepare the sauce. This portion of ratatouille is enough to feed a family of 3-4 people.
Ingredients:
Chicken fillet – 300 g.
Water – 3 tbsp. l.
Salt – 0.5 tsp.
Spices for chicken – 1 tsp.
Eggplant – 1 pc.
Zucchini – 1 pc.
Tomatoes – 4 pcs.
For sauce:
Sunflower oil – 30 ml.
Sweet bell pepper – 1 pc.
Tomato sauce – 5-6 tbsp. l.
Water – 0.5 tbsp.
Spices 10 vegetables – 2 tsp.
Italian herbs – 1 tsp
Salt – 1 tsp
Sugar – 1 tbsp. l.
Dill – 1 bunch.
Parsley – 1 bunch.
Garlic – 1 bunch.
How to cook:
1. Cut the chicken fillet into pieces and place in a bowl. Add salt, water and spices. Blend with a blender.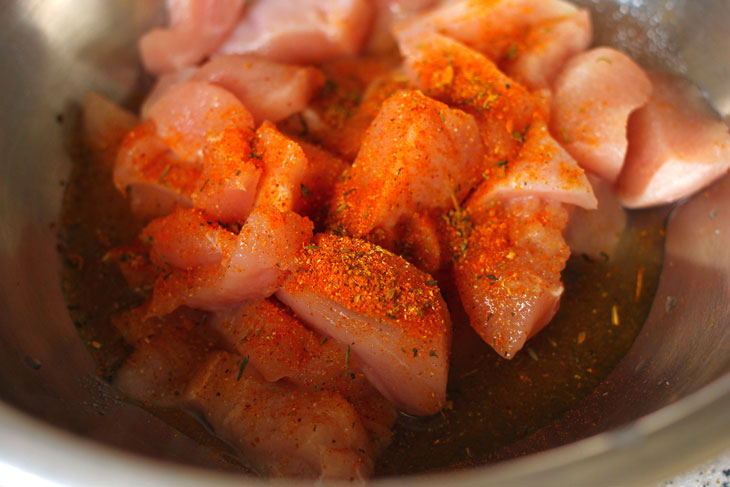 2. Cut the zucchini into rings.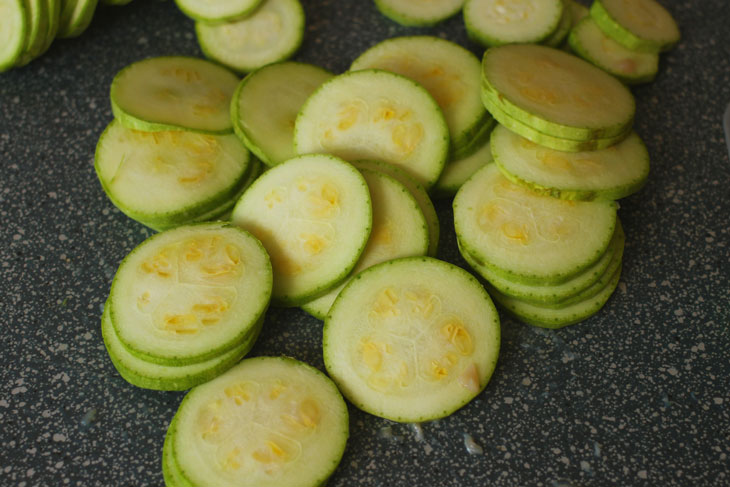 3. Cut eggplant into rings.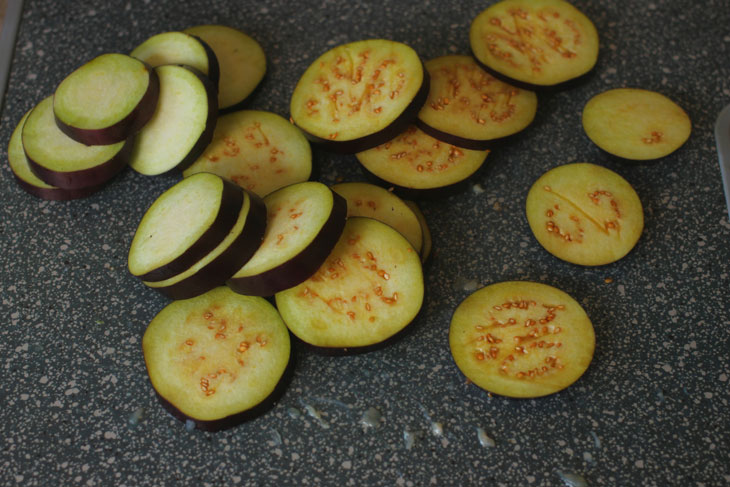 4. Slice the tomatoes too.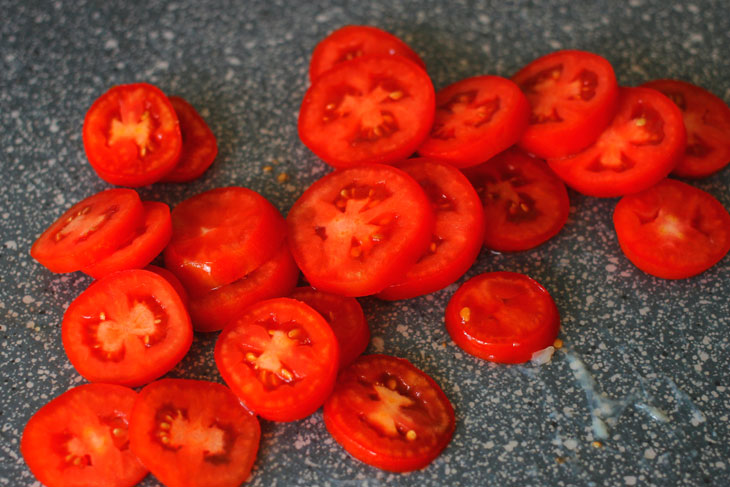 5. Now start laying out: zucchini, minced meat, eggplant, tomato.
You can lay out the components in any order. Minced meat can be put more often than vegetables or vice versa.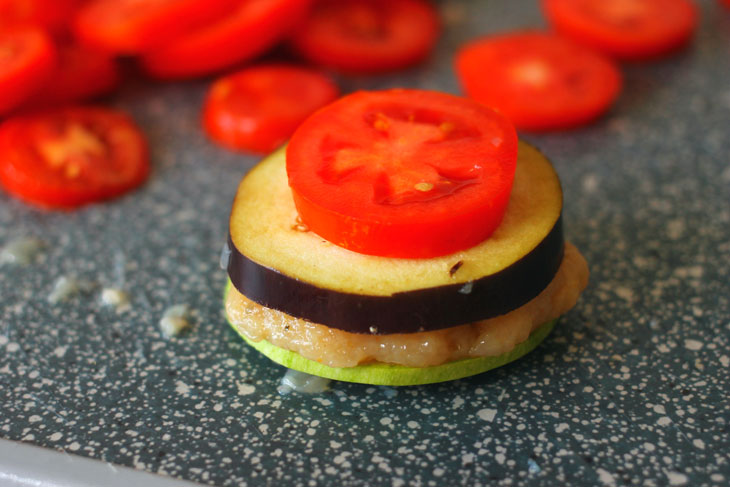 6. Prepare the form, cover it with parchment. Arrange vegetables and fillets around.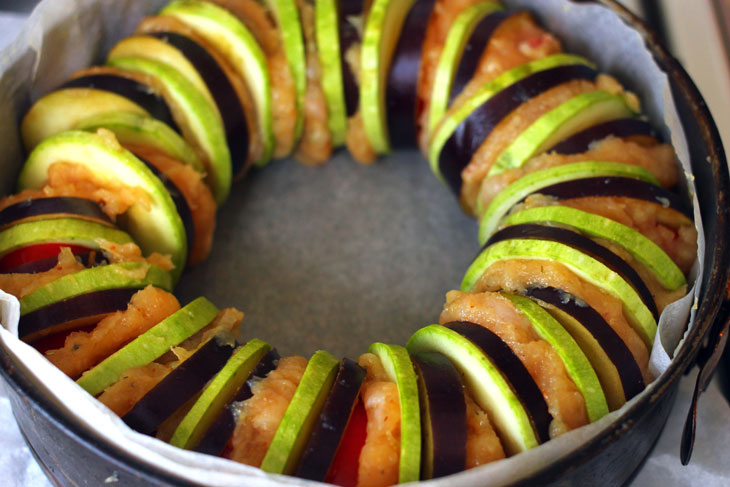 7. Now you need to prepare the tomato sauce. Pour oil into the pan, turn on the fire. Cut the bell pepper into cubes. Put the pepper in the pan and fry until golden brown.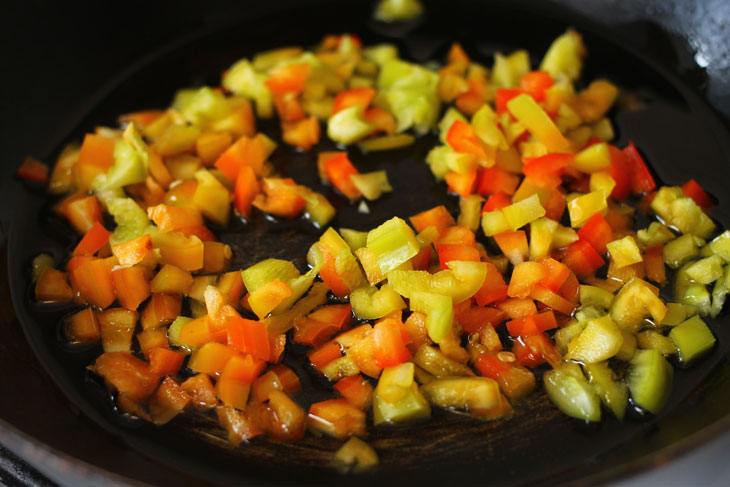 8. Pour in the tomato sauce and water.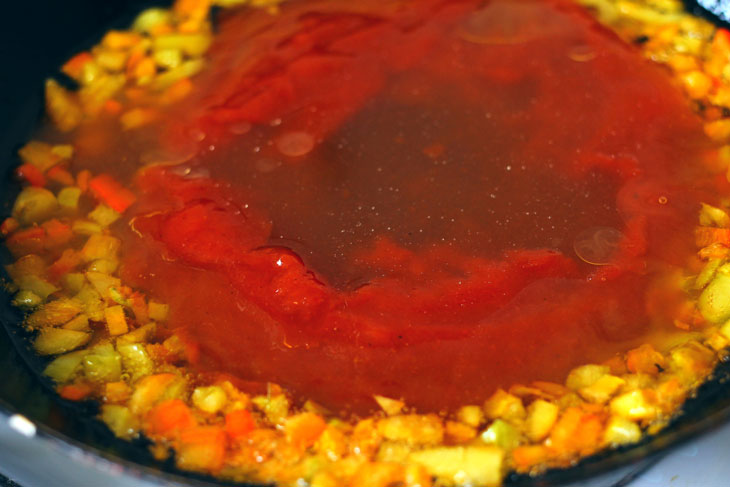 9. Intervene. Add salt, sugar and spices.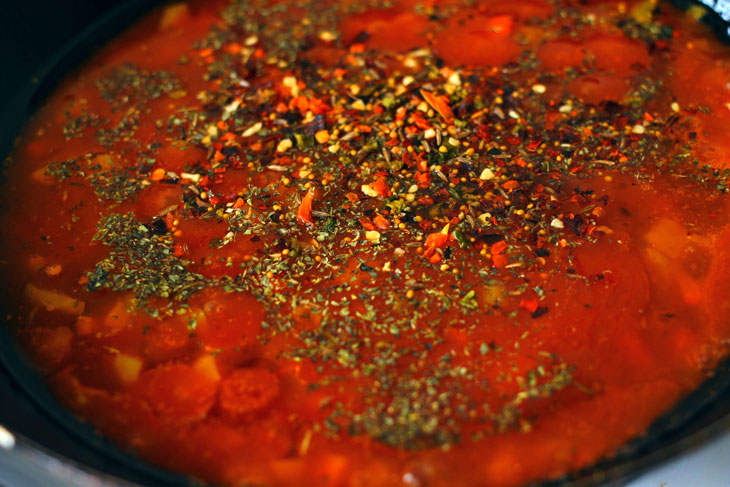 10. Add dill.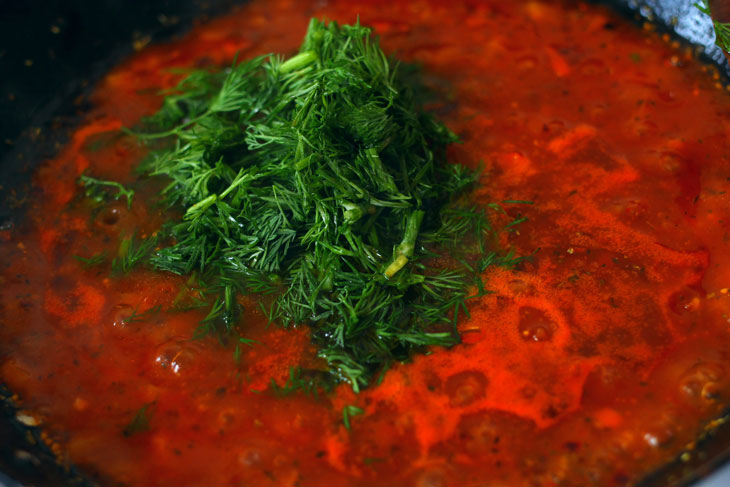 11. Put in the parsley.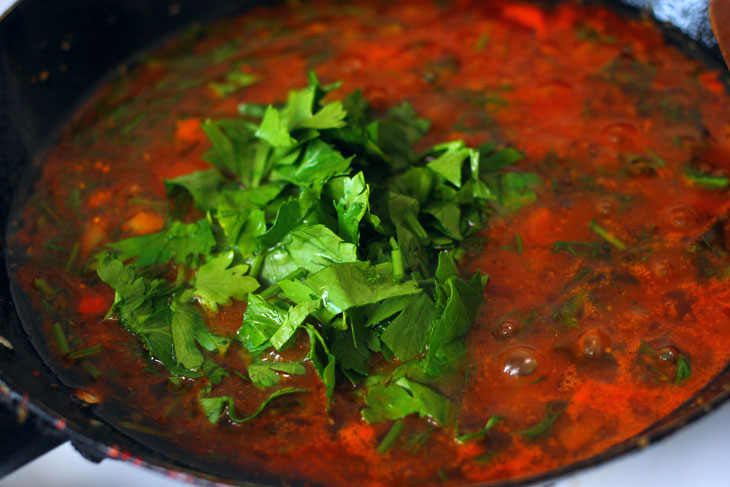 12. Stir, simmer for 5-7 minutes and at the end add chopped garlic.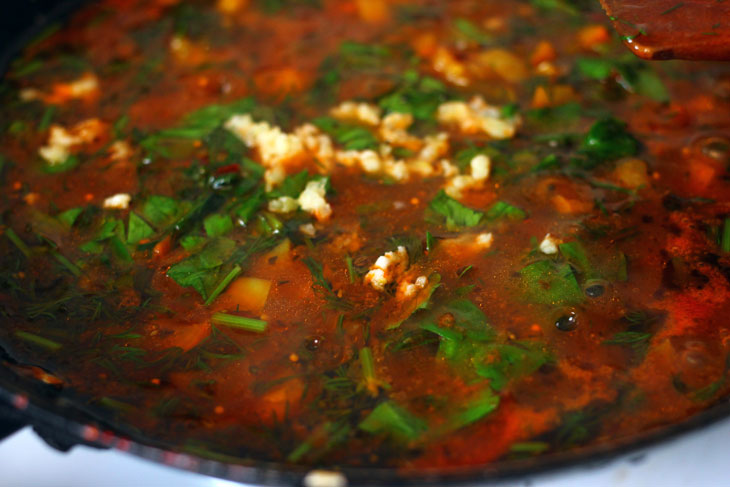 13. Drizzle the prepared sauce over the vegetables in the tin and place the tin in the oven.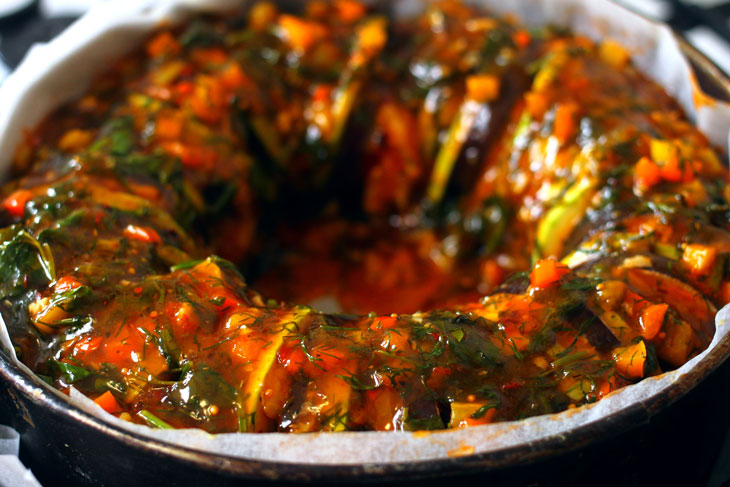 14. Bake for approximately 50 minutes at 180 degrees.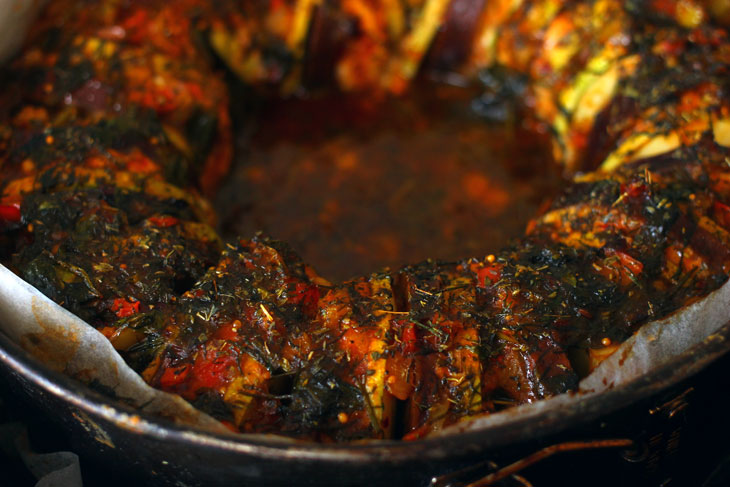 Put the finished ratatouille on a dish. Garnish the edge with fresh dill and sprinkle it on top.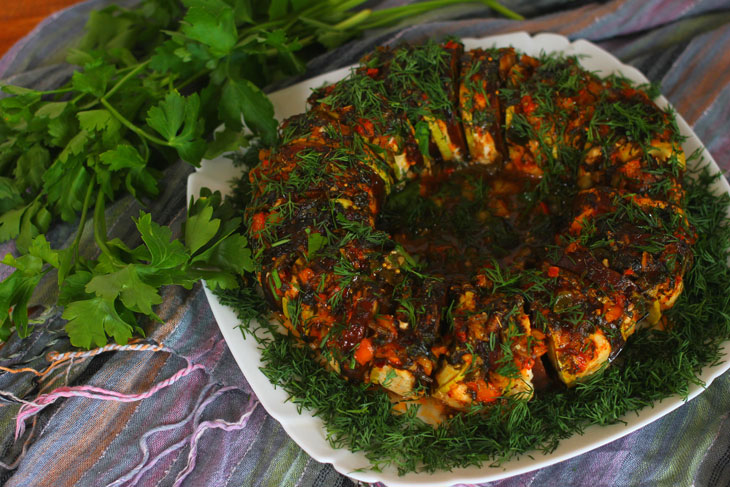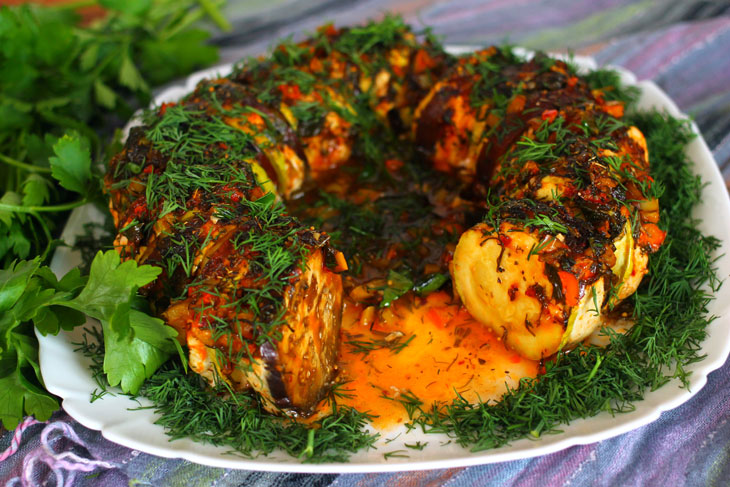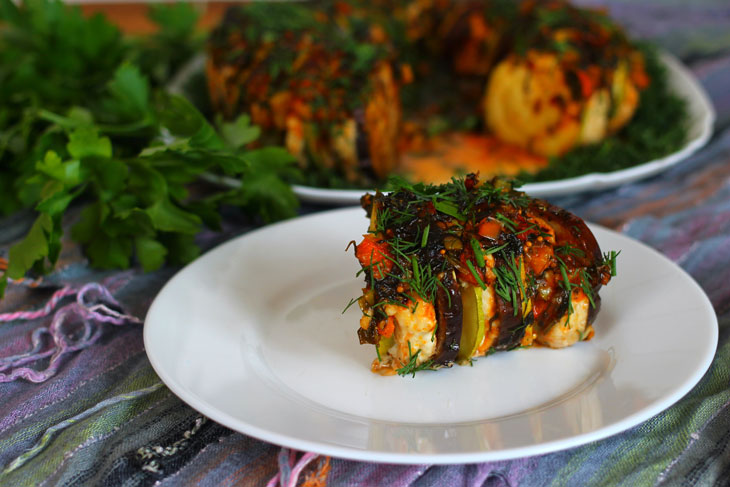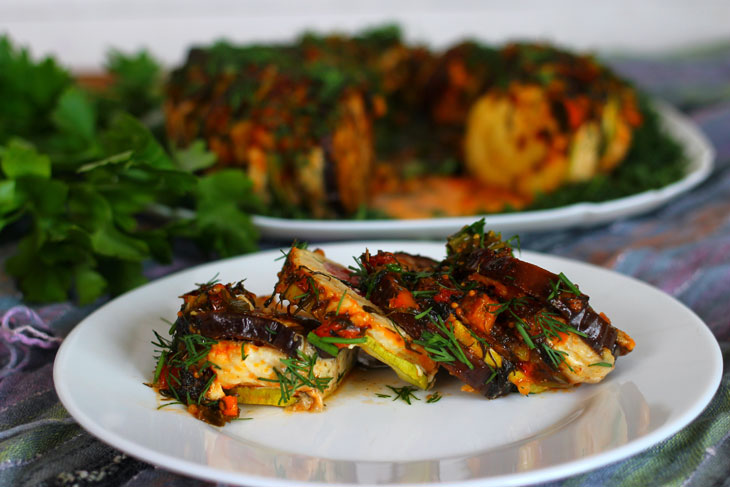 Enjoy your meal!