Borscht without cabbage is a tasty and nutritious dish. You can cook it any day for a family lunch or dinner.
When you do not have cabbage, you can cook rich borscht with only vegetables and potatoes. Due to beets, the color is bright and saturated, tomato juice gives a slight sourness. Potatoes give density, you can put more of it. Any meat can be used for the broth, but chicken cooks the fastest. In 30-40 minutes you can cook a wonderful borscht for a large family.
Ingredients:
For 2 liters of water:
Chicken meat – 200 g.
Potato – 250 g.
Beets – 80 g.
Carrots – 70 g.
Onion – 70 g.
Tomato juice – 150 g.
Vegetable oil – 2 tbsp. l.
Bay leaf – 1 pc.
Greens – for serving.
Salt, black pepper – to taste.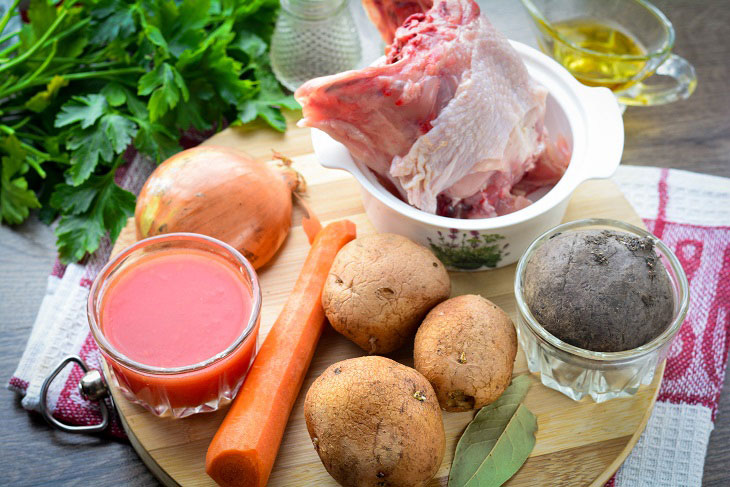 How to cook:
1. Peel the potatoes, rinse and cut into medium cubes. For borscht, this is an ideal form that cooks quickly.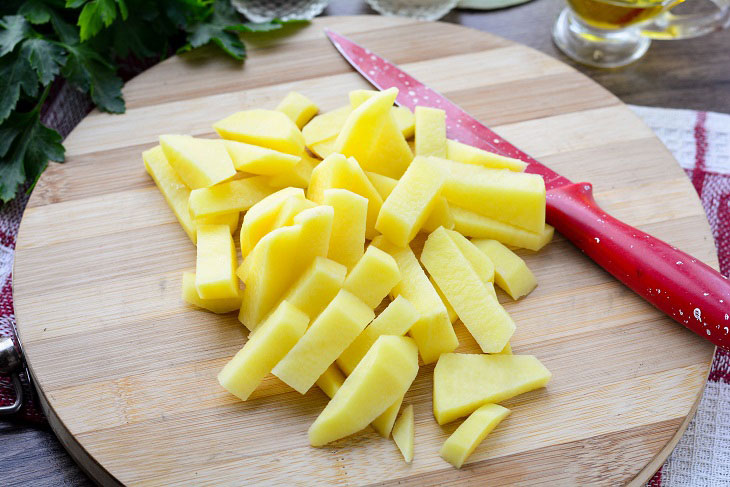 2. Boil the chicken broth: wash the meat, put it in a saucepan and pour cold water over medium heat. Boil for 20 minutes, salt to taste, remove the foam. Then you can add potatoes. Cook with broth for another 10-15 minutes until the potatoes are soft.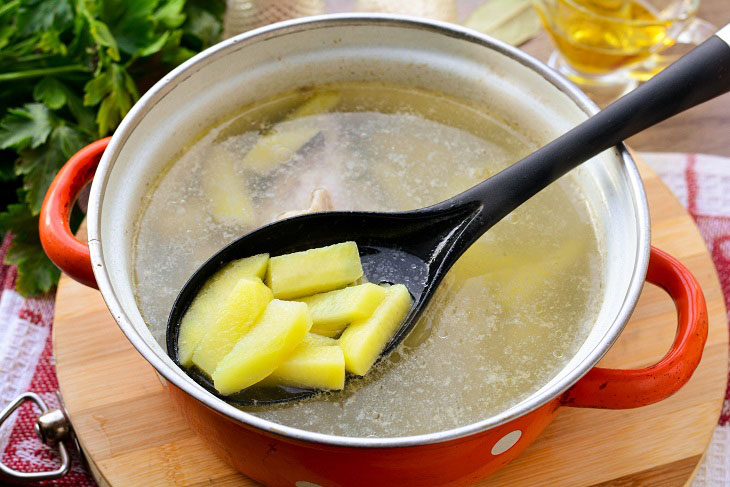 3. While the broth with potatoes is cooking, prepare vegetable frying. Peel all vegetables – carrots, onions and beets. Rinse. Then cut the onion into cubes, then grate the carrots on a large regular grater. Heat oil in a frying pan and add carrots and onions. Saute for a couple of minutes, stirring.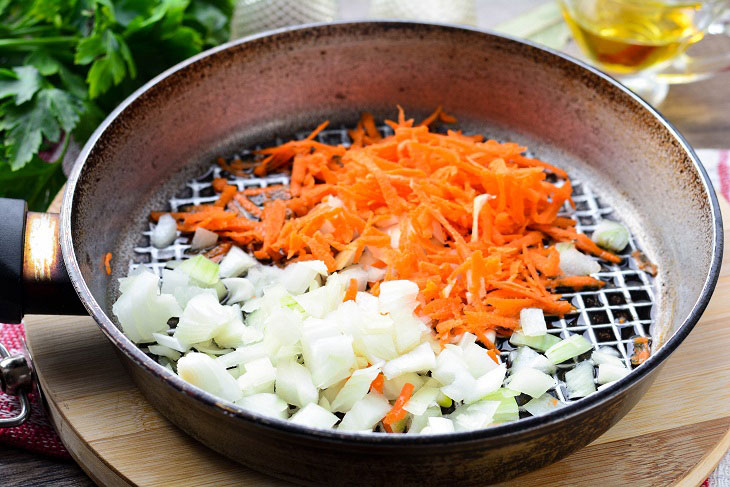 4. Then pour the grated beets into the pan. Beets can be grated on any grater to get thin chips. Fry vegetables with beets for a couple more minutes.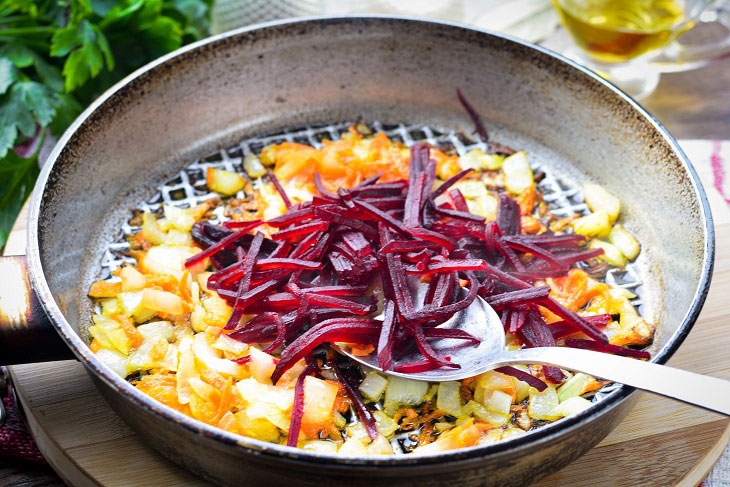 5. Pour in the tomato juice and simmer for 10 minutes over low heat.
If there is no tomato juice, you can dilute the tomato paste with water. 1 st. l. pasta is enough for 0.5 tbsp. water.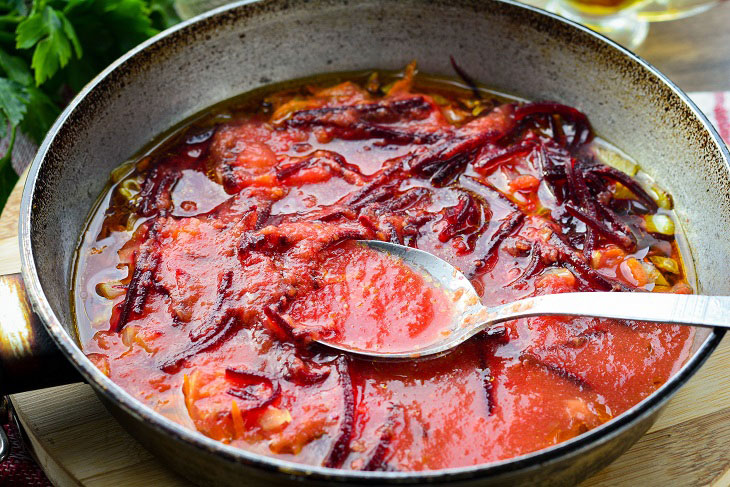 6. Pour vegetable frying into borsch, mix, taste for salt, pepper a little.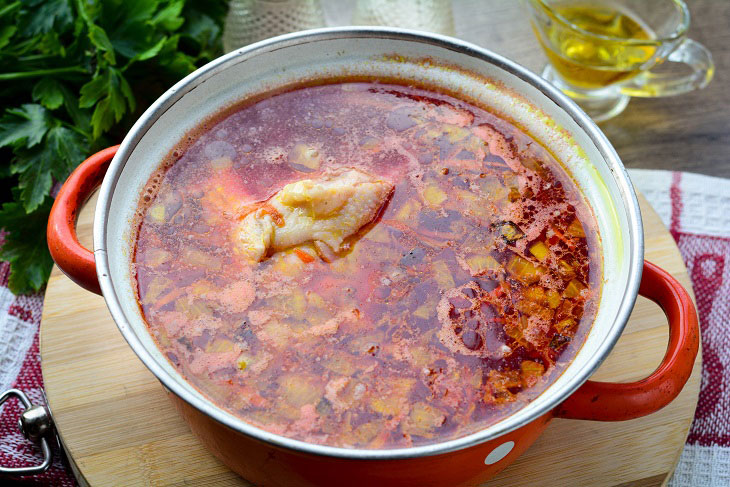 7. At the end, put a bay leaf in the borscht, let it boil and immediately remove from the heat. Let it brew under a half-covered lid for 15 minutes. Ready.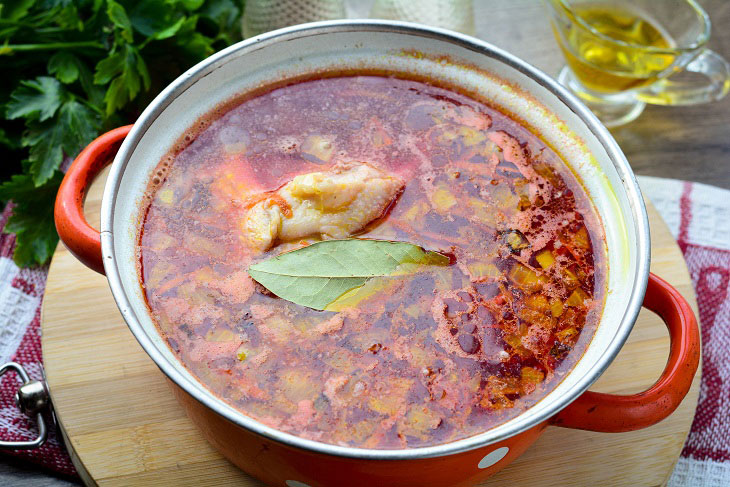 8. Pour hot borscht into portioned plates, adding fresh herbs.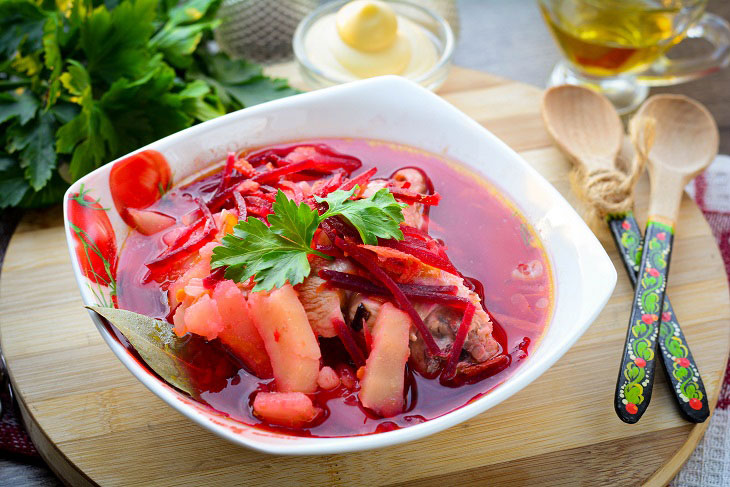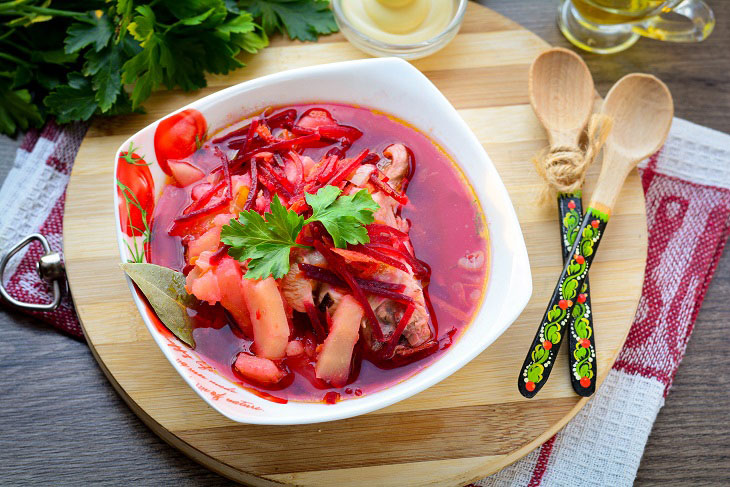 Bon appetit!