Thinking about the menu for the festive table, housewives often try to find new recipes and snacks from the available ingredients. Today we offer you to cook delicious and so mouth-watering rolls with ham, cheese and garlic. It will turn out an attractive and bright snack for your holiday.
For the recipe, you only need ham, boiled eggs and cheese, melted is better, it keeps its shape perfectly. With melted cheese, the filling will not crumble, but rather connect the ham into a roll. Today's version of the filling is the simplest and most affordable. But it can always be supplemented with fried mushrooms, shrimps or capers.
Ingredients:
Ham – 300 g.
Boiled eggs (large) – 1 pc.
Processed cheese – 70-80 g.
Garlic – 1 clove.
Salt, pepper – to taste.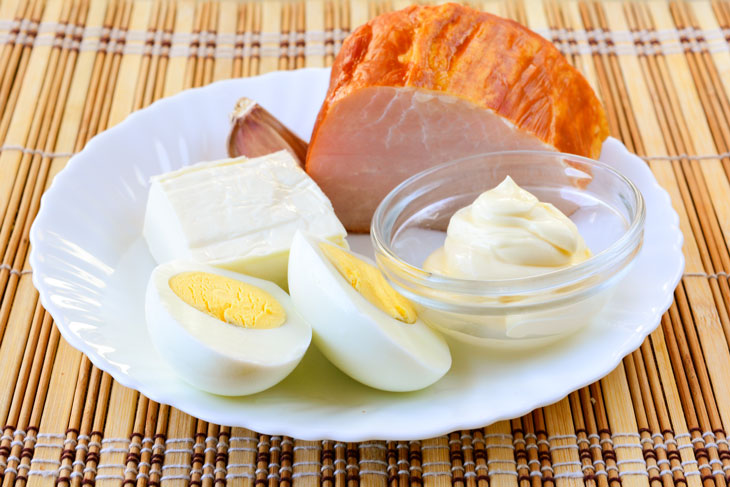 How to cook:
1. Cut the ham into thin slices, dividing immediately into 5-6 pieces. You can buy ready-made ham slices in the store, which is very convenient.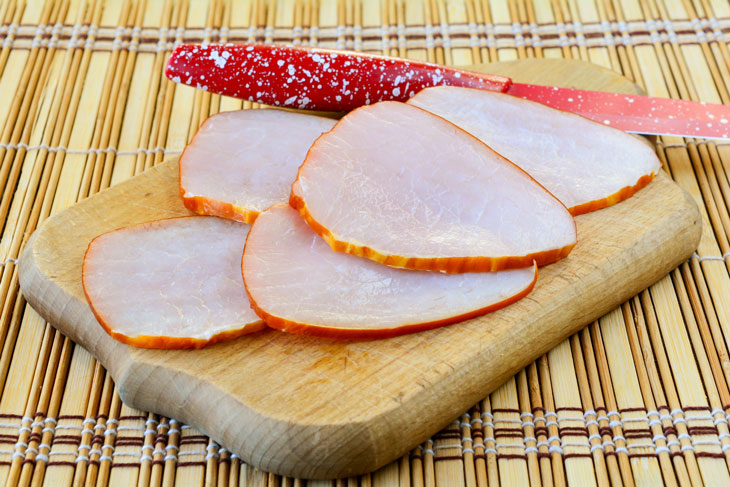 2. For the filling, finely grate the garlic, boiled eggs and processed cheese. Eggs are best boiled hard-boiled in advance so that they sing to cool completely.
Instead of processed cheese, you can use ricotta or blue cheese. Also, the familiar amber cheese will fit into the filling – it is very creamy and tender, like a cream.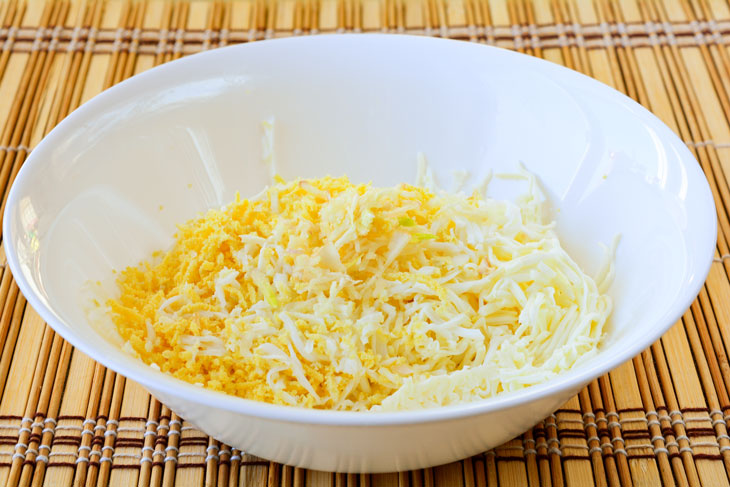 3. Add mayonnaise to the filling and mix until smooth, add salt and pepper to taste.
If you do not like mayonnaise, you can always replace it with sour cream or yogurt.
The filling will turn out juicy and tasty.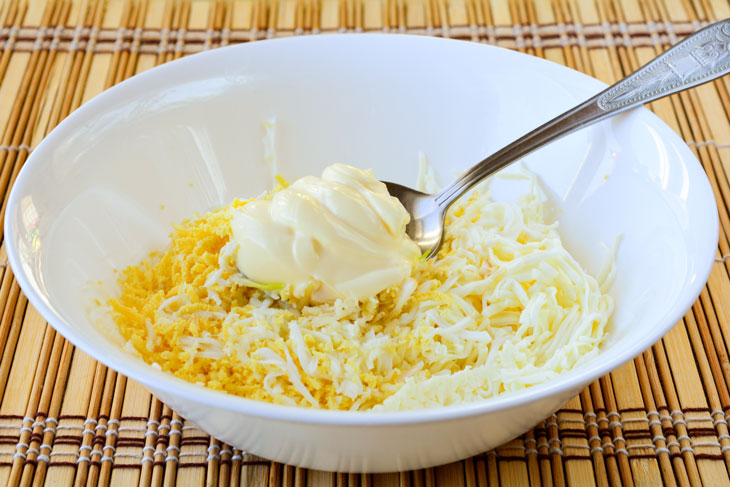 4. Place a teaspoon of filling on each piece of ham.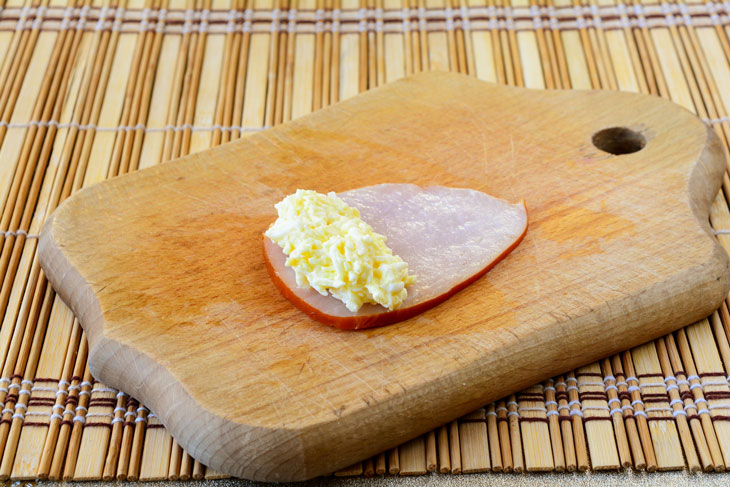 5. Roll up the rolls, tucking the edges of the ham. Rolls can always be additionally fastened with a skewer or toothpick.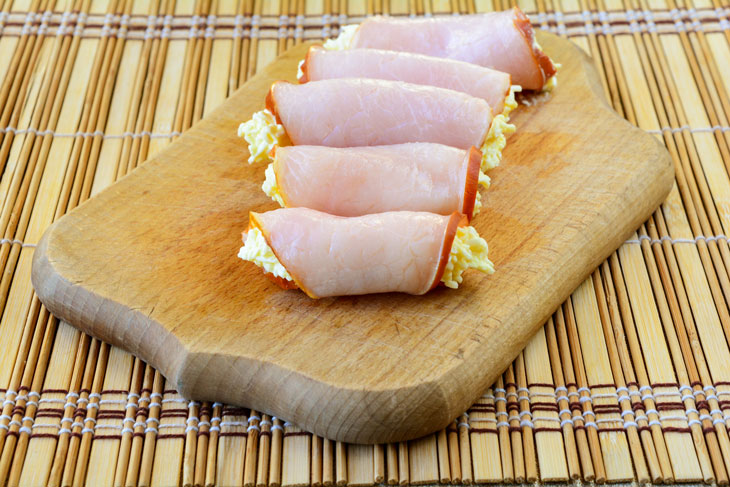 The finished appetizer can be served immediately to the table, garnished with fresh herbs, or put in the refrigerator for 30 minutes before guests arrive. With such rolls, your guests will appreciate the festive table at the highest rate.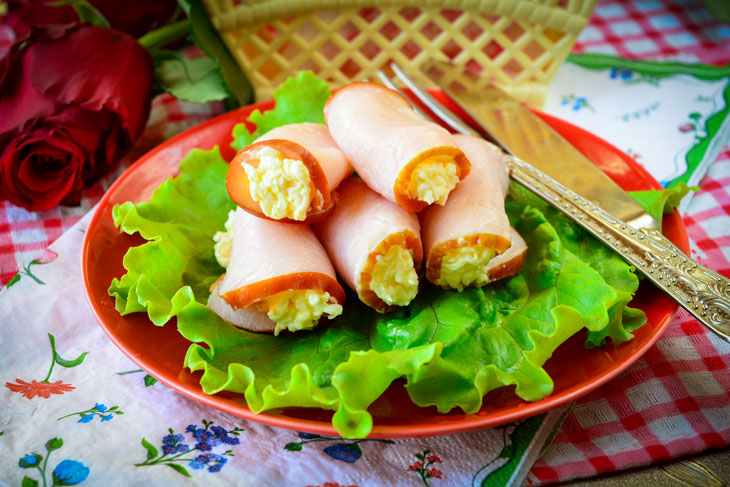 Enjoy your meal!