Rimsky salad perfectly combines pieces of tender beef, fresh crispy cucumbers, spicy green onions and fragrant garlic. Walnuts fit perfectly into this composition. The highlight is the small egg rolls, which serve as a decoration for the salad and subtly set off the taste of the dish. And bright green lettuce leaves are a beautiful and appetizing substrate that adds freshness and juiciness to the dish.
Ingredients:
Beef (pulp) – 250 g.
Chicken egg – 2 pcs.
Fresh cucumber – 150 g.
Walnut kernel – 30 g.
Green onion – 20 g.
Garlic – 2 cloves.
Leaf lettuce – 4 leaves.
Mayonnaise – 30 g.
Refined sunflower oil – 2 – 3 tbsp. l.
Ground black pepper – to taste.
Salt – to taste.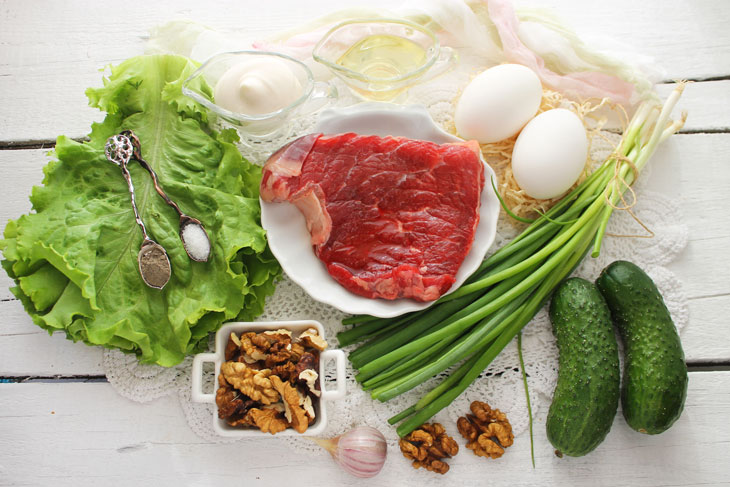 How to cook:
1. Rinse the beef thoroughly, pat dry and cut into thin strips.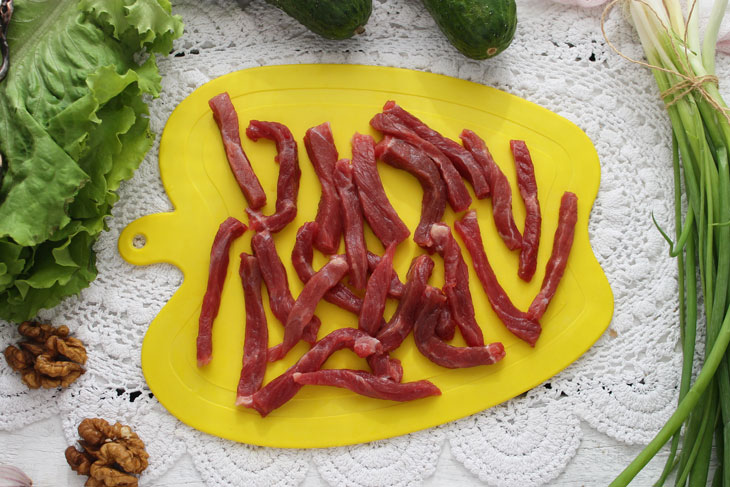 2. Pour vegetable oil into a frying pan, leaving a little for frying pancakes, heat it up. Put the chopped beef and fry until a beautiful golden brown.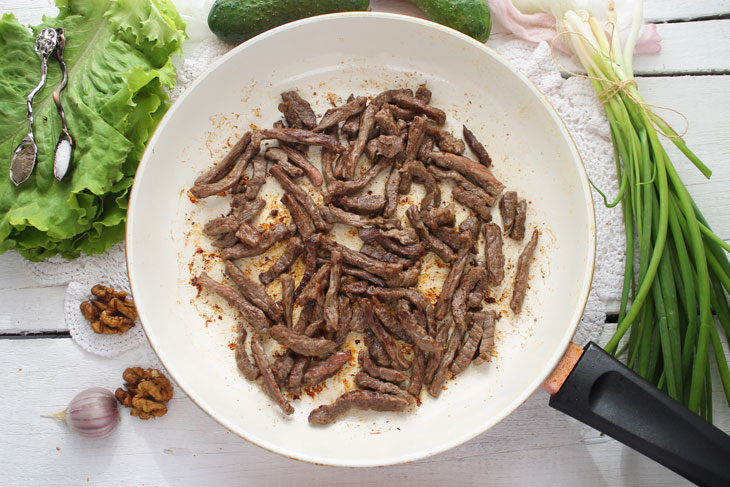 3. Pour a little water into the meat, cover the pan with a lid and simmer the beef over low heat until tender, about 15 minutes. Cool the cooked meat.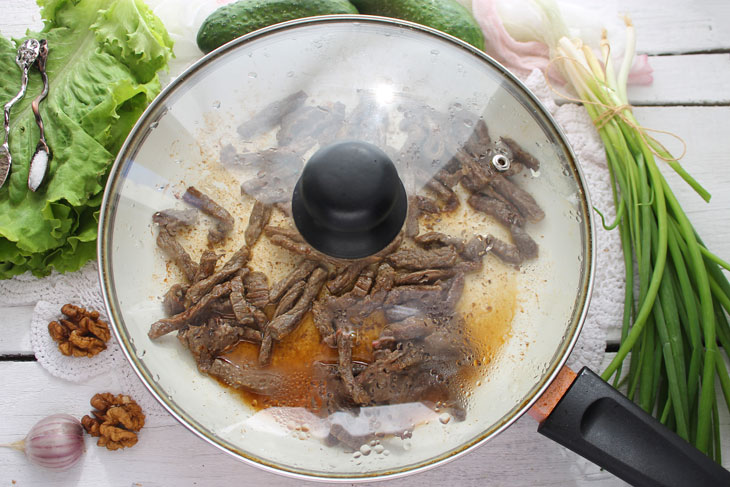 4. Dry the walnut kernels in a dry frying pan.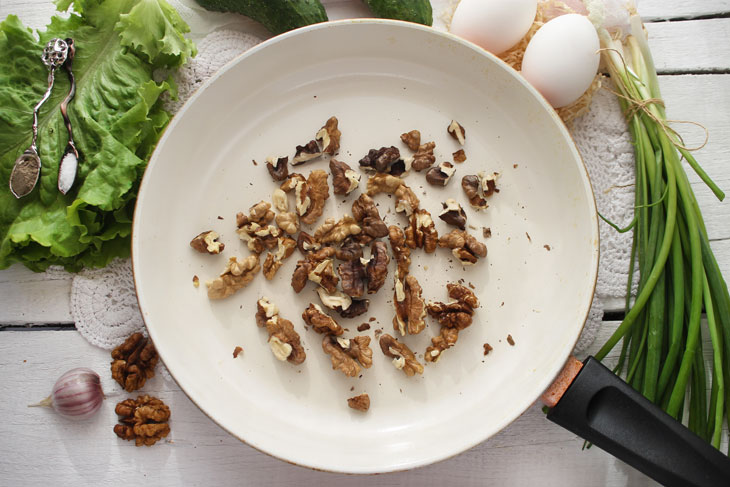 5. Then chop the nuts with a wide-bladed knife into large crumbs.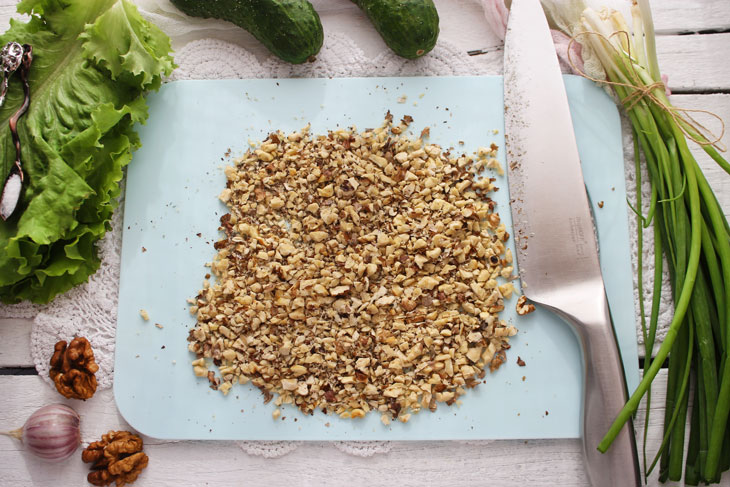 6. Next, start preparing the egg rolls. Break the eggs into a bowl. Salt and pepper.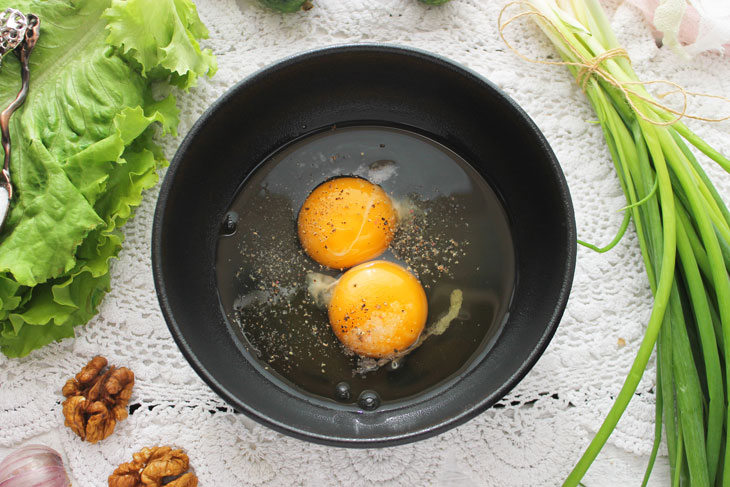 7. Beat with a fork until smooth.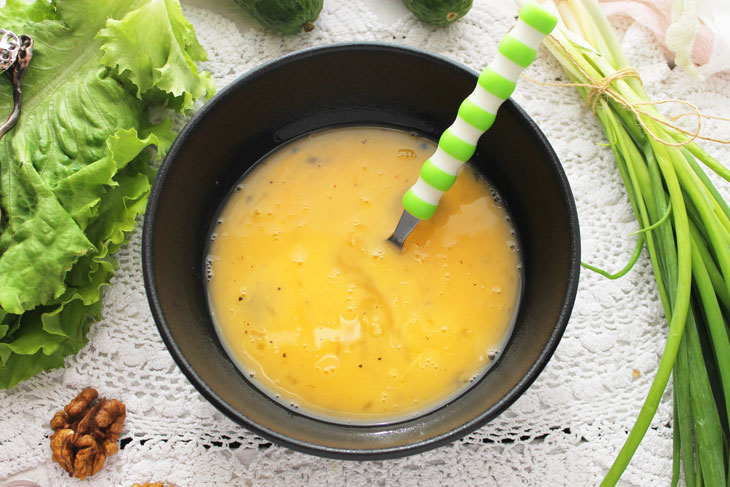 8. Heat the frying pan, brush lightly with sunflower oil and pour in half of the beaten eggs. Fry the pancake on both sides until golden brown. Fry the second pancake in the same way. However, you can first beat one egg and fry the pancake, and then the second.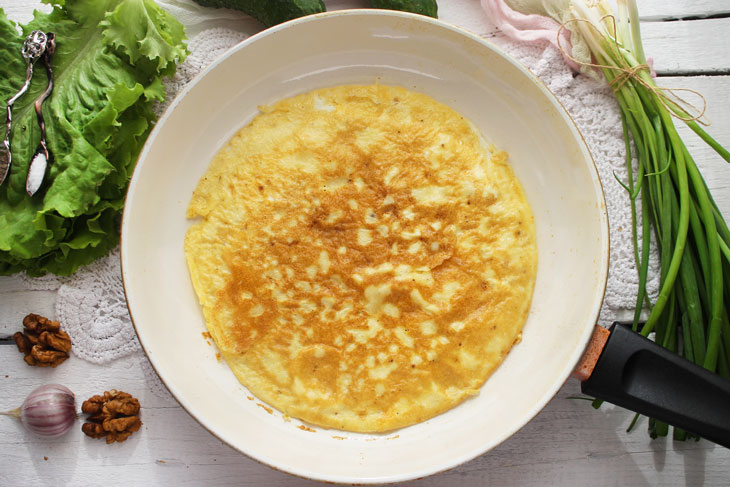 9. Roll hot pancakes into rolls and let them cool completely.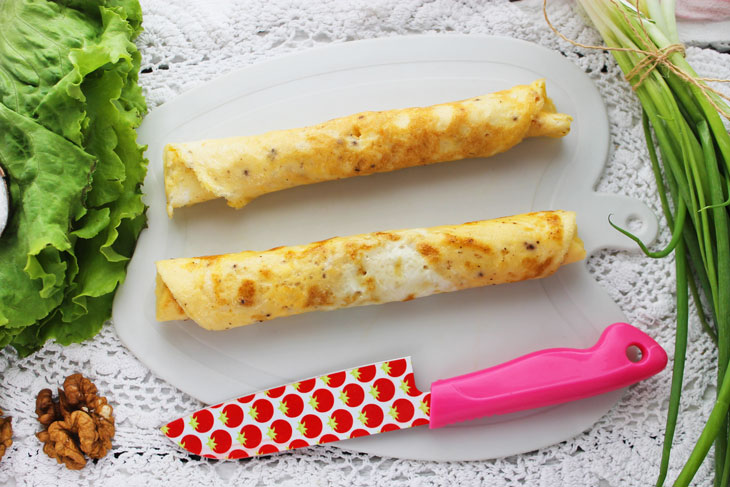 10. Then cut slightly obliquely into small pieces.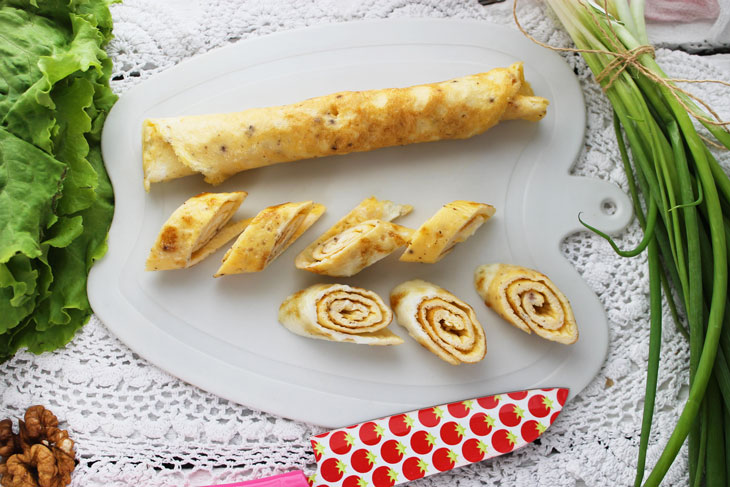 11. Wash cucumbers and cut into thin strips.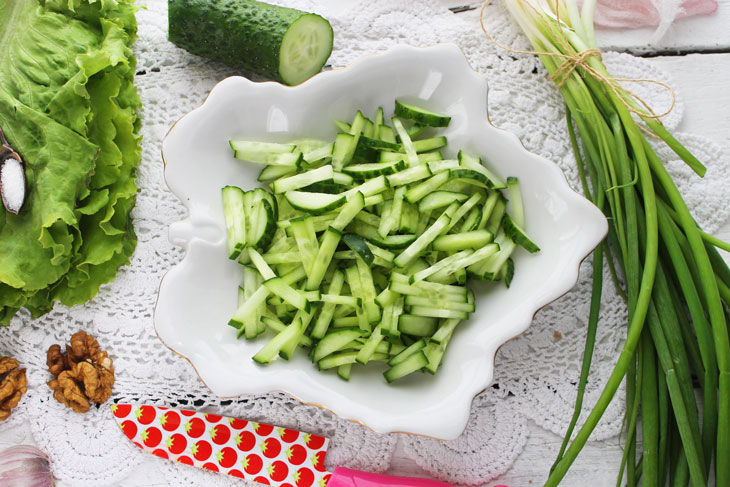 12. Peel the garlic cloves and grate on a special garlic grater.
You can skip the garlic through a press.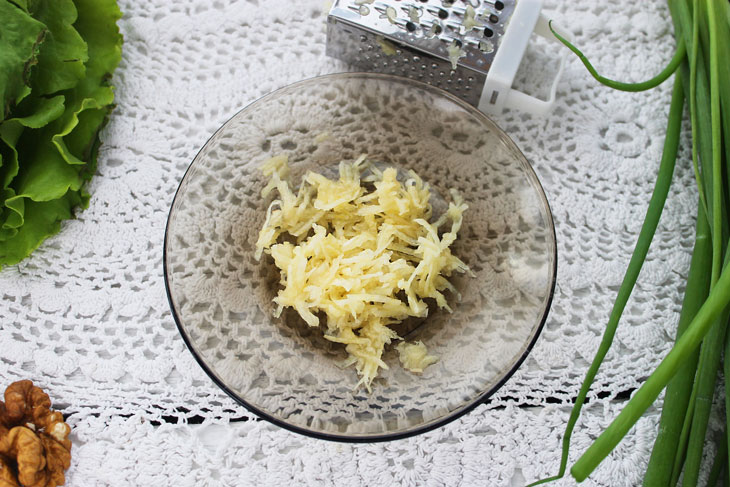 13. Finely chop the green onion (only the green part).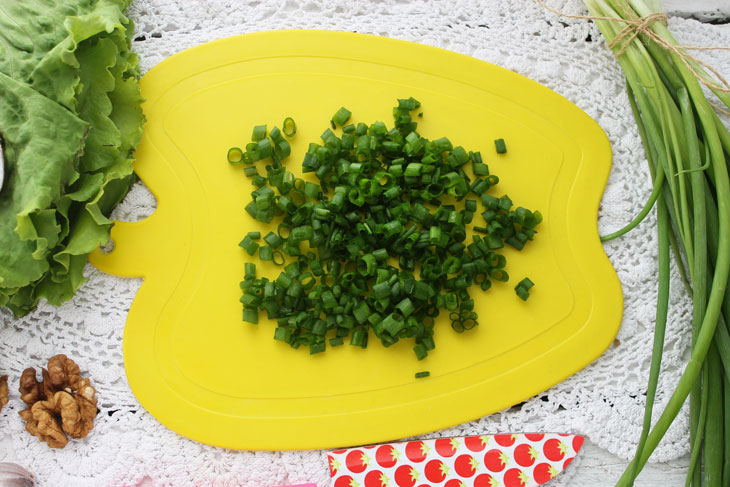 14. Next, start assembling the salad. Lay the washed and dried lettuce leaves on a flat large dish. Remove the thick parts of the leaves.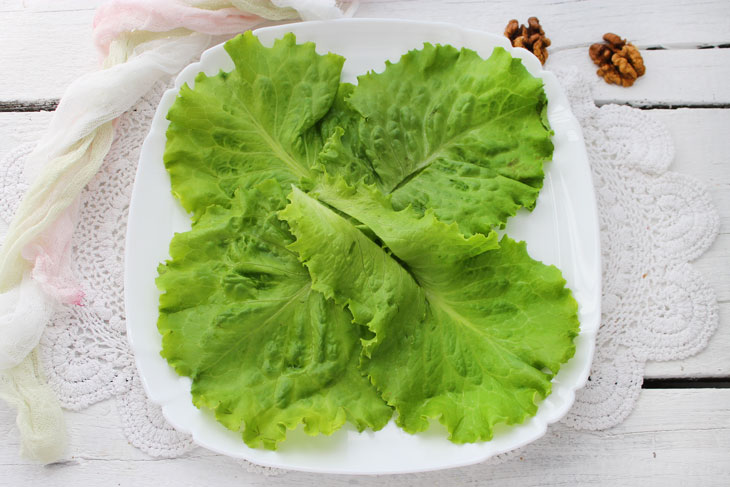 15. Arrange the roasted beef on top.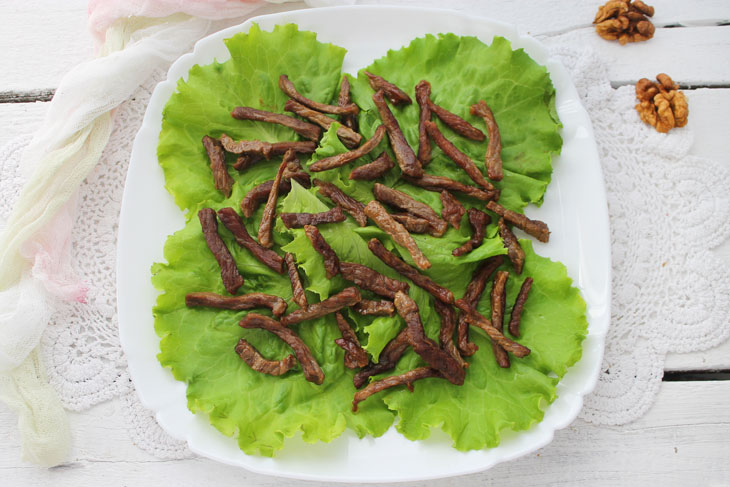 16. Next add the cucumbers.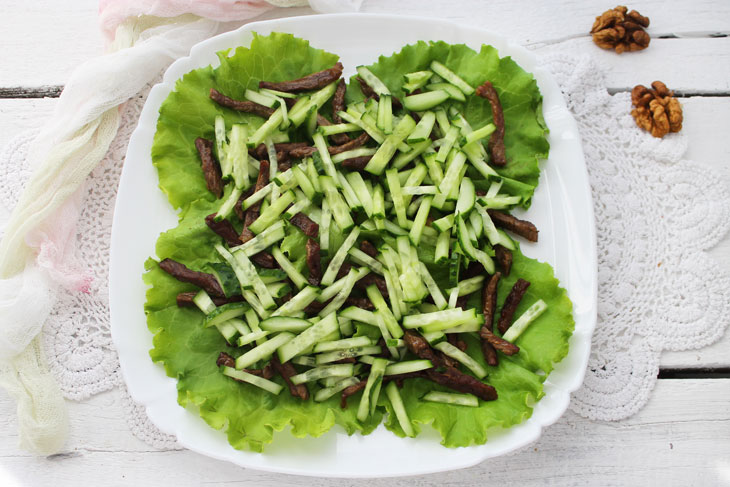 17. Sprinkle them with minced garlic.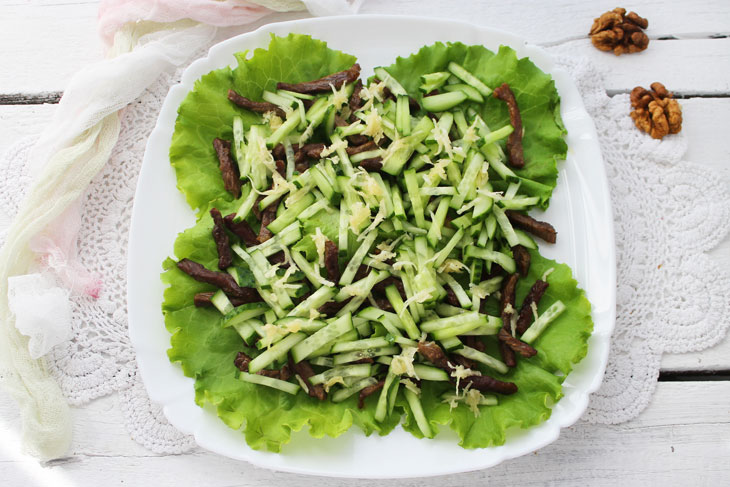 18. Cover the stacked ingredients with mayonnaise mesh.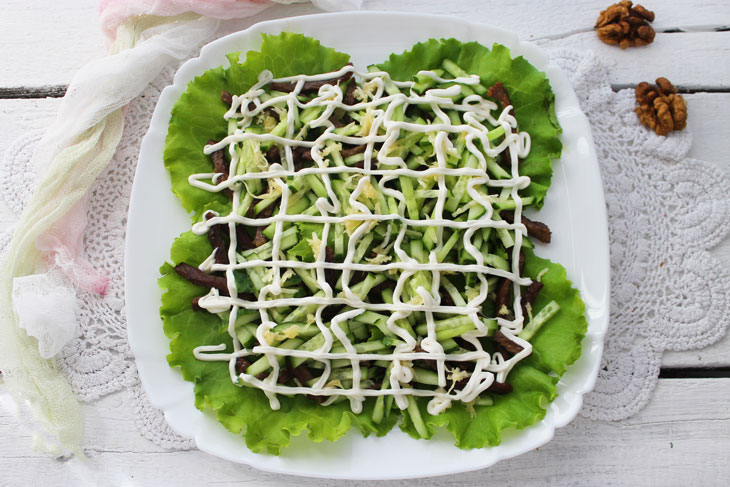 19. Then sprinkle with walnuts and green onions.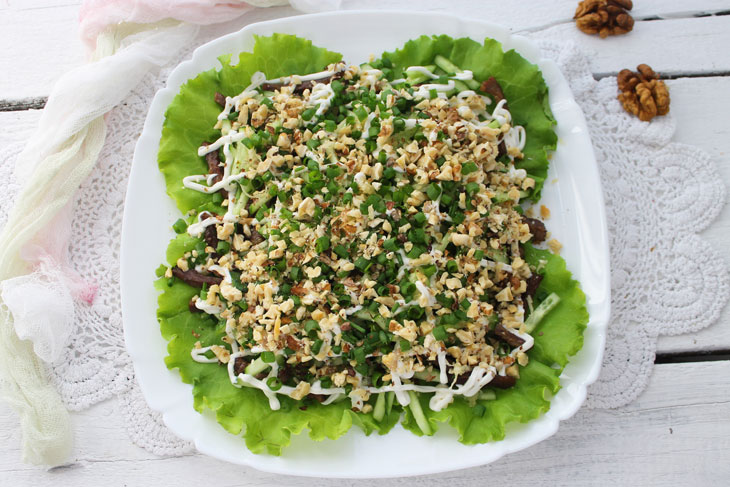 20. And the finishing touch – egg rolls.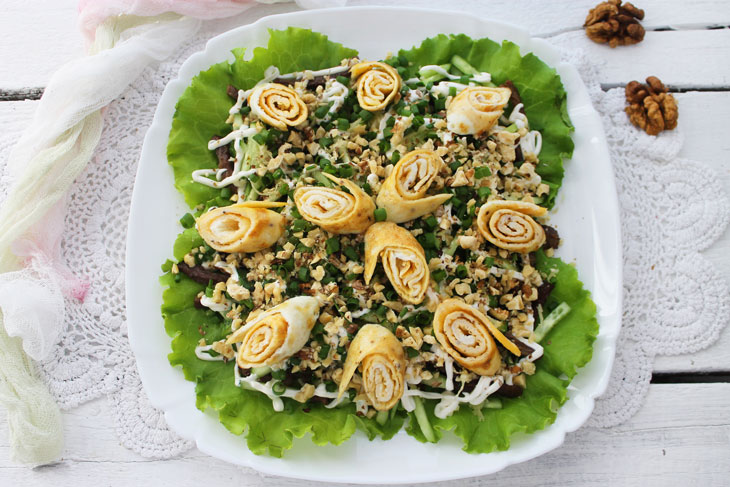 Salad "Rimsky" with beef and egg rolls is ready. Serve it on the table immediately after preparation.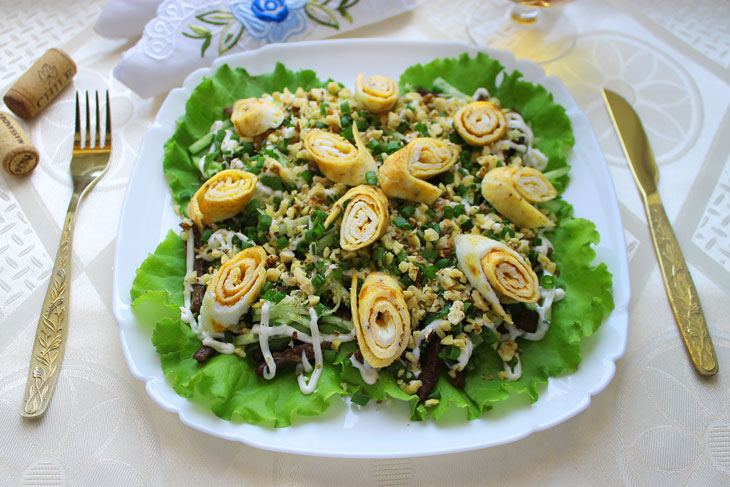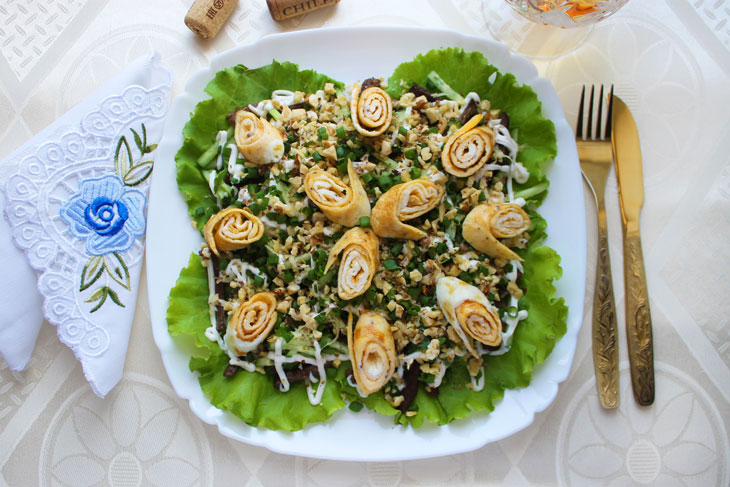 Enjoy your meal!