Anastasia salad with chicken and ham is prepared quite quickly, of course, if the meat is cooked in advance. Such a salad is a real find for the festive menu, when the list is already so long, and some culinary masterpieces require a lot of time and effort. Korean carrots can also be prepared in advance or bought ready-made – if there are trusted manufacturers.
Ingredients:
Ham – 100 g.
Chicken meat – 120 g.
Beijing cabbage – 4-5 leaves.
Korean carrots – 110 g.
Mayonnaise – 1.5 tbsp. l.
Fresh herbs – 5-6 branches.
Salt – 3 pinches.
Spices – 3 pinches.
Cooking time: 40 minutes. Servings Per Container: 2-3.
Cooking:
1. If chicken meat (fillet or thigh, drumstick) is not cooked, you need to poison it in salted water and cook for 20-25 minutes.
For a brighter taste of chicken, you can also add bay leaf, peppercorns, and clove umbrellas to the broth.
In the meantime, remove the shell from a piece of ham, cut the product into thin strips, transfer to a salad bowl.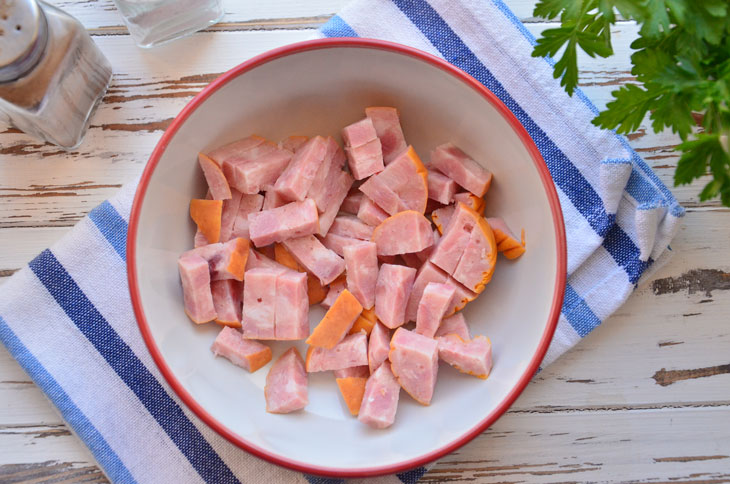 2. Cool the boiled chicken, remove all excess, cut the meat also into strips and send to the ham.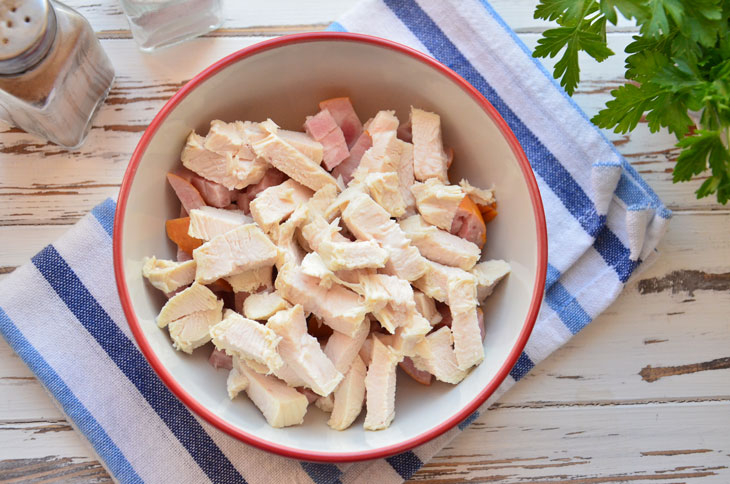 3. Wash and dry the Chinese cabbage leaves. Cut them into thin strips and add to the salad.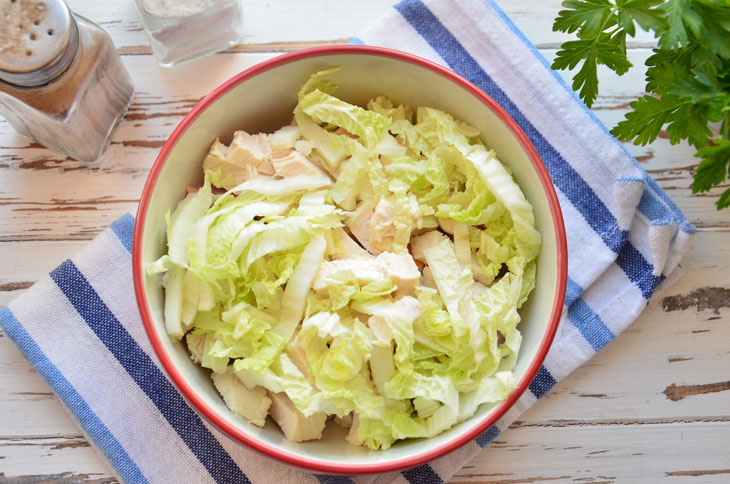 4. Measure and transfer the required amount of Korean carrots to a salad bowl.
If Korean carrots are not spicy enough, you can put a crushed clove of garlic in the salad.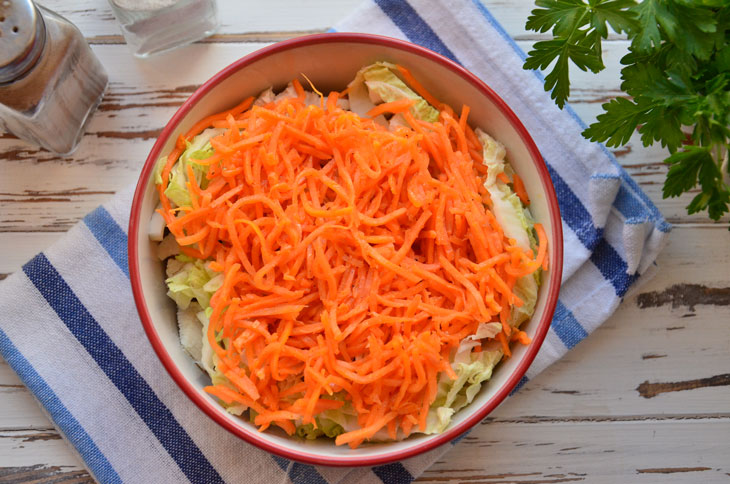 5. You can add parsley, dill, green onions to the salad. Wash the selected greens, dry with napkins. Finely chop and add lettuce. At the same time, you can season the dish with mayonnaise (or other dressing of your choice). A few pinches of salt and spices will not be superfluous.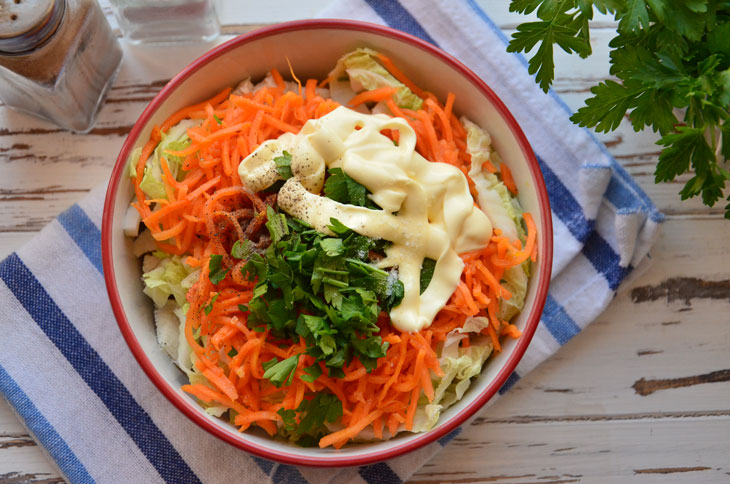 6. Stir the dish with a tablespoon, you can immediately try it – suddenly something is missing.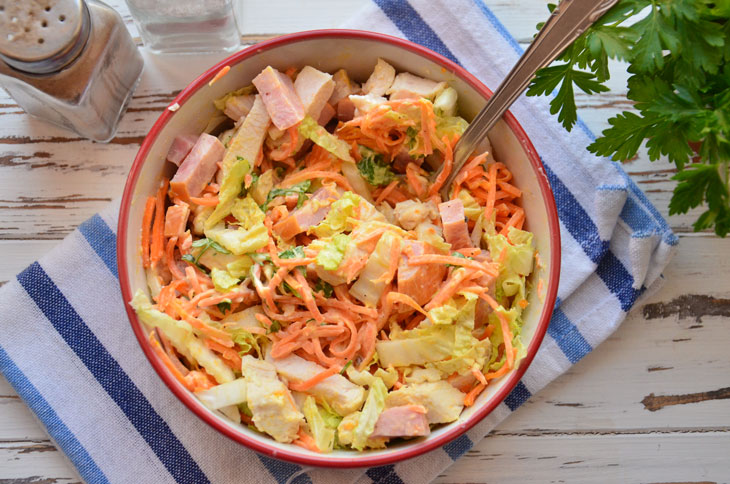 A large beautiful salad bowl is ideal for serving salad. For portion serving, you can take small bowls.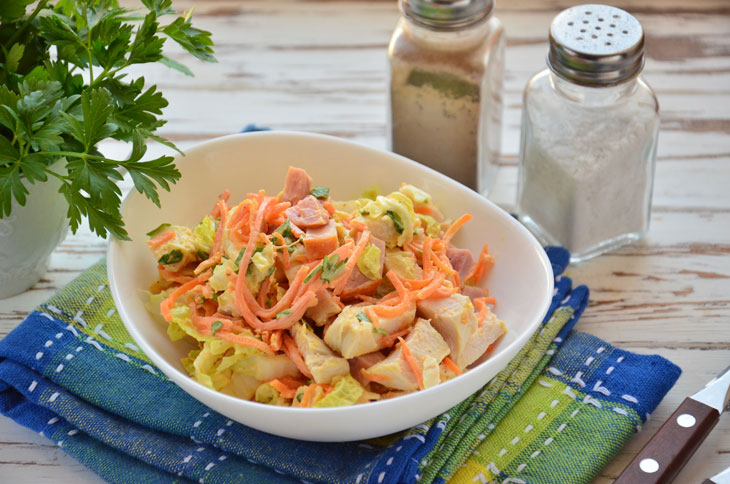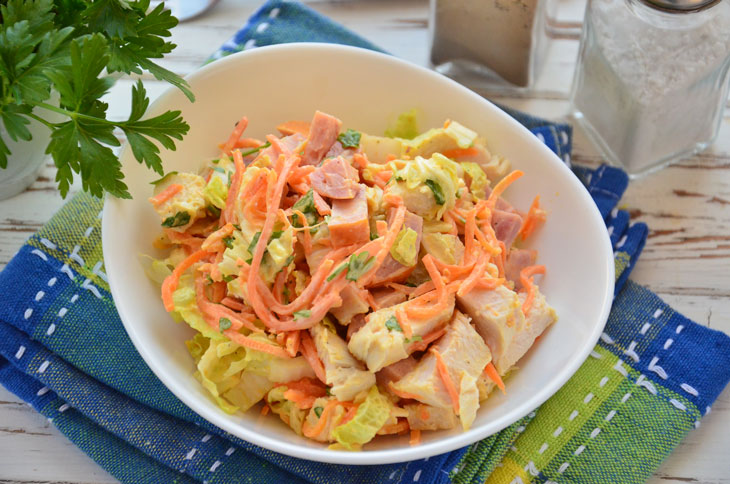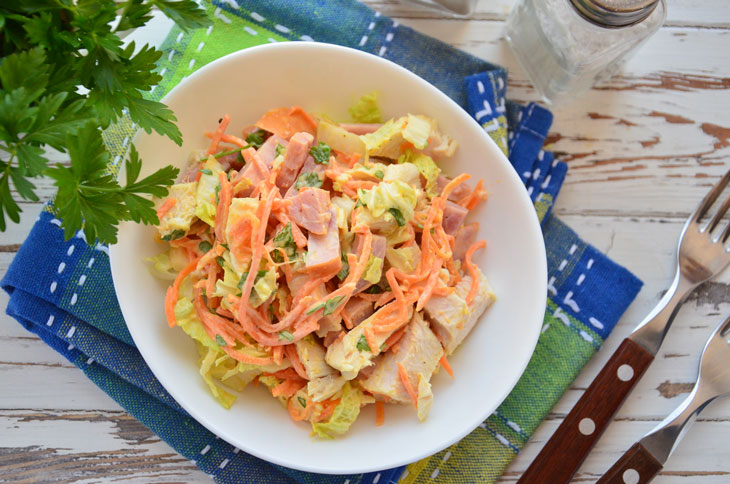 Enjoy your meal!