Salad Beloved Husband with smoked chicken and melted cheese is an original combination of ingredients, thanks to which the finished dish is quite suitable for a festive table. To get a characteristic piquant note, you can add a crushed clove of garlic to a layer of melted cheese with eggs. If you want a more delicate taste, you do not need to add garlic.
Ingredients:
Smoked chicken – 150 g.
Champignons – 6-7 pcs.
Processed cheese – 70 g.
Chicken eggs – 2 pcs.
Garlic – 1 clove (optional)
Mayonnaise – 2 tbsp. l.
Tomato – 1 pc.
Fresh herbs – 1-2 sprigs.
Cooking time: 35 minutes. Servings Per Container: 2.
Cooking:
1. First of all, boil chicken eggs in salted water. At the same time, cut the smoked chicken into small cubes – you can take a leg or fillet.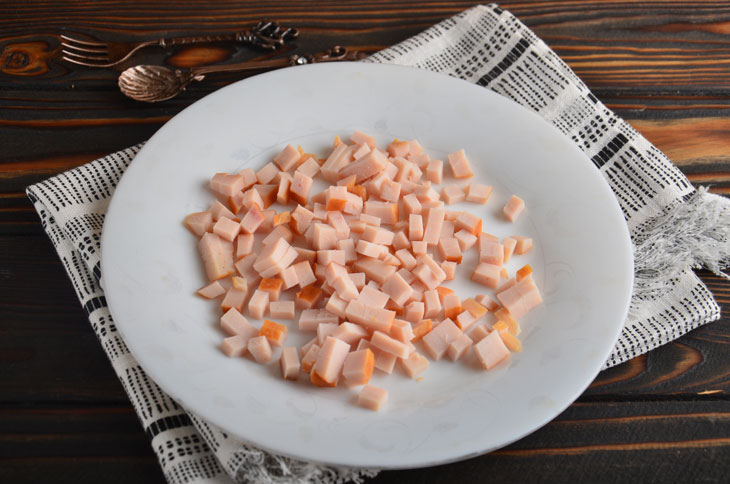 2. You can form a salad on a saucer using a cooking mold. Put the smoked chicken in the first layer, make a layer of mayonnaise.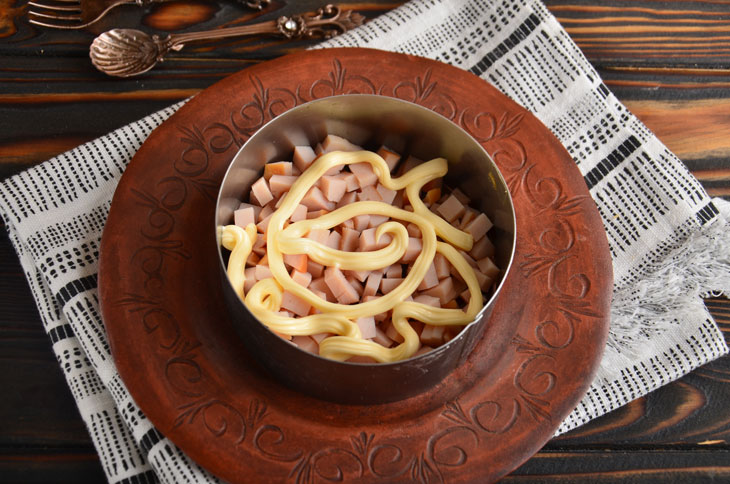 3. To prepare the mushroom layer, you need to wash and cut the mushrooms, peel and finely chop the onion.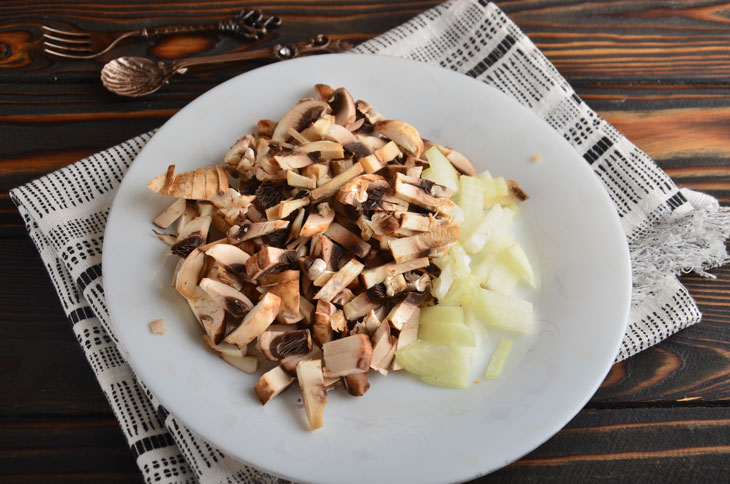 4. Fry the onion and mushrooms for 5-6 minutes over low heat, then remove from the pan and let cool slightly.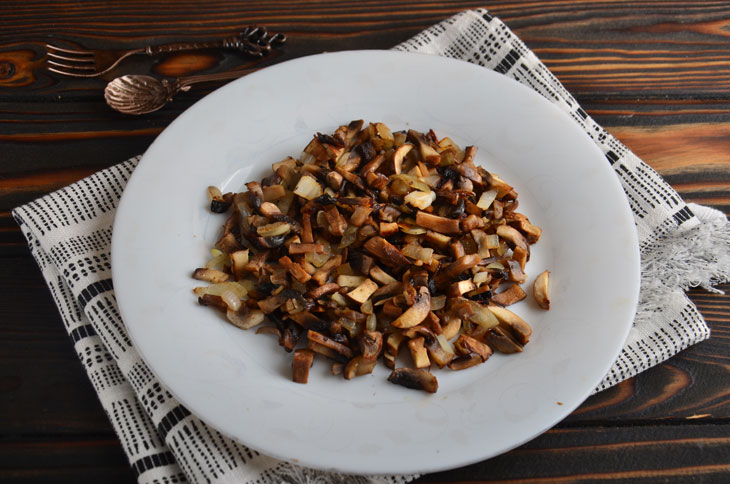 5. Grate melted cheese on a coarse grater and put in a bowl. Peel the boiled chicken eggs and grate on a fine grater, put in a bowl. Also add garlic and mayonnaise, mix.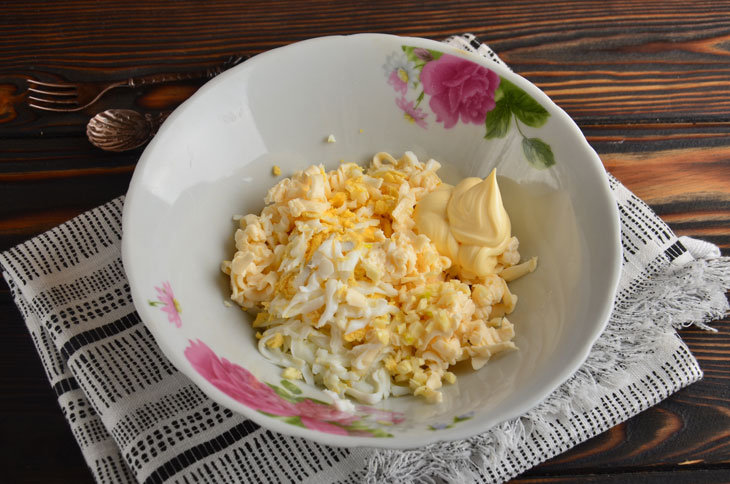 6. Put half of the cheese and egg mass on top of the layer of smoked chicken, level it.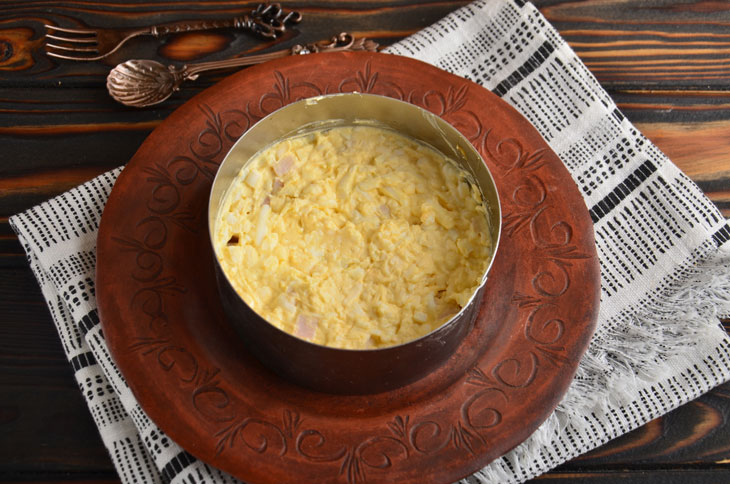 7. Put the fried mushrooms with onions in the next layer, level, tamp and brush with mayonnaise.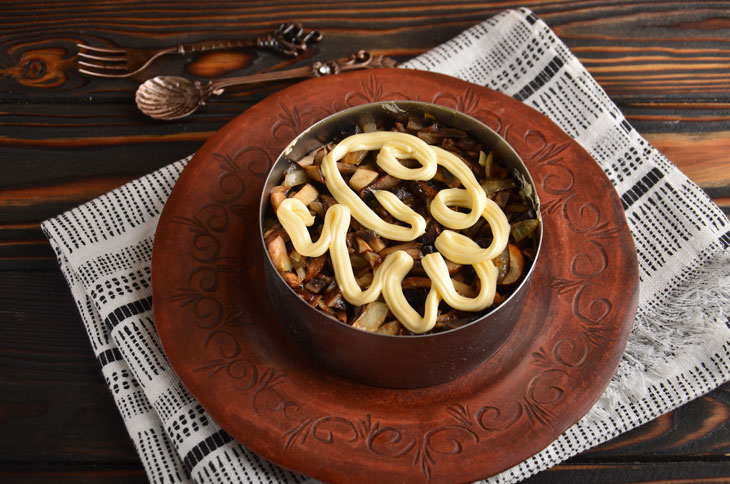 8. Next, lay out the remaining cheese and egg mass and level it.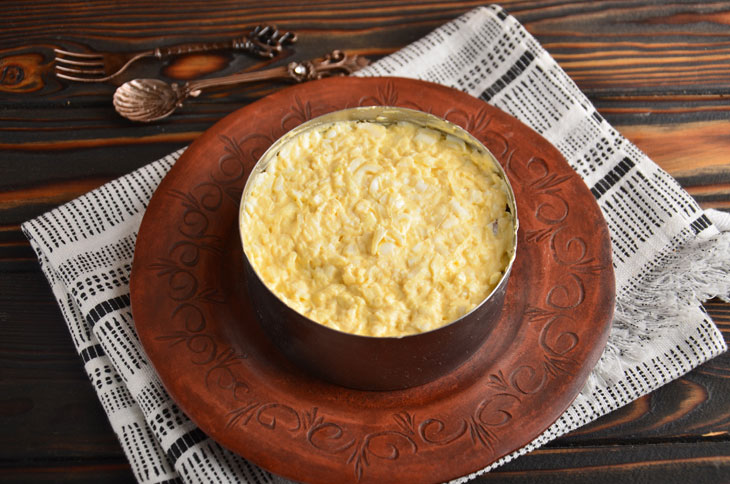 9. Let the salad stand for about an hour.
Before serving, decorate it on top with fresh tomato slices and herbs.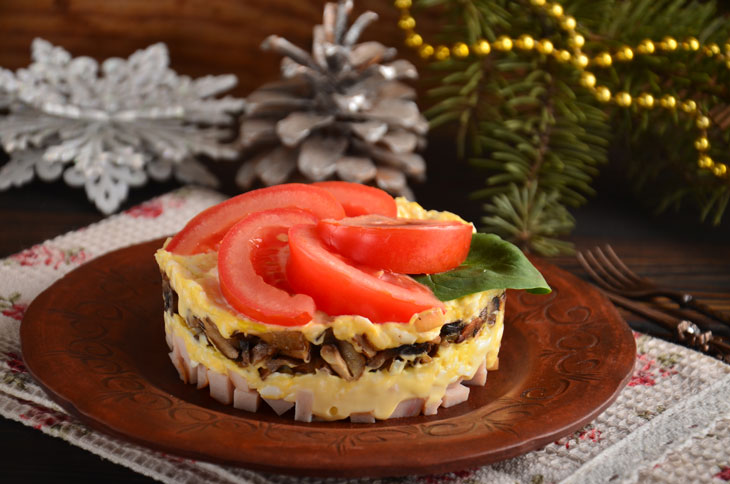 Enjoy your meal!