Salad "Boyarsky" is a very simple dish that can be safely made for lunch. If you want it to come out more satisfying, then feel free to add meat in addition to the listed products. In the classic version, it must be made exclusively from vegetables. And the big advantage of the salad is that it is not dressed with mayonnaise, so if you have a negative attitude towards this sauce and salads dressed with it, you should definitely cook the Boyarsky salad.
When choosing products in the store, it is better to take a pickled cucumber that is not too sour in taste, not like a barrel 1. The old potato will safely fit, but if only young ones are already on sale, then you can stop the choice on it. Also, the cooking time is reduced significantly if this vegetable is boiled in advance. When serving a salad, it is advisable to sprinkle it with chopped fresh herbs on top. To make it look more attractive, it is better to use a forming metal square or a ring. If there is no such device, then you can simply serve it in a beautiful bowl.
Ingredients:
Potato – 1 pc.
Onion – ¼ pcs.
Mushrooms – 100 g.
Salt – 2 pinches.
Sugar – 1 pinch.
Peppercorns – a few pcs.
Bay leaf – a few pieces.
Cucumber – 1 pc.
Canned peas – 2 tbsp. l.
Vegetable oil – 40 ml.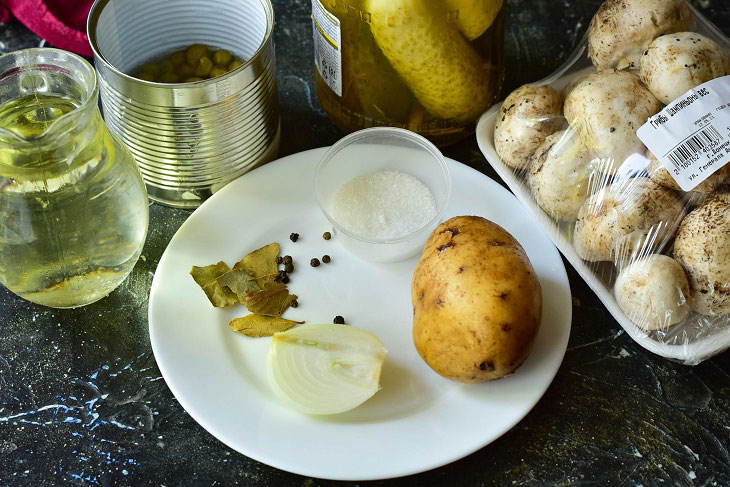 How to cook:
1. Peel the potatoes, cut them into medium pieces. Put it in a bowl of a suitable size, pour in water. Boil the vegetable for 20 minutes.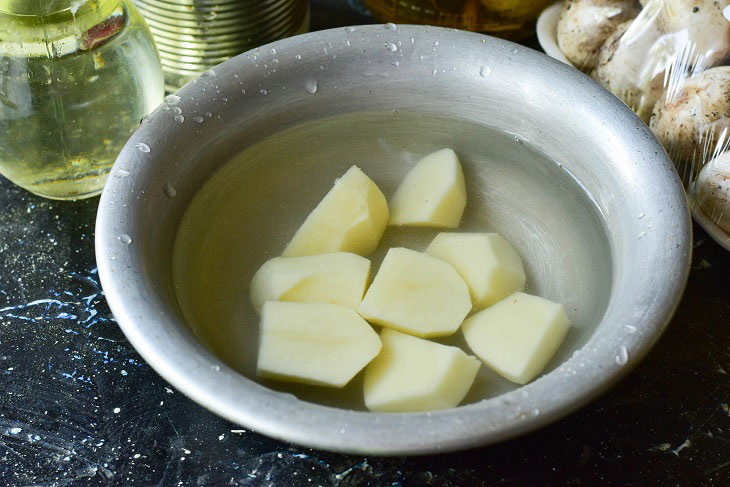 2. Pour a glass of water into another bucket, put the peeled mushrooms.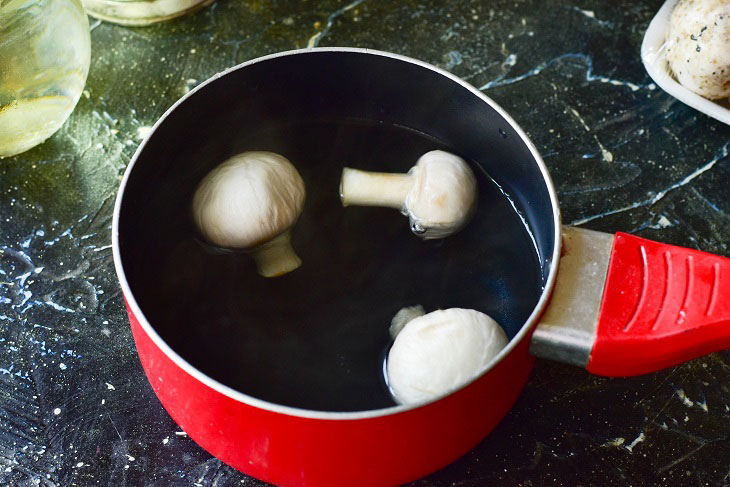 3. Add salt and sugar.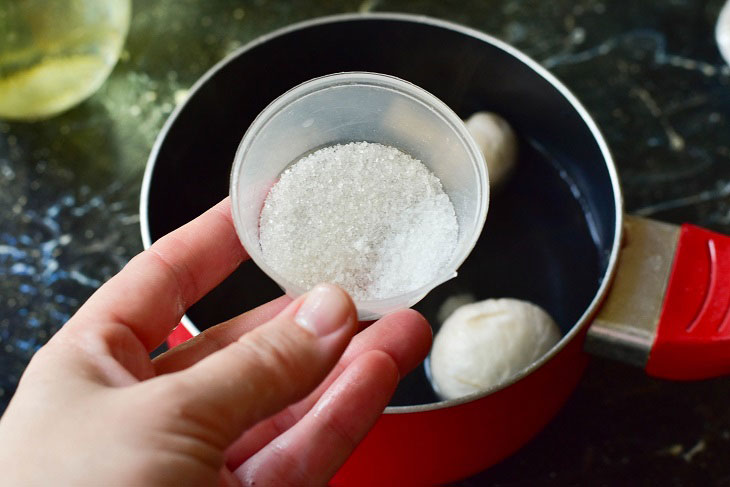 4. Pour in vegetable oil (1 tablespoon).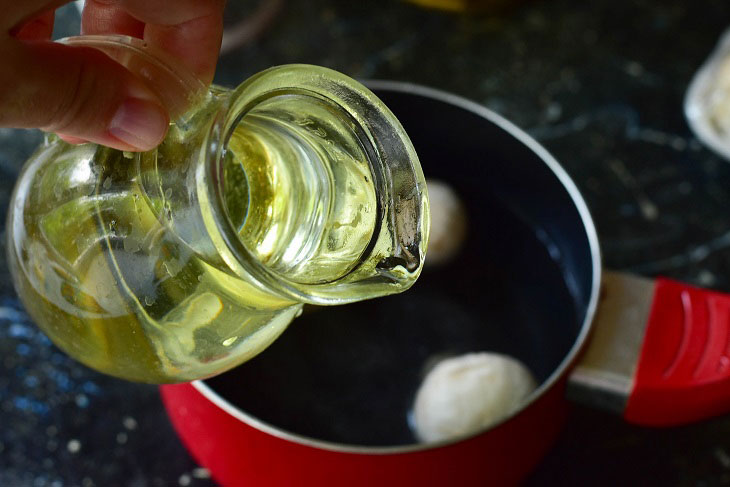 5. Spread peppercorns and parsley leaves.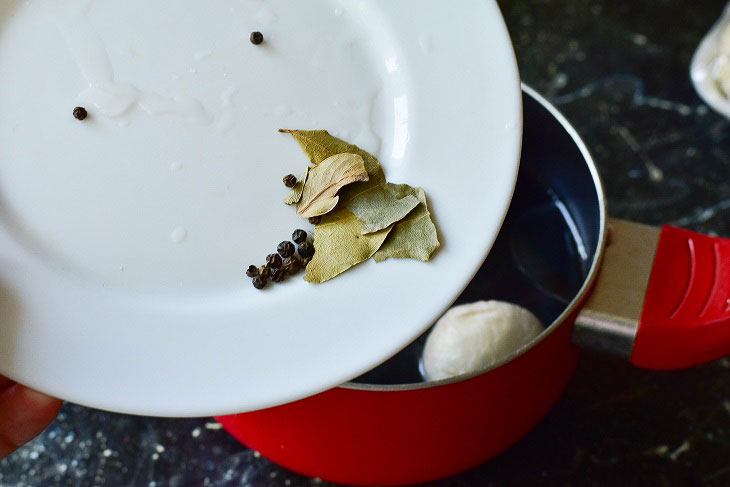 6. Pour in the vinegar. Boil mushrooms for 5-7 minutes. During this time, they will taste like marinated.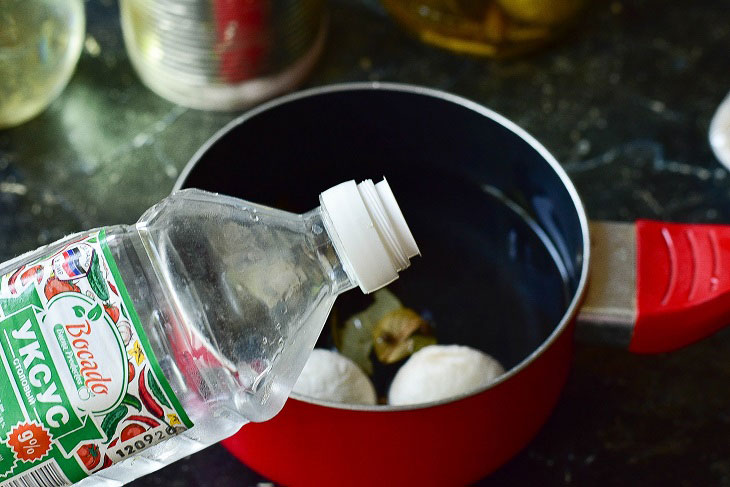 7. Finely chop the pickled cucumber and onion.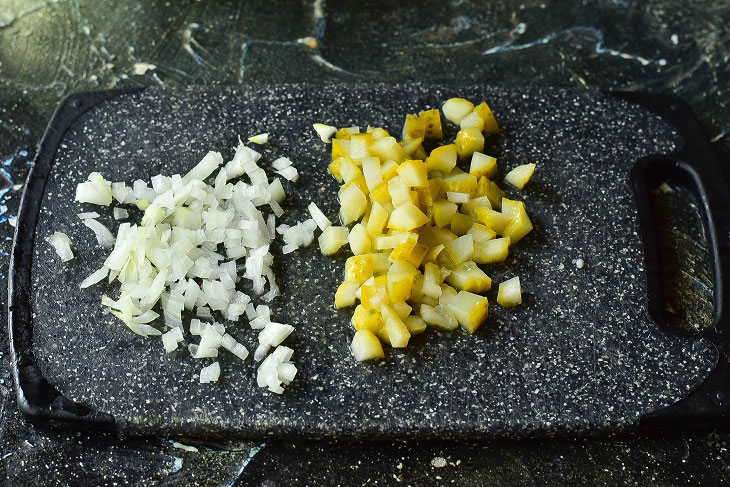 8. Put everything in a bowl and add the peas there.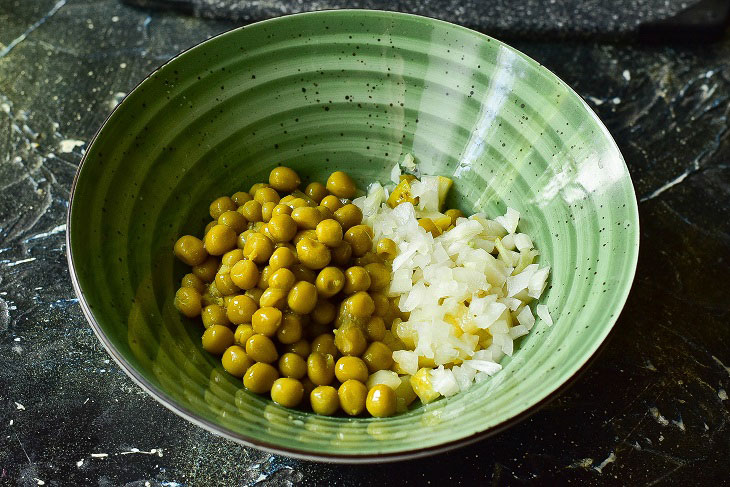 9. Now lay out the pickled mushrooms, you can pre-cut them into smaller pieces.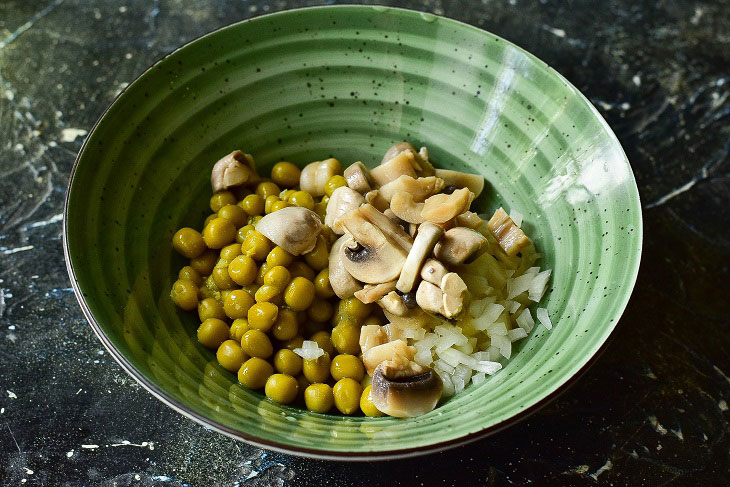 10. Cut boiled potatoes.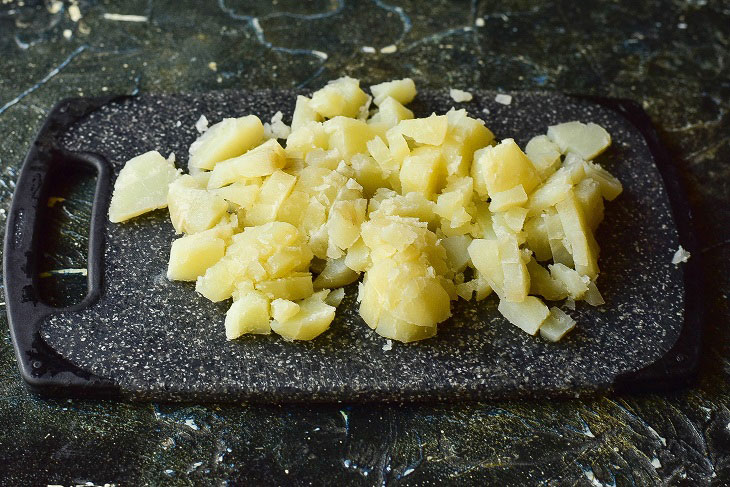 11. Send it to previous products.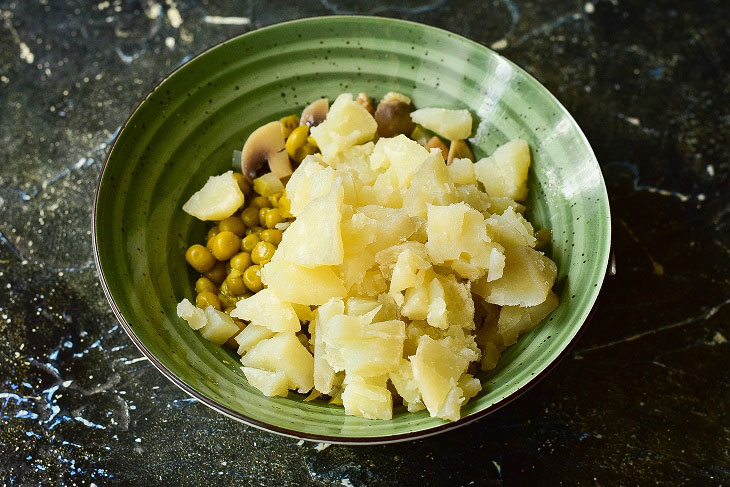 12. Pour in 1 tbsp. a spoonful of vegetable oil.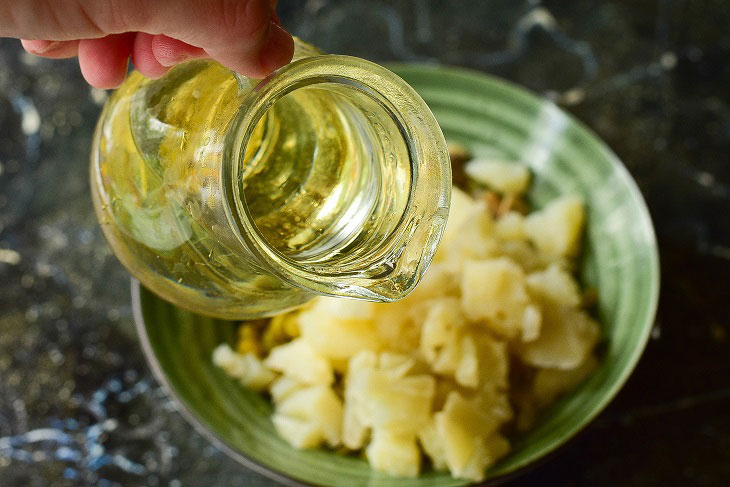 13. Now toss the lettuce and arrange it on a serving platter using a shaping ring for this purpose.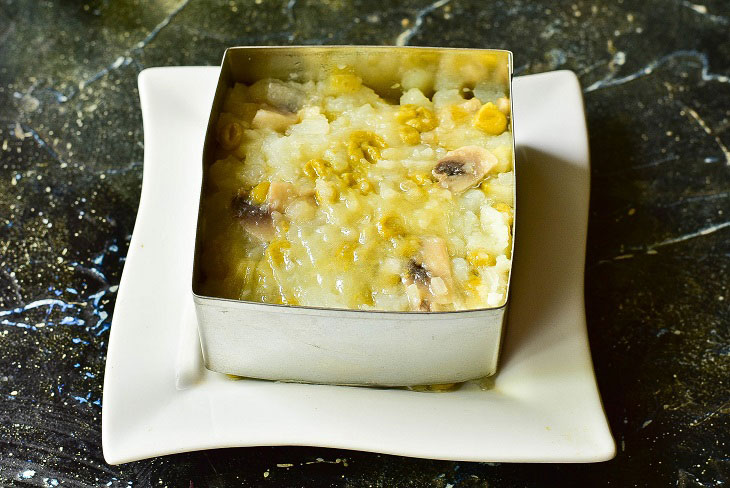 Here is such a salad "Boyarsky" came out!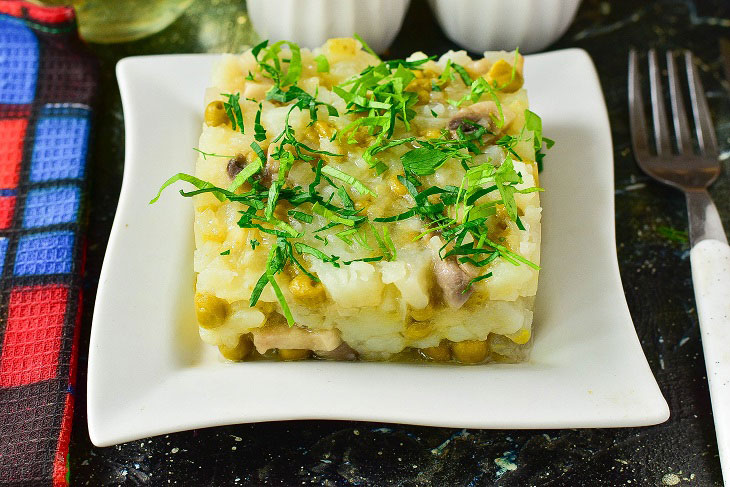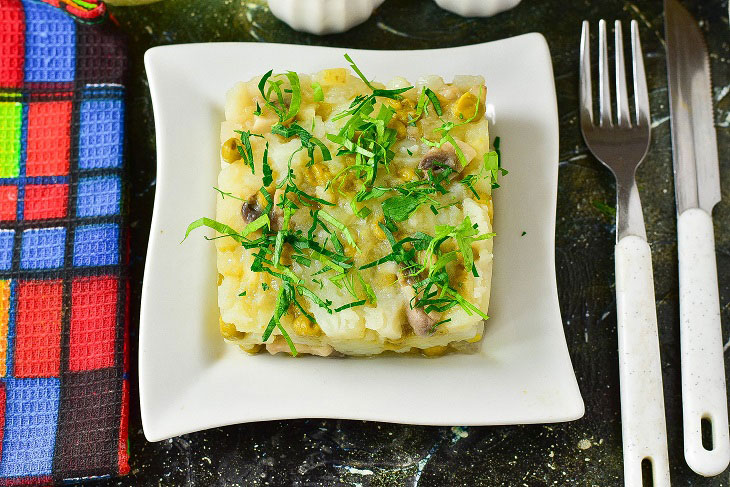 Bon appetit!