Salad "Pogrebok" is always prepared easily and quickly, since you actually just need to cut pickled cucumber, boiled potatoes and combine all this with sauerkraut and pour in oil. Indeed, this salad will help out in the event that you want to have a quick bite to eat or guests have arrived, and in the refrigerator there are only those products that are listed in the list of products below. Believe me, the salad turns out to be quite original in taste. He will help you for sure. To him, you can safely fry potatoes or boil and make mashed potatoes out of it.
There is no need to wait until the salad is soaked, which is another plus. For people who do not eat salads dressed with mayonnaise, this salad is also boldly suitable. Therefore, do not pass by this unusual recipe, but immediately start cooking it.
Ingredients:
Sauerkraut ready-made – 200 g.
Onion – 1 pc.
Salt, pepper – to taste.
Pickled cucumber – 1-2 pcs.
Jacket boiled potatoes – 1 pc.
Vegetable oil – 1-1.5 tbsp. l.
How to cook:
1. So, first of all, open the plastic container with the cabbage, mix it and put it neatly in a deep bowl in which you will serve the salad to the table.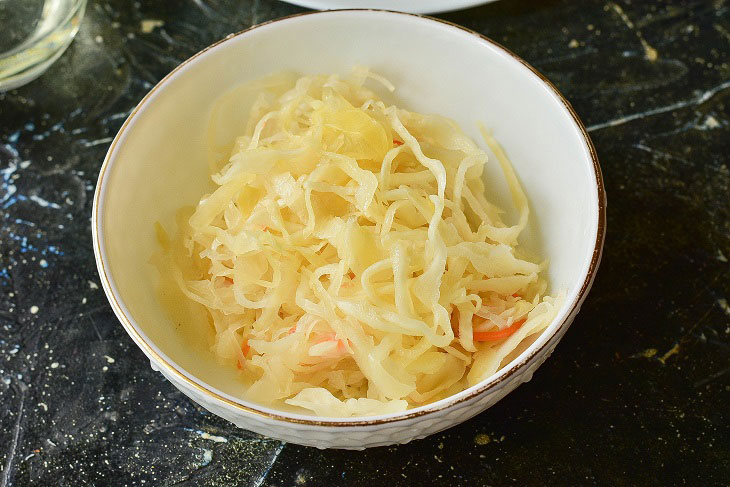 2. Now peel the onion. Cut it into thin half rings.
If you wish, then you can pre-pickle the onion, but this is not necessary, since it will soak and so well with all other products when vegetable oil is added. Yes, and in sauerkraut there is the necessary amount of vinegar.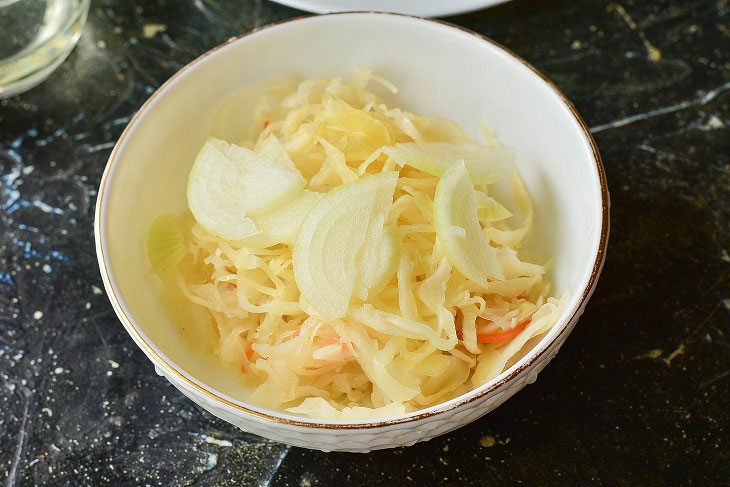 3. Now cut the pickled cucumber. Note that it should not be too sour in taste. Although, if you like barrel cucumbers, then you can add any vegetable to the salad. Put it to the onion and cabbage in a bowl.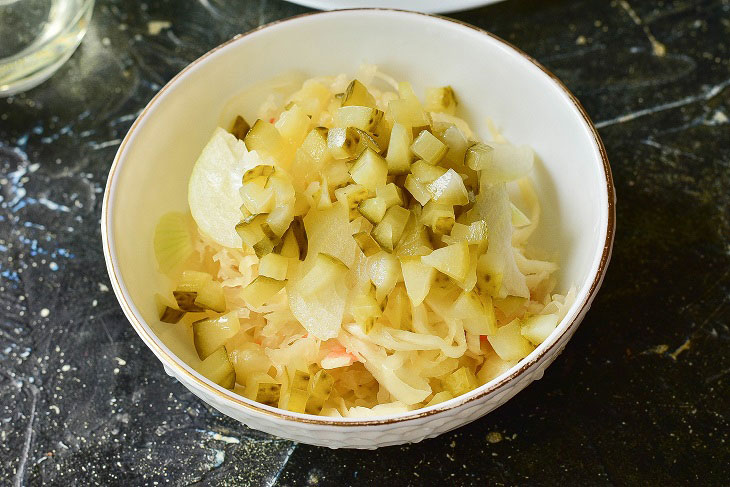 4. Peel the boiled potatoes, cut into cubes of the same size as the cucumber. Send the vegetable to the previous ingredients.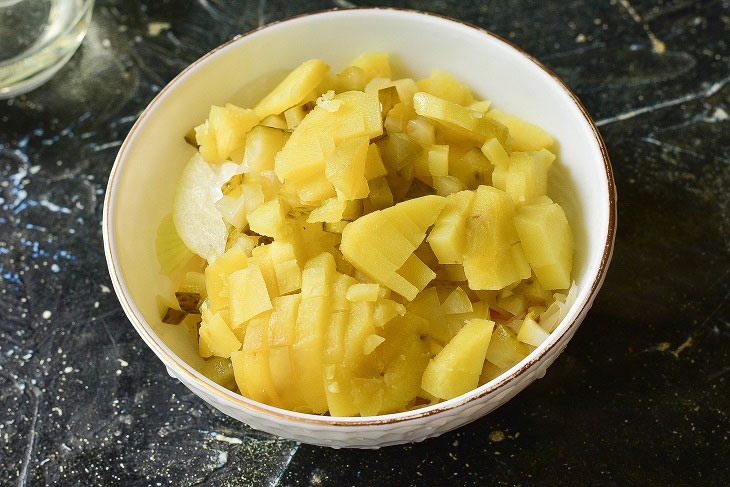 5. Pour in vegetable oil.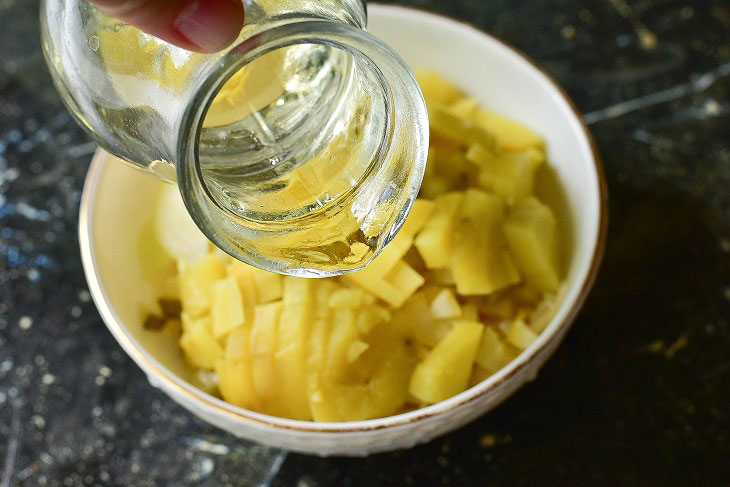 6. Add salt and pepper.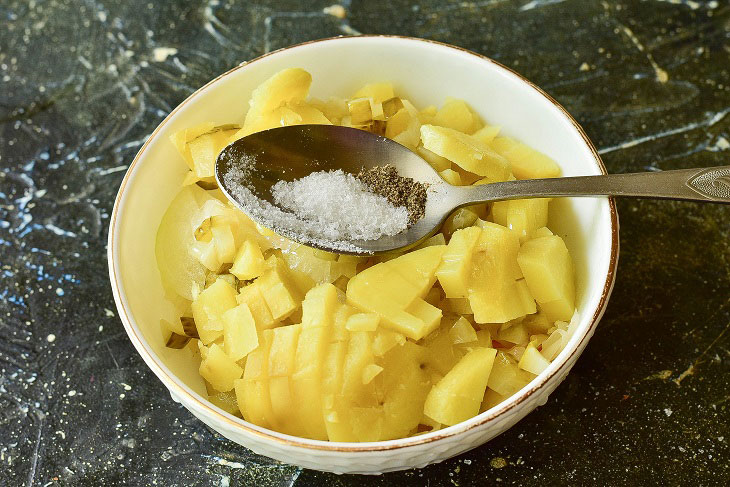 7. Very well, using a regular tablespoon, mix all the ingredients.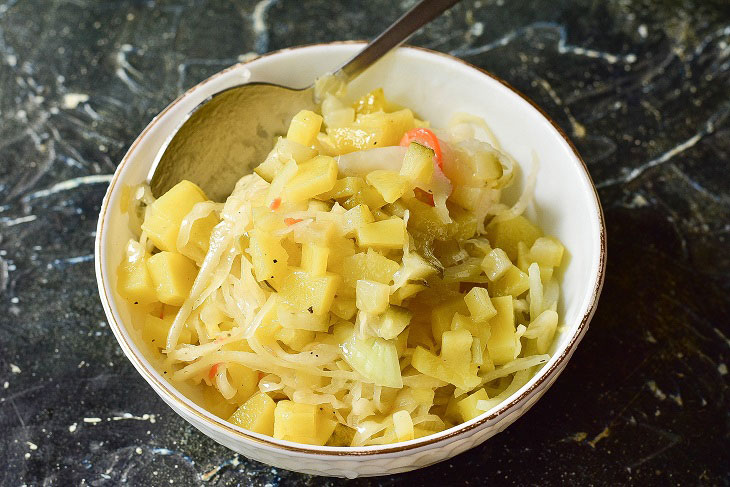 Serve the finished salad "Cellar" boldly to the table. As mentioned above, it really cooks in minutes. The only thing is that it is advisable to boil the potatoes in advance so that during the cooking process you do not spend extra time on this.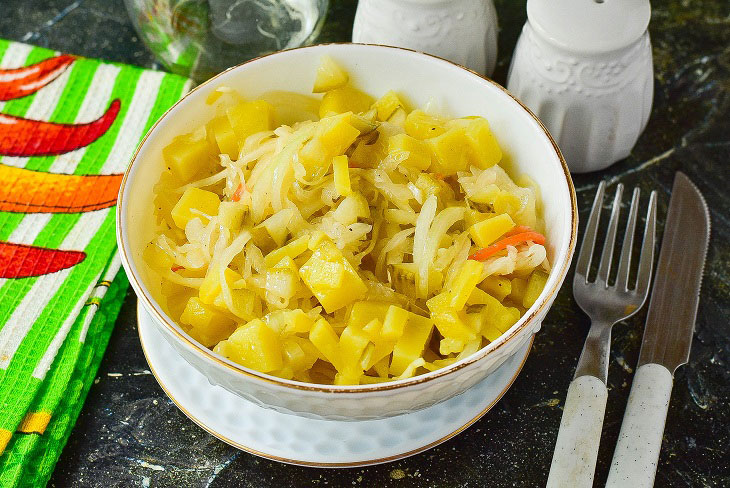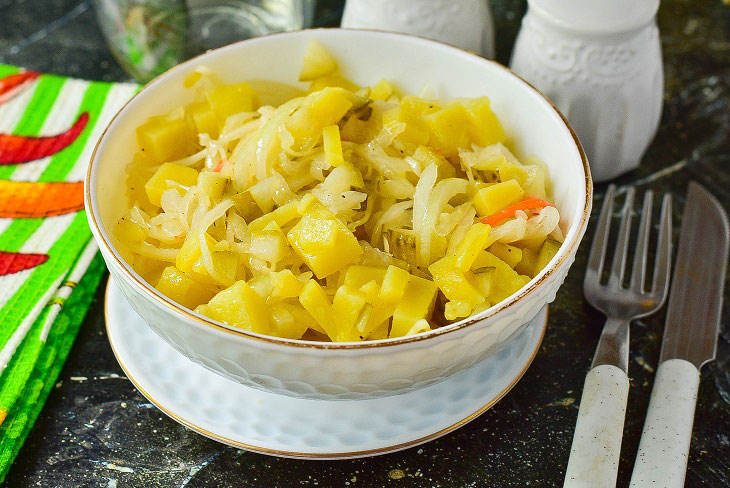 Bon appetit!