Salad "Chicken Tenderness" is such a delicious salad that it can't be expressed in words. For cooking, you can use the forming ring – then the dish will turn out beautiful and elegant. Therefore, if some kind of holiday is planned, it is worth preparing it boldly. Guests will definitely appreciate it and, most likely, will recognize its recipe.
The most important ingredient in this salad, due to which it comes out quite satisfying, is chicken fillet. Therefore, ideally, purchase home-made meat, well, and if this is not possible, then store-bought meat is also suitable. In order not to spend a lot of time preparing the salad, the meat must be boiled in advance. The broth that remains from it can be used to make sauce for pasta.
Ingredients:
Chicken breast – 1 pc.
Carrot – 1 pc.
Chicken egg – 3 pcs.
Sausage or regular cheese – 40 g.
Garlic – 1 clove.
Salt – to taste.
Ground black pepper – to taste.
Mayonnaise with any percentage of fat content – 40 g.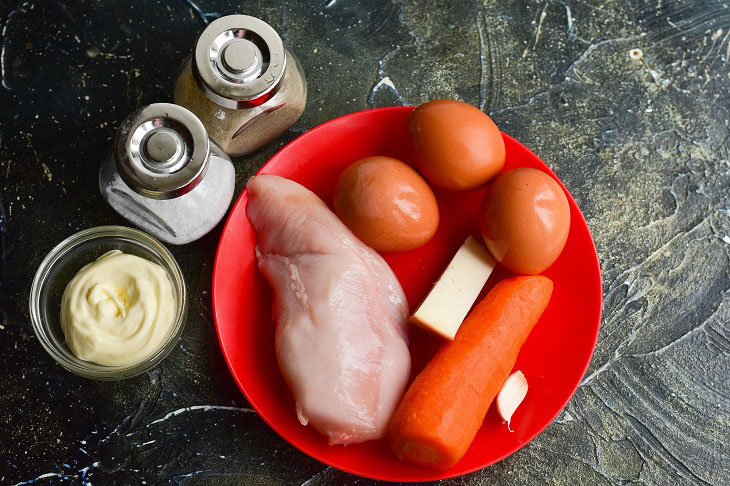 How to cook:
1. Put the chicken fillet in a ladle or a deep metal bowl. Fill it with water. Boil for 30 minutes, you can add a pinch of salt, peppercorns, bay leaf to the water. These ingredients are optional.
Now cut the finished meat into cubes and put it immediately into the shaping ring, which you install on the dish on which you will serve the finished salad to the table. Lubricate with mayonnaise and continue this procedure too. Squeeze the garlic through a press.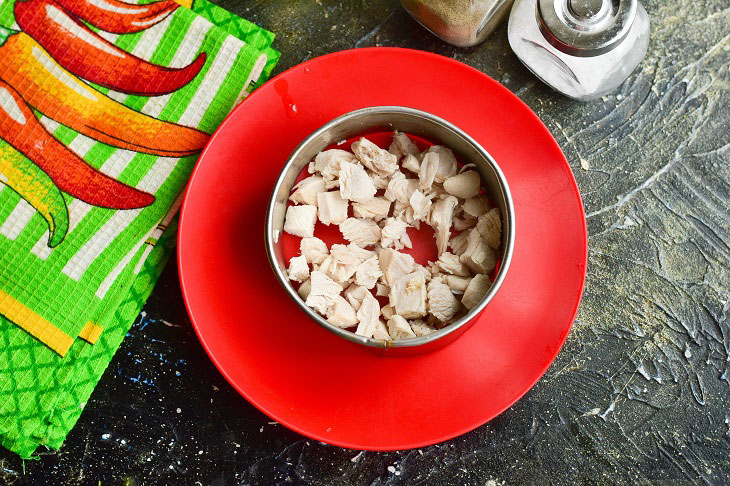 2. Now boil chicken eggs for 7 minutes. Be sure to cool them, clean, very carefully separate the protein from the yolk. Grate the boiled protein on a grater, put the next layer on the meat.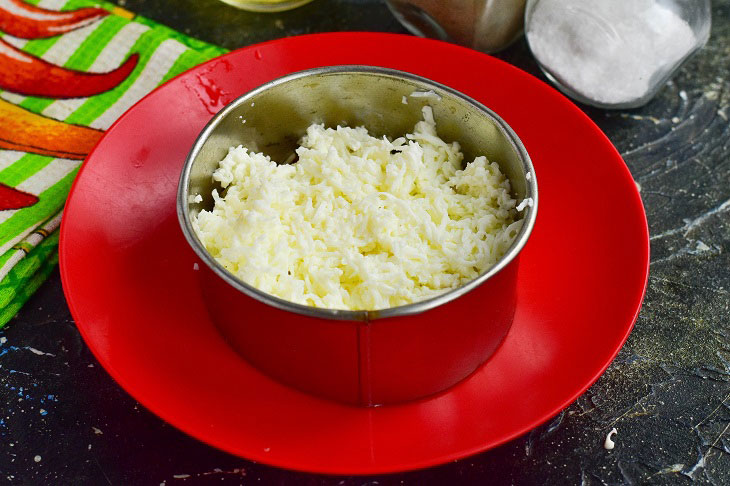 3. Now boil the carrots. Time – 20-30 minutes. Check readiness with a knife. The vegetable should be soft. Grate it too on a fine grater.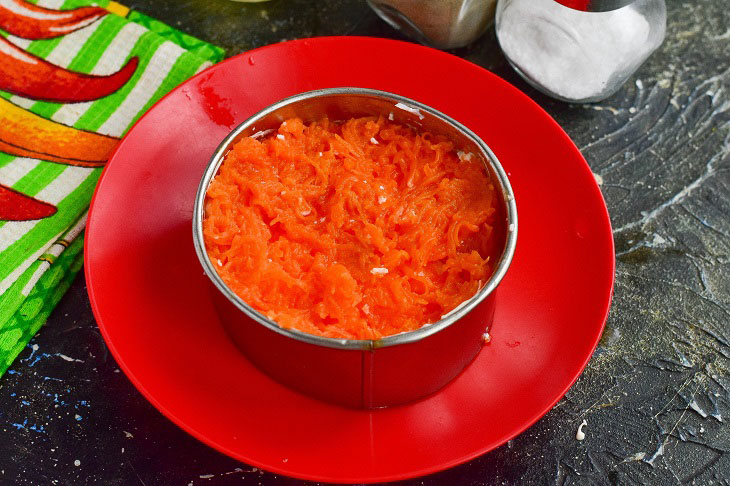 4. Cut the smoked cheese into small cubes. Put it on top of the carrots.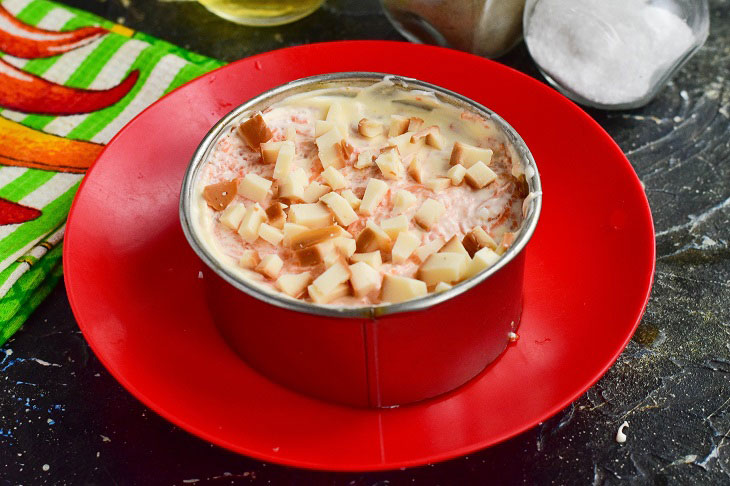 5. Grate the chicken yolks on a fine grater as well. Lay them out as a final layer and very carefully remove the forming ring. The yolks do not need to be lubricated.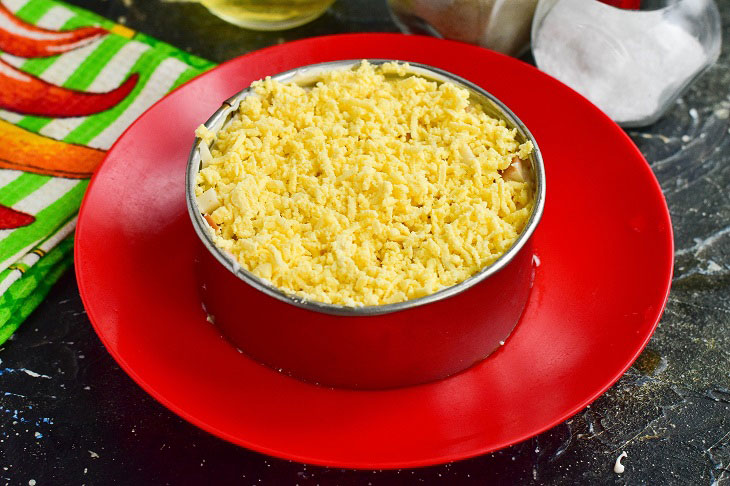 6. Garnish the Chicken Tenderness salad with a sprig of dill or a parsley leaf. Serve it immediately to the festive table.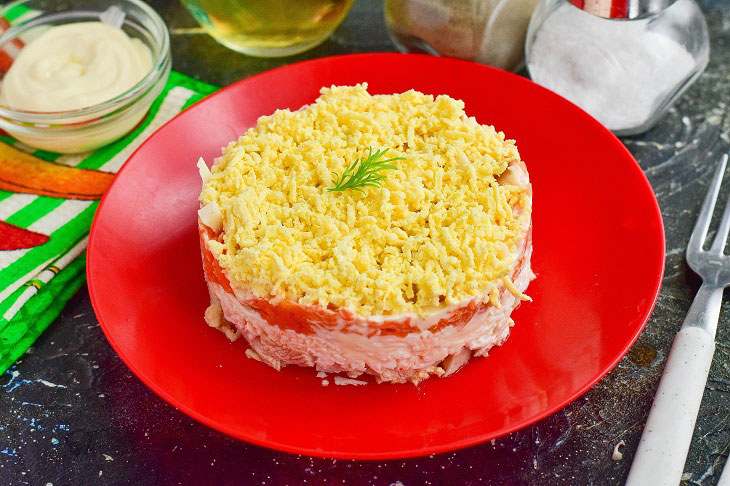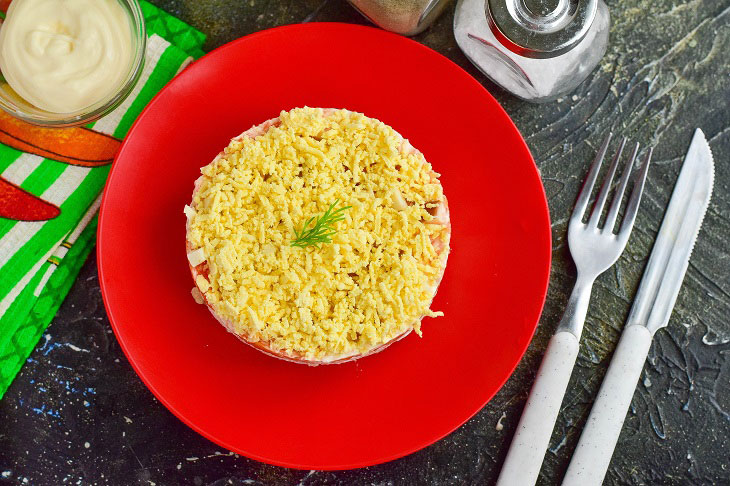 Enjoy your meal!