Despite the loud name, there are no frills and gourmet foods in the salad. It is somewhat reminiscent of the popular beetroot appetizer with prunes, nuts and garlic. Only the taste is softer, more refined, without sharp notes and contrasts. Instead of garlic, sweet and sour pickled onions are added, and boiled potatoes and hard-boiled eggs are added to soften the taste. In order for the salad to have a presentable appearance, it is recommended not to mix the chopped products, but to make it puff.
And it is better to serve it in portions, putting it in transparent glass salad bowls and sprinkling the top with bright beet chips, grated yolk and chopped nuts.
Ingredients:
Beets – 2 small root crops.
Potatoes – 3-4 tubers.
Eggs – 2 pcs.
Onion – 1 head.
Prunes – 8-10 pcs.
Walnuts – 4-5 pcs.
Mayonnaise – to taste.
Apple cider vinegar 6% – 1 tbsp. l.
Sugar – 2 pinches.
Salt – to taste.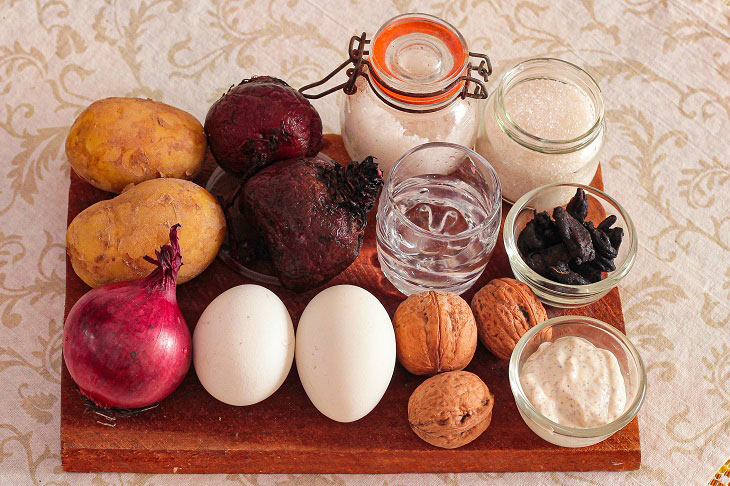 How to cook:
1. Boil the beets for a couple or in water until tender. Small root vegetables are boiled for about an hour, larger beets up to an hour and a half.
We check the readiness with a fork – if the teeth easily enter the pulp up to half – the beets are cooked.
Cool to room temperature, clean. We cut the potatoes into large pieces, cook in salted boiling water for 20-25 minutes. Let's cool down. We cook hard-boiled eggs.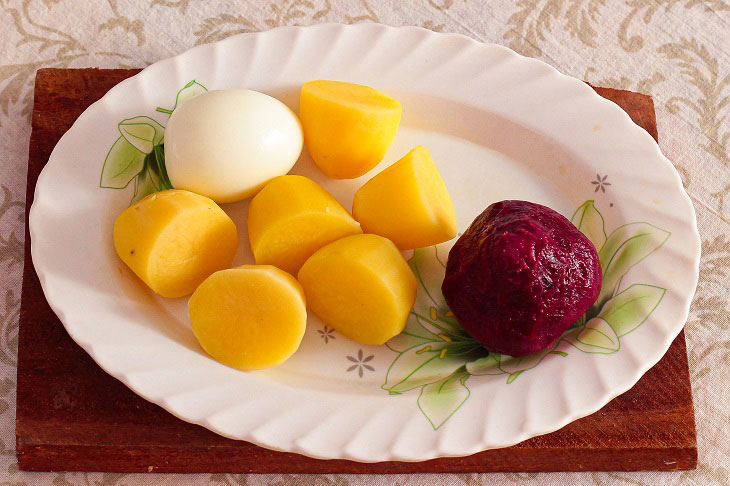 2. Cut the onion into a cube, put it in a bowl. Add two pinches of salt and sugar, pour vinegar. Stir and let marinate for ten minutes.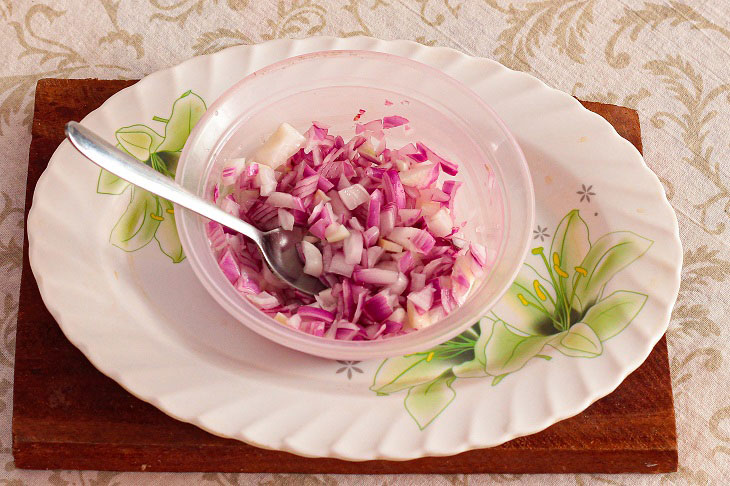 3. Immediately prepare the dishes in which we will serve the appetizer: portioned salad bowls, bowls or a large salad bowl. Lay the diced potatoes on the bottom. Lubricate with mayonnaise.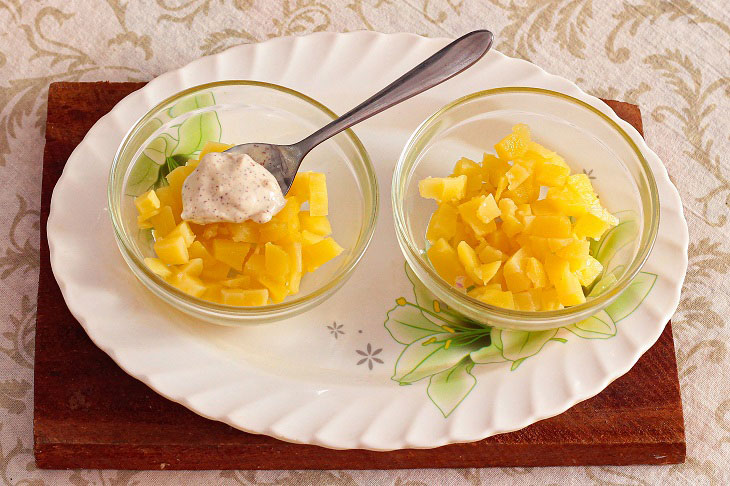 4. Next, we form a layer of pickled onions, leveling and slightly pressing it.
Mayonnaise is not necessary, due to the marinade, onion slices are juicy.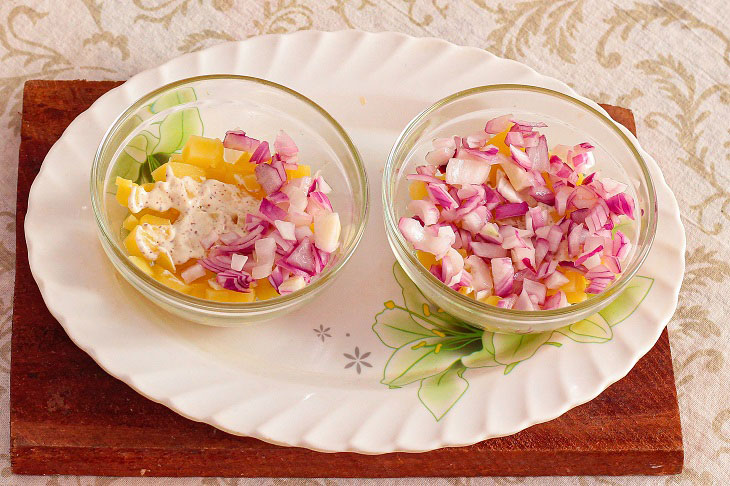 5. Three beets through a coarse grater with short straws. Spread half on the onion, coat with mayonnaise.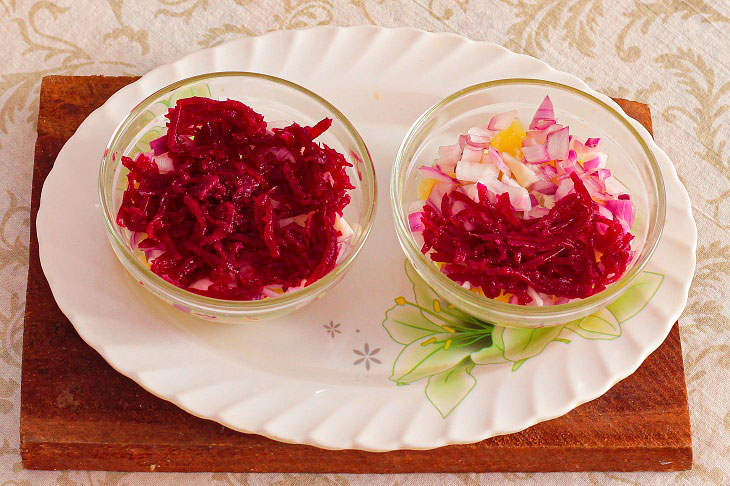 7. Cut the eggs into a small cube. Set aside a little yolk to decorate the salad. We spread the chopped eggs on the beetroot layer, grease with mayonnaise.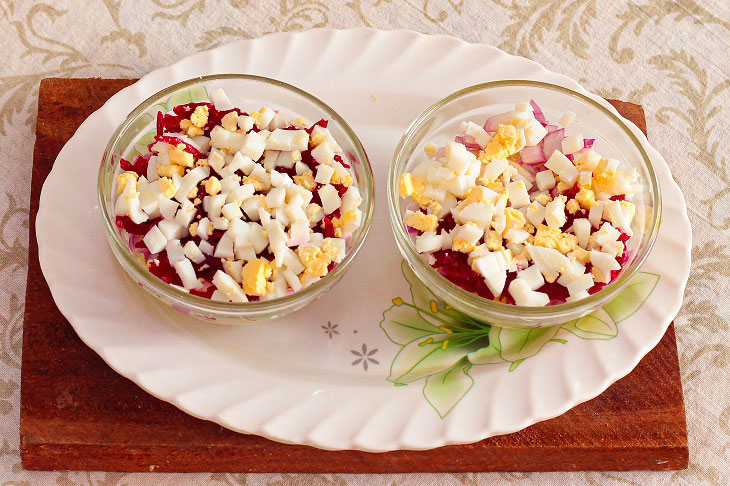 8. Soft pitted prunes cut into strips. Solid soak in boiling water, rinse under cold water. After drying, cut into strips and spread on the egg layer. Scatter the remaining beets on top. The top does not need to be oiled.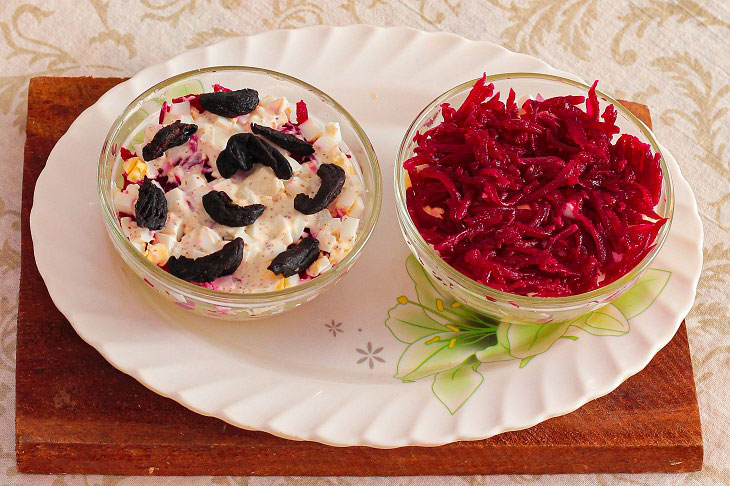 9. Let the salad brew for one to two hours. Before serving, decorate with chopped walnut kernels and crumbled yolk.
Serve beetroot salad slightly chilled.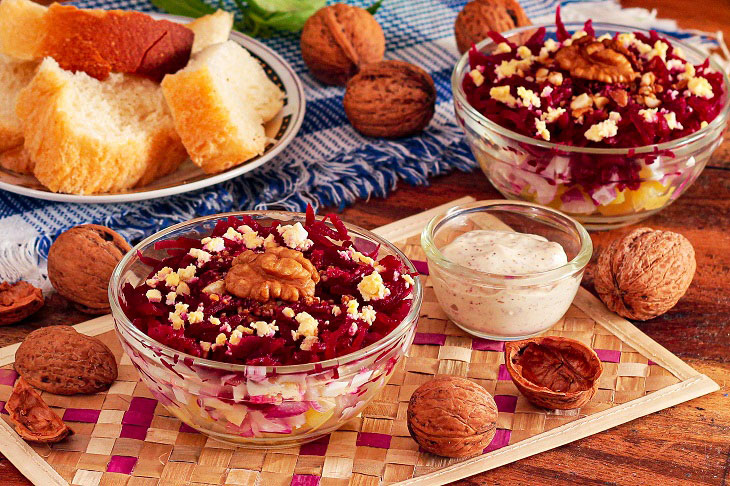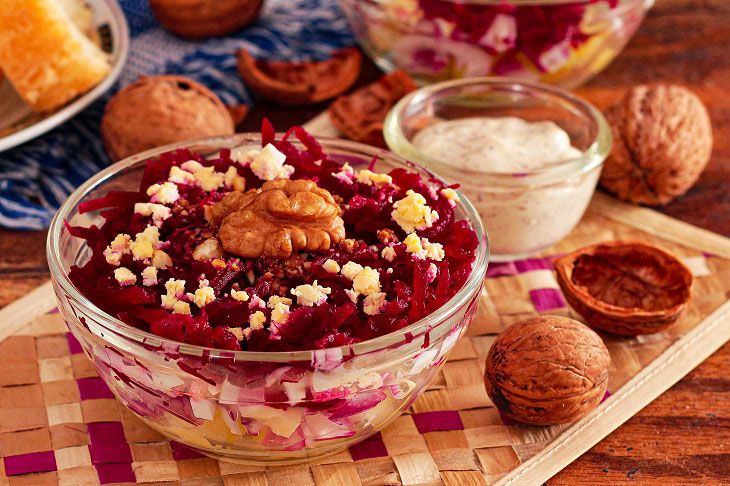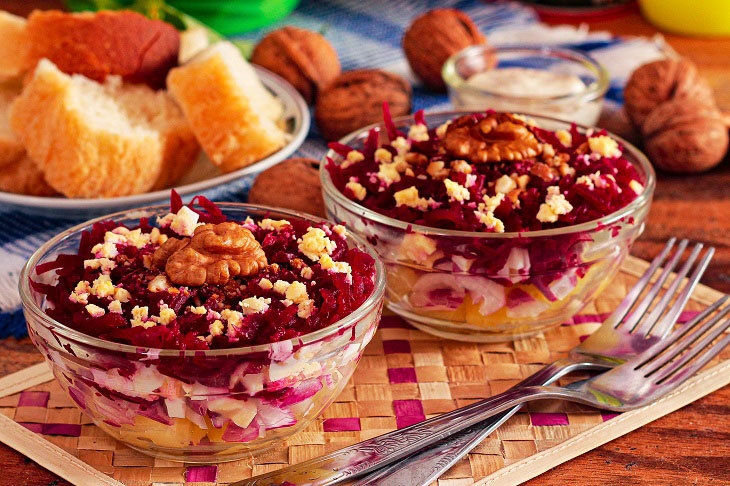 Enjoy your meal!