Elegant and bright puff salad "Firewood on the Grass" will be a decoration on any table.
Crispy croutons go well with ham, green peas and pickled cucumbers, giving the salad an original taste.
It is worth noting that for the preparation of this dish you can use any crackers – wheat or rye (it all depends on your taste). By the way, you can easily cook them yourself by drying a loaf or bread cut into small pieces in the oven, seasoning it with spices and olive oil. Be sure to choose good quality ham for salad, since it largely depends on it how tasty the finished dish will be.
Ingredients:
Ham – 300 g.
Croutons – 50-100 g.
Eggs – 5 pcs.
Green peas – 1 jar.
Pickled cucumbers – 250 g.
Green onions and dill – ¼ bunch each.
Mayonnaise – 100-150 g.
How to cook:
1. Cut the ham into small cubes, put in the form of the first layer of lettuce. Lubricate the ham with mayonnaise.
Salad can be formed using one large form, or laid out in layers in portions (using small lettuce tins).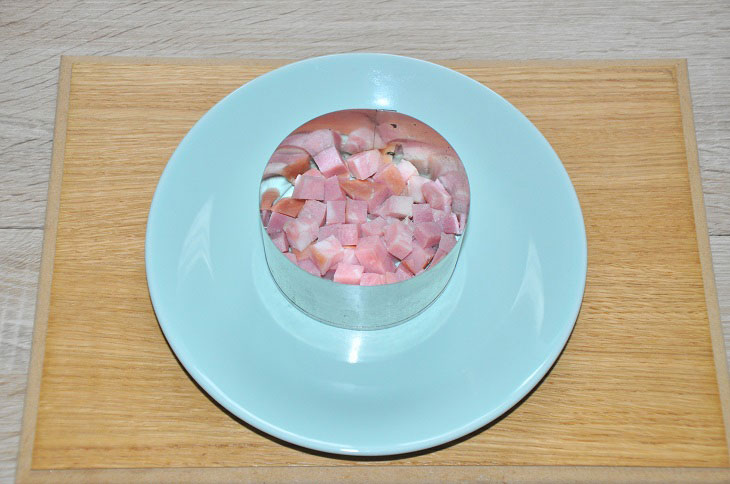 2. Next, cut the pickled cucumbers into small pieces and lay them out in the next layer.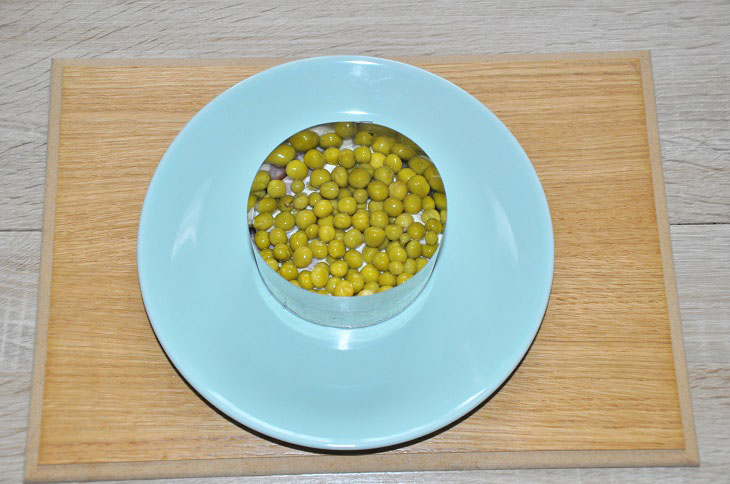 3. On top of the cucumbers, evenly distribute canned peas, then grease it with a small layer of mayonnaise.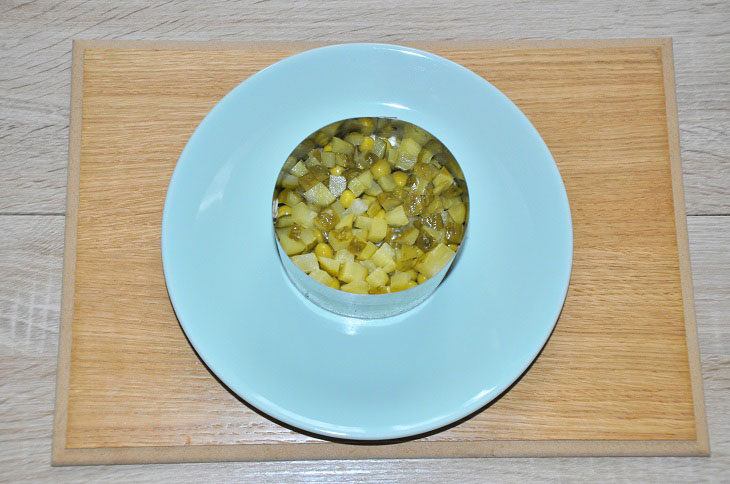 4. Then carefully lay out the croutons (for salad, it is best to use croutons of a neutral taste, without any additives). A layer of crackers with mayonnaise does not need to be lubricated.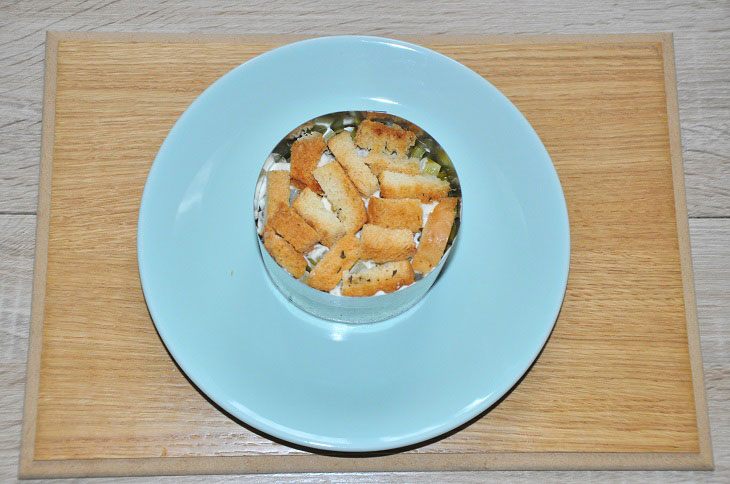 5. On top of the crackers, spread the eggs grated on a fine grater and brush with mayonnaise.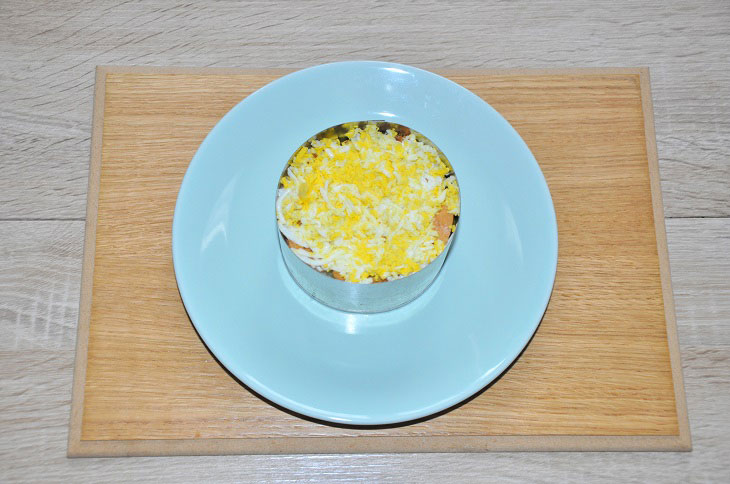 6. With the final layer, evenly distribute chopped greens (green onions and dill) over the surface of the salad, on which place pieces of croutons in the form of peculiar logs.
Salad "Firewood on the Grass" to the table, serve immediately after preparation. It is not worth insisting such a puff salad for a long time so that the croutons do not sof10.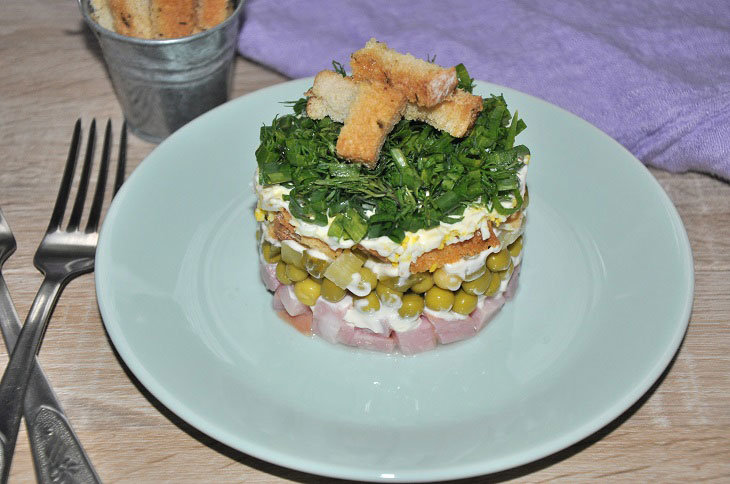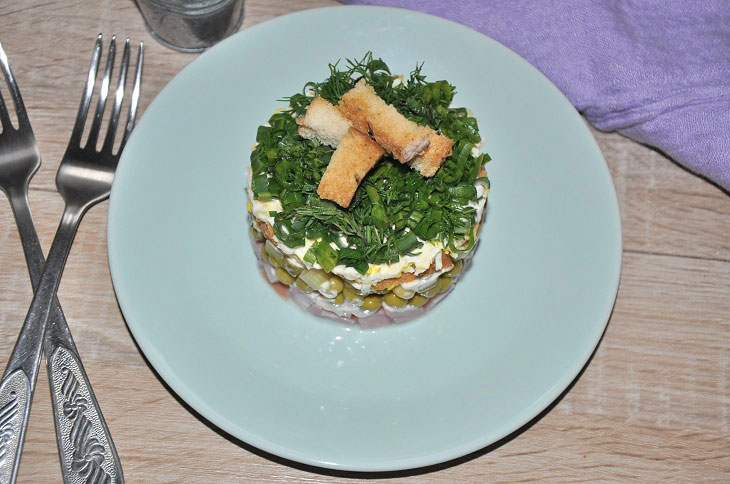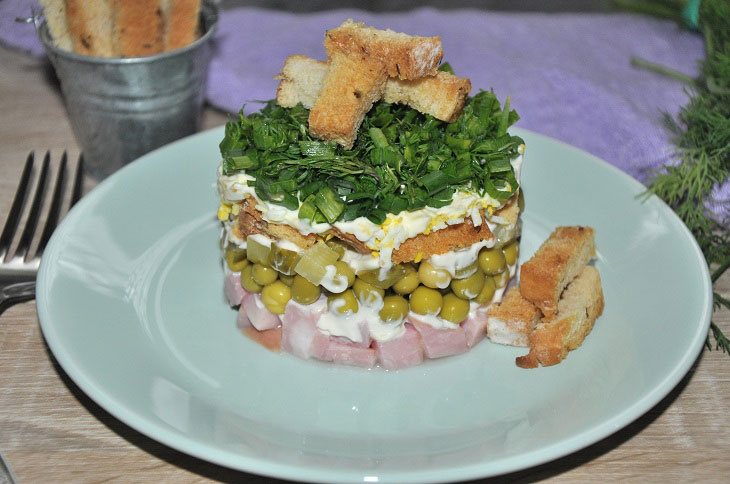 Bon appetit!