The tradition of celebrating the New Year holidays with pyrotechnic performances came to us from China, where the first fireworks were invented. The Chinese believed that loud pops and bright explosions would protect the house from evil spirits. At present, in all countries of the world, it is impossible to imagine New Year's celebrations without salutes and fireworks.
For the festive table, we suggest you prepare a delicious salad decorated in the form of fireworks. The dish turns out bright and will undoubtedly create a festive atmosphere at the table. All components of the salad are cut into oblong sticks and stacked on a plate in the form of rays. For the recipe, you need high-quality ham with elastic pulp. When choosing eggs, give preference to a homemade or farm product. For the recipe, a mandatory component is a juicy sweet bell pepper with a bright color. For dressing, you can use mayonnaise, sour cream with mustard or garlic sauce.
Ingredients:
Ham – 190 g.
Fresh cucumber – 1 pc.
Bulgarian pepper – 450 g.
Onion – 100 g.
Eggs – 2 pcs.
Mayonnaise – 65 g.
Salt, pepper – to taste.
Viburnum berries, greens – for decoration.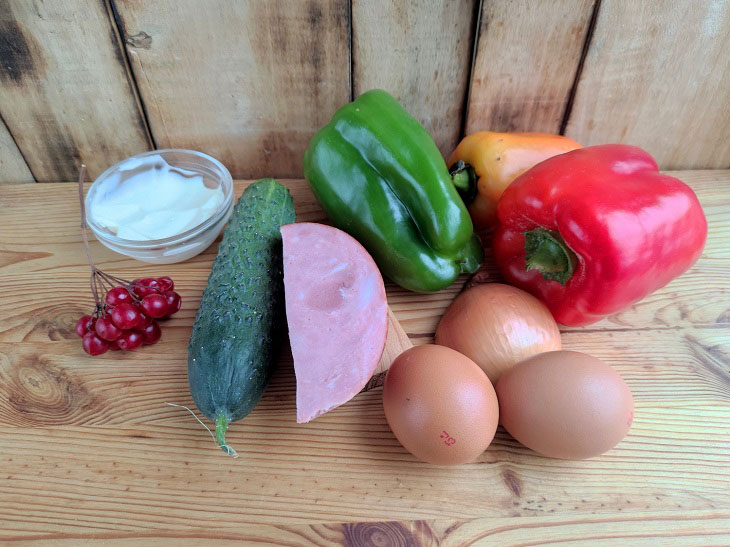 How to cook:
1. Peel cucumber, cut in half lengthwise. Cut half of the vegetable into long sticks, the other half into short sticks.
2. Lay the cucumbers on a plate in the form of rays. Arrange the sliced ​​ham in the same way.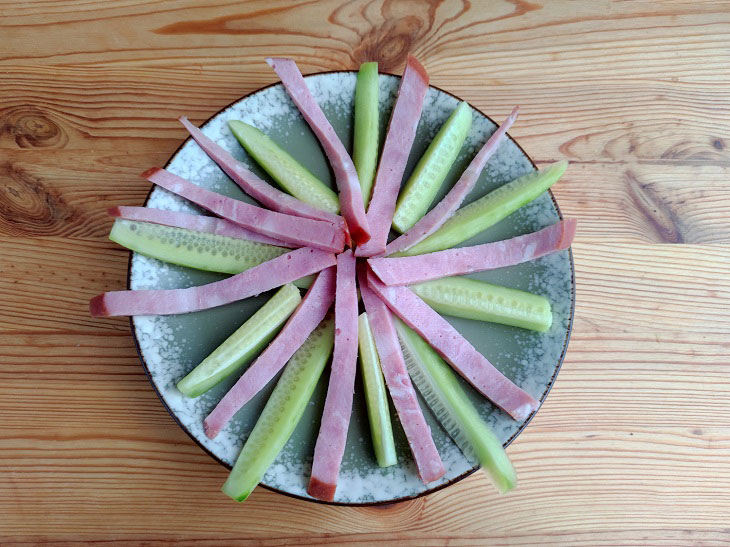 3. Chop the peeled onion into thin feathers, put it in the center of the salad.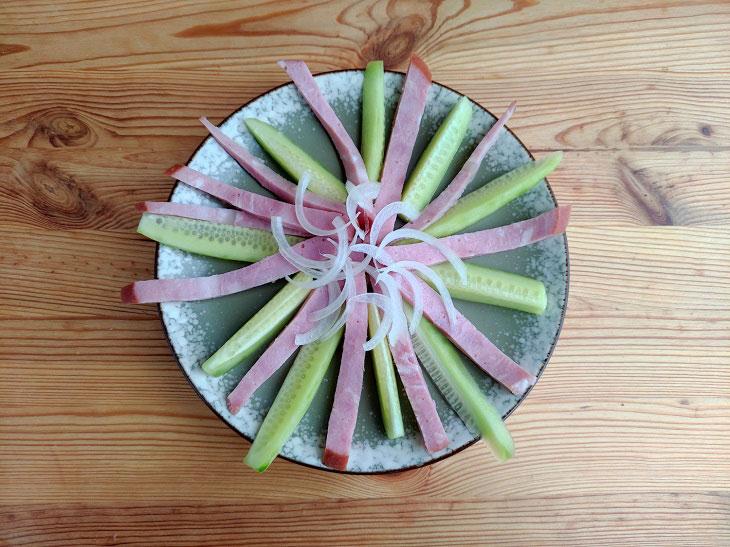 4. Apply a fantasy mesh of mayonnaise, repeat the layers of ham and onion.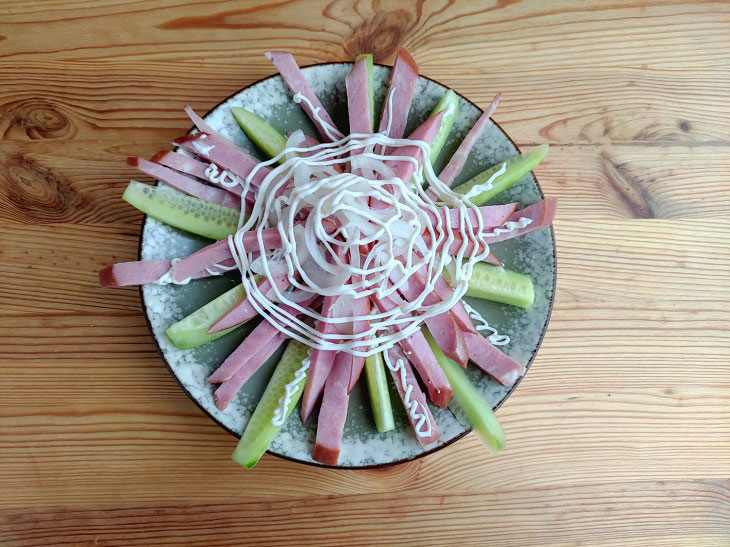 5. Peel boiled eggs from the shell, debug the yolks. Squirrels cut into long slices, put on the salad.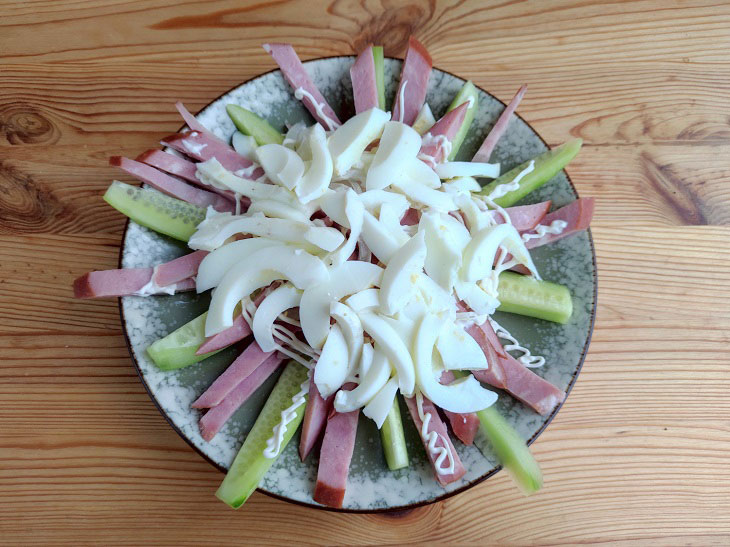 6. Apply mayonnaise.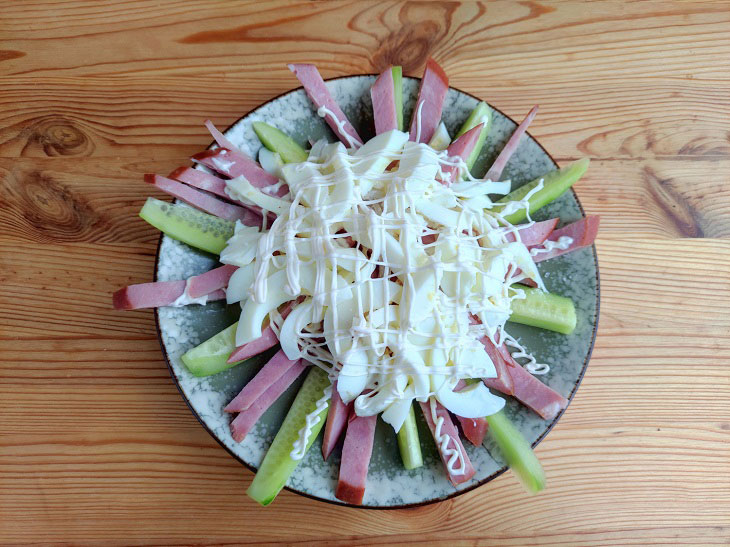 7. Grind the peeled sweet pepper into long or short sticks. Arrange them by color.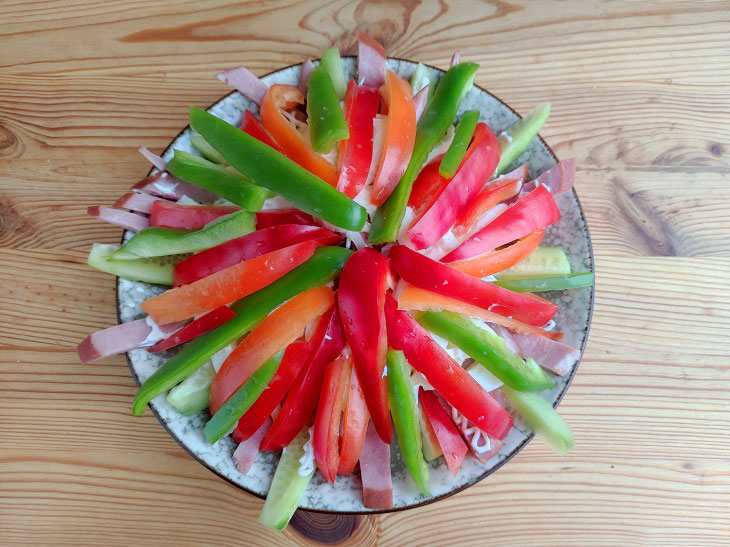 8. Put mayonnaise in the center. Grate the yolks. Sprinkle the salad with grated yolk as in the photo. Decorate the dish with viburnum and fresh herbs. Leave to soak for 8 minutes.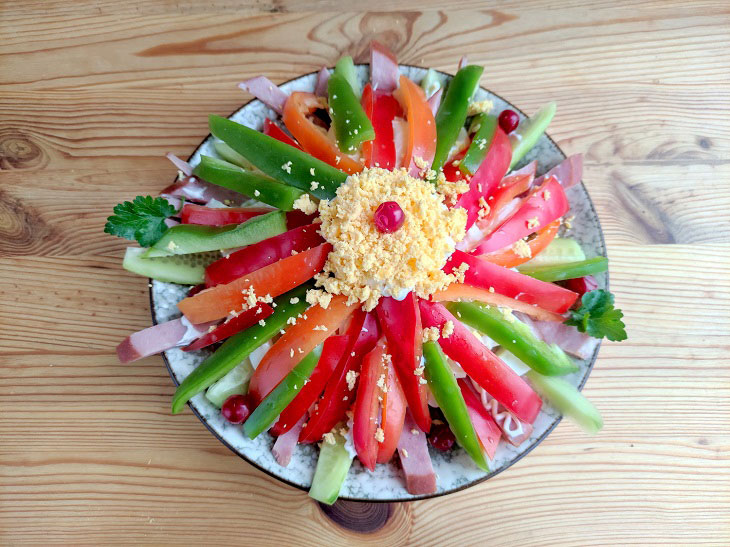 9. Salad ready. Bring it to the table right away.
This dish will not go unnoticed and will be in high demand. Salad fireworks can be supplemented with a serving of sauce or mayonnaise.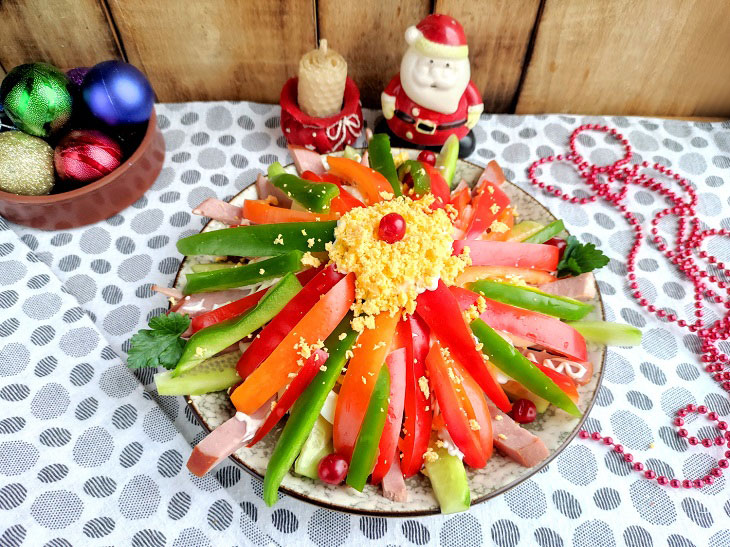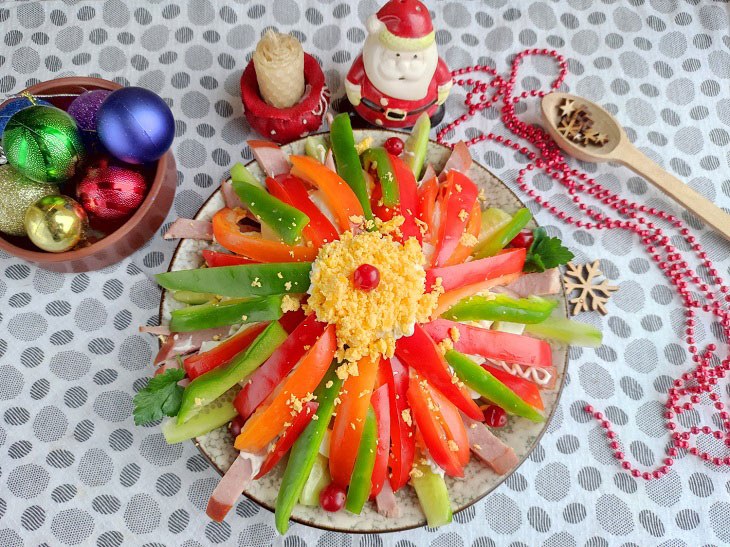 Bon appetit!