Salad "Full basket" – incredibly tasty and very satisfying. Everything is perfect in this salad.
Boiled potatoes, smoked chicken fillet and pickled mushrooms form the basis of the dish. Sweet canned peas fit perfectly into this composition. Boiled eggs complement the already rich taste of the salad. The dressing is mayonnaise. And the most popular spices are black pepper and salt. To complete the picture (richer taste), you can add 1 small finely chopped onion to the salad "Full Basket".
Ingredients:
Smoked chicken fillet – 300 g.
Potatoes – 3 medium-sized tubers.
Canned green peas – 300 g.
Pickled mushrooms – 200 g.
Egg – 2 pcs.
Mayonnaise – 100 g.
Freshly ground black pepper – to taste.
Salt – to taste.
Parsley for serving – a few sprigs.
Cooking time: 50 minutes. Servings Per Container: 6.
How to cook:
1. Since you will cook the potatoes "in their uniforms", they must be thoroughly washed. Use a vegetable brush for this.
Pour cold water over a pot with tubers, then bring to a boil on the stove. After that, salt the water and boil the potatoes over medium heat for 20-25 minutes. How long to boil depends on the size of the potato and its variety.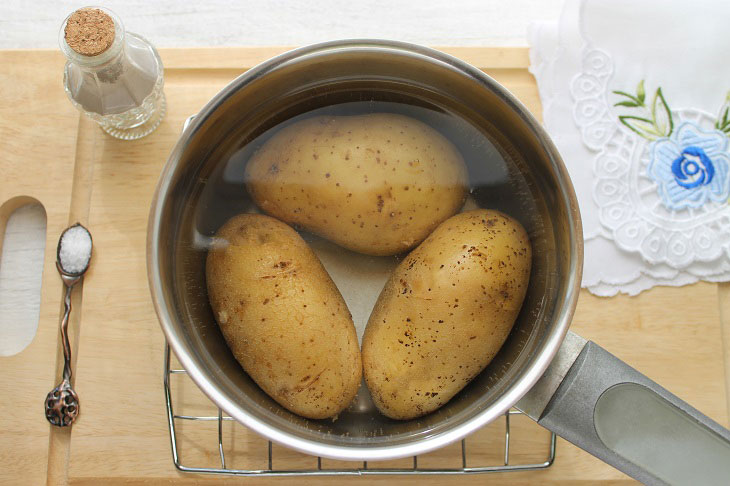 2. Boil eggs hard-boiled – 10 minutes from the moment of boiling. Then cool the eggs in cold water.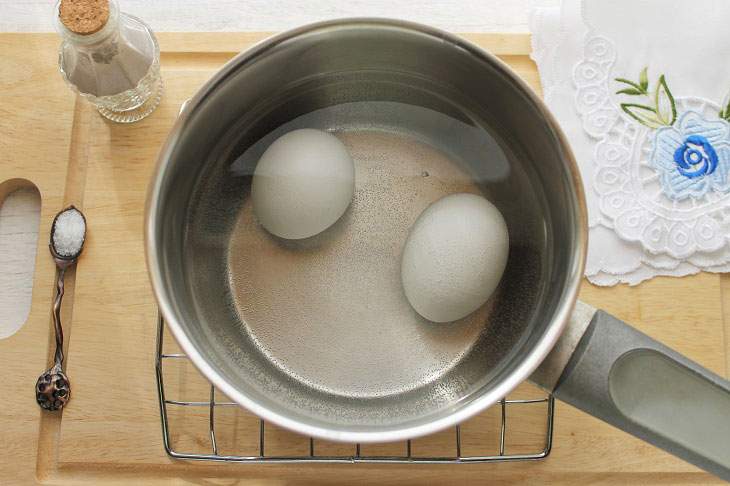 3. Put the mushrooms in a colander to drain the marinade.
You can replace pickled mushrooms with the same amount of oil or champignons. Pickled butternuts are especially good, they will give the salad a delicious taste.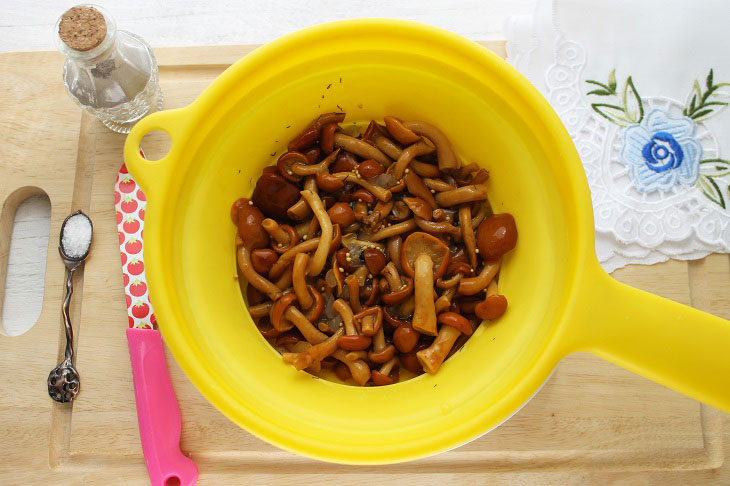 4. Cut the smoked chicken fillet into small cubes and place in a bowl.
5. Peel the eggs and also cut into small cubes. Add to fillets.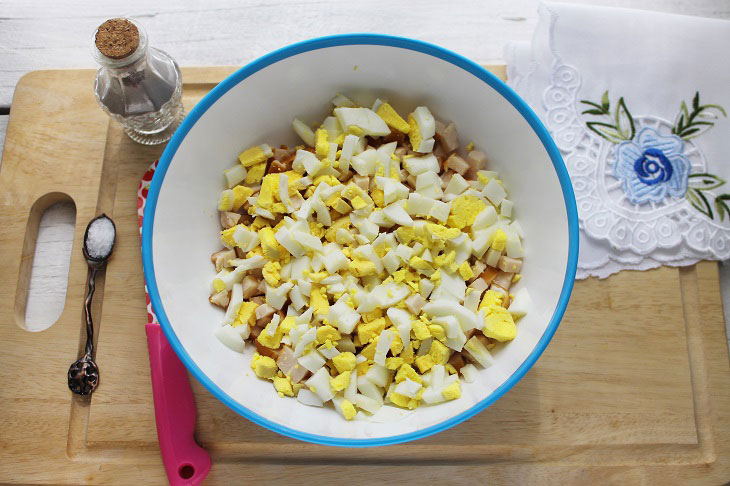 6. Peel and cut potatoes in the same way. Add to bowl.
7. Transfer mushrooms from a colander to a bowl. It is not necessary to cut the mushrooms, as they are already quite small. Set aside a few mushrooms to decorate the dish.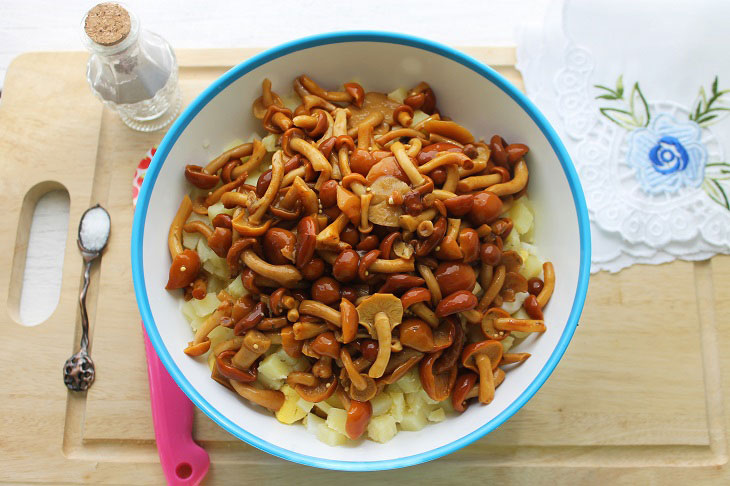 8. Add green peas.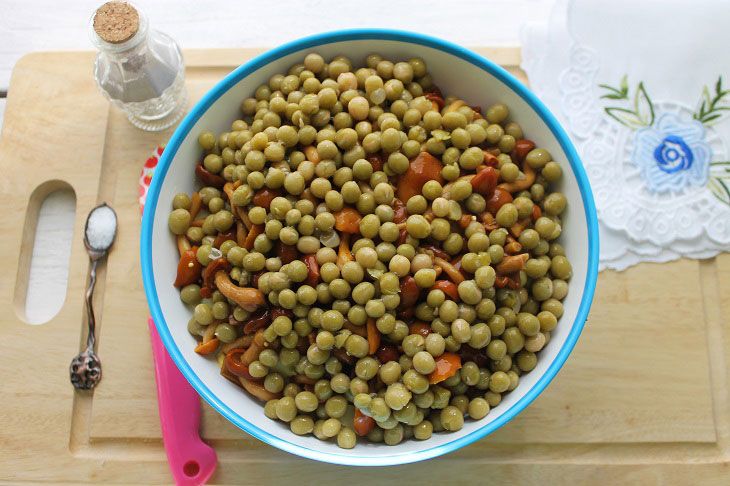 9. Season with mayonnaise. Salt and pepper to taste. Mix thoroughly. Garnish with parsley leaves and honey mushrooms.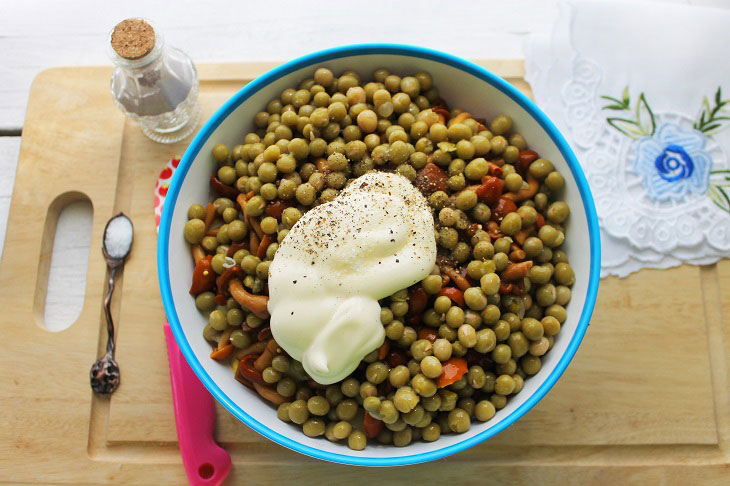 10. Put the salad "Full basket" for 30 minutes in the refrigerator, then serve.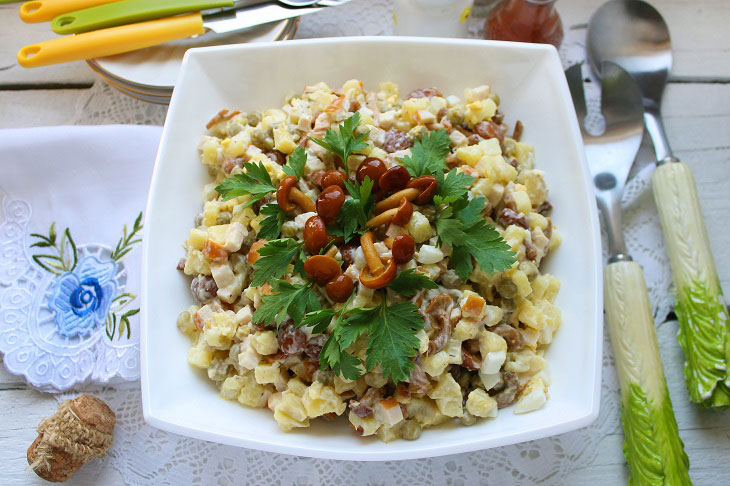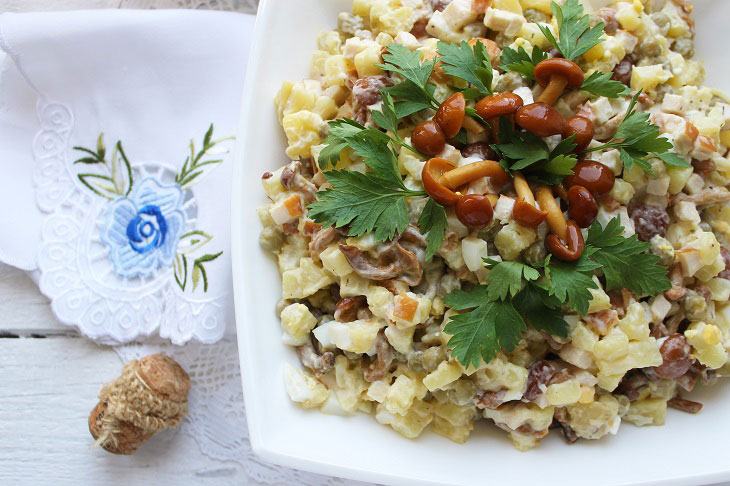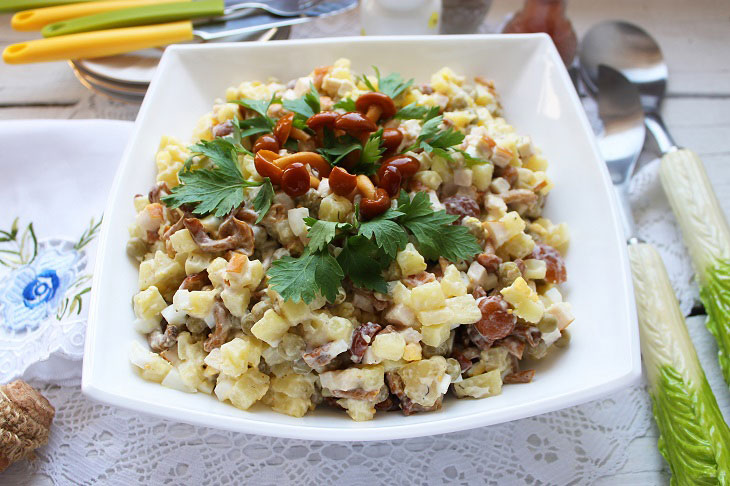 Enjoy your meal!