Salad "Genghis Khan" is a very unusual salad in taste, as vegetables, meat, walnuts, and prunes are added to it. It is thanks to this set of products that the finished salad turns out to be quite original in taste.
To prepare it, it is worth boiling the meat in advance, so that later you do not spend a lot of time on this procedure. Do the same with chicken eggs. Beets should be baked in the oven. When choosing hard cheese at the grocery store, it is best to give preference to a brand whose product you are sure of.
The salad itself, in order to look advantageous and original on the festive table, should be laid out in layers and a forming metal ring should be used, thanks to which the dish will look even and neat.
Ingredients:
Boiled chicken fillet – 1 pc.
Chicken egg – 2 pcs.
Baked beets – 2 pcs.
Garlic – 1 clove.
Hard cheese – 30 g.
Prunes – to taste.
Walnuts – to taste.
Salt – to taste.
Ground black pepper – to taste.
Mayonnaise – 2-3 tbsp. l.
Greens – for decoration.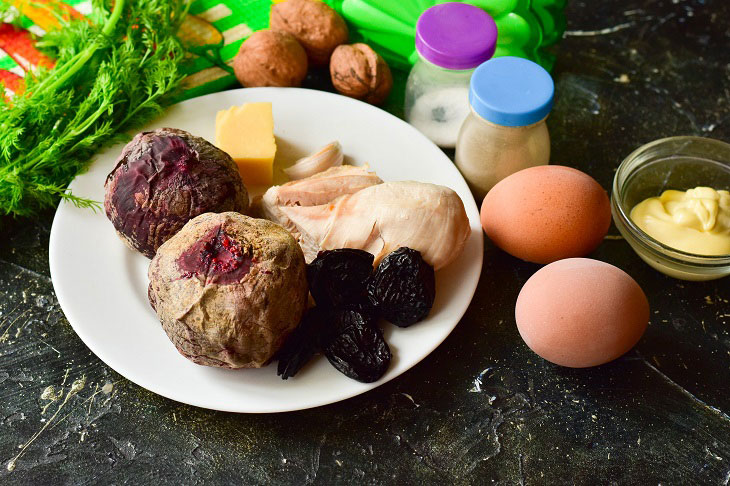 How to cook:
1. Install the forming metal ring on the plate.
If you do not have a serving ring, then use a plastic bottle that you cut off first.
Peel the baked beets, grate it on a coarse grater. Lay out half of the grated vegetable in the first layer. Salt and pepper it. Squeeze garlic into mayonnaise. Stir. Lubricate beets with mayonnaise. In the future, use it for each layer of ingredients.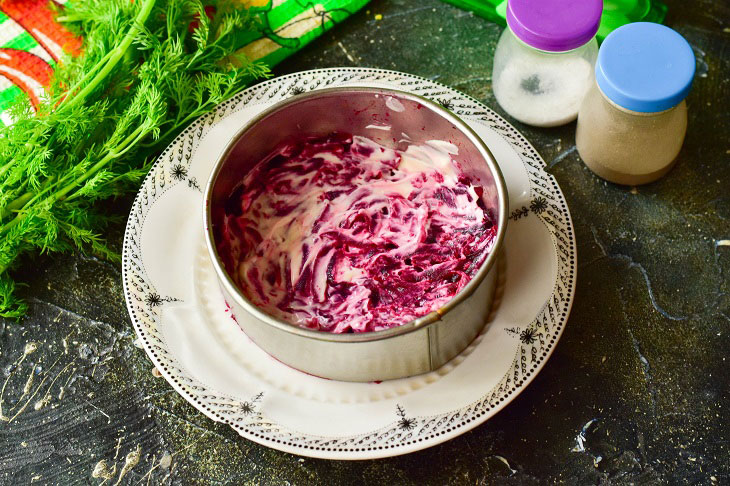 2. Put the walnuts on the beets, and then the boiled chicken fillet, which you tear into smaller pieces.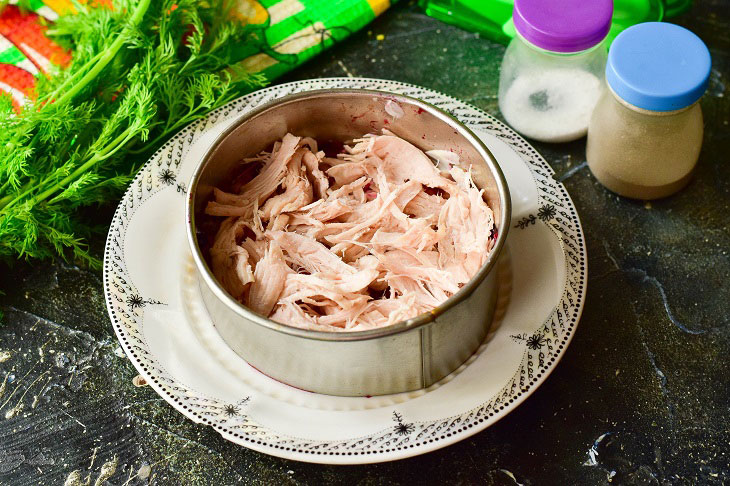 3. Grate hard cheese on a fine grater, put it on the fillet.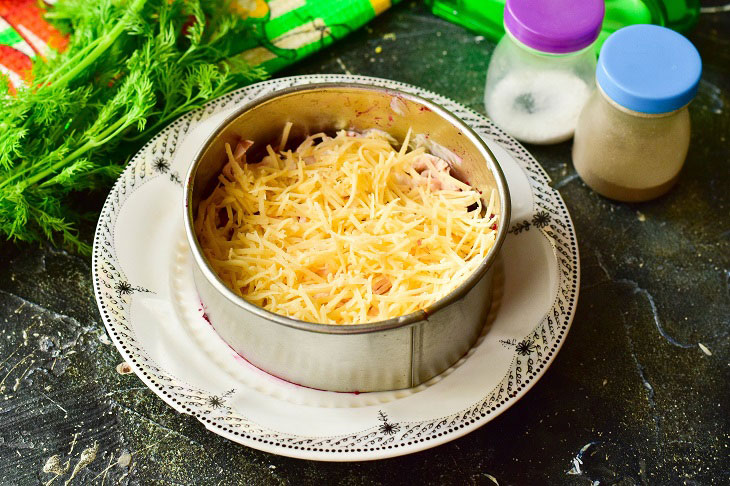 4. Put the prunes on the cheese, which are finely chopped and, if necessary, remove the stones.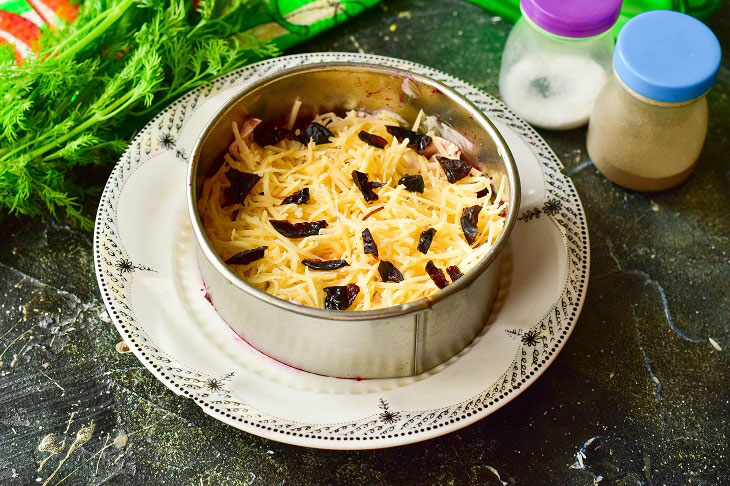 5. Then lay out the remaining grated beets.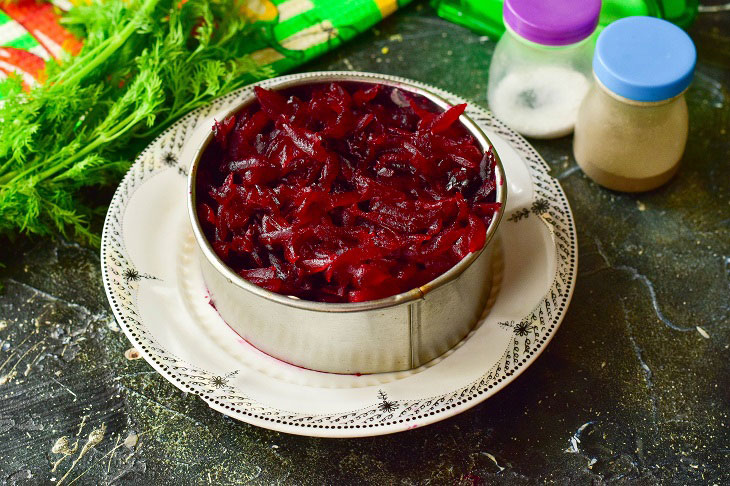 6. Remove the forming ring very carefully. Cut the chicken protein into strips. Place half an egg yolk in the center of the salad. Then spread the protein around it. Decorate the salad with herbs, nuts, prunes to your liking.
Here is such a ready-made salad "Genghis Khan" turned out!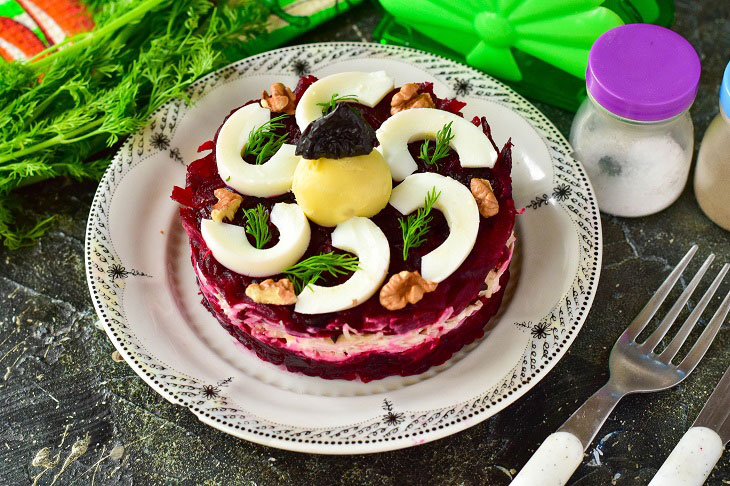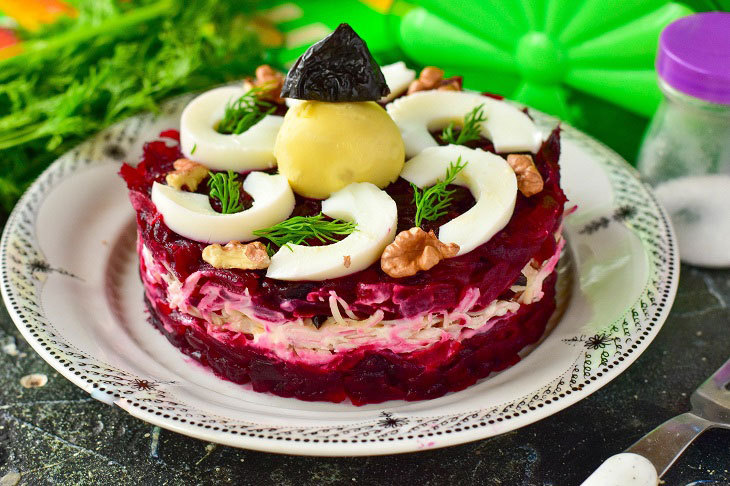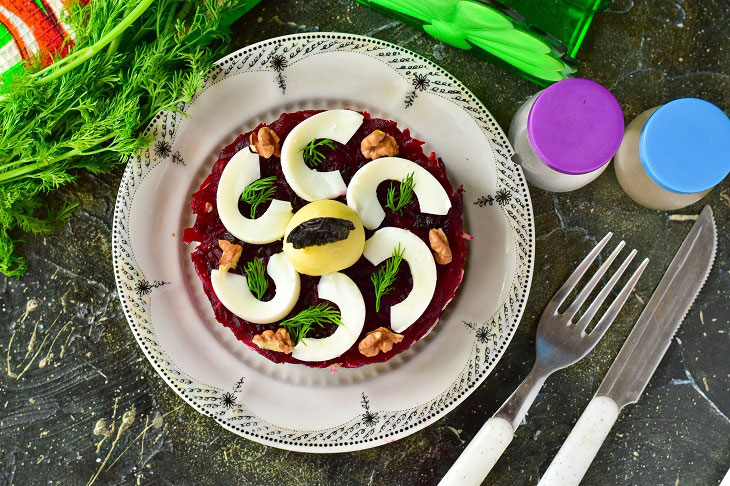 Enjoy your meal!