There is just a huge number of salads that can be rolled up in jars for the winter. The one we offer is most often referred to as the "Hunter". It is made from almost all vegetables that are only in the garden, and this only makes it tastier. It is prepared very simply and quickly. When you open the very first jar, you will appreciate the variety of colors on your plate, this salad is not only tasty, but also beautiful.
Ingredients:
Cucumbers – 4 pcs.
Tomatoes – 2 pcs.
Carrot – 1 pc.
Cabbage – 100 g.
Bulgarian pepper – 1 pc.
Onion – 1 pc.
Sugar – 20 g.
Salt – 10 g.
Peppercorns – 3-5 pcs.
Vegetable oil – 50 ml.
Vinegar 9% – 20 ml.
Bay leaf – 1-2 pcs.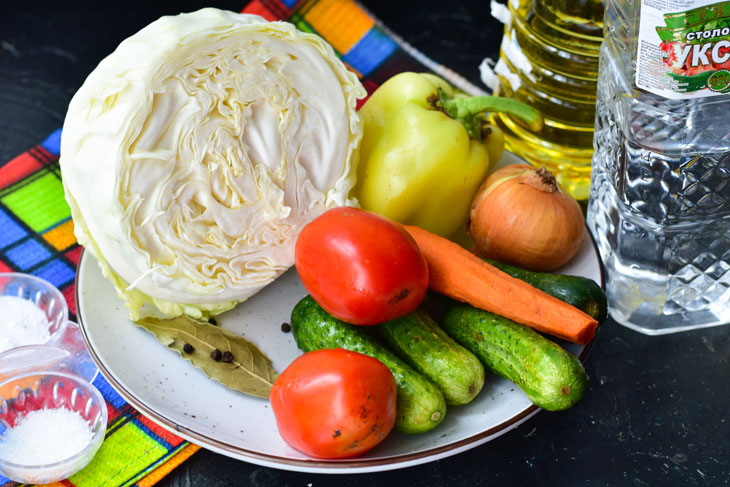 How to cook:
1. You will definitely need sterilized jars, so it is best to prepare them in advance. Sterilize them in whatever way is most convenient for you. Be sure to sterilize the lids with which you will roll up or twist the jars – boil for several minutes in water.
Then prepare all the vegetable ingredients – wash, peel, cut.
Cut the onion into half rings, or if you do not want too large pieces, then you can cut the half rings in half. Shred the cabbage or cut into neat pieces. Cut the carrots into circles, but if you prefer using a grater, you can use it.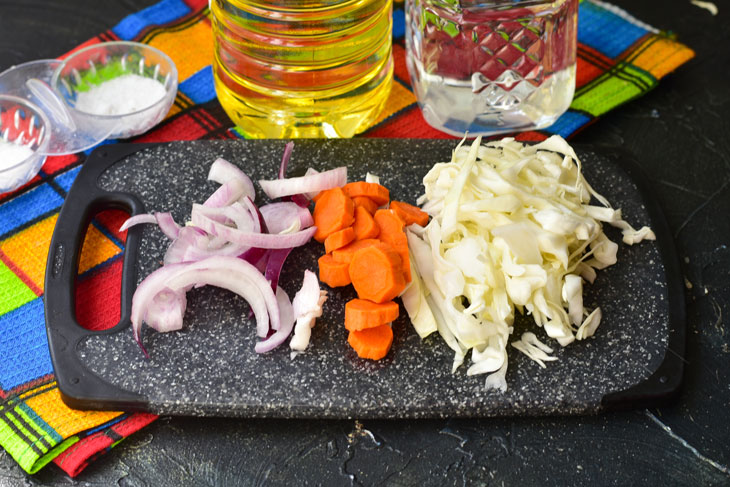 2. Cut the cucumbers into half rings if they are large, but if the cucumbers are small in size, then just cut into circles. Cut the tomatoes into small slices, do not forget to remove the part to which the stalks are attached. Remove all pits from the bell pepper and cut into strips.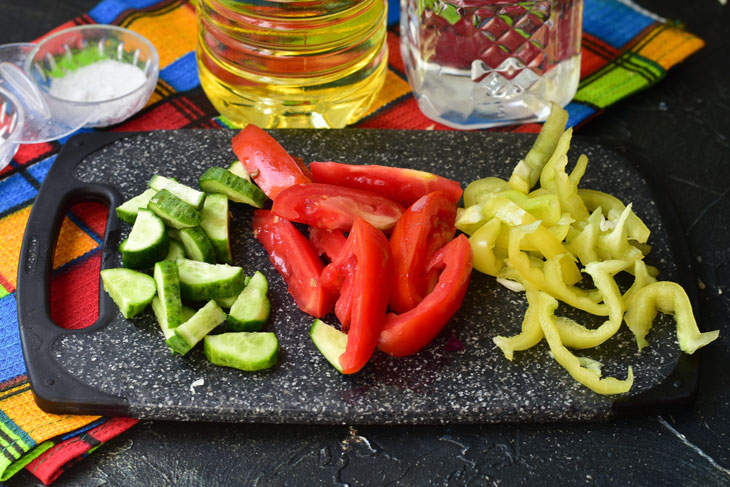 3. Put absolutely all the chopped vegetables into a saucepan convenient for cooking.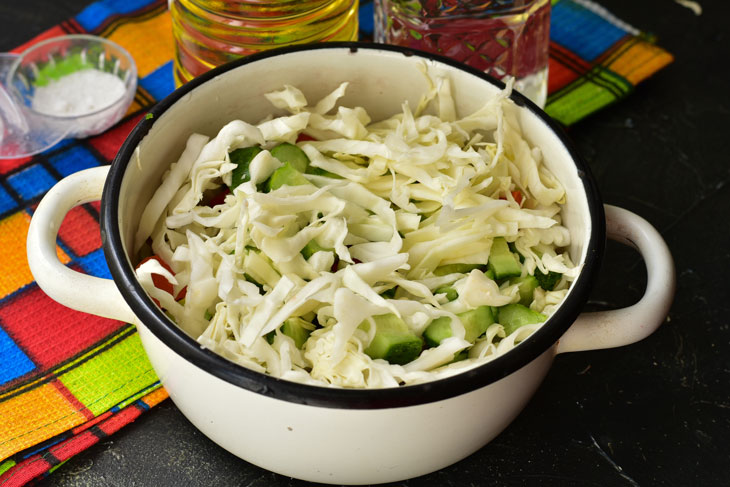 4. Add the required amount of salt and sugar.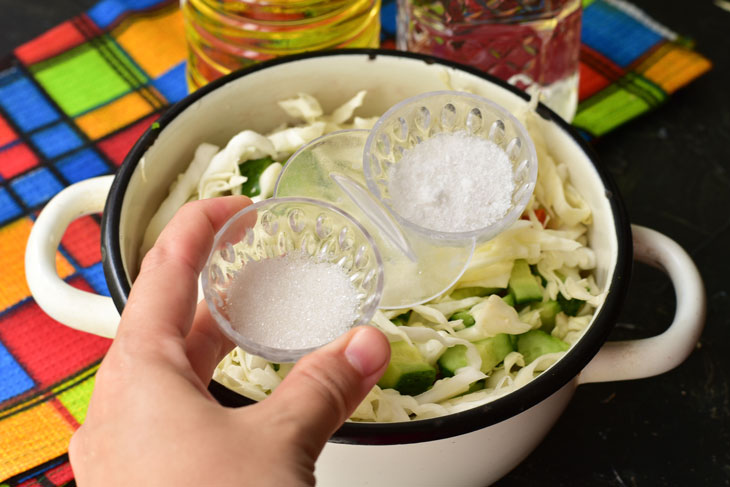 5. Then lay out the peppercorns and bay leaf.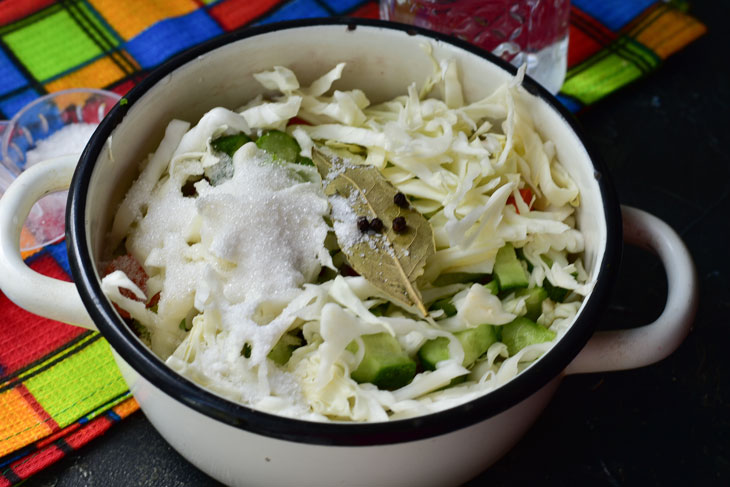 6. Then pour in the oil. Be sure to stir.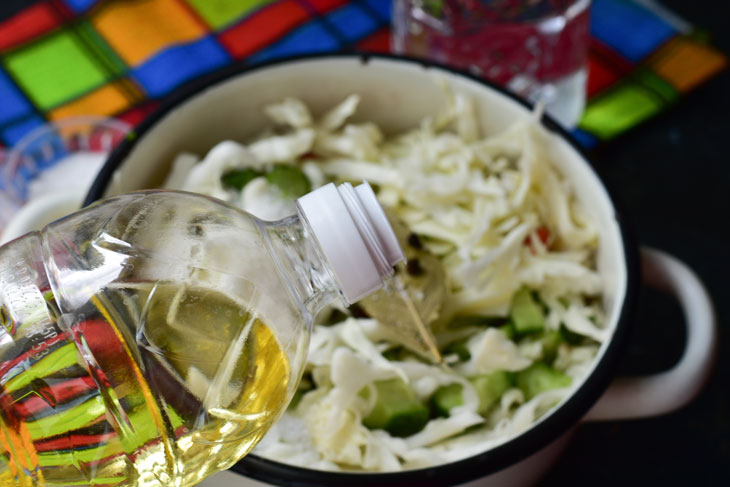 7. Cover the top with a lid and put on fire. Make the fire bigger so that the salad boils faster. As soon as you bring it to a boil, immediately reduce the heat. Simmer without removing the lid for about twenty minutes. Stir occasionally.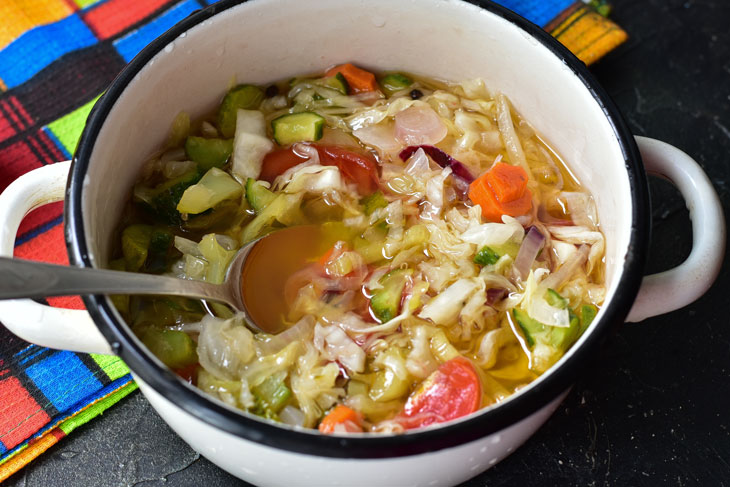 8. Pour in the vinegar, cook the salad for another 5 minutes.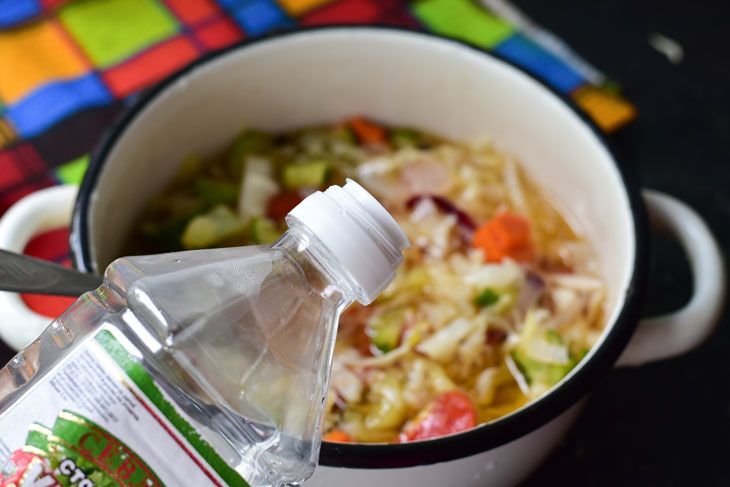 9. After cooking, put the salad in ready-made sterile jars.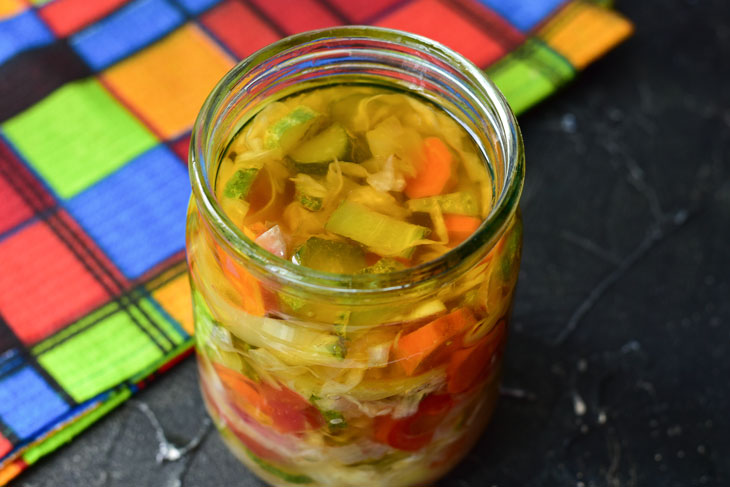 10. Roll up the lids. Turn the jars over and put them in a fairly warm place, preferably wrapped in something warm.
After completely cooling, send the jars of salad to the pantry or other place to store the preservation.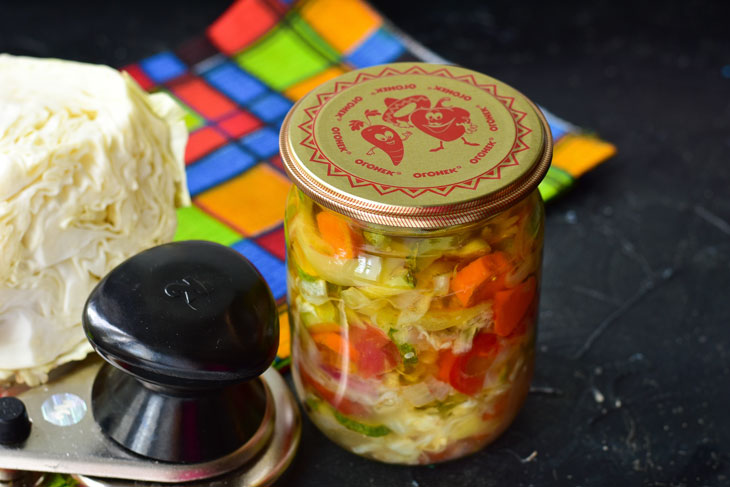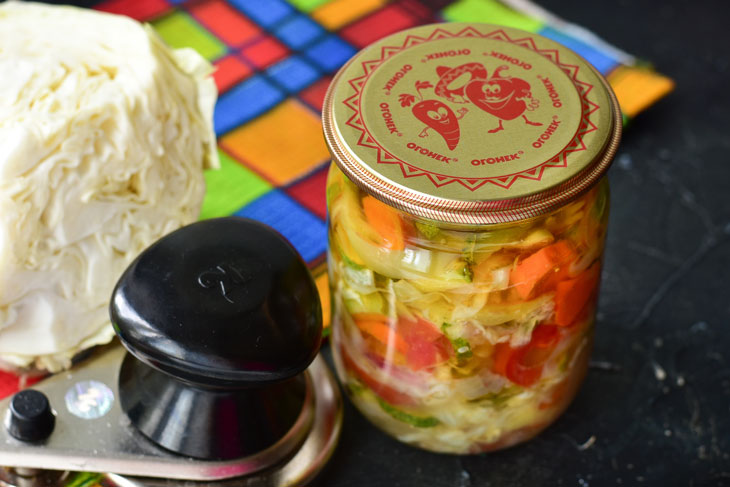 Enjoy your meal!