Isabella salad with Korean carrots is a fairly simple dish and does not require much time to prepare. It is convenient to prepare and serve it in portions on the occasion of any holiday.
The ingredients that make up the composition are in perfect harmony with each other. Since the products are laid out in layers, it is advisable to let the salad brew before serving – at least an hour. You can buy ready-made carrots or make your own – it's not difficult, but the taste can turn out much better than that of a ready-made store product.
Prepare the necessary components – boil hard-boiled chicken eggs, measure the right amount of carrots, mushrooms. You can immediately send chicken meat to boil, you can also cook it in advance (boil or bake, fry).
Ingredients:
Carrots in Korean – 90 g.
Mushrooms – 70 g.
Bulb – 1 pc.
Chicken egg – 2 pcs.
Mayonnaise – 50 ml.
Oil for frying – 20 ml.
Chicken fillet – 150 g.
Salt – 1 pinch.
Pickled cucumbers – 70 g.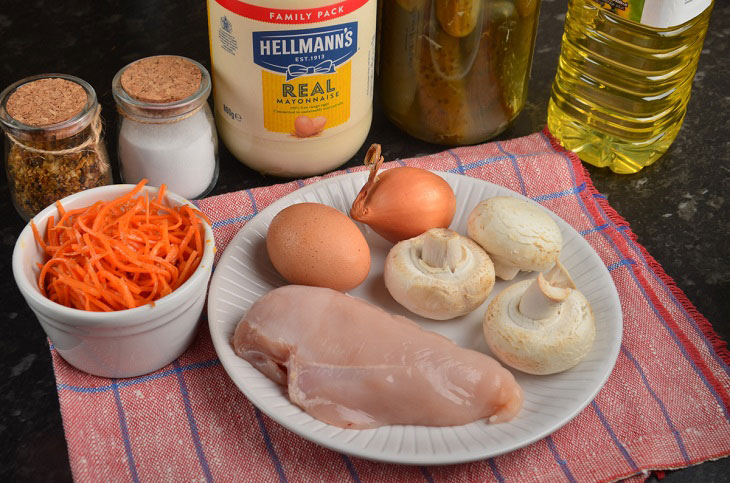 How to cook:
1. Wash champignons or other mushrooms, clean if necessary, and then chop finely. Peel the onion and also cut into cubes.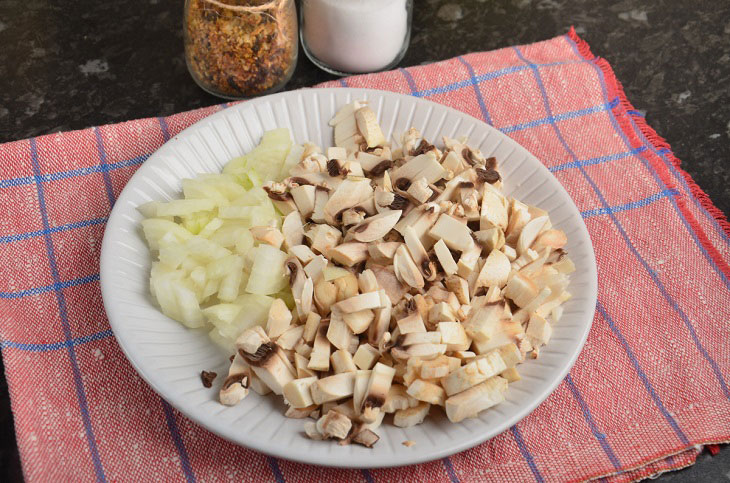 2. In hot refined oil, fry the mushrooms with onions for 5-6 minutes, add a little salt. Make a quiet fire and stir.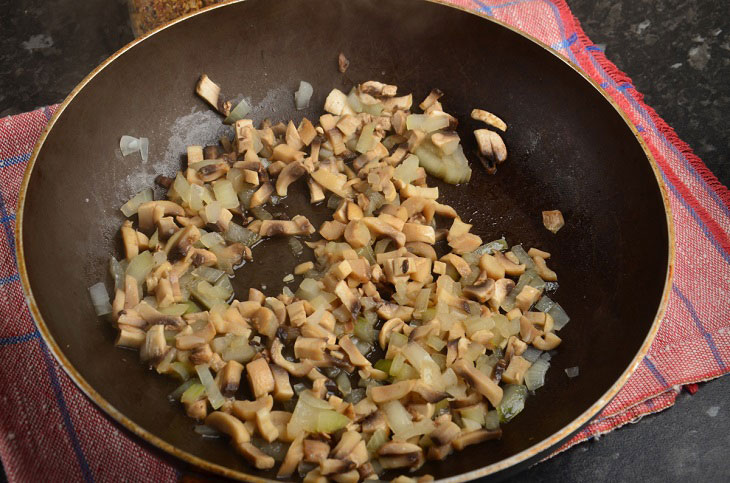 3. To prepare a salad, a large salad bowl or small bowls, wide glasses are suitable. Cut the meat into small pieces or disassemble into thin fibers, put in containers and brush with mayonnaise.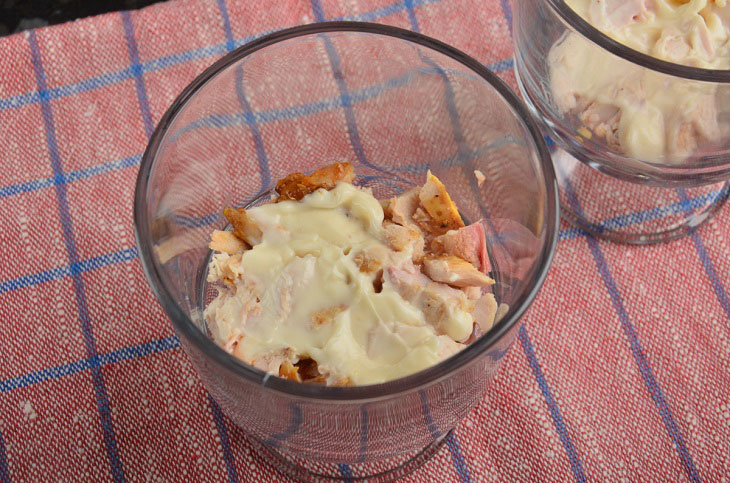 4. Peel and crumble chicken eggs into small cubes, form another layer and make a mayonnaise net.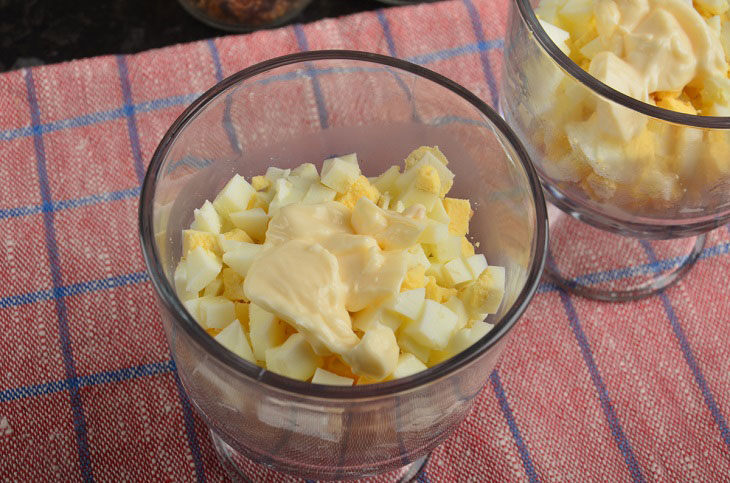 5. Next is the turn of fried mushrooms with onions – lay them out in an even layer and spread with mayonnaise.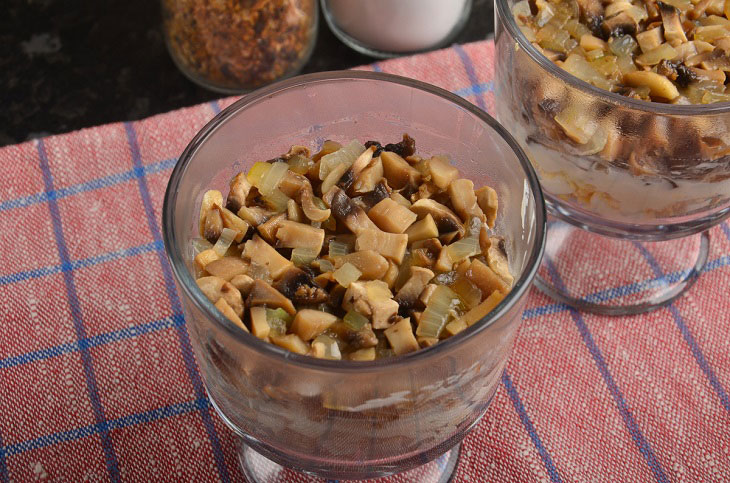 6. Chop pickled or pickled cucumbers into small cubes, put on top of the mushroom layer.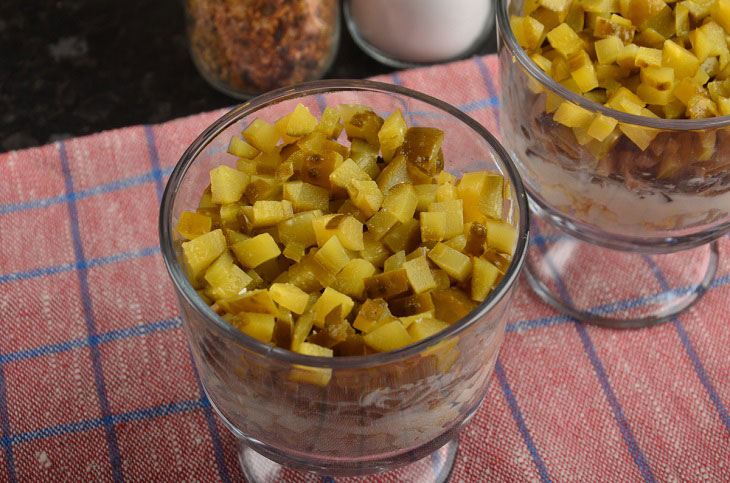 7. Put Korean-style carrots on top of a small slide for each serving.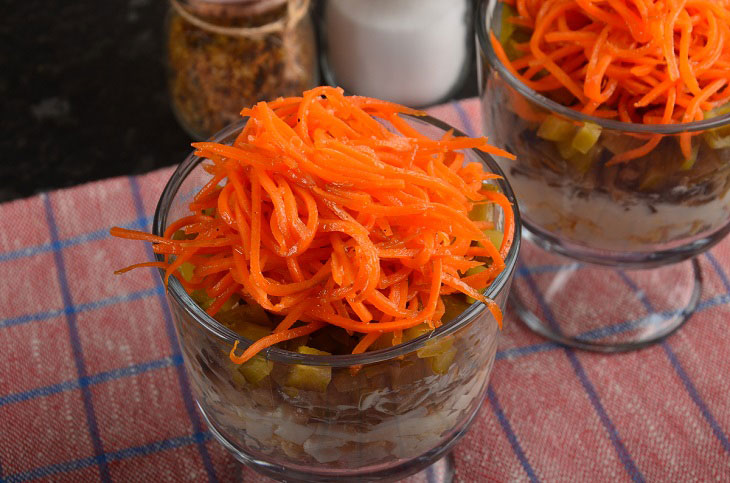 8. Let the salad brew, decorate with fresh herbs just before serving.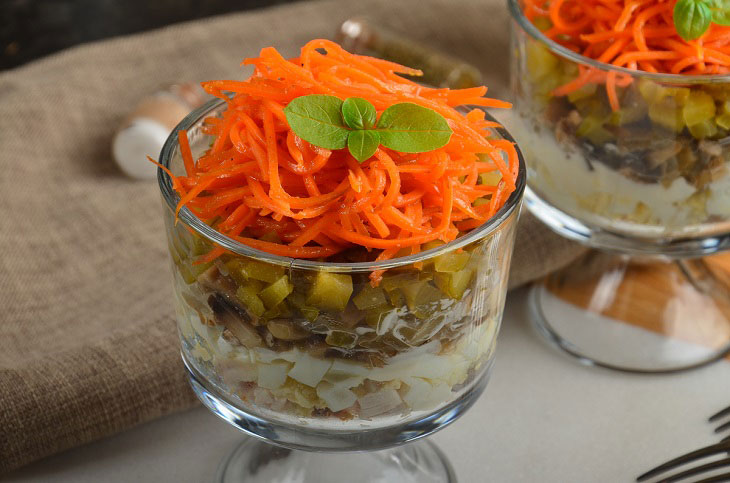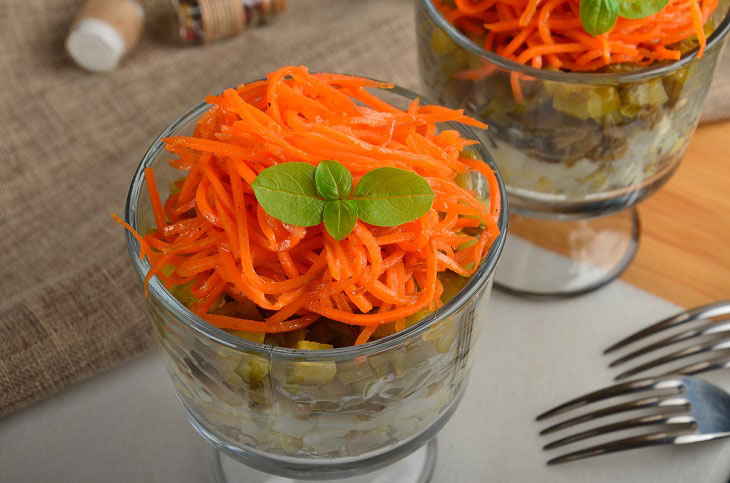 Enjoy your meal!