Salad "Kyiv" is tasty and satisfying. Prepare such a dish for a festive feast, for your family and friends. However, even an ordinary family dinner with such a salad will become more solemn and original.
Salad is prepared from available ingredients. Buy delicious ham, boil potatoes, carrots, open a jar of canned peas and add fragrant sweet peppers. For dressing, mix sour cream and mustard. This sauce will give the salad a spicy taste and an unforgettable aroma. Use mustard to taste – spicy or not very spicy.
If you like to cook salads and are looking for new and delicious recipes, then you will definitely like Kyiv!
Ingredients:
Ham – 150 g.
Potato – 100 g.
Carrots – 70 g.
Sweet pepper – 70 g.
Canned green peas – 100 g.
Sour cream – 80 g.
Mustard – 1.5 tsp
Salt, black pepper – to taste.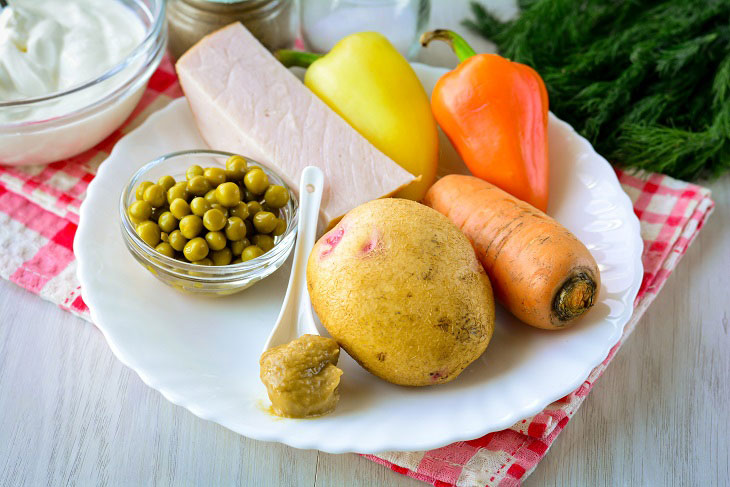 How to cook:
1. Boil the root crops in advance. To do this, rinse the potatoes and carrots, put them in a saucepan and cover with cold water. When the water boils, reduce the power of the fire and cook the vegetables for 20-25 minutes until tender. Root crops should become soft, check the readiness with a knife. Then drain the water from the vegetables, cool the roots and peel them. Cut boiled potatoes into cubes, do the same with carrots.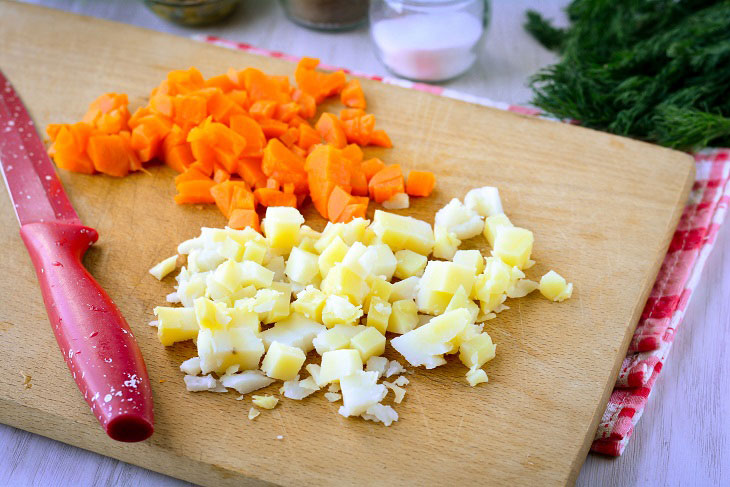 2. Cut the ham into medium cubes for salad.
Instead of ham, it is permissible to use boiled pork (or carbonade), it is just as tasty and fragrant.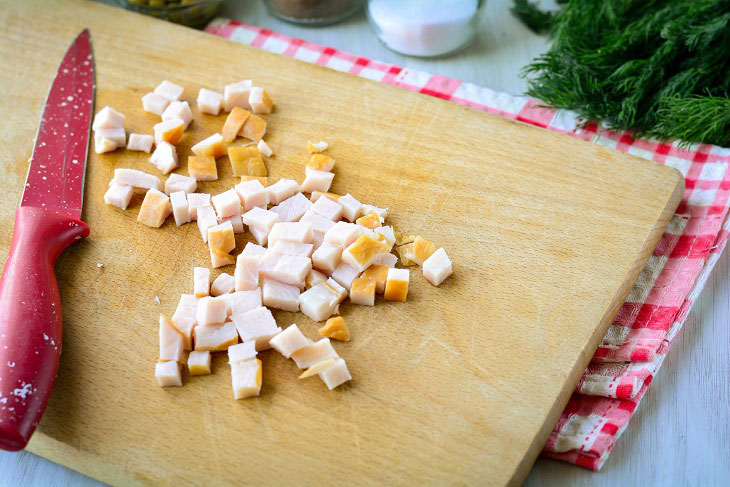 3. Peel the sweet peppers from the seeds, cut the vegetables into cubes.
You can use multi-colored pepper – yellow or red.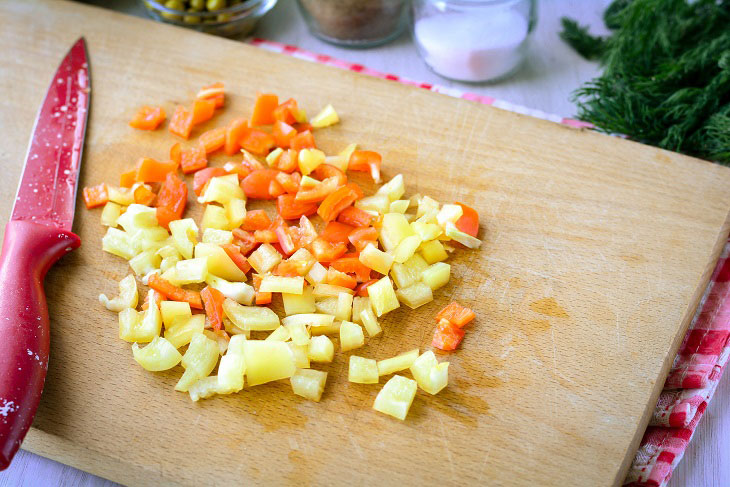 4. Transfer the prepared ingredients to a deep salad bowl – potatoes, carrots and ham.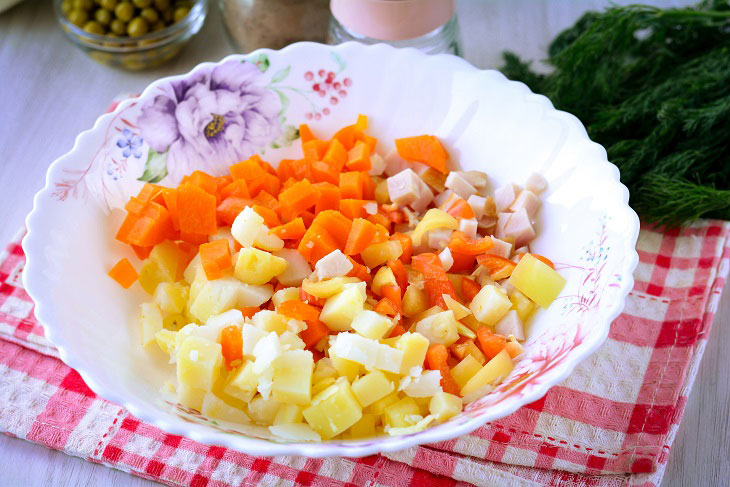 5. Drain the marinade from the canned green peas, send the beans to the salad, mix and add spices to taste.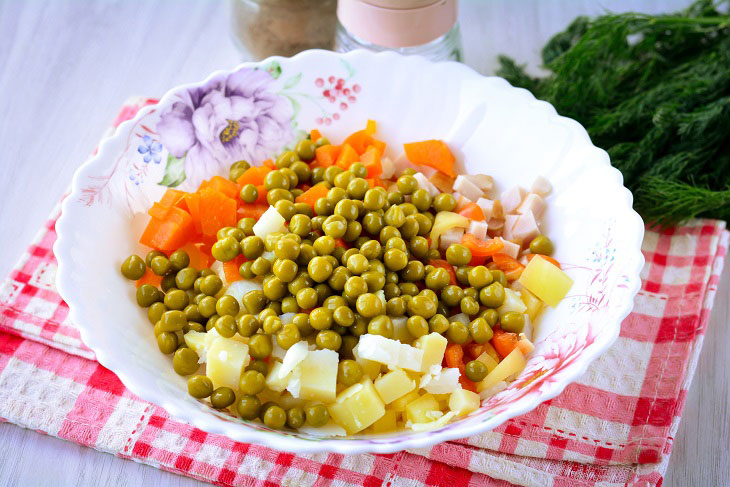 6. For the sauce, mix sour cream and mustard.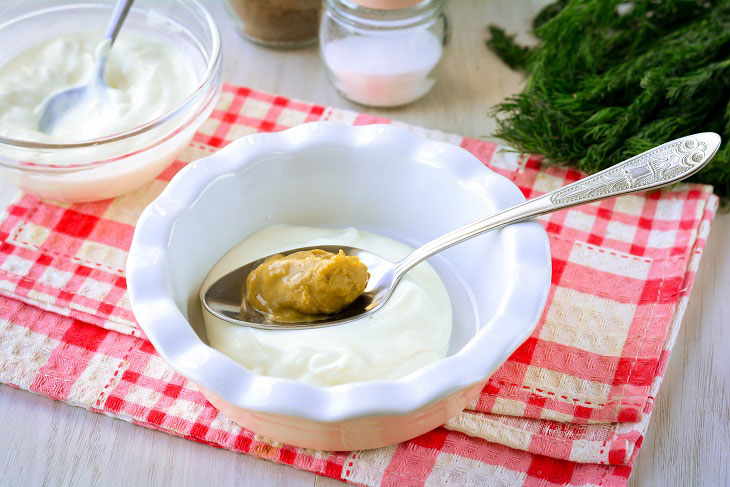 7. Dress the salad with sauce and mix several times. Put the dish in the refrigerator for 15 minutes, let it soak a little.
Then serve.
Salad "Kyiv" will always complement your table and make the menu more diverse.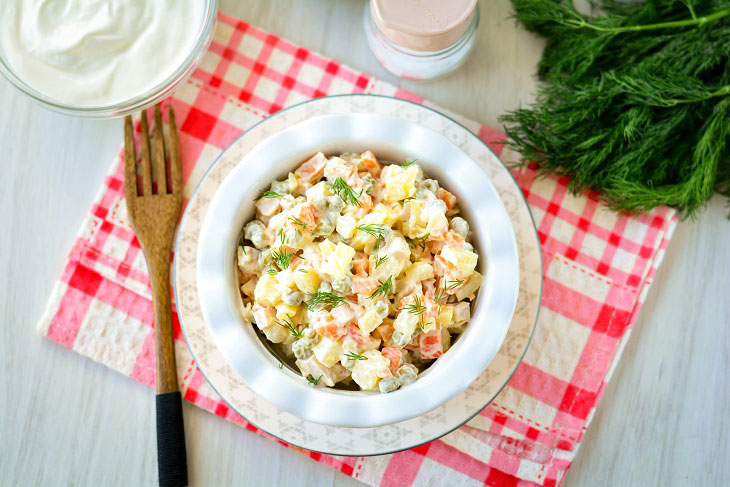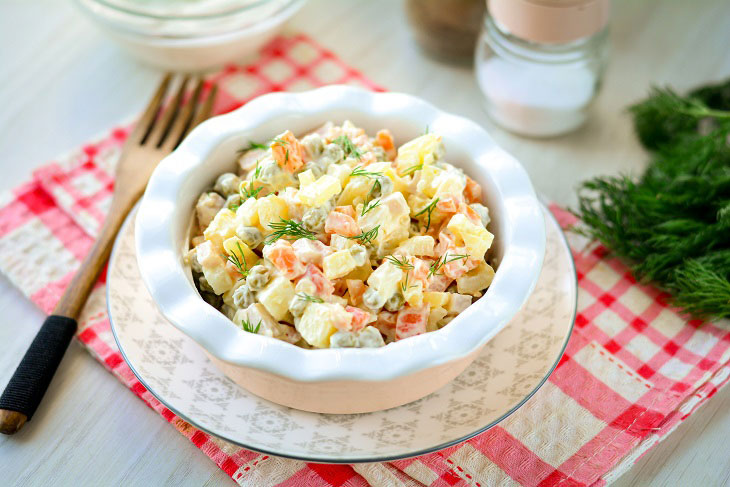 Enjoy your meal!