The New Year holidays are approaching, which means there is a reason to rummage through salad recipes. There are a lot of them. And we always try to choose the most delicious and beautiful recipe. Let me share with you an interesting salad recipe.
The salad itself is quite simple in terms of the composition of the ingredients. But he has a zest – decoration with chips. The top layer of the salad is made of chips. Moreover, the chips are laid in an original way – in the form of a flower. It turns out an unusual "rose".
Potato chips are the best for this salad. They have less spices, so they won't overpower the flavor of other foods too much. But you can use any other chips. It's a matter of taste.
Ingredients:
Crab sticks – 120 gr. (6 pcs)
Hard cheese – 70 g.
Cucumber – 80 g.
Processed cheese – 90 g.
Chips – 1 handful.
Mayonnaise – 1 handful.
Salt – 1 handful.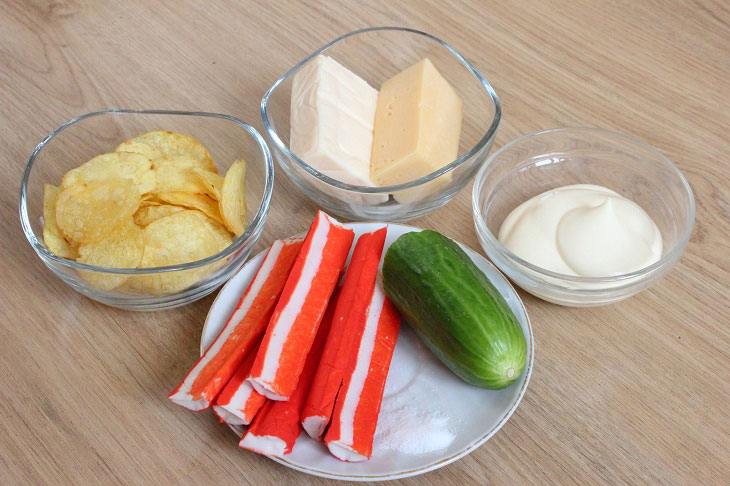 How to cook:
1. We will make a salad using a serving ring (portioned). In this case, we have a small ring, for one serving of salad. I put the ring on a flat plate (in the center).
The first layer in the salad will be processed cheese. Three of it on a grater and put it in a ring. We place the ring around the entire perimeter, press it a little. We smear a layer with mayonnaise.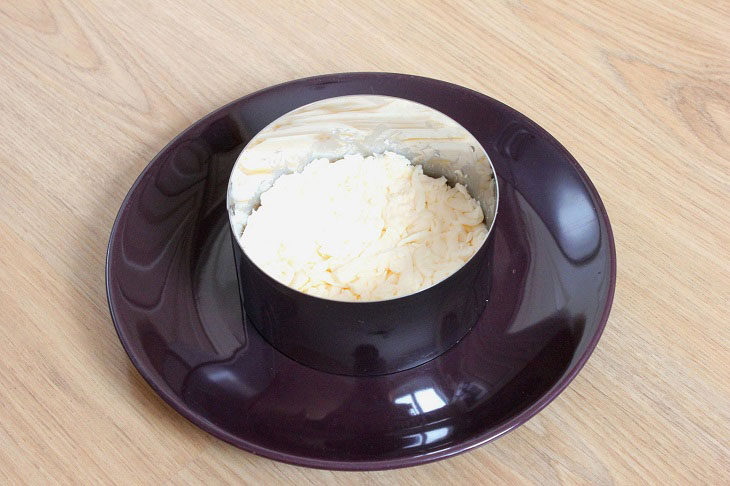 2. The second layer in the salad will go crab sticks. You don't need to grind them hard. We just cut into thin circles. So crab sticks in a salad look more interesting. Salt to taste. We smear a layer with mayonnaise.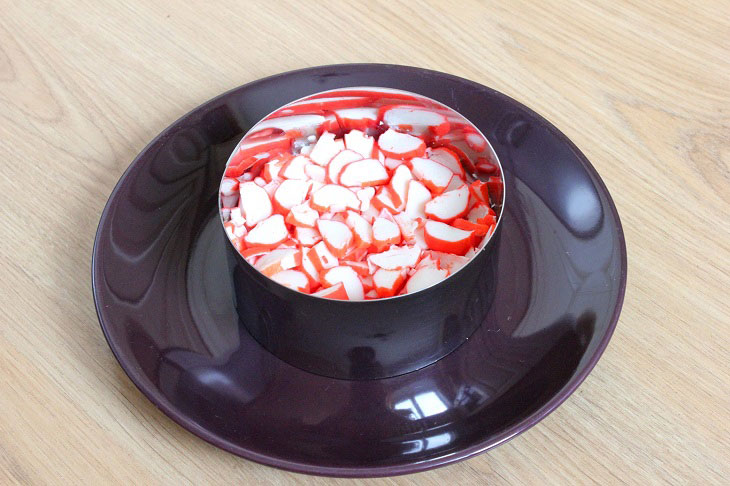 3. The third layer in the salad is a fresh cucumber. Finely chop it, squeeze out the excess juice. Pour the cucumber slices into a serving ring. Distribute and coat with mayonnaise.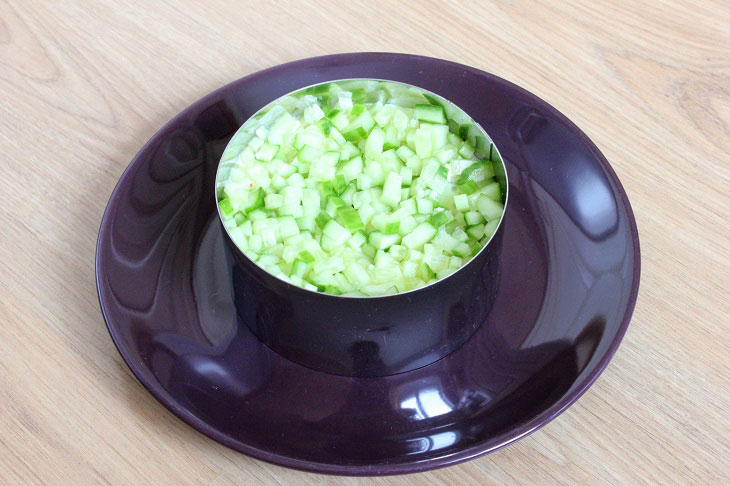 4. Next, grated hard cheese goes to the salad. We rub it on a fine grater. We shift the cheese chips into a ring. We do not tamp. Otherwise, it will be more difficult to stick the chips into the salad from above. We smear the cheese layer with mayonnaise.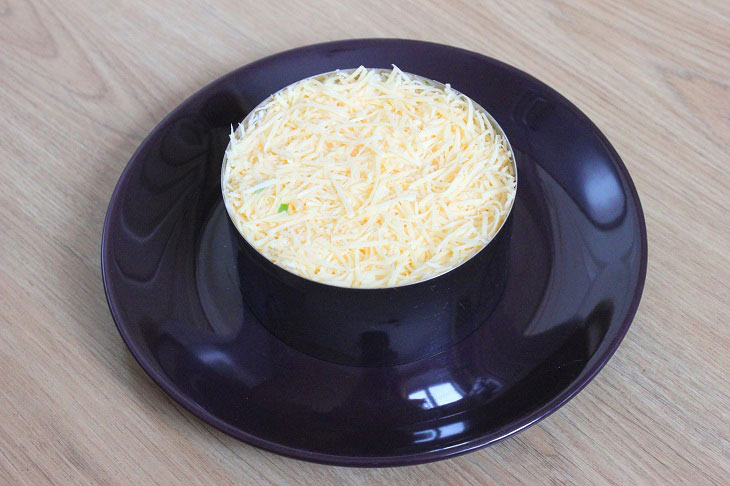 5. Remove the serving ring. We do this very gently so as not to damage the structure of the salad. We stick chips on top of the salad in random order. The order, of course, is arbitrary, but you need to stick it in such a way that it looks like a "rose". We start sticking from the center and continue to walk in a circle.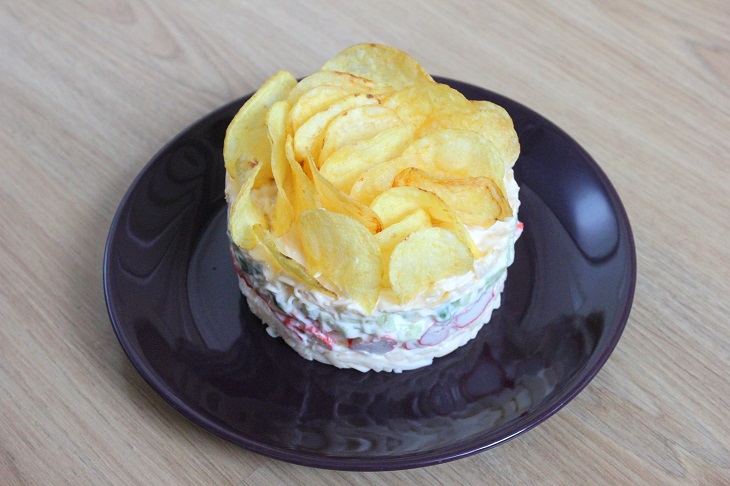 Salad "Snack" is ready! Serve as soon as you put in the chips. We do not recommend putting chips in the refrigerator. They will get damp and not be as crispy.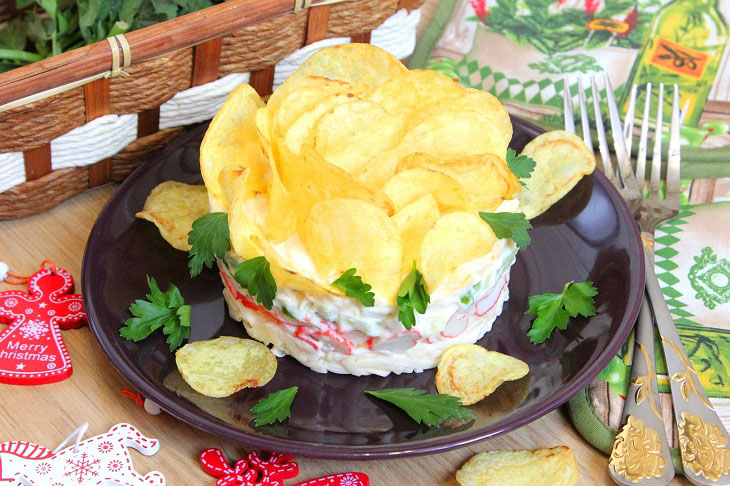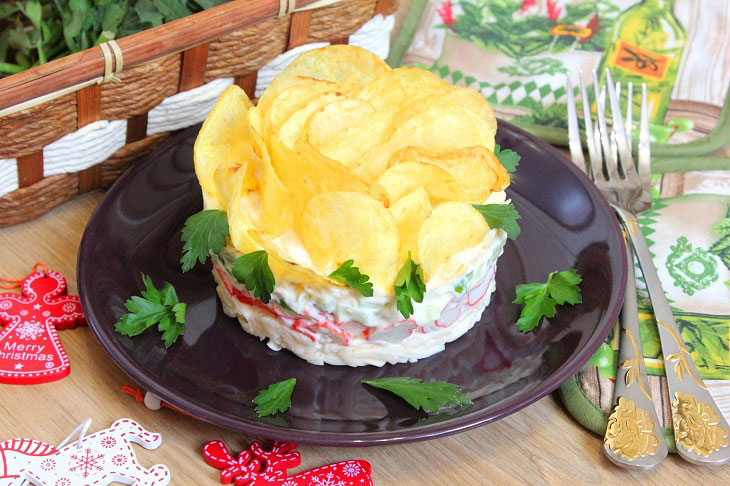 Bon appetit!