Salad "Lady's Caprice" is a delicate and very tasty, gourmet dish, with a slight sweetish note. For dressing, it is optimal to use classic yogurt without additives, however, low-fat sour cream is also suitable, in extreme cases, medium-fat mayonnaise. Since this salad is not flaky, it can be served immediately after dressing.
Ingredients:
Chicken fillet – 150 g.
Hard cheese – 70 g.
Canned pineapples – 100 g.
Chicken eggs – 2 pcs.
Sour cream – 2 tbsp. l.
Salt – 3 pinches.
Spices – 3 pinches.
How to cook:
1. Put the chicken fillet to boil in advance – salt the water, add spices. After 20-25 minutes, when the fillet is cooked, cool it and chop finely. The broth can be used to boil soup or a side dish.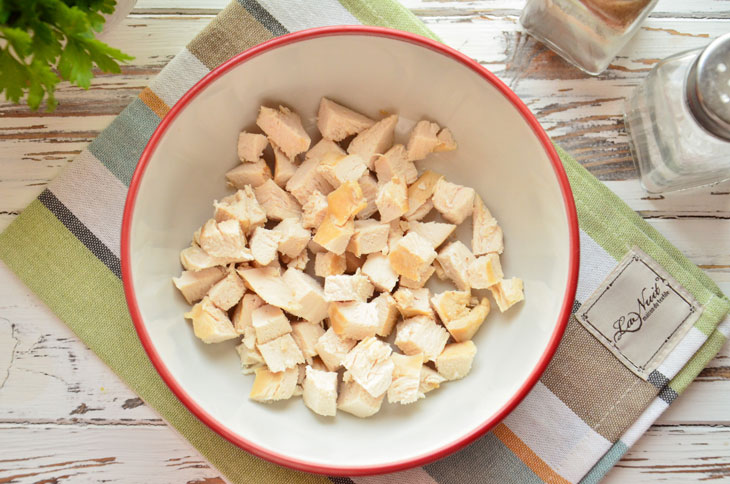 2. Hard cheese, choose which one you like best. Grind it with a grater or chop with a knife. Send to the salad bowl.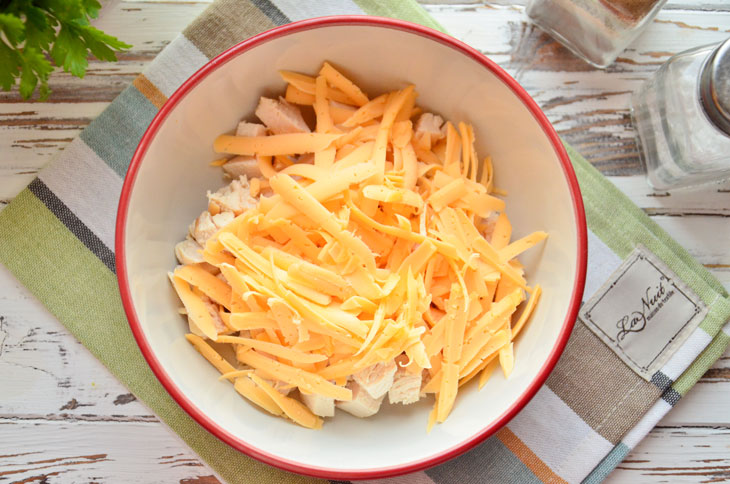 3. Use a can opener to open a can of canned fruit. Remove the pineapple chunks from the syrup and place in a salad bowl.
If the pineapple pieces are large, cut them into smaller ones.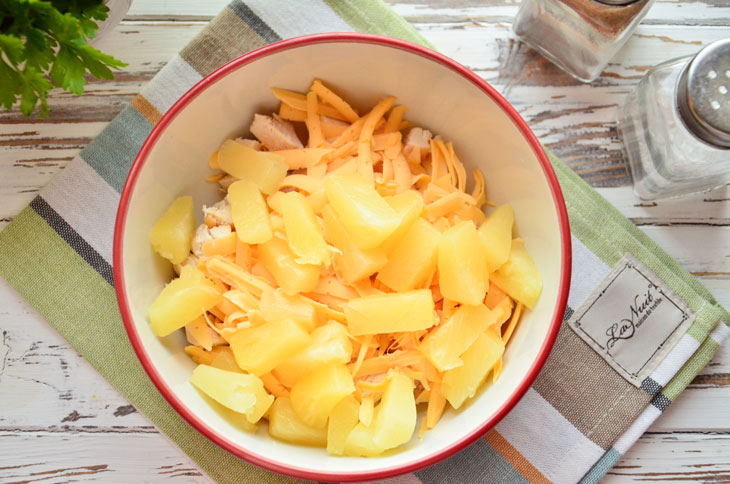 4. Boil chicken eggs in salted water, waiting 5-6 minutes after it boils. After cooling the eggs in ice water, peel them and cut into small cubes, transfer to the rest of the products.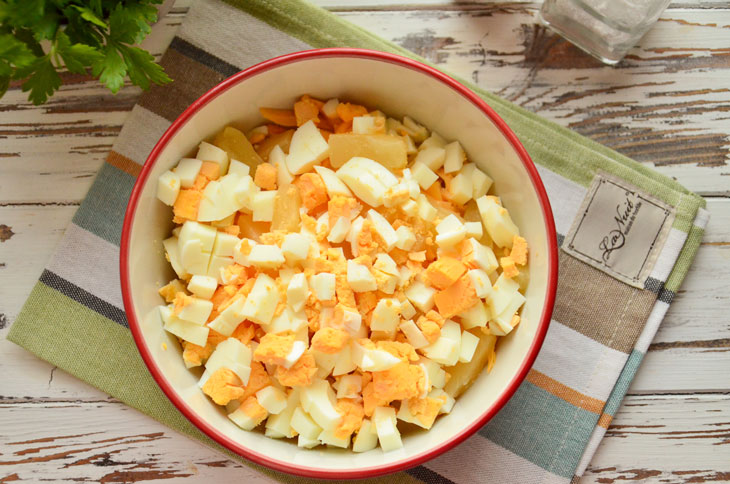 5. Dress the salad with a small amount of fresh sour cream – it should not be sour. Lightly salt the dish, add a little spice for a brighter taste.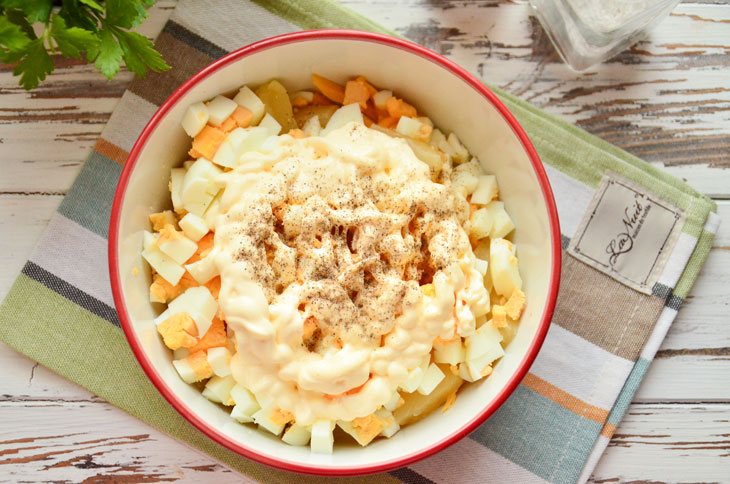 Toss the salad and serve immediately. A small bowl is suitable for serving. And if there are culinary molds available, you can use one of them to carefully lay out the salad on a flat dish.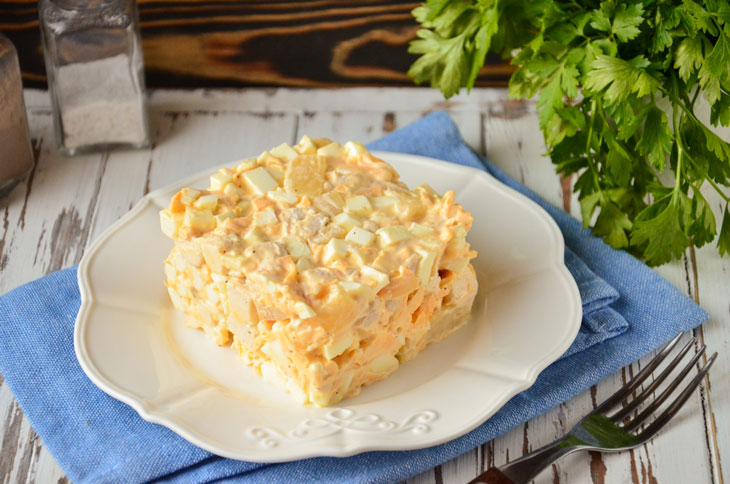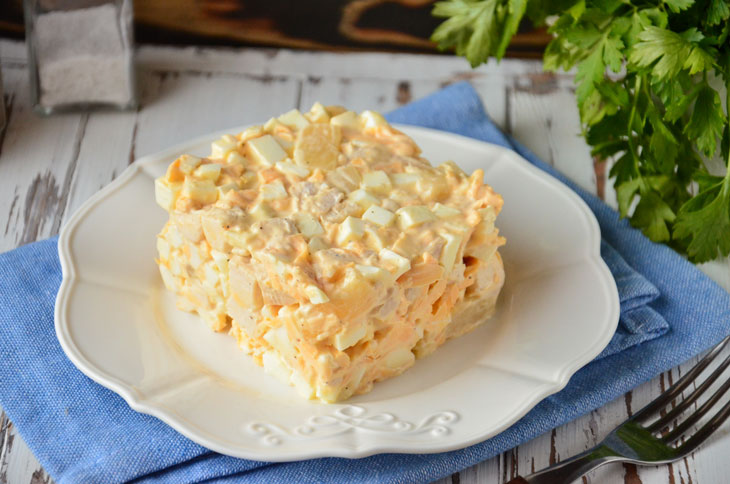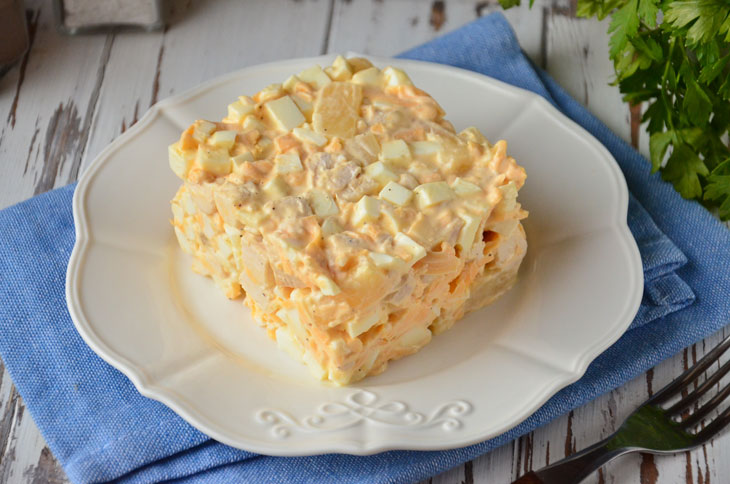 Enjoy your meal!