Salad Little Red Riding Hood is very popular among housewives and rightfully occupies one of the places of honor on the festive table, not only because of its original appearance. It is very tasty, satisfying, juicy and at the same time easy to prepare.
All products included in its composition are available and not very expensive. Depending on the number of guests, we adjust the amount of products and collect the salad using a metal ring of the appropriate diameter. I prepared a salad this time for two for a small family holiday dinner and collected it in a plastic ring that I cut out of an ordinary mineral water bottle.
Ingredients:
Smoked chicken breast – 150 g.
Boiled chicken eggs – 2 pcs.
Champignons – 150 g.
Onion (not large) – 1 pc.
Hard cheese (any) – 80 g.
Fresh tomatoes (preferably cherry) – 3-4 pcs.
Vegetable oil – 2 tbsp. l.
Dill, parsley, green onions – to taste.
Salt, ground pepper – to taste.
Provencal mayonnaise – 3 tbsp. l.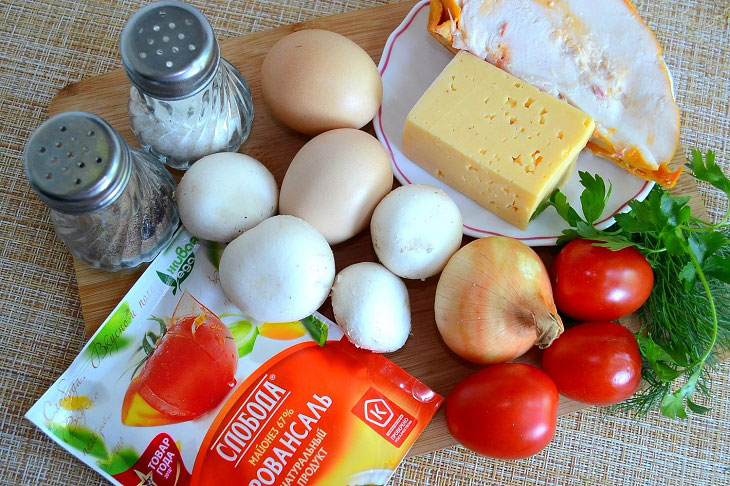 Cooking time: 40 minutes. Servings Per Container: 2.
How to cook:
1. Pour vegetable oil into the pan, pour diced champignons and onions into it. Cook with stirring until the liquid has completely evaporated over a fairly high heat. Season with salt and ground pepper. Mix and leave to cool.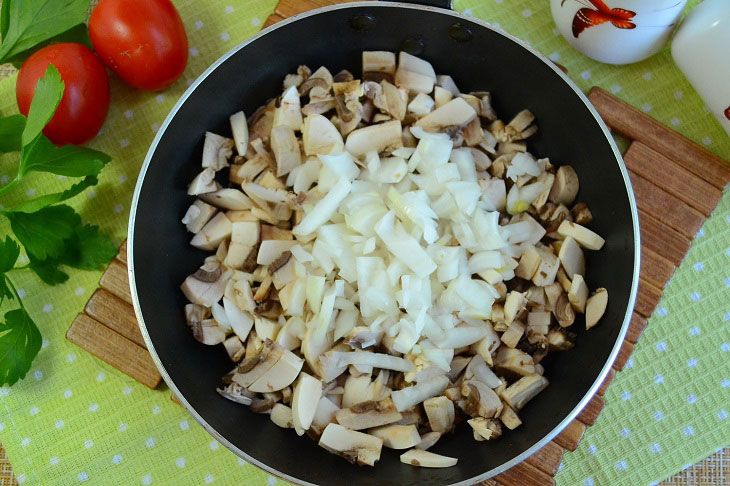 2. We cut the smoked chicken breast into cubes not very large.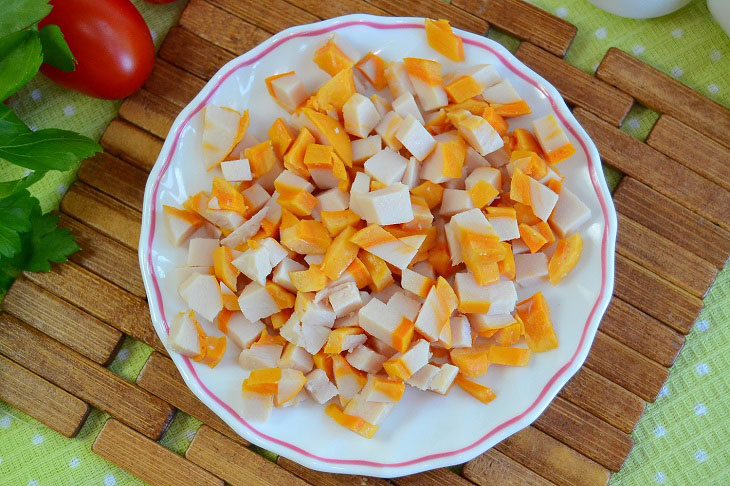 3. Boiled chicken eggs are freed from the shell and rubbed on a coarse grater.
4. Rub the cheese on a fine grater.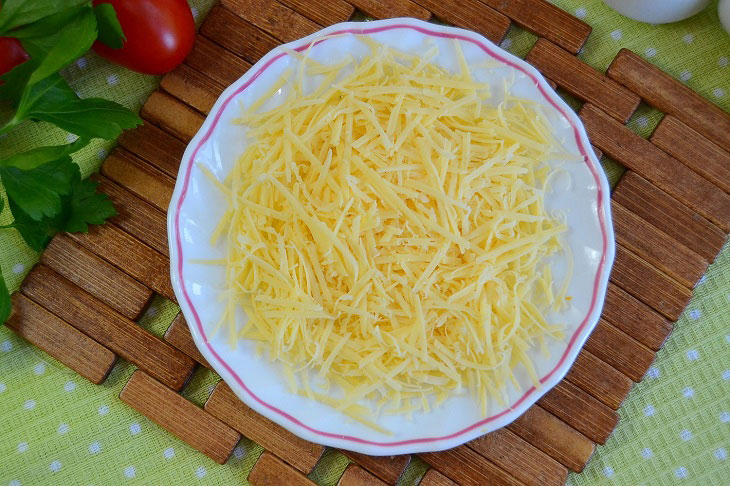 5. Cut the tomatoes into 4 parts, remove the stalk and seeds with a juicy middle. Cut the pulp into medium cubes.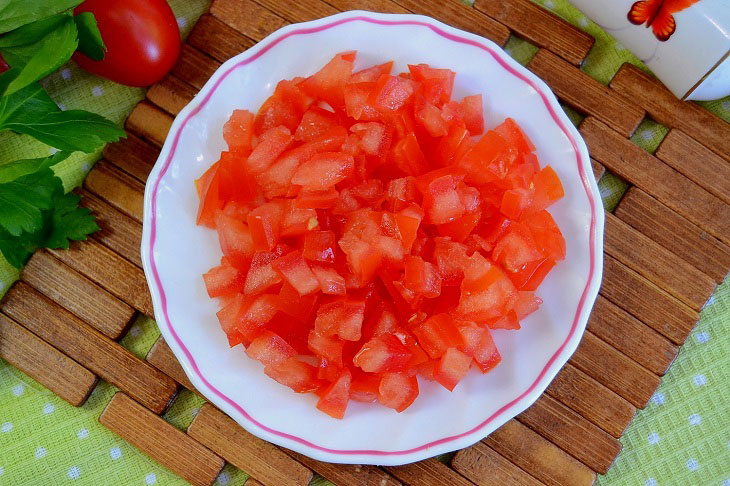 6. We wash the greens with clean water, dry it on a paper towel and cut it arbitrarily, but not large.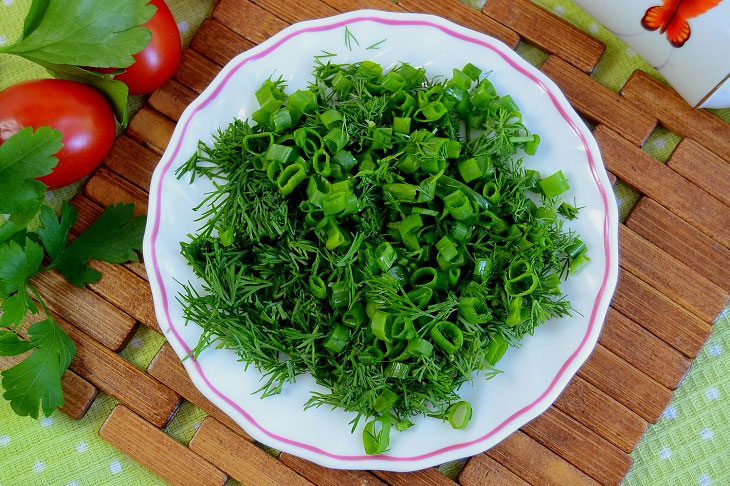 7. On a plate or a dish with a flat flat surface, set the forming ring and collect the salad from the prepared ingredients.
Slices for salad Red Riding Hood with smoked chicken are laid in layers inside the ring and we apply a net of mayonnaise on each subsequent layer. Adjust the amount of mayonnaise to your liking. The first layer is smoked chicken breast.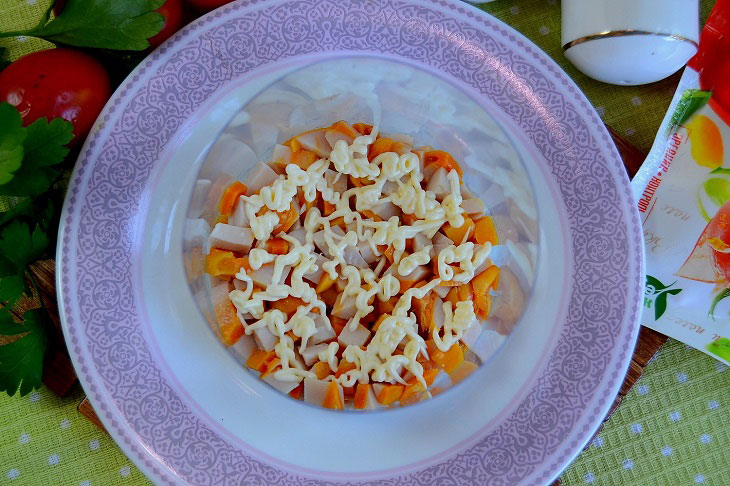 8. Put the boiled chicken eggs in the second layer and slightly compact.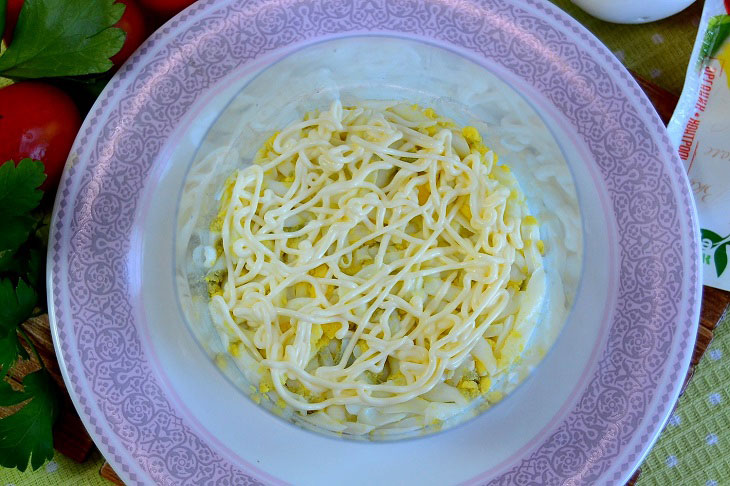 9. Champignons with onions are the next layer. Between the layer of eggs and mushrooms, you can add a small layer of greenery, but this is up to your taste.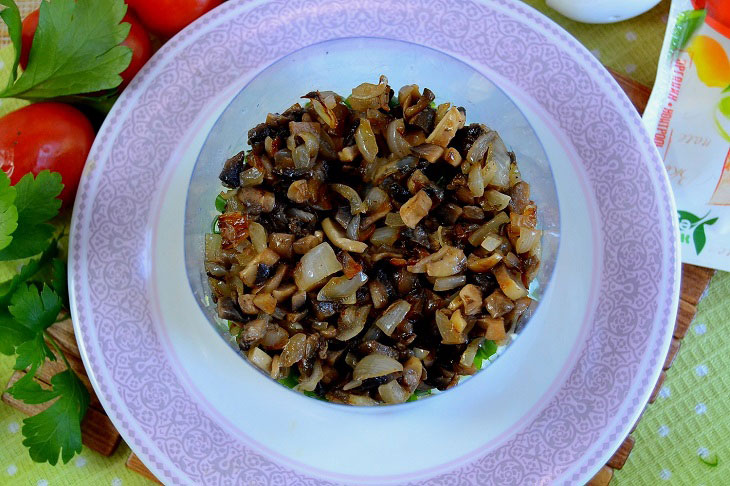 10. Put the grated cheese in the fourth layer and cover with a mesh of mayonnaise.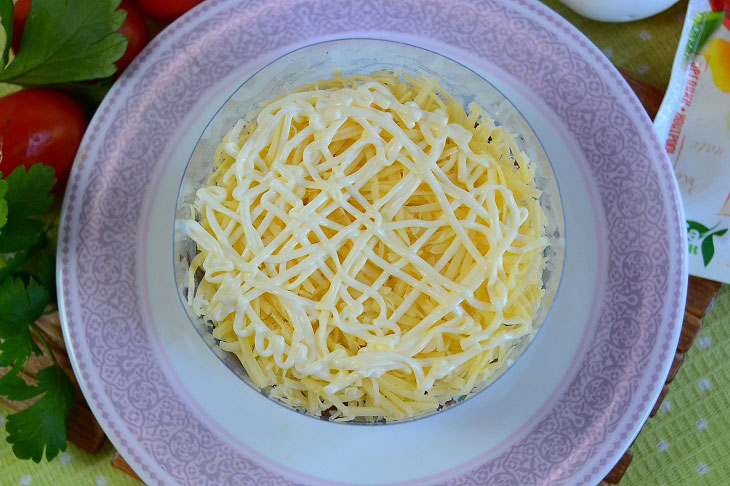 11. On top of the final layer, place cubes of fresh tomatoes and lightly add them. We send the salad collected in the ring to the refrigerator for impregnation for 1 hour.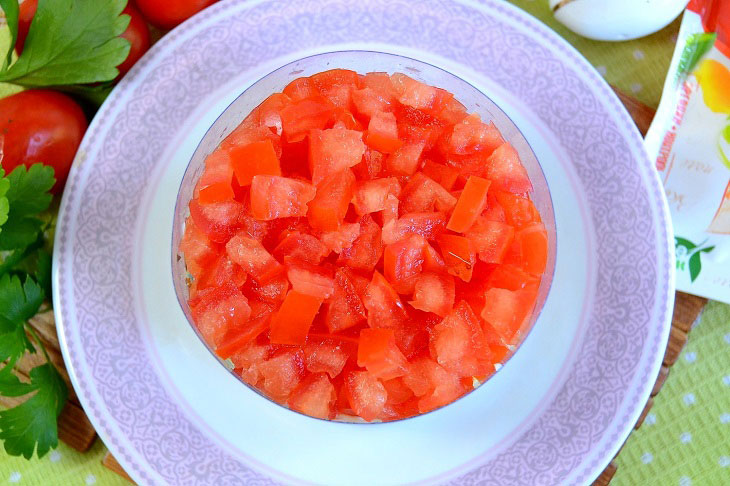 12. Carefully remove the ring before putting the salad on the table.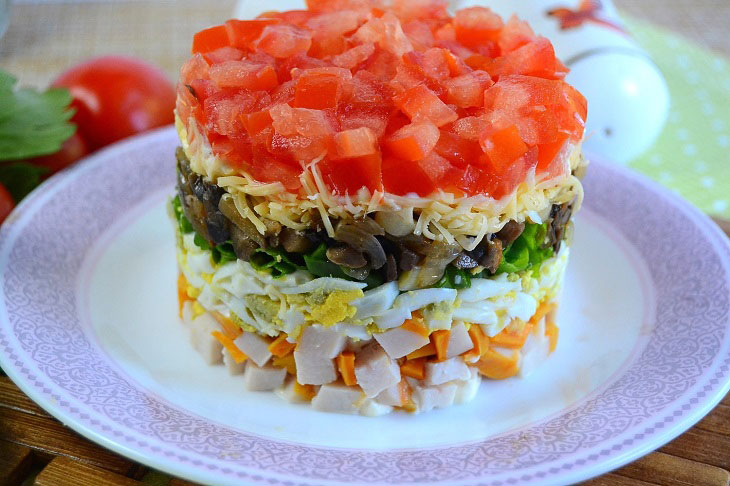 Salad Little Red Riding Hood with smoked chicken is ready. We decorate it to your liking with dill, parsley and serve.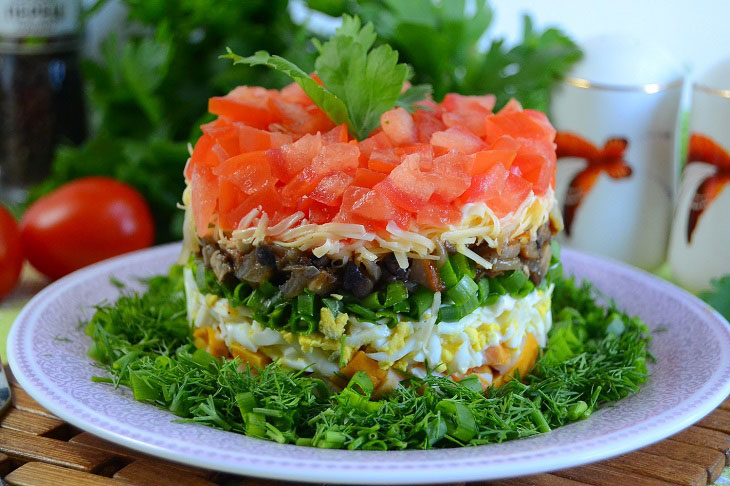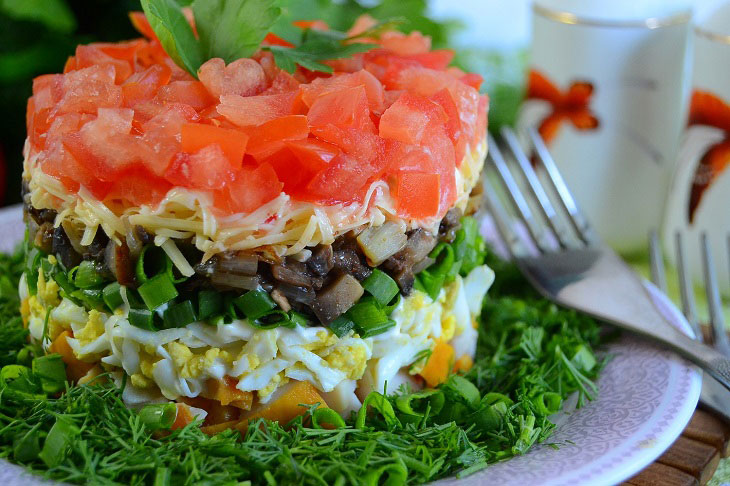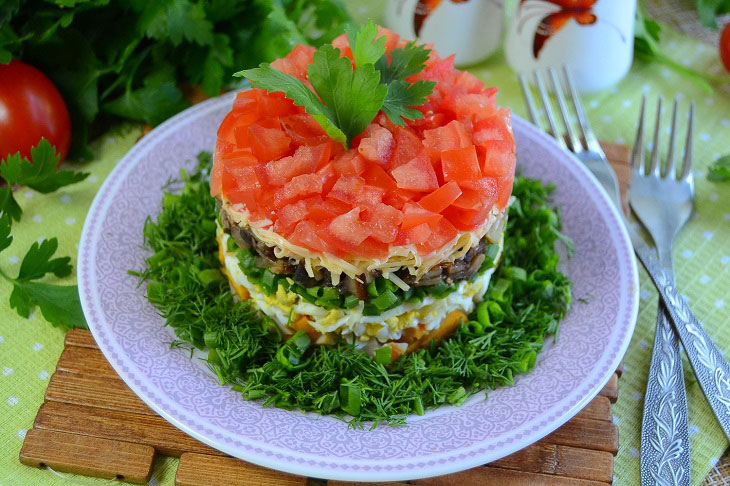 Enjoy your meal!