No holiday is complete without salads. But what if the classic ones are already fed up and you want to surprise the invited guests? Simply amazing-looking and excellent-tasting Margo salad will come to the rescue. It always turns out beautiful and very tasty. Therefore, there is no doubt that some of the guests will not like it, on the contrary, everyone will find out the recipe for its preparation.
The ingredients for the salad are quite affordable. The main one is chicken fillet and mushrooms, the rest are secondary. When choosing a hard cheese on the market, it is better to buy one that is of sufficient quality, and not a cheese product. Dressing the salad, or rather each layer of products, should be mayonnaise with a high percentage of fat. By the way, this sauce can be safely prepared at home.
Ingredients:
Chicken breast (boiled or baked in the oven) – 200 g.
Eggs – 2 pcs.
Hard cheese – 50-70 g.
Potato – 1 pc.
Mushrooms (any, champignons were used in this recipe) – 70 g.
Mayonnaise – 3-4 tbsp. l.
Salt – to taste.
Vegetable oil – 50 ml for frying mushrooms.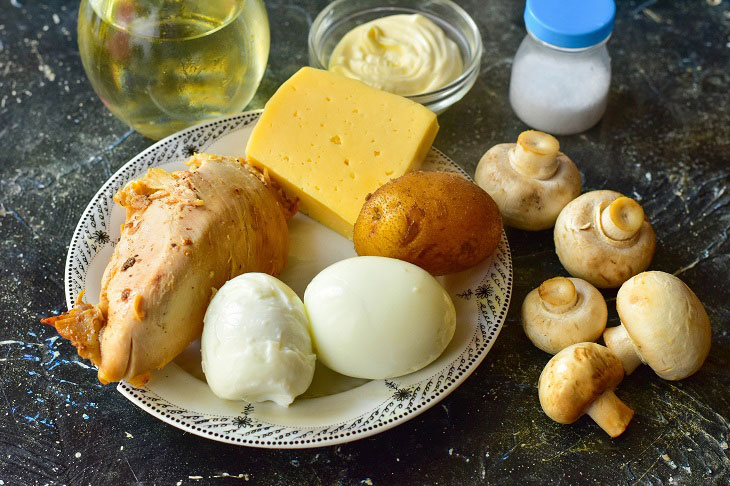 How to cook:
1. First of all, prepare all the products on the list.
If the fillet is fresh, then pre-bake it in the oven or boil it, be sure to salt it. You can also add bay leaf and peppercorns to the water, if the meat is to be cooked.
Boil chicken eggs for 7 minutes, potatoes – 20 minutes.
Wash the mushrooms, chop and fry them in vegetable oil and do not forget to salt them to taste.
Place a forming metal ring on the dish, lay out the first layer of diced or grated boiled potatoes. Lubricate with mayonnaise.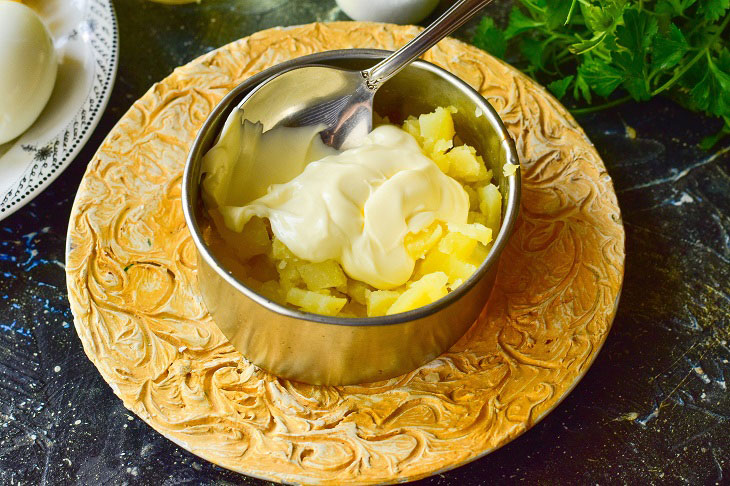 2. Put the boiled or baked chicken fillet on top of the potatoes, which is pre-cut into small pieces. Repeat the mayonnaise layer.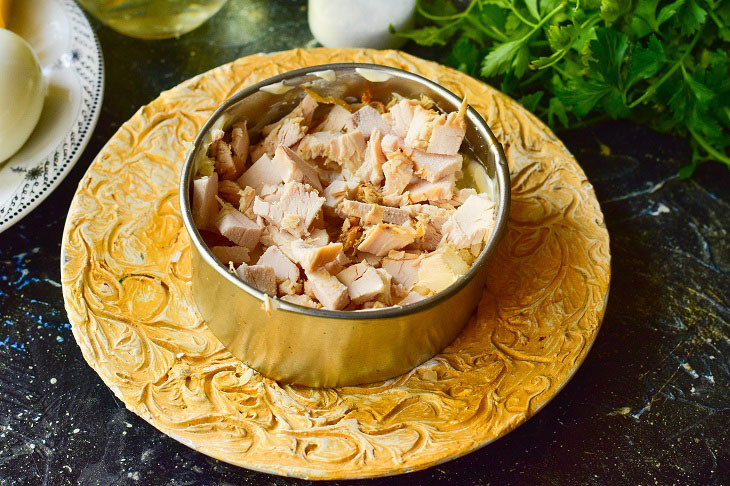 3. On the meat, grate chicken eggs, which are peeled. Make a grid of sauce or just brush this layer with it.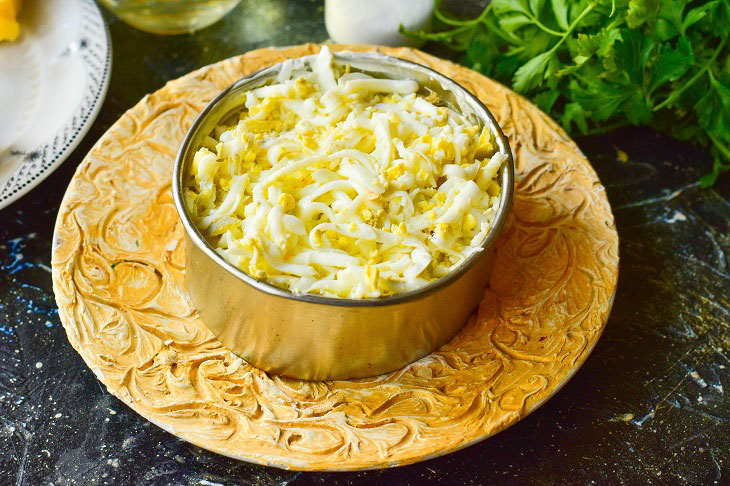 4. Now lay out the fried mushrooms.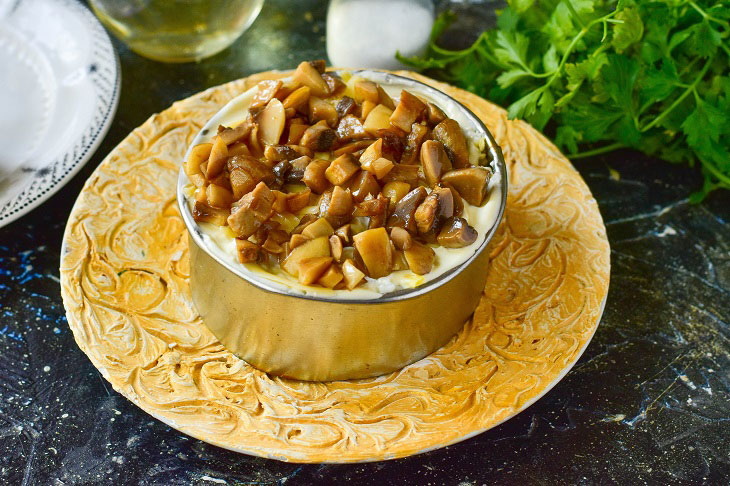 5. The next layer is grated hard cheese. Lubricate it with mayonnaise.
6. Now decorate the salad as you wish. You can use parsley leaves and fried mushrooms.
Here is such a bright, appetizing and beautiful salad "Margo" came out!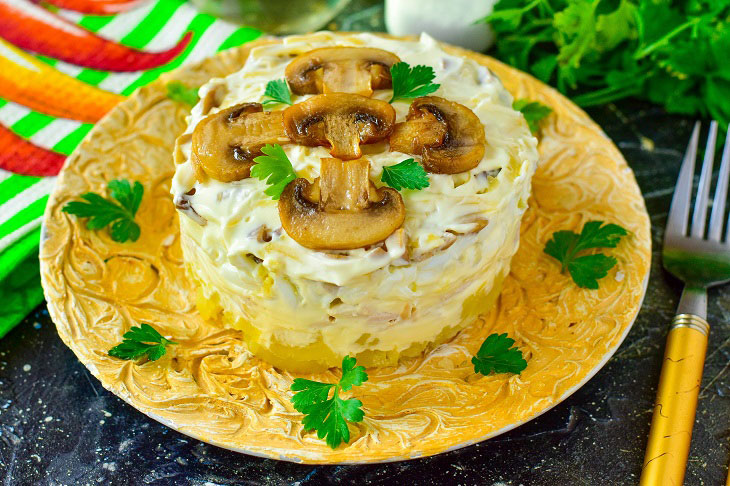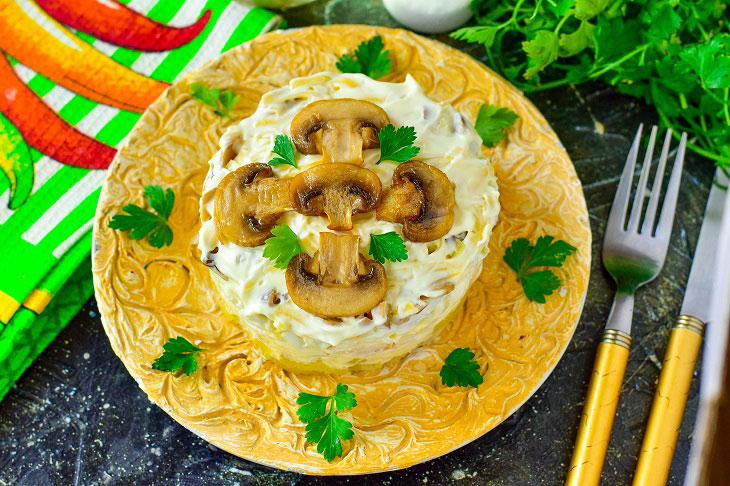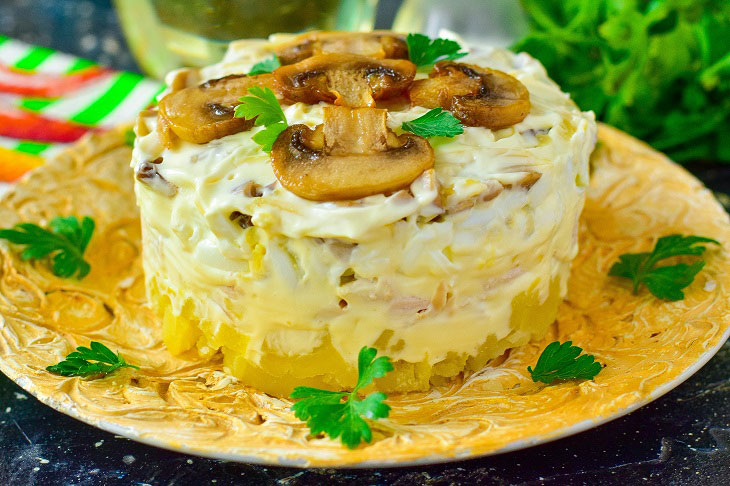 Enjoy your meal!