Vinaigrette "Combination" – one of the many options for everyone's favorite salad. Why "Eating"? Yes, because the basic vegetables are not boiled as usual, but baked until cooked in the oven. Thanks to this method of preparation, the vinaigrette has a brighter and richer taste. In addition, a crispy apple is added to the salad, which goes well with the rest of the ingredients and gives the dish a fresh touch.
Ingredients:
Medium sized potatoes – 4 tubers.
Medium-sized carrots – 2 pcs.
Medium-sized beets – 2 pcs.
Pickled cucumber – 3-4 pcs.
Canned green peas – 70-80 g
Sweet and sour apple – 1-2 pcs.
Freshly ground black pepper – to taste.
Salt – to taste.
Sunflower oil unrefined – 3 tbsp. l.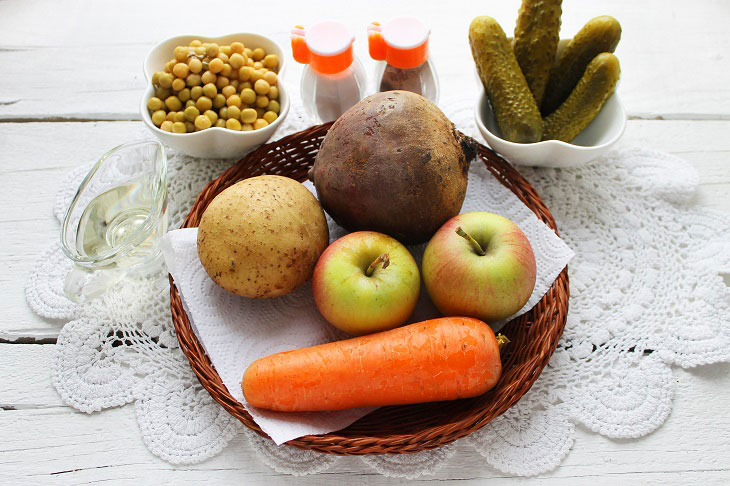 How to cook:
1. Wash potatoes, carrots and beets thoroughly with a vegetable brush.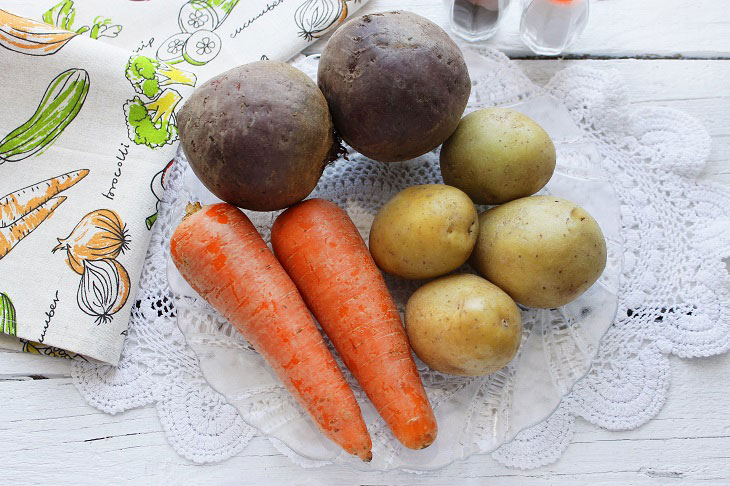 2. Wrap each vegetable tightly in a separate piece of foil. Arrange the vegetables in an ovenproof dish or on a baking sheet.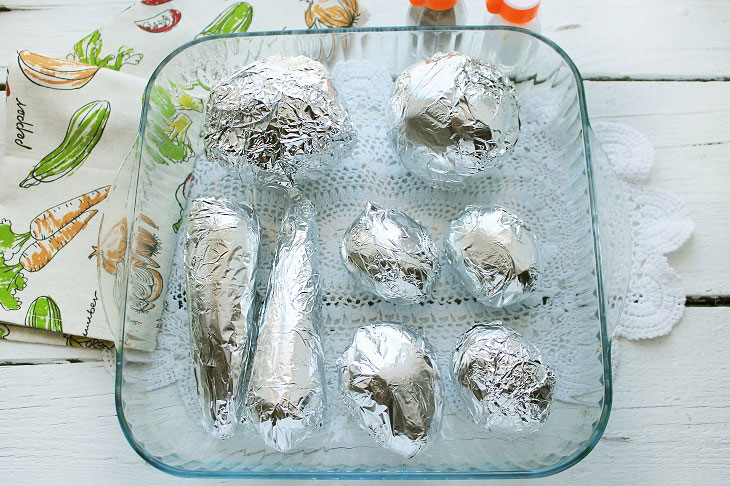 3. Preheat the oven to 180⁰ C. Send the dish with vegetables to the oven. Bake vegetables until soft. Baking time for potatoes is 35-40 minutes, carrots – 40-45 minutes, and beets – 1-1.5 hours. Cooking time depends on the type and size of vegetables.
Carefully unfold the prepared vegetables, rinse with cold water and peel.
Cut the beets into cubes with a side of about 7-10 mm and put in a bowl.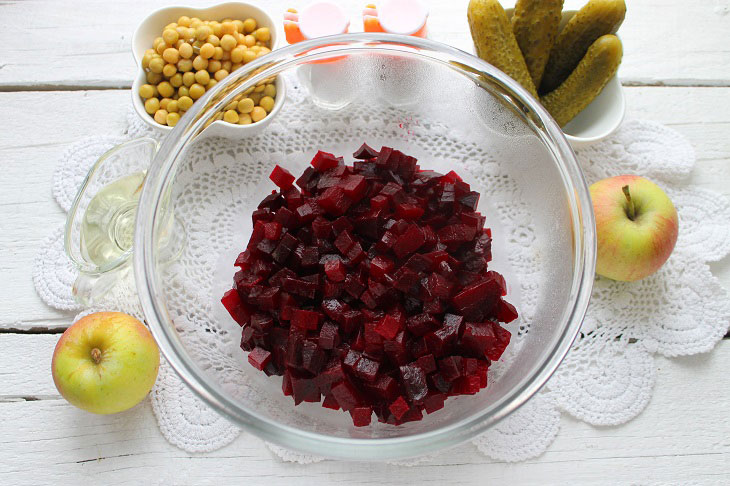 4. Drizzle with sunflower oil (1 tablespoon) and stir.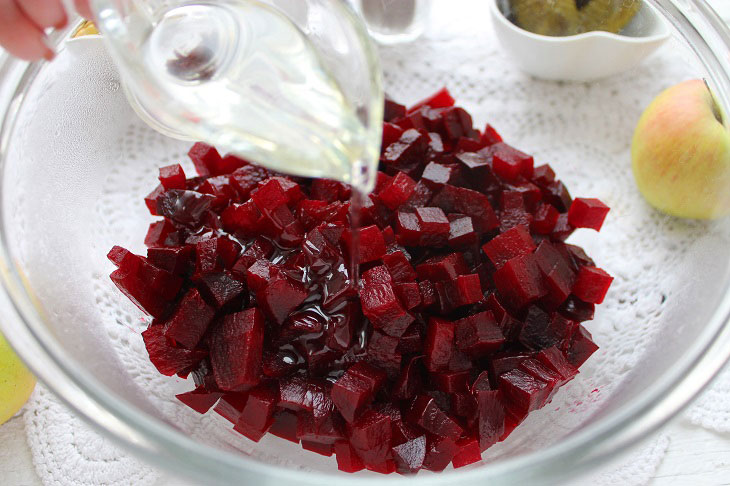 5. Place the diced potatoes in another bowl.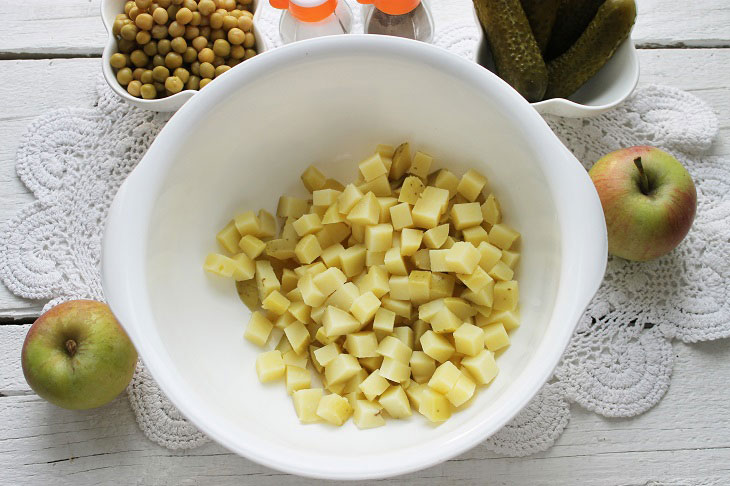 6. And also pour it with oil (1 tbsp. L.). Stir.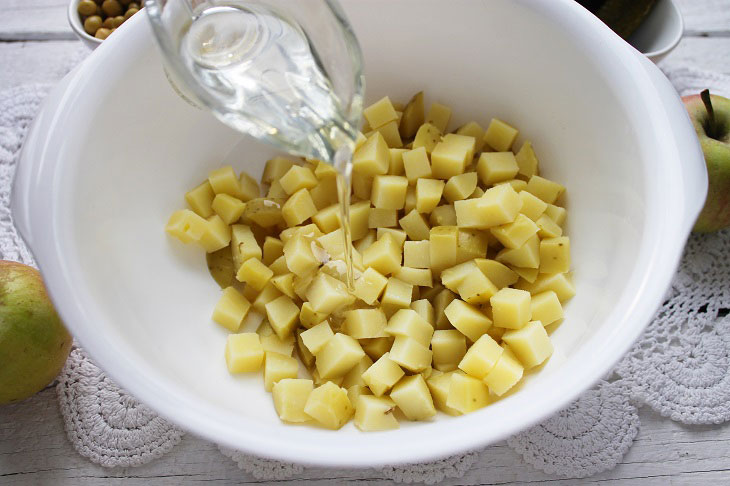 7. Cut the carrots into cubes and place in a separate bowl.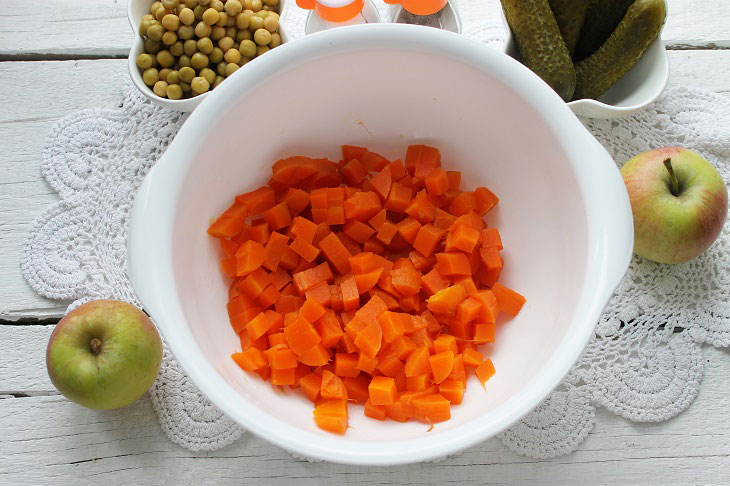 8. Pour in the remaining oil and stir. All these manipulations are done so that the beets color all other vegetables burgundy as little as possible.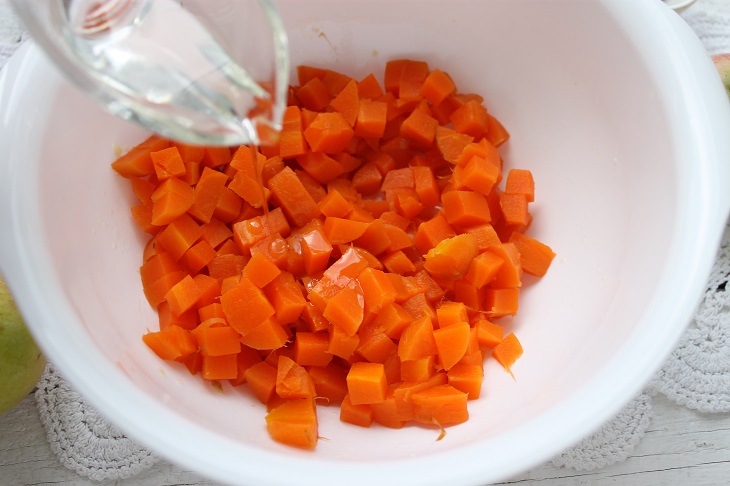 9. In a large bowl, mix beets, carrots and potatoes.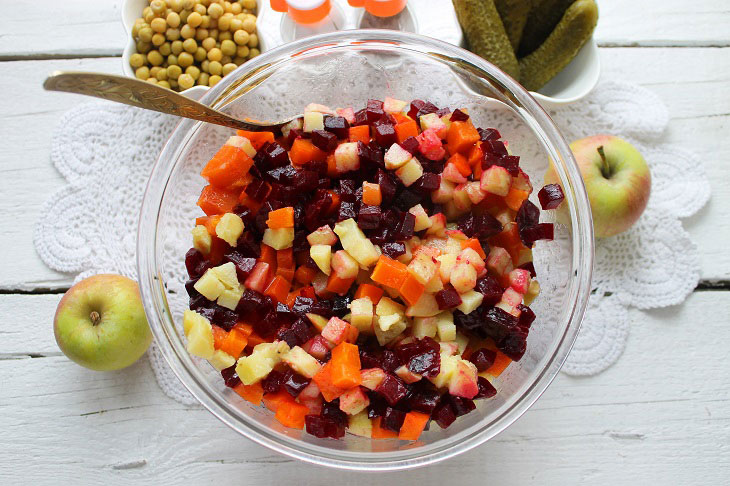 10. Cut the pickled cucumbers into cubes and add to the base vegetables.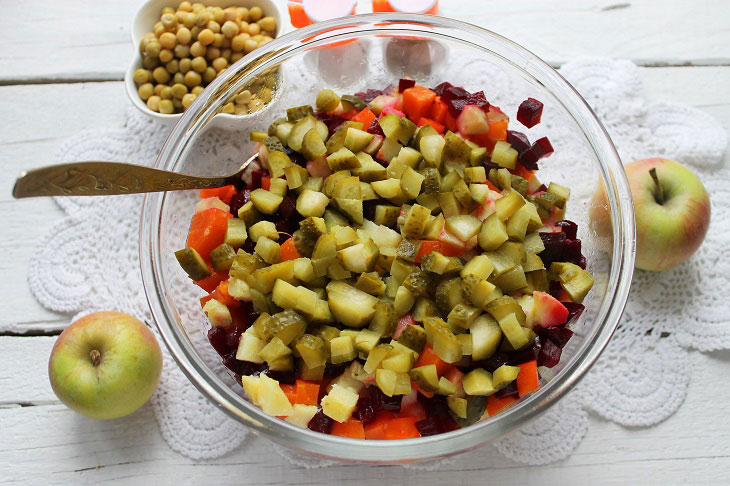 11. Wash the apples, peel and cut into cubes smaller than the rest of the vegetables. Put in a bowl.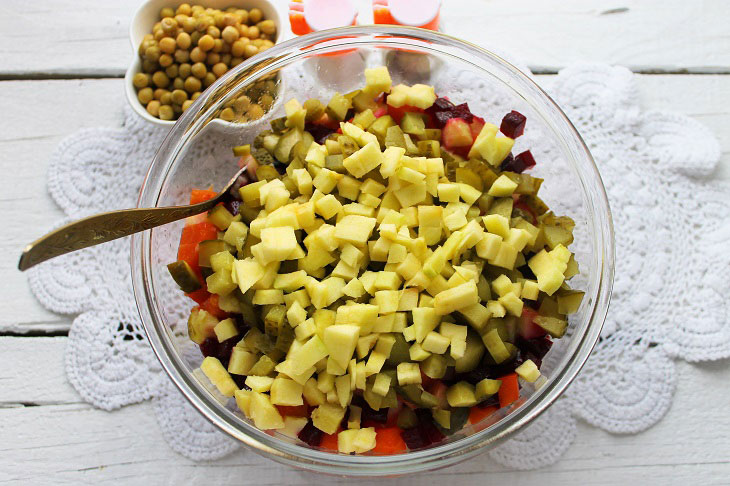 12. Pour green peas into a bowl. Season to taste with salt and black pepper. Mix thoroughly.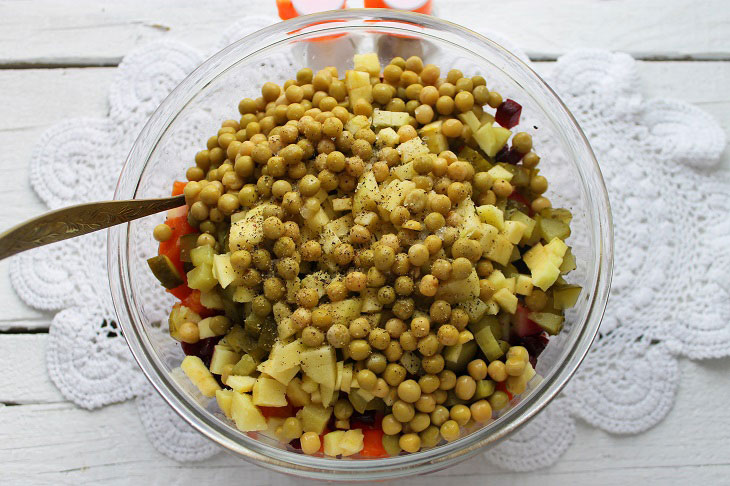 Before serving, you can sprinkle the finished vinaigrette "Overdine" with finely chopped green onions.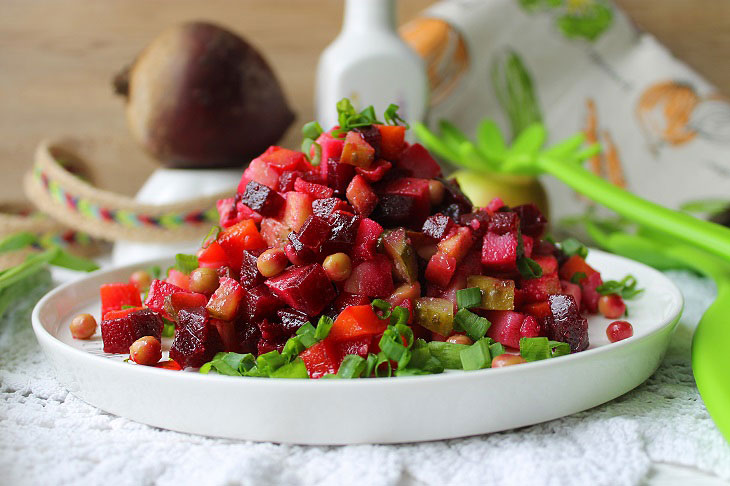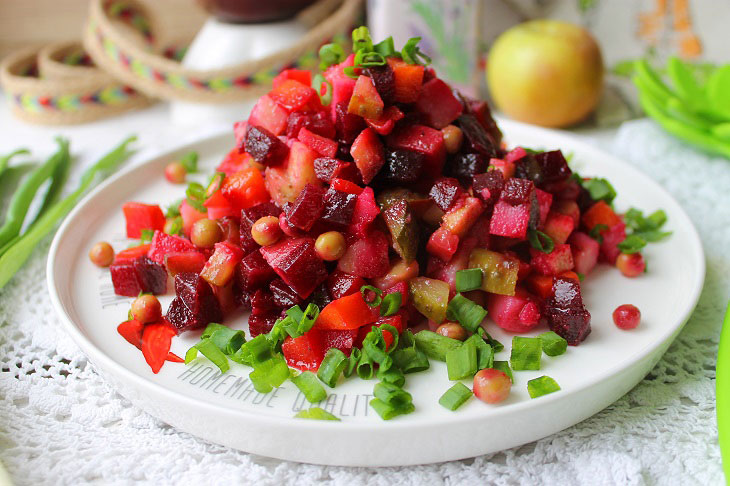 Enjoy your meal!