Salad "Mashenka" is a unique salad, as it always causes a huge sensation among the invited guests at the festive table. The ingredients for the preparation of this snack are the most affordable, inexpensive.
The main one is crab sticks, which is why, when choosing them in a grocery store, you should give preference to a proven brand. Smoked chicken ham is also put in the salad, due to which the dish acquires a unique aroma and becomes quite satisfying. It also adds an ingredient such as garlic. Thanks to him, the dish acquires a more refined and slightly spicy taste. If the salad is not prepared for the festive table and some kind of trip is planned after dinner, then you can not add garlic.
Ingredients:
Crab sticks – 50 g.
Garlic – 1 clove.
Fresh cucumber – 1 pc.
Chicken eggs – 4 pcs.
Smoked chicken ham – 0.5 pcs.
Mayonnaise – 0.5-1 tbsp. l.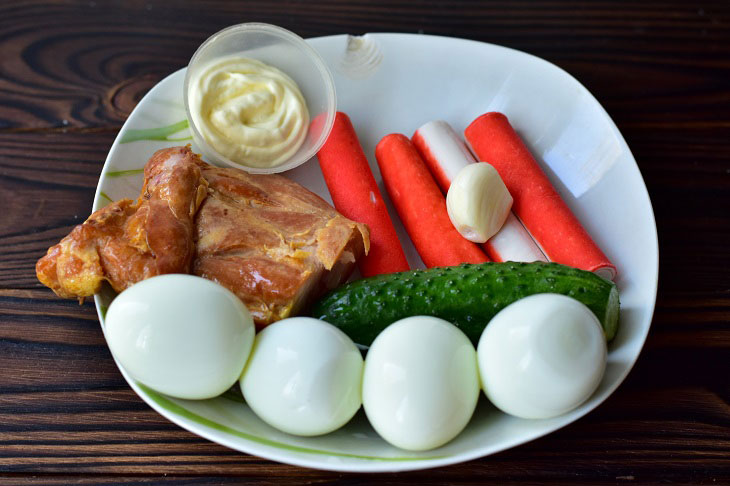 Cooking:
1. First of all, remove all wrapping from crab sticks. After that, cut them into strips, so the salad will look more original and attractive.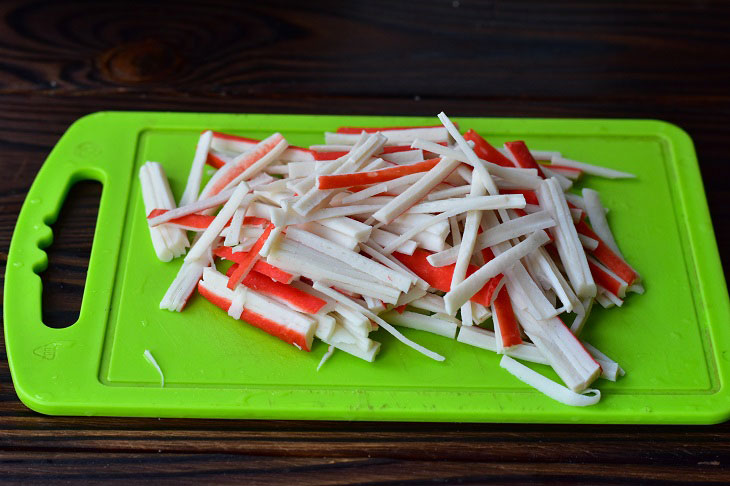 2. Hard boil chicken eggs. This procedure takes 8 minutes in time, the time should be noted when the water boils. Grate boiled eggs.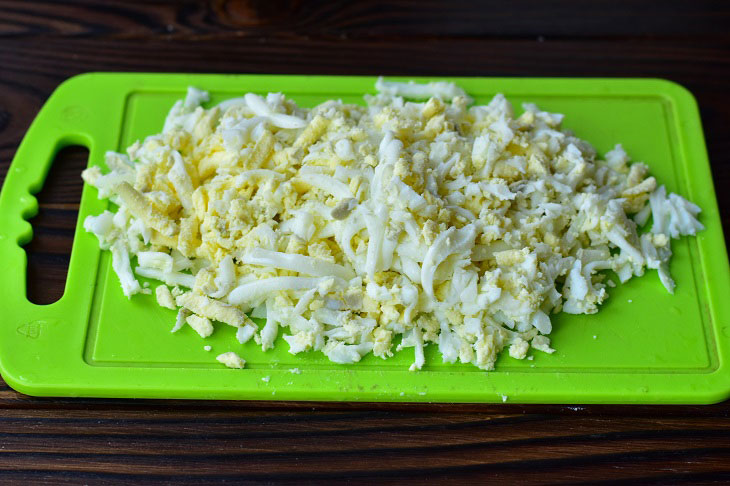 3. Wash fresh cucumber under running water. Cut off both sides of the edges of the vegetable. Cut the rest of its main part into strips.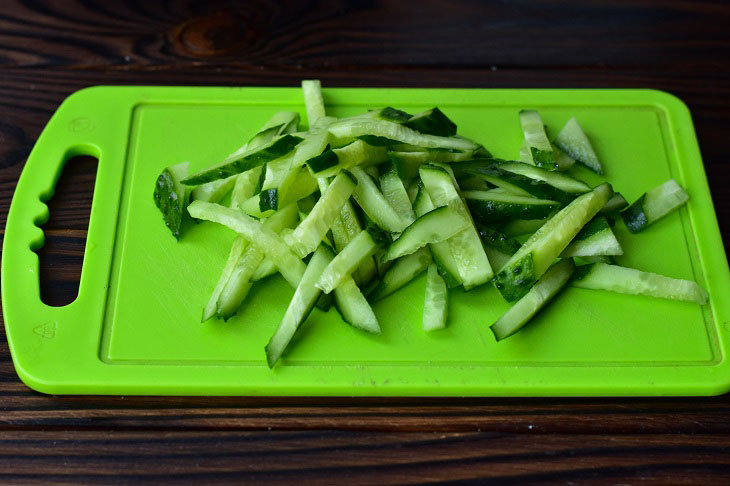 4. Remove the rope from the chicken leg, if any. Remove the meat from the bone and cut it into pieces.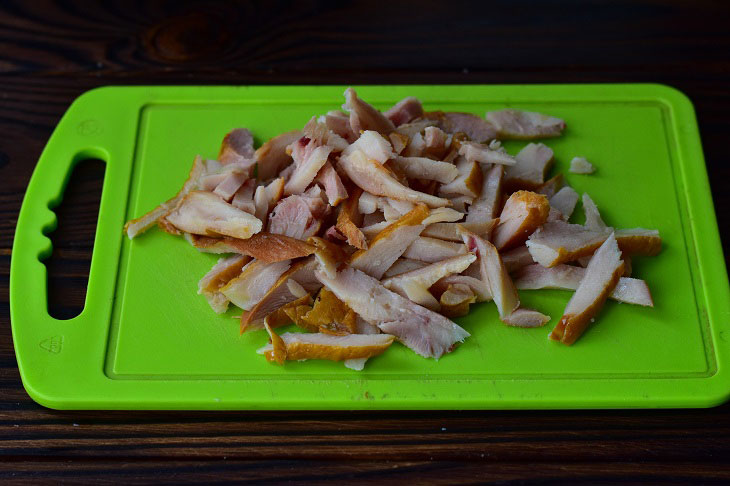 5. Put all the ingredients in a large saucepan. Squeeze garlic and add mayonnaise.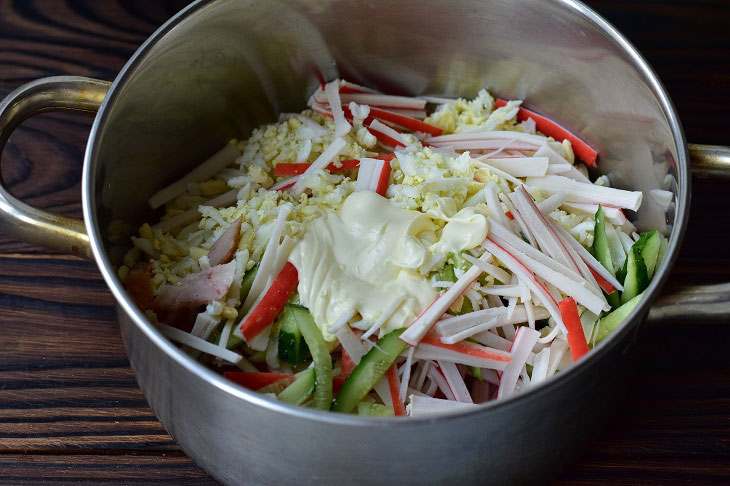 6. Mix everything with a spoon, put the salad in a slide on a beautiful dish. Decorate with crab sticks on top.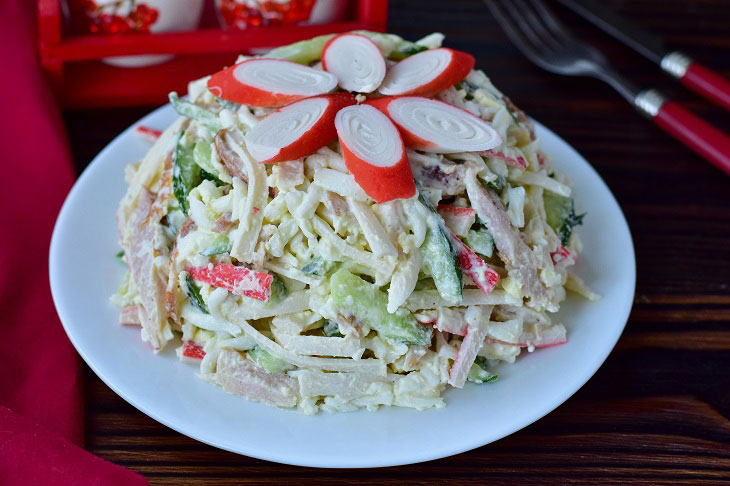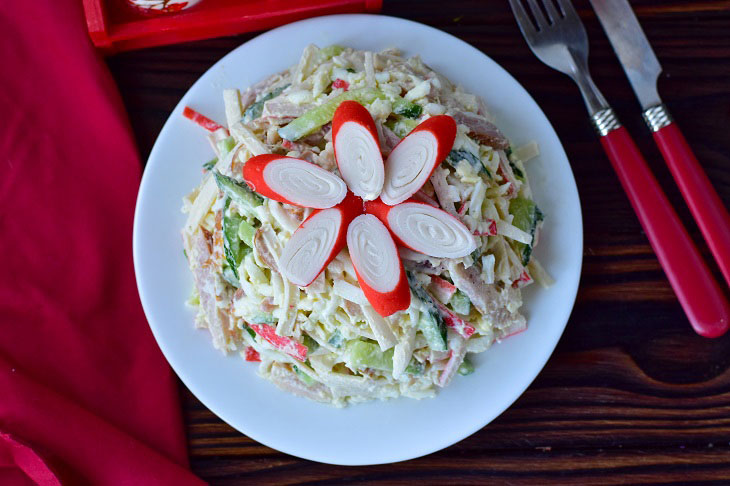 Enjoy your meal!